When you are figuring out how to earn money online as your new to this whole online money making thing, remote transcription jobs best fits in.
There are a handful of online transcription jobs from home and they do accept beginners with no previous experience in transcriptions.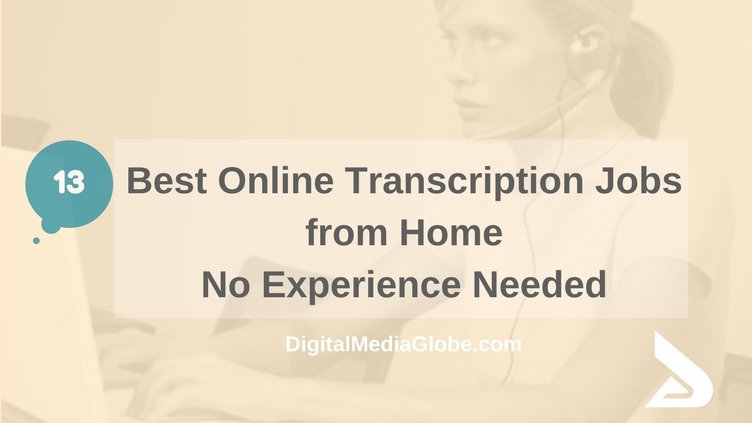 These general transcription jobs online doesn't require any specialized skills or technical background to get started with.
If you naturally possess good typing speed and attention to grab words accurately from what you hear, you definitely got an edge and can end up getting transcription jobs that pay well.
What are transcription jobs?
Transcription jobs generally fall under the data entry jobs category.
As a transcriptionist, you would be asked to transcribe an audio or video file into a written text document.
You would basically be listening to a set of words and you would reciprocate them accurately by typing those words electronically.
Mostly with a computer and laptop at home, you can start working straight away.
But once you gain experience, you may be looking to earn more by increasing your turn around time.
To achieve that, you need to invest on good quality tools such as a foot pedal  (to control the audio speed), pro express scribe  (a transcription software), a quality headset (noise cancellation).
You can even search transcription bundle in Amazon and find tools that you require.
Prerequisites skills needed as beginner Transcriptionist:
If you possess these skills, you could easily pass the transcription test that most companies put a beginner through.
Your typing speed should be somewhere between 50 words per minute to 70 words per minute.

Good grasp of grammar and knowledge of correct punctuation placement in a given English passage.

Good listening skills and familiar with different English accents (American, European, Australian, Asian, etc.)

Get comfortable on how to operate the transcription tools (Foot pedal, transcription software, etc).

Knowledge of basic hardware and software installation, aware of different audio and video formats, downloading an audio file and uploading a .txt file.
It is a monotonous type of work, but if you really good at transcribing you can move up the ladder to become a reviewer, editor or copywriter.
Also Read: Legitimate Online Editing and Proofreading Jobs: Complete List
How to find transcriptions jobs from home?
There are a variety of transcription jobs people actually work for: general transcription (any field, no experience required), legal transcription and medical transcription (both require experience).
So assuming you are a beginner with no experience, you would have to look out for the companies having general transcription jobs for newbies.
You can either directly apply to a company that provides remote transcription jobs or through crowdsourcing platforms like Amazon mturk, Upwork or through job boards like Flexjobs etc.
Best Entry Level Transcription Jobs from Home
I have researched and handpicked only those transcription companies that are legitimate in their payment process and ones that accept beginners without any previous experience.
So here we go!
A great place for absolute beginners to start work from home. You can join as a transcriptionist with them from any part of the world (U.S and Non U.S).
However, you have to pass their transcription test (your accuracy level in transcribing an audio).
Make sure to download and read the style guidelines of the company before giving the exam.
Also, you get three more chances to qualify in case you failed in the first attempt.
Once clearing the exam, you would be initially given 1-2 mins short audio to transcribe to get you started.
The pay is via PayPal weekly on Fridays and the pay rate starts at $20 per audio hour for a beginner.
Once you gain experience here, it can go higher than that.
Most importantly, they don't look for any pre experience in transcription (if you have one, it's great! you could be paid more).
Also, no need of any pre requisite transcription tools for transcribing and you work there at your flexible time. For more details, read our Transcribeme Review.
Also Read: Online Micro Jobs: 10+ Best Micro Job sites to Make Money Online
A popular transcription services company that encourages freelancers from any part of the world to apply with them and earn money while working from home.
The best part, Rev provides an in house transcription editor software and you do not have to upload any software or files to work with them.
But, you must have a desktop or laptop with basic internet connection.
Beginners are welcome at Rev with no prior experience in transcription.
To qualify, you need to do well in their skill test by following their style guide instructions and they will get back to you within a week on your approval status.
The work is flexible and you can work on any part of the day as per your comfortability factor.
The starting pay rates stands at $.40 – &.65 per audio minute ($24 – $39 per audio hour) and they pay you via PayPal weekly. 
Have a look at a detailed Rev.com Review.
Quicktate is another transcription service company that provides legitimate transcriptions jobs from home.
You work there as an independent contractor (freelancer) and it pays you one cents for every 4 words transcribed (general transcription).
The pay is via PayPal weekly on Mondays and beginners with no prior experience in transcription are eligible to apply here.
The only con is you need to invest $15 for the background verification check of yours in order to apply and clear the test.
Quicktate also hires people from any country in the globe.
Though the pay is low, you could see it as an entry level easy online transcription jobs and later move on to better paying companies.
Read here for more detail review on Quicktate.
They have been in the transcription business for 20 years and have a bunch of esteemed clients mentioned on their website.
Definitely a legitimate company to work on!
Tigerfish is constantly looking for newbie's who have the skills (typing, detail attention to language and ability to write well) to transcribe accurately.
You need to transcribe three different audio files according to the specified style instructions. Send them via email to complete the application process.
Note: You need to be a legal resident of U.S in order to work with them.
Want to know more about Tigerfish Transcription Jobs? Read our Tigerfish Review.
Also Read: Legitimate Online Data Entry Jobs That Will Pay You
Scribie also offers online transcription jobs without experience for anybody looking to earn from home.
If you can comprehend English language well, clear their test process and get certified as transcribers to work with Scribie. (You get 10 re attempts!).
There are lots of positives to work for Scribie as there is no pre set working hours (work is flexible), all the transcripts file you will receive are 6 mins each, choose work at first come basis and no cancellation penalties if you decided not to work on a particular transcript  and most importantly the daily payouts.
Also Scribie hires people internationally (Outside U.S). Just make sure your local bank account do business with PayPal.
It is mandate to have a verified PayPal account as you would get paid via PayPal and there is no such minimum withdrawal limits.
They have mentioned on their website the Pay rate to be ranging from $5 to $20 per audio hour with a potential of earning $200 – 300 per month (Not bad at all as a side hustle!)
They also pay a monthly bonus of $5 for every 3 hours work completed each month.
For more detail about Scribie Transcription jobs, read out Scribie Transcription Review.
The company is constantly looking for beginners and experienced transcribers as their business tend to do daily transcription projects from entertainment, legal corporate and academic sector( hence the name!)
They hire only from U.S and Canada, so if you reside here, go to their career page and fill in the necessary details, attempt their test to get qualified.
Also, you get to transcribe audio files in other languages (Spanish, French, Chinese etc) besides English. You can read our Daily Transcription review here.
Rather strict company when it comes to hiring transcribers, you would not get a second chance in the transcription test and would reject your applicant if you phone call them about your result!
Being said that, their pay rates are impressive at $36 to $180 per audio hour.
Though they may prefer experience transcriptionists, they have not made it mandate. So it could be a best online transcription jobs for beginners (considering the pay) if they live in U.S and do really well in the short test with good typing skills. Check out their FAQ for more details.
A foot pedal is necessary to work with them and they pay via PayPal. For more details on other information, you can read 1-888 Type It Up review.
A Canadian based transcription service company, AccuTran Global welcomes freelancers looking for transcription work as a beginner.
They hire only from U.S and Canada and they pay $0.005 per word basis instead of per audio hour.
You get paid through check or wire transfer to your local bank account monthly once.
The only downside is that the work is available only on particular seasons (which is specifically mentioned on their website) and you need to be available on particular time frame each day.(4 am to 2 pm and 4.30 pm to 7.30 pm).
If you are Mac User, please get hold of Express Scribe software to attempt their test.
For more detail, have a look at AccuTran Global Review.
You get to work here as an independent contractor (freelancer who manages their own taxes) from any part of the world.
Also freelancers looking for transcription jobs from home with no experience can be a good fit here and start with the application process.
The best points are the flexible factor in scheduling your work, listening to the audio file before accepting to write on it, there is always work with them and they pay you per minute of audio.
They have their own system of ranking and grading their transcribers with bonus systems, you may want to check here for more information.
They pay via PayPal Mass Pay system (you don't need to pay the PayPal fees) to your account every Friday. Have a look at our Casting Words review.
You can either work on Speechpad transcription jobs directly or through Amazon mTurk (They are regular requester there).
The pay is somewhat in the range of Quicktate and Scribie at $.25 – $.60 per audio minute. Most of the transcription jobs you would get to work are from insurance companies. The pay is through PayPal.
Read their insurance style guide before attempting their transcription tests (You can reattempt the test if you fail in the first attempt).
Though the pay is on the lower side, if you manage to get high quality ratings from clients, you would get qualified for better paying transcripts ($1.60 per audio minute).
People from any country with no experience are eligible to take the transcription test at Speechpad.
You can work at your flexible hours and all in all a great way to make extra money especially for beginners for this profile. For more detail, you can read our Speechpad review.
Appenscribe, a legitimate Australian based transcription company hires absolute beginners to work on general transcription jobs online from home.
If you are fluent in languages other than English, you have all the reasons to apply and clear their tests because you would be given more work to do.
The pay rate is per word ($.0005) rather than per audio minute or hour. You can initiate the payment twice a month.
Note: Once qualified, you need to commit atleast 10 hours per week and required to have 85% transcribing accuracy rate.
GMR hires for General as well as Spanish transcription jobs home based and welcome applicants who are U.S based without any experience in this field.
Their test includes an audio file to be transcribed that satisfies their formatting instructions.
Their pay rates fall from $.70 to $1.25 per audio minute. A new joiner has to go through a probationary period doing 2 hours of transcribing without any charge.
Have an eye on their career page for regular openings. Interested, read our GMR Transcription review.
You don't require any transcription experience to start working at Transcribe Team.
It is relatively a new player in the transcription industry (4 plus old) and the pay starts at $.45 – $.64 cents per audio minute (low pay!).
They pay you weekly through PayPal and accept applicants from all part of the world.
GoTranscript is an online only Tanscription company founded way back in 2005 in Edinburgh, Scotland.
They hire transcribers globally and no experience is required to apply with them.
However, they are strict with their ratings and style guidelines.
Any Transcribers scoring 3.4 or less consistently will be removed from the transcribing team. But otherwise a great place to start your transcription career.
The pay is $.60 per audio minute and paid weekly via Paypal every Friday. For more details, read our GoTranscript review.
Job Boards / Crowdsourcing Platforms:
If you are not interested to specifically apply to each and every company I had mentioned above (which can be time consuming), you can take the aid of freelancing platforms and Job Boards (FlexJobs and Indeed).
You can find freelance transcription jobs at home easily by joining crowdsourcing marketplace like Upwork, Guru, Freelance.com, Freelance.in, Odesk, the popular Amazon mturk (where transcription companies like Crowdsurf and Speechpad regularly posts their transcription works).
Transcription Jobs Online Training:
If you are having an inclination towards these online transcriptions jobs from home, you can opt for good quality transcriptions jobs training modules to polish your skills and excel in this field properly.
I have heard Transcribe-anywhere gives good quality training courses on various level of transcription process. Check out their 7 days free introduction course to kick start your freelance career in transcription.
If you more into reading and gaining knowledge instead of a training course, you can read E Books based on work from home transcription on Kindle unlimited like The famous Jump Start Your Work at Home General Transcription Career and the General Transcription Business Handbook to name a few.
Hope you found this article useful. Please comment and share your inputs.