Whenever people are looking to earn money from online part time jobs, Amazon Mechanical Turk had been widely sought after.
Even though the pay is low, why do lots of freelancers still opt for mTurk HITs and try to have a side income stream out of it?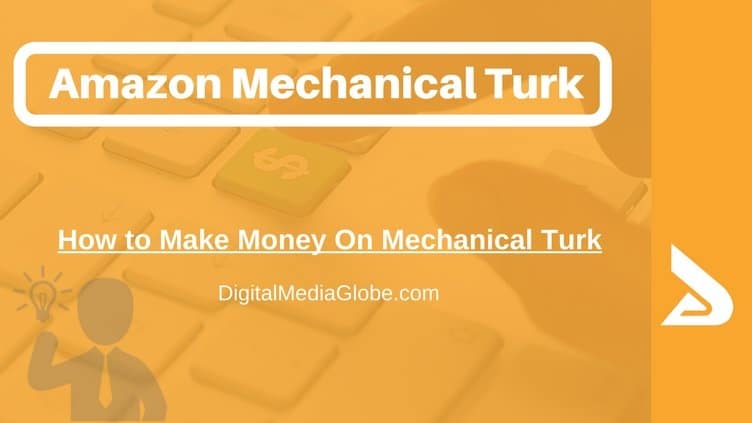 I hope my Amazon Mechanical Turk review will throw some light on how to make the most of this crowdsourcing platform, look at the way freelance marketplaces work and how not to overlook them (Thanks to all the Amazon Mechanical Turk Complaints out there!).
Amazon Mechanical Turk Review
What is mTurk?
Amazon Mechanical Turk is an online crowdsourcing marketplace (a common medium for buyers and workers to meet) and is one of the legit ways to make money from home as  it is hosted by Amazon itself!
Earn extra money online by doing surveys, shopping, watching videos and more!!
(Only from Australia, Canada, Ireland, United Kingdom and United States)
Amazon Mechanical Turk Sign up process:
Click on the Worker link (in blue color) on the upper right corner of Amazon Mechanical Turk Welcome page.

Provide you Email on Mobile number (In case you are signing  using mobile). Select "I am a new Customer" option, create a new password and start the sign up process.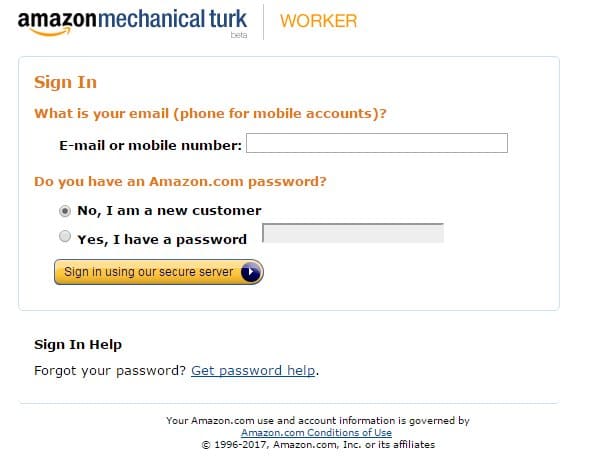 Accept the Amazon Mechanical Turk Participation Agreement and fill in your personal information.
It takes maximum of two days for your registration request to be accepted and they will notify you through email. You would get this message on your dashboard.

How Does Amazon Mechanical Turk Work?
Once you have been approved, you are put under an initial holding period for at least 10 days.
What does that mean? Amazon mTurk holds your money that you have earned for the first 10 days before transferring it to your earnings balance.
You can find your earning balance details on your dashboard or earnings page.
U.S Workers and India Workers:  You can transfer your earnings to your bank account or to an Amazon.com Gift card. (Indian workers remember that you cannot redeem it as Amazon.in gift card)
Other International Workers: You can only transfer your earning balance into an Amazon.com Gift card.
You can visit their FAQ worker page of Amazon mTurk to know in detail.
Would You Like to Earn Some Extra Income!!
(Only from United States)
What are mTurk HITs?
HITS are basically easy to do tasks with no specialized skills involved. Amazon calls these tasks as Human Intelligence task, hence the term HITs.
The requesters (the clients who request a human to do their tasks) are basically business owners, research companies, consumer product groups and even could be an individual owner.
The workers (who accept the requesters works known as HITs) get paid in return.
A typical set of HITs would look like these and every task has an expiration date and time allotted to do the tasks and the rewards (earnings) attached to it.

Some tasks require you to pass a qualification test, while most doesn't need one.
Most of the mTurk HITs fall under the following category:
Doing online surveys

URL Search

Translation from one language to another (Do add the languages you know in the profile page of yours for requesters to see)

Copy Editing

Audio Transcription

Data entry jobs
How to create mTurk account in India?
I have been reading lately the Amazon Mechanical Turk Complaints regarding people buying ready made mTurk account or pre existing mTurk account for money in India.
Avoid such scam and fraudulent activities as your account could be suspended for Identity theft. Amazon mTurk is free to join for any new comer with proper email address, original personal information and password.
Word Of caution: Don't sign up with wrong location address and don't use wrong account name, else you may get suspended for location and Identity mismatch. Say, you have shown as an U.S citizen and but initiated a bank account verification, your PAN card will show you are a non U.S residence leading to account suspension. Amazon Mechanical Turk India tracking systems are damn strict, so avoid such mishap.
mTurk India Registration:
If you are an Indian worker and want to transfer your money in Indian Rupees to your bank account, you need to do the following.
Provide your birth date and a scanned copy of your PAN card (Permanent Account Number).
You need to patiently wait for the approval to get your earnings in cash.
Amazon mTurk hasn't set any clear time frame on verifying your PAN card and bank account details before you can initiate the account transfer process.
Check the Earnings page, as they might provide instructions and update on your bank account verification.
Note: Their FAQ page has mentioned that it takes atleast 7 days to verify your PAN card details. However, they haven't mentioned the maximum time frame to verify your bank details.
How to Make Money on Mechanical Turk?
We know that mTurk HITs doesn't pay much. Hence, to increase the income potential you need to approach mTurk with set goals.
Ask yourself, what time of the day you are available for these HITs?
How many hours maximum you are going to put on these tasks?
And most importantly the ROI factor!  Time invested Vs money earned. That should be the earning parameter.  
Don't think it as a website where you will work on your leisure hour and tell yourself my earnings will add up in the long run. It is definitely not going to work in that way.
Remember, the tasks are easy and the job opportunities seem plenty that draws lots of people to work part time here.
But only few see real money as most of them are only in a hurry to do as much HITs that they are qualified to do; without building any real portfolio from their experience (The only way to get higher payouts from requesters).
Amazon Mechanical Turk Tips:
Always filter the HITS which pay you the most. Go to the sort by: click on the Reward Amount (most first) and thereby get to know the highest paying requesters.

As you have to complete 1000 HITs atleast to become eligible for the higher paying HITs, do the tasks that are not time consuming . You goal should be to do more number of HITs to reach that 1000 mark. So don't waste time on lengthy tasks (as the pay is anyway lower).

Be regular on mTurk forum and have a close eye on what the other members are saying and make your own mTurk strategies (tips and tricks).

Only attempt HITs that you are confident enough of performing well. By doing so, you are likely to receive higher HIT approval rate from requesters. MTurk provides more qualified HITs to such a worker.
Look at Amazon Mechanical Turk only as one of the modes to have a supplement income rather than looking at it as a main income source.
Anchor on the flexibility factor that Amazon mTurk provides and make the maximum out of it.
Happy Earning!
Please comment your inputs and feel free to share if you found the post useful.