There are ample ways to earn money online and work at home data entry jobs is one such easy way of earning money with zero investment but with a little caution on legitimacy.
Data entry jobs from home is an easy way to earn extra bucks from the comfort of your space, be it a college goer, a homemaker or somebody looking for extra cash on their free times.
Mincing some extra cash without the requirement of any technical knowledge is not a bad option at all and data entry job opportunities will suffice your needs.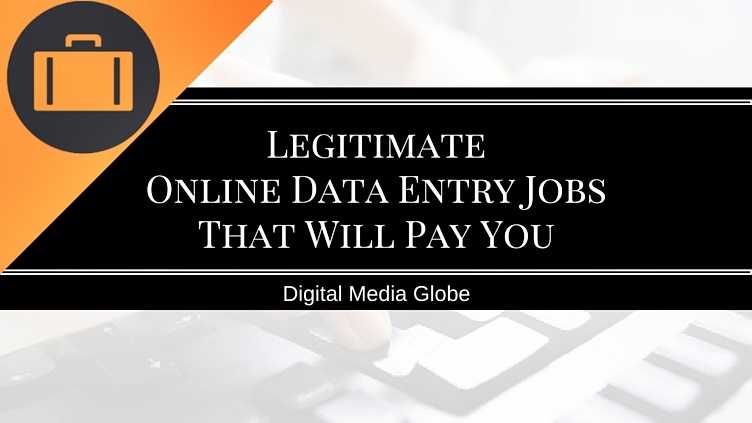 Legitimate Online Data Entry Jobs From Home
Let's find out some legitimate work from home data entry jobs and the best sites which will help you to earn money without any investment from your end.
Virtual Bee / Smart Crowd
A well known crowd sourcing company (previously known as KeyForCash) has been acquired by Lionbridge Technology in 2012 and all virtual bee employees are restructured as Smart Crowd employees.
Smart Crowd acts as a medium between clients and independent home based contractors (data entry operators) in shifting data securely and overall data administration of clients.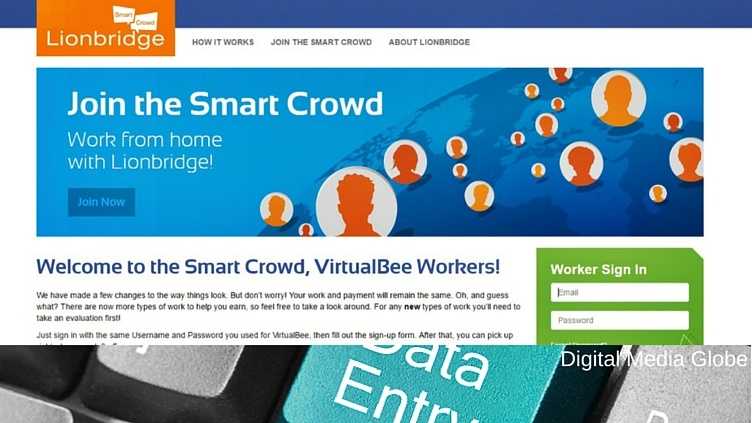 Eligibility Criteria:
You need to be minimum 18 years of age to start working with them.
Any country people (both U.S and non U.S) can work with Smart Crowd. But you need to be the resident of your specified country without any frequent migration.
You need to complete at least one placement evaluation test. (No worries you can take their evaluation again till you clear one).
How to start with Smart Crowd?
Click their join now button on the home page. A traditional sign up form will be displayed.
Enter your name, email, password, location (all details regarding your country) and you need to mandatory check their email notification button to start the sign up the process.
You will get an email verification process within an hour in your inbox. Click the email verification link and a Master Service level agreement page pops up and click the agree button and you are good to go.
Tell us about yourself form is next the step with them and carefully mention your education and skill set, your desired industry in the desired column. Remember, the proper skills you enter, related job opportunities you would get. So do it tactfully.
Once done, start you skill evaluation test to test your abilities before you get tasks with them.
As we are dealing with data entry jobs, you can choose either Data entry – Numeric, Data entry – letter only or Data entry – Dollars only and start your evaluation test.
Once done with the evaluation part, if you got a score of more than 90 to 100 percentile, you have cleared the test and wait for job tasks to appear on your page.
Just read their instructions carefully before starting the test, it's a no brainer test and you can easily score full marks.
How do Smart Crowd Pays you?
Best part: You don't need to provide any sign up free, membership fee to get work.
No minimum or fixed wages model.
You get paid for the task you have done in a stipulated time period.
The more good the typing speed or key stroked, the better you will earn.
My rough estimate is that you can get around one to five dollars if you can type up to 2000 key strokes initially.
Payment is issued once a month either by check or direct account deposit.
To Remember:
Smart Crowd / Virtual Bee is a complete legit company and provide free online data entry jobs from home. Patience is the key in getting the maximum benefit from Virtual bee as you need to lookout for the job opening seasons at their dashboard regularly.
Try as much evaluation test with smart crowd until you reach the 90% eligibility criteria in their evaluation and start earning that extra cash smartly.
Freelancer
Freelancer.com/ Freelancer.in is another big conglomerate and a popular marketplace to find free home based data entry jobs in project formats and you can even bid a price money once you get the experienced tag with freelancer.
It has a format of a typical job portal where you login with your details and does an advance search to find jobs related to data entry.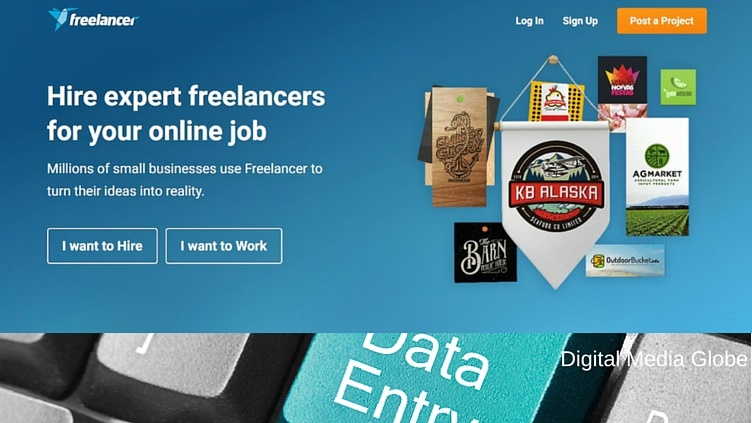 Eligibility Criteria:
Anybody who has the desired skill to do data entry jobs can apply at freelancer.com for free.
How to start with Freelancer?
Look for the signup button at Freelancer.com.
You can start by using your Facebook account. But I would recommend you to do a fresh sign up by entering your email address, username, password and click work button and click the create account button.
Once you have logged in successfully, try filling your area of expertise and other additional educational details and finally write what you are good at in the bio section.
You can even separate create a resume to add a personal touch to your profile and let the client know about you in detail.
They do have a membership plans (fixed price projects) but I would suggest you to initially try their free version as you get 8 bids every month. Once you started getting more than that, go for fixed priced membership plans where freelancer would levy 10% fee for being a medium between you and your clients
Once done, you are good to go.
Browse jobs on freelancer and choose the desired job types such as fixed price jobs, hourly projects and contests and look out for the projects that are currently online.
Start bidding for projects (show capabilities and confidence in completing that project and give a one liner pitch about what you are good at that project to your employer.)
Also, remember to activate new projects notifications on your email id which is convenient than to regularly check the website.
How Freelancer Pay you?
Freelancer.com has a milestone payment system, which means you get paid only when you have completed the project before its stipulated time.
Say, you have completed a single client project successfully; you can find your account to be credited for the work you have done.
You can transfer the money to your account weekly either through third party payment gateways such as PayPal and Payoneer or directly via wire transfer to your bank account.
Click Worker
Click worker is another legit data entry jobs provider you can find online and works in similar fashion of virtual bee and freelancer.com.
Click worker acts as a crowd sourcing platform between its customers and click workers for performing simple tasks in the field of data entry, data research, etc.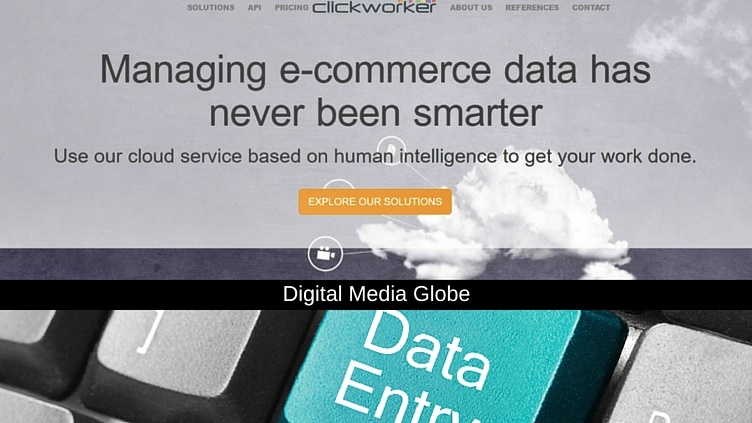 Eligibility Criteria:
You should be 18 years and above and should have a working PayPal account. Need to have a computer at home with good internet connection speed.
The work assignments are more for U.S based citizen and German citizens. The job work for non U.S citizens click workers are little less compared to the former.
How to start with Click Worker?
Once logged in, complete the portfolio with your personal information.
Take their online assessment test, once qualified; you will receive jobs matching your skills.
If German is your mother tongue, this is the best place to work from home data entry job.
How Click Worker Pay you?
Click worker pays thorough PayPal only. Once your finish a particular assignment they will process your payments weekly on a particular day to your PayPal account.
You won't get fancy payments as most jobs are hourly and you will be making money in cents and at later stages in dollars.
They are no scams in click worker and they will pay you on time.
mTurk
Mechanical Turk (mTurk) is the brain child of the E-commerce giant Amazon. mTurk is a market place medium where you can find home based data entry jobs (Amazon call them as Human Intelligence tasks) from requester and they pay you for the same.
It is 100% legit and it pays you once you finish all the micro tasks (small tasks) you have assigned to yourself.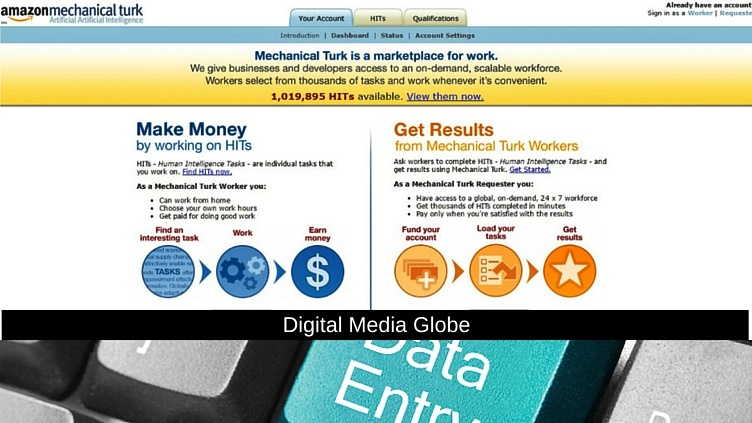 Eligibility Criteria:
U.S Workers: Need to be 18 years plus in age and should be a U.S citizen (valid address proof).It is mandate to submit the SSN number for tax verification purposes otherwise mTurk will disable your account.
Indian Workers: Need to be 18 years plus in age and a valid PAN card number for tax verification purpose.
International Workers: Need to be 18 years plus age and valid address proof of non U.S citizen and a proper Amazon account as all your earning would be converted as Amazon.com gift card.
How to start with mTurk?
Sign in as a worker. Enter your personal information; make sure to accept the Amazon Mechanical Turk Participation Agreement.
After registering successfully, Amazon mTurk dashboard will appear with a list of HIT in data entry department.
Start working on HIT's that interest you and you are good at completing. Then wait for the approval from the requester who assigned the job to approve your work.
Once approved, Amazon will transfer your earned money in your Amazon payment account. You can check the same at your earnings page in dashboard.
If you are a new user, Amazon will hold your earnings for 10 days for security reasons from the day you have started working on the first HIT.
How mTurk Pay you?
The money your earned can be transferred to your bank account if you are a U.S citizen or an Indian Citizen. For rest, you can use the money as Amazon gift card only.
Amazon doesn't take any commission from the mTurk workers and it acts only as a mediator between you and your employer.
So pick HIT's that you can do properly and the more HIT's you complete the more you will earn.
You can withdraw money from your account only once a month.
For detailed info about mTurk workers check this link
Elance/ Upwork
Elance -ODesk is a multinational company with millions of registered freelancers and clients doing business through their crowd sourcing platform and has recently become an Upwork company.
So one can easily find at home data entry jobs as huge number of clients post their work at Upwork regularly. It works in a similar fashion as a job portal but the only difference being you work online.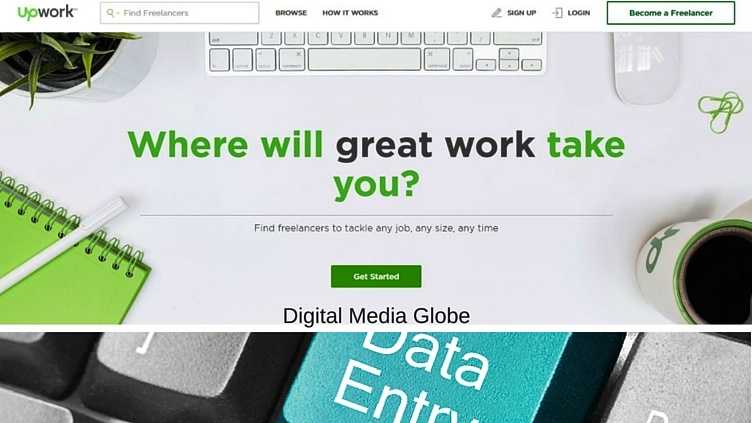 Eligibility Criteria:
Anybody with required skills can take work at Elance. It is free to join and work at Elance / Upwork. But they will levy a 5% – 20% commission fee for the job you have completed.
How to start with Elance/Upwork?
Make sure you have a personal laptop and good internet connection and visit Upwork website and click on the Become a Freelancer button.
Sign up with all the mandate information like personal details, your portfolio, educational details and finally attempt the Upwork skill test to test your abilities.
Once you have created your resume, start searching for projects matching your skill and apply to the work with a good pitch about your abilities to do that work.
Since it is a project type, you can set your own rates or you can negotiate with your employer for the same when you become more experienced with Upwork.
How Elance/Upwork Pay you?
You receive your earning either via direct deposit, PayPal, Payoneer, local fund transfer and all are done with Upwork's third party system through Escrow
Fiverr
Better call Fiverr as a $5 website because all projects or gigs are at a basic rate of $5 and one can find lots of simple no brainer online free data entry jobs at Fiverr.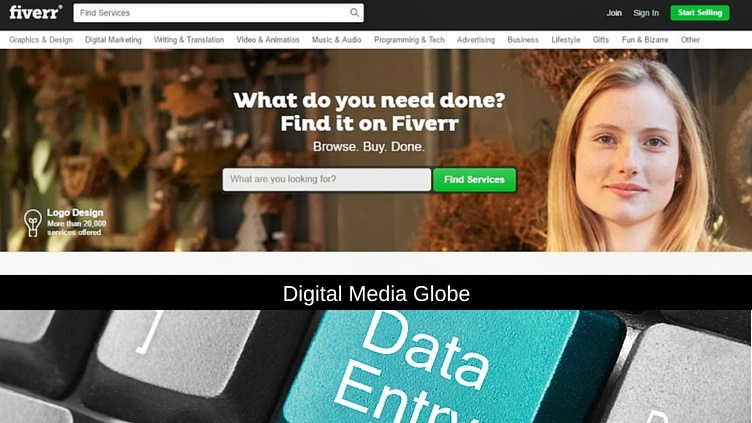 Eligibility Criteria:
Anybody can find work in Fiverr and if you possess some good niche skills, Fiverr is a good marketplace to earn decent money.
How to start with Fiverr?
Create a personalised gig (in Fiverr terms for a service) with a professional username, Gig Title, Gig Category and Gig Gallery, Description describing what skills you are good at, Buyer instructions, duration you will work and finally upload your photo.
Once you have created your gig successfully, it will appear on the Fiverr market place.
With lots of clients looking at Fiverr to get their work done, they would look at your gig and may give you an order.
Remember, it all depends on how well you have created your gig like mentioning clearly to buyers that, say you are good at doing data entry jobs, copy paste particular stuff, or even converting a pdf file to another format, etc.
How Fiver Pay you?
Fiverr pays you through PayPal. So once you got earning in your Fiverr account, you can transfer to your PayPal account and then to your desired bank account.
Remember, Fiverr charges a 20% commission fee for all your gig earnings. For example, if your earn $5 on your first gig, you will receive $4 as earning and Fiverr takes $1 as commission.
Beware of scam sites:
Because it is easy way of making money, fraudulent activities are quite normal and finding real data entry jobs might be a daunting task.
Never opt for any data entry jobs that are going to ask money in advance from you in the form of membership.
Don't join any company website and give your personal details until unless you are sure that it is a legitimate company and you have done thorough research about them.
Go through blog articles on data entry, reviews on companies providing data entry jobs and jobs forum before making your decision.
If any company is going to give you fantasies of high payment, understand it is a trap. Remember the data entry job earning is minimal and is a kind of passive income.
Note: This whole article is intended to be an informative article to find data entry jobs online free and in a legitimate way. Please do not ask for work or apply your resume here, rather visit the above sites for more information.