When you venture into a freelance career, you could start off right away and earn some money with a transcription job or a data entry job.
TranscribeMe is one such company to monetise your downtime and can be a good side hustle for a part time freelancer.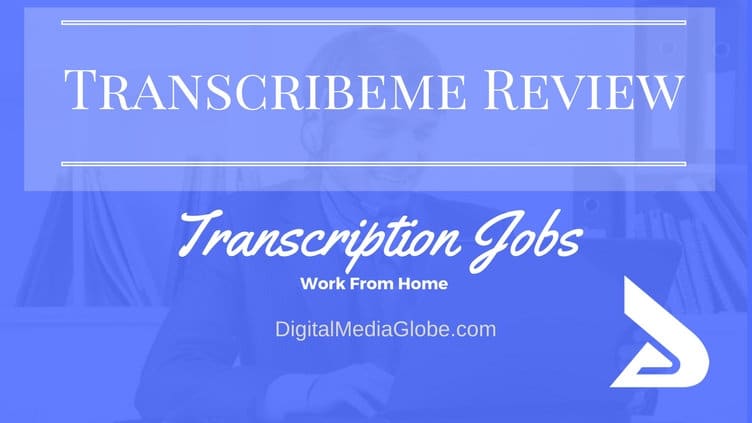 As usual, I would keep my TranscribeMe review as honest as possible and not review for the sake of it.
TranscribeMe Review
What is TranscribeMe?
TranscribeMe, a transcription service provider, positions itself as a low cost, flexible and budget friendly transcripts to its clients and currently has thousands of freelance transcribers working with them.
It woos its customers with a $.79/minute transcription cost per audio minute. It has an array of clients from different verticals such as research, medical, contact centres, business and education.
It even does translation of content into European and Asian languages.
Their online interface is easy to use and operate and there is flexibility in your working hours (log into TranscribeMe workhub anytime and start transcribing short 2 minutes audio files one after the other as long you wish).
TranscribeMe requirements:
As a transcriptionist willing to work at TranscribeMe, all you need is a computer that supports Google Chrome (Desktop and laptop), a good speed internet connection, the skill to transcript an audio or video file accurately in any language (mostly English, they do have clients from Asia and Europe).
You can even download the TranscribeMe app from the iTunes store if you are an iPhone user.
You don't need any prior experience in Transcription to work for TranscribeMe (the major plus of this company) and no upfront subscription fee type (completely free of cost) to sign up.
Also Read: Legitimate Online Editing and Proofreading Jobs: Complete List
TranscribeMe application process:
Visit their website and click on the sign up button at the extreme right as a transcriptionist.
Or you can directly go here and register.

Fill in your basic account details, PayPal account email Id, country of origin, most importantly choose as much transcription languages you may know.
Once you complete this registration process, you would be given training on how their online interface works; the style guide you need to follow and finally you would take their two parts of exam to qualify.
In case you got qualified in the TranscribeMe transcription test, you would be notified through your email id about your status within 2 weeks. (It may extend depending upon how many application they receive)!
TranscribeMe rules:
Though they welcome transcribers without any experience, there are still some skills they look for: Transcribers should be familiar with the syntax (sentence structure), English grammar rules, American English accent and diction and a good typing speed (50 – 70 words per minute).
You would be first put through an online training program, which shows how their Transcriptionist portal works and then introduced to their style guide. (Make sure to take notes and understand their style guide properly to avoid disqualification)
Once you have cleared their exam and become a successful TranscribeMe work from home transcriptionist, you would be given short chunks of audio file (1- 2 mins) to help you get accustomed with transcript process.
Since they pay your via PayPal, you need to have a valid PayPal account or your country should allow you having a PayPal account.
TranscribeMe exam guide (TranscribeMe exam attempts):
The TranscribeMe exam consists of 10 questions (Grammar test) with 3 audio transcription files and mind you, need to get 90% to pass the test.  
If you fail the test for any reason, you need to start the exam all over again. (I guess they give you 10 reattempts!)
Lots of people have found the overall test to be okay but found their style guide to be difficult to follow through!
TranscribeMe Earnings:
The TranscribeMe pay starts at $20 per audio hour and the average monthly earnings can go up to $250 (if you are highly skillful with a typing speed above 50wpm).
Note: The 'per audio hour' pay is not equal to 'per hour typing pay' that you will ultimately be doing for transcription an audio file. Per audio hour means the time taken for the audio to play (which is one hour in total). But once you start to type the audio you have listened, it may take more than an hour. It all depends on the audio clarity; your listening skills and how fast you have typed it. Sometimes you need to replay the audio to proofread what you have written.
So, if you do a rough calculation for a beginner in transcription job with average typing skills, per audio hour will take you somewhere between two – three hours atleast.
So your TranscribeMe earning potential will be approximate from $5 to $10 per hour earned for every $20 per audio hour work done.
Also, if you have a medical or legal background, you may get transcript projects higher than $20 per audio hour and you may end up earning more.
The TranscribeMe workhub has relatively steady stream of work all round the year (as they attract more clients with a lesser quote).
Also, they have an internal promotion model wherein you get promoted as a reviewer (quality assurance agents) or to higher paying projects if you transcribe exceptionally well.
Is TranscribeMe Legit?
I know this question to be lingering for a while who are new to TranscribeMe. Because there is a handful of TranscribeMe reviews and their readers pointing to its irregular pay and another handful of readers saying they are paid on time.
As far as the internet goes, you need to look at everything with a pinch of salt!
You call a company to be legit depending upon the how properly it does business, does it have actual clients and is their payment mode safe and secure?
TranscribeMe satisfies all the factors at the professional level and hence they are legit to apply and work for.  
Sites like TranscribeMe:
From the TranscribeMe pay rate estimates, you figured out that the pay is low to average. So, it is advisable to work parallel on other transcription sites like Quicktate, Scribie, Rev, GoTranscript to add up the income.
Also read my complete list of transcription jobs for newbies.
In doing so, your average monthly income from different online transcription jobs can sum up and become a good supplemental source.
Furthermore, invest in a good quality Transcription training course like Trancribeanywhere to know how to get maximum ROI from the time invested in transcribing.
Hope you got some insight on this newbie friendly transcription company and let me know your inputs in the comments section.