FTC disclaimer: This post contains affiliate links and I will be compensated if you make a purchase after clicking on my link.
I know lot of people are looking to work online and earn money in easy ways.
People generally look forward to Microjobs sites like Microworkers where they get to do easy simple tasks (not skill based) and get paid in return.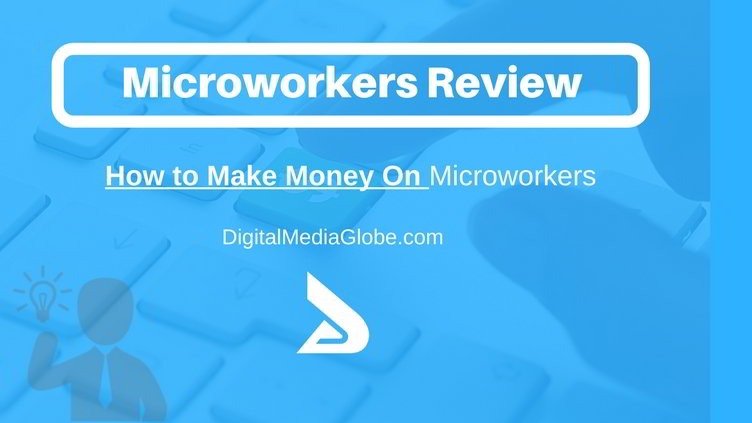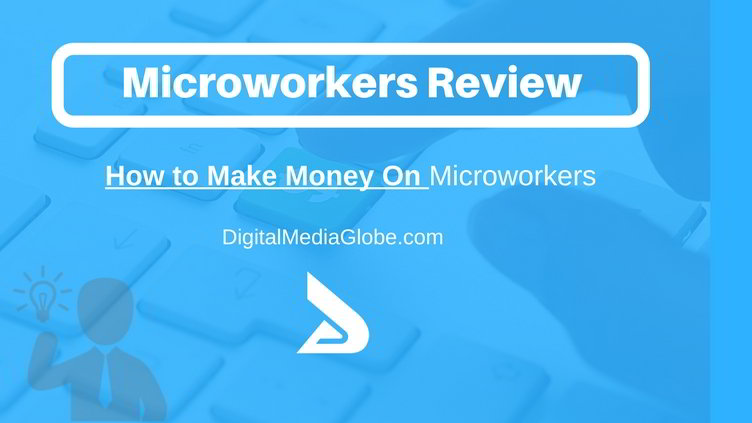 The risk associated with such easy jobs is the income factor, how legitimate the site is and what are their payment modes?
This is exactly what we are going to cover in this Microworkers review and I would keep it as honest as possible.
Microworkers Review
What is Microworkers?
Similar to Amazon mTurk, Microworkers facilitates a crowdsourcing platform where employers and workers meet and exchange work with pay.
Is Microworkers legit?
It is. The joining is free. They even pay you $1 to join them. There is no hidden membership to create an account. Anybody from any country can sign up and start working on microjobs.
Also they have a PIN verification system to verify a workers identity and pay you through different payment modes such as PayPal, Payoneer, Dwolla etc which all points that they do proper business and the site is legitimate.
Most of the Microworkers complaints I have heard are all related to scam works from employers, bad approval rates, and PIN related issues etc..
Microworkers Payment Method:
You can initiate a withdrawal request when you have atleast $10 approved earnings.
They have different payment options:
PayPal: $9 in account + 7.5 % withdrawal fee
Local Fund Transfer: Transferred to your local bank account via Transpay.
If it's a non USD transfer: $10 minimum threshold + 3% Microworkers fee + $1 Transpay withdrawal fee.
If it a USD transfer: $10 in account + 3% Microworkers fee + $3 Transpay withdrawal fee.
Skrill /Moneybrookers: min $9 in account + 6.5% withdrawal fee.
Payoneer: Min $20 in account + 5% withdrawal fee.
Dwolla (Only for U.S citizens): min $9 in account + 6.5% withdrawal fee.
In case you need in depth information on Microworkers payment method, check here
Note: It is mandate to generate a new PIN to initiate your withdrawal process. They would send the PIN details to the mailing address you had given them.
Depending upon how remote your location is, it may take 20 days or more time period for the PIN to reach you.
If you are currently having any queries pertaining to PINs, check here.
How to go for a Microworkers Signup?

Click on the register for free button and you would be get a page like this and fill in the required account information. For Microworkers signup click here.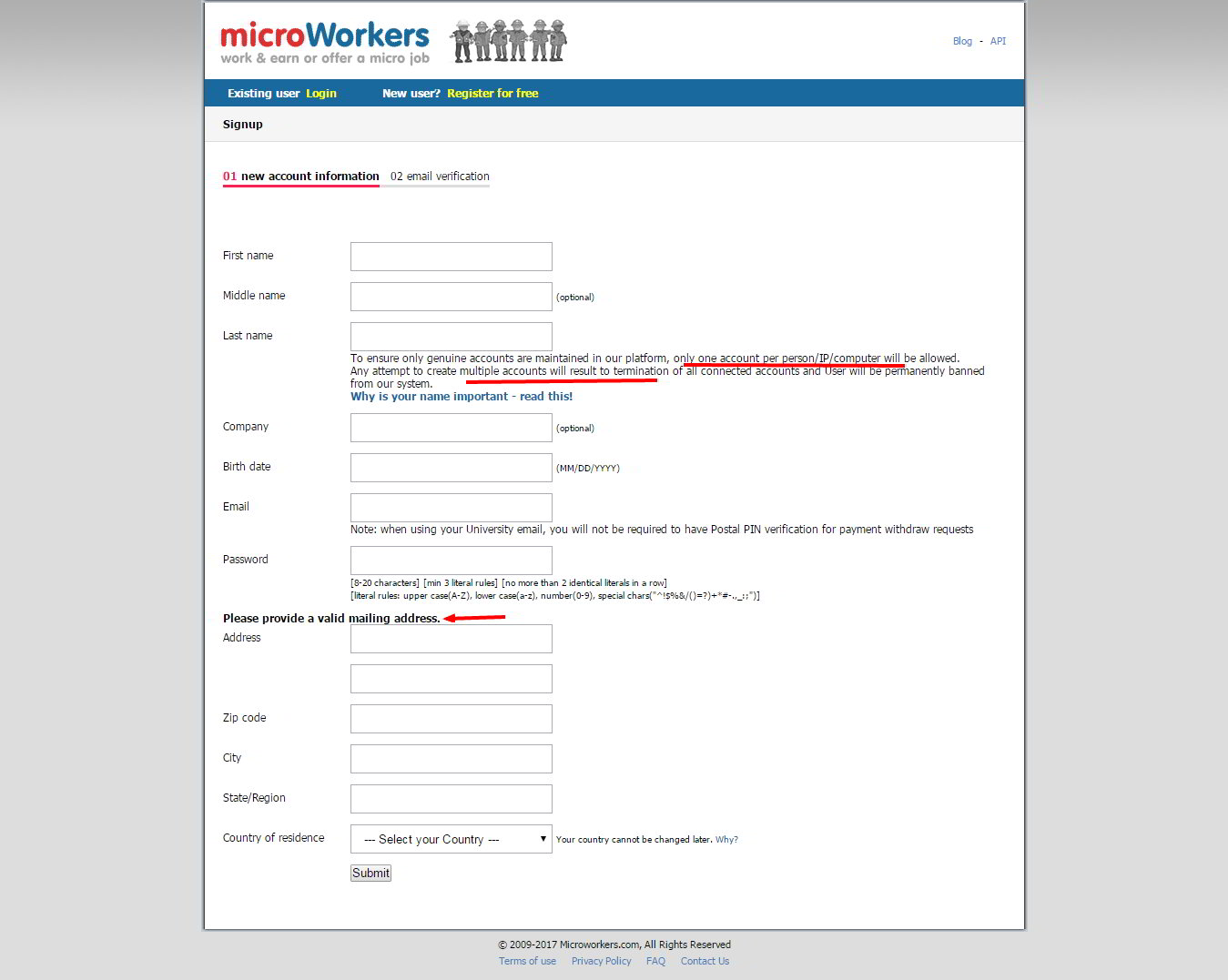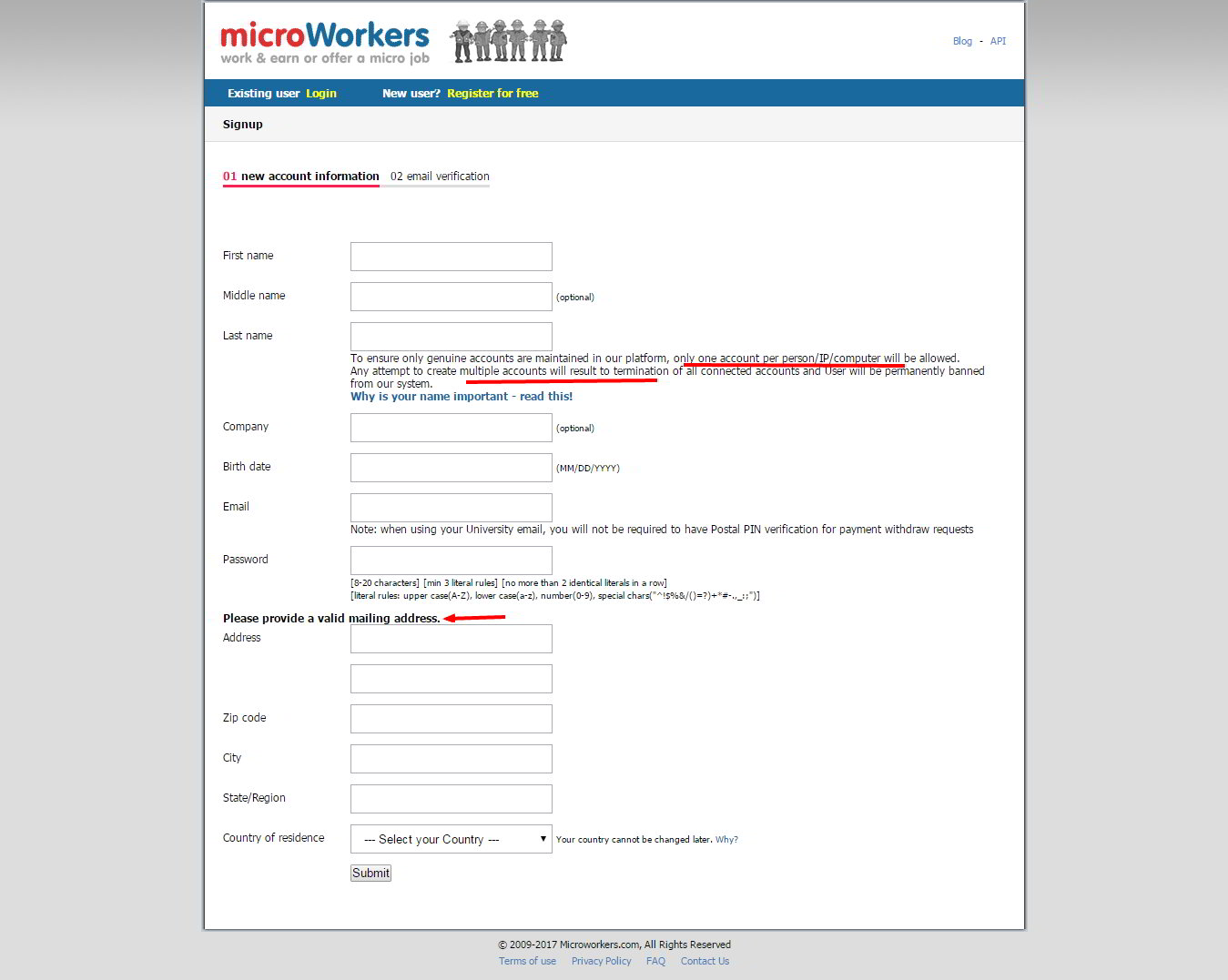 Word of Caution: Don't have more than one account from the same IP address; your account would be terminated. Also input your home address without mistakes to get your PIN properly.
You would get a message to check your inbox and validate your account for email verification.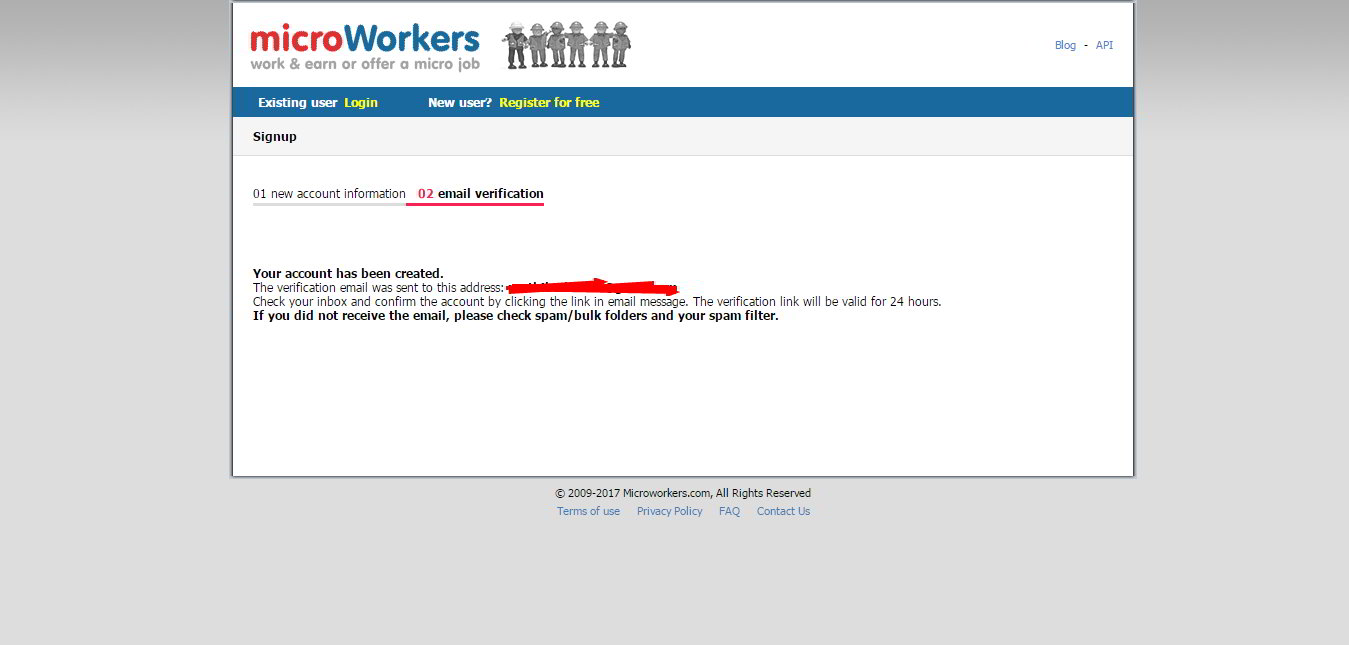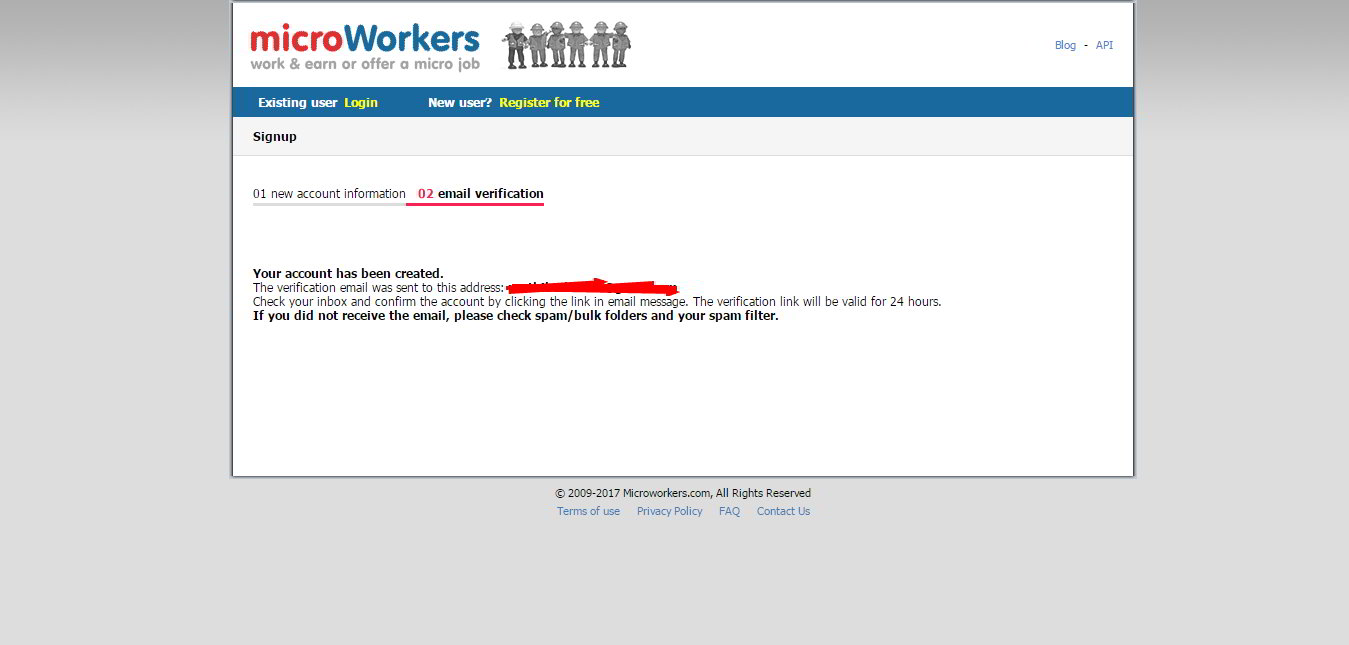 You would receive a congratulatory mail on your account opening with a verified email address.
Click on the list of available jobs with a blue hyperlink to get started.
Your dashboard will look like this, once you have successfully signed up with Microworkers.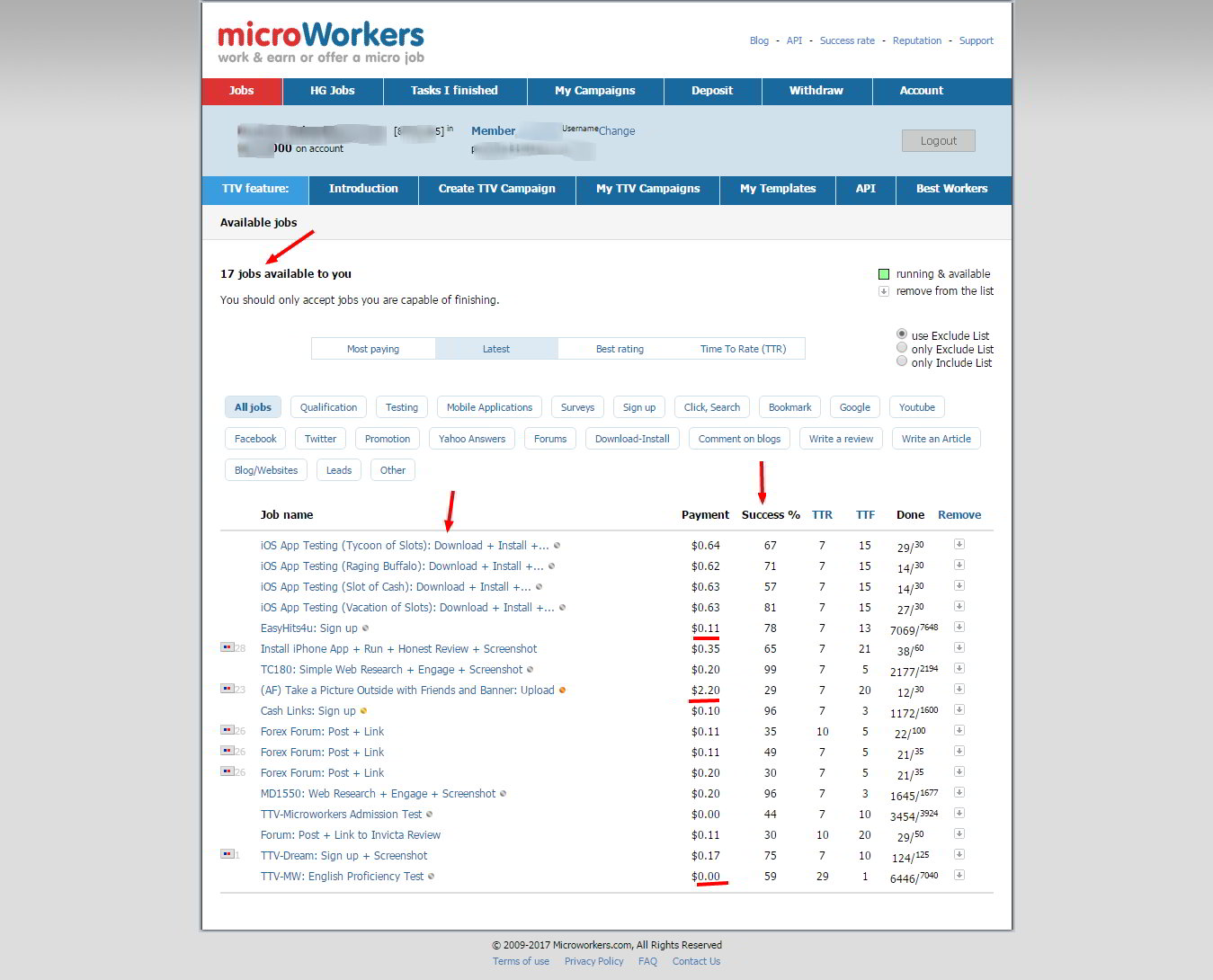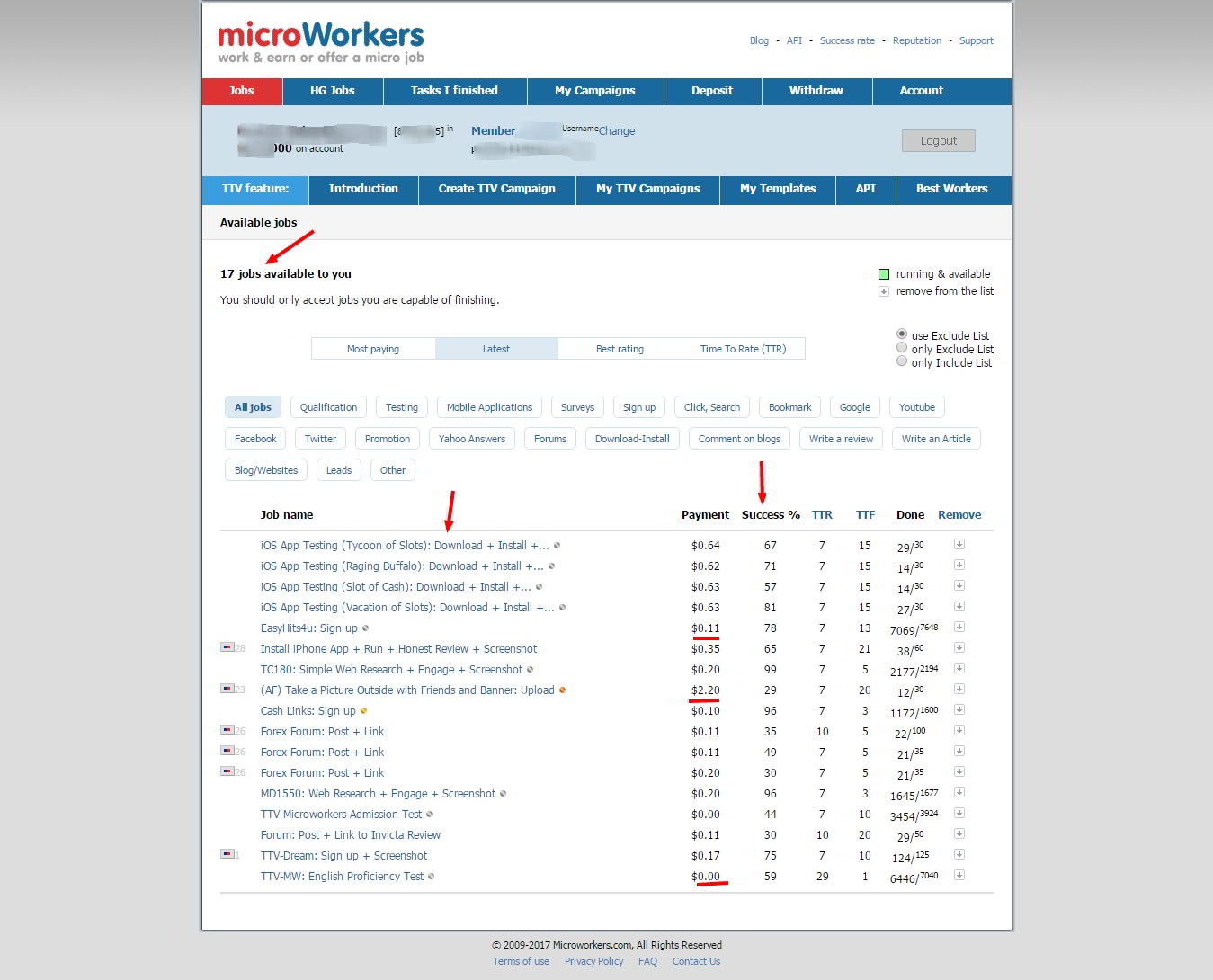 The dashboard shows that I am eligible to 17 jobs currently (so less! It was way more in Amazon mTurk when I signed up, I guess it's 1000+ HITs).
If I look at the Payment column, the maximum I could see is $2.20 (approval rate only 29%) and minimum is without pay at $0.00 (!!).
The Success % is the approval rate of the employers who assigned those tasks; TTR and TTF are the time allotted to complete the tasks.
The type of jobs I could see on my Microworkers dashboard is plain easy to do, most of them being sign up and others are app testing, survey, web research, forums, downloading and installing an app.
The other tasks you may be eligible to do are Yahoo answers, comments on a Facebook page, Twitter related, Blog comments, Download Install, Writing an Article etc.
Microworkers Alternative
Looking parallelly for a better Microworkers Alternative? If you are looking for the full list you can visit the list of best micro jobs sites. For reference, I have mentioned some of the sites like Microworkers.
My Take:
Even If I have completed 10 jobs out of the 17 micro jobs eligible for me and earned a dollar, I still need to wait for the approval from the employers to convert into real cash.
The earning factor (time invested/money earned) I talked about in my Amazon mTurk review looked way lower here in Microworkers. There is not any great value addition even as a supplemental income for anybody looking for online working jobs.
Atleast Amazon had lots of HITs with them which I couldn't find at Microworkers!
The only argument I can find here is I am earning some money on my free time (while watching your favourite sports or killing your time).
If you ask me the best Microworkers alternative, Amazon mturk can be one if you are still looking for an easy online working jobs category (The HITs are way higher and there is no cap in payment withdrawal limit or PIN problems).
So the choice is yours!
Hope you liked my Microworkers review and got some idea on how actually micro jobs website like Microworkers work and the kind of pay you may get.
Please do comment and share.