FTC disclaimer: This post contains affiliate links and I will be compensated if you make a purchase after clicking on my link.
Over the last decade, there has been a massive surge of contents being written all over the internet on every possible topic.
This made businesses, bloggers, writers, authors and other industry segments to look for editors and proofreaders who can take assignments from home.
More and more people are oriented towards freelance proofreading jobs and editing jobs from home because of the flexibility it offers.
All you need is a good professional experience in the editing field or a great command in English Grammar would suffice. (Make sure you are aware of different stylebook guidelines like the AP stylebook  and The Chicago Manual of Style before venturing online).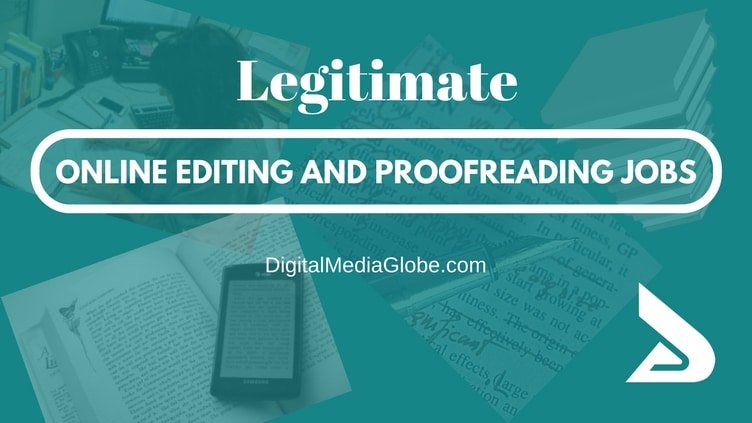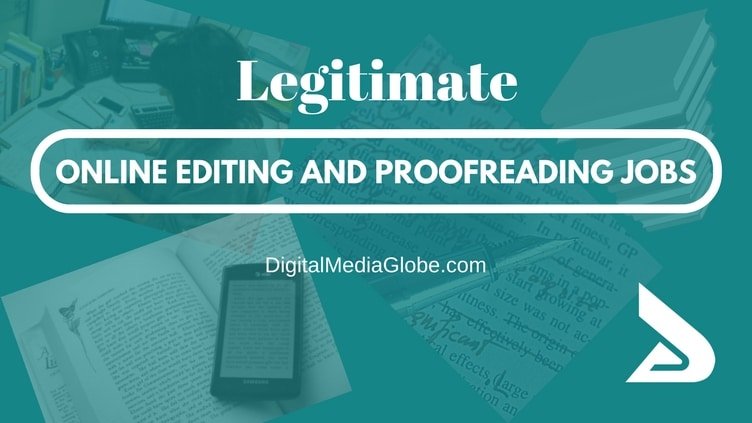 The online editing and proofreading jobs are not going to be run out of demand as far as the content businesses remain intact and most of the companies I have listed below are regularly hiring remote editors and proofreaders.
Also, all these companies are good to go as they are safe, legit and have a secure pay system.
Best Online Editing and Proofreading Jobs Sites
Places to look for online editing and proofreading jobs:
Kibin has an array of editing and proofreading services from grammar to sentence structure and they work all 7 days a week.  
They hire native English speakers (English as their first language) from around the world.
They hire both freelance editors and in house editors. If they didn't have any freelance opening at that moment, you can submit your email id. They will inform you via email once the hiring process starts for freelancers.
Scribendi provides editing and proofreading services and it's been in this business from 1997.
You would be working with them as telecommuters (independent contractors) from home and choose your projects depending upon your preferences and skill set.
It welcomes editors and proofreaders from any part of the world to apply with them and pays all its telecommuters via PayPal.
Note: You need to have prior experience as an editor (3 years min) and a proper college degree to qualify working with them.
Proofreading Services provides online proofreading and editing services to more than thousand clients across the globe.
You need to have a solid experience in this field (as an English professor, newspaper or magazine editor, etc) and are currently hiring U.S based only.
All jobs are work from home and a reliable service to go for if you are from U.S.
Pure Content deals with content creation and provides freelance editing work for remote workers (home based).
Only Countries with English as their first language (U.S, U.K, Canada and Australia) are eligible to apply here.
It is good choice for those people looking for editing jobs from home without any experience in the relevant field. All you need is to do well in their editing test to get qualified.
They also hire writers, so you can apply there as a writer as well.
WordsRU is a proofreading and editing services company looking for professional online editors to assist them.
They provide jobs on proofreading research papers, thesis and book editing, dissertation and adult fiction editing.
As an independent contractor looking to work with WordsRU, you need to hold a Master's Degree and atleast two years of experience as an editor, copyeditor or proofreader from any country.
Similar to Pure Content, Domainite also hires editors without past experience in editing.
Also they regularly hire freelance editors and writers and all jobs are totally home based.
Pass their editing test in order to start getting job at Domainite.
The payments are made weekly through PayPal and they pay approx .25 cents for every 100 words you edit.
Although not clearly mentioned on whether they hire International editors (Non U.S), I guess you can give it a try if you have a strong command on English.
Established in 2000, Proofreadnow offers proofreading and copyediting services and all their clients documents are reviewed by 2 editors.
The eligible criteria for applying with them are atleast 5 years of experience in proofreading and copyediting.
They also do proofreading in Chinese and Spanish other than English language.
Proofreading Pal is another professional proofreading and editing services that uses 2 proofreaders to edit their customer's document.
You need to be able to proofread not only for errors but also spelling, grammar, punctuation, verb tense and more. As an editor, you need to look out for sentence structure, clarity and style.
They constantly seek qualified applicants and actively hires throughout the year.
You need to be a graduate or post graduate student of an accredited U.S University. If you are a non U.S national, you need to have a solid 5 years professional experience in proofreading and editing.
If you from a native English Speaking country and have a good experience in academic editing and proofreading, then you might want to give them a look.
The good news is that they are always hiring editors (mostly academic oriented) for work from home proofreading jobs.
They regularly post their hiring requirements on their website and currently have an opening for science editors.
You need to have an extensive experience in editing and proofreading or must belong to the native English speaking countries and familiarized with citation styles like APA, AMA, Chicago, CSE and MLA.
AJE hire contract editors from home at a pay rate of $15/hour. They recruit only U.S editors who have done their graduation from any of their affiliated U.S schools and institutions.
At book editing associates, as a freelance editor and proofreader you need to pass a proofreading test to get hired by them.
Also, 5 plus years of experience in editing and proofreading traditionally published books is a must to apply.
Wordfirm occasionally hires skilled freelance editors as an independent contractor who can work from home.
They look for 5 years of practical experience and a college degree and they accept applications from all over the world.
They generally hire freelance copy editors to work on their popular partner sites like eHow.com, LIVESTRONG.com.
They pay $3.50 per 300 – 500 words reviewed articles and the payment is made twice weekly per reviewed work.
They hire professional editors who have a 2 plus years experience with any publications company.
#14.
Cactus Global:
Cactus regular hires specialist freelance copy editors and substantive editors for publications and language focused editing services.
But you need to have a medical background (life sciences, physical sciences, medicine surgery, and pharmacy) to apply for a freelance editor position with them.
Their website had stated that the freelance pay average is from $ 1200 – $3000 per month.
Their business model allows clients to choose their own personal freelance editor based on the editor's expertise, qualifications and previous client ratings.  
They accept editors from all over the world and you need to register with them by adding your credentials (editing experience) and pass their online editing test.
They pay through checks for U.S nationals and PayPal for non U.S people.
Are you a  PhD holder in English and looking for a freelancer editing job from home? Then send your resume to edit911 along with a sample of your writing.
Edit Fast hire freelance proofreaders, editors and writers as per the project requirements and you should have prior professional editing experience.
All payments are made monthly through PayPal and you receive 40% of the total project price.
They look for freelance academic editors who are a language expert themselves and can do professional editing with ease.
You are required to have solid 2 plus years experience in English editing and proofreading work.
They pay you monthly via PayPal. They consider applications from both native and non native English Speakers.
Gramlee positions as a non compromise quality oriented editing service company.
They pay 2 cents per word for articles up to 3000 words.
You need to attach your resume and answers\ questions posted at their jobs section and get qualified to become a freelance editor with them.
They have regular openings for positions like Book Reviewer, Copywriter, and book editor on freelance basis.
Check their careers sections to find what opening they have for online editing and proofreading jobs.
Onespace is a crowd sourcing platform which does have has freelance tasks related to editing jobs.
They are a verified PayPal partner and to join them you need to sign up for Onespace workstation.
Babbletype is basically a transcription company specializing in audio to text services for market research industry.
But they have freelance job openings for proofreaders too.
They accept native English speakers with good language proficiency and pay weekly via PayPal.
#23.
Hello Essay:
Hello Essay caters to online essay editing services where a freelance editor would typically be asked to edit and proofread academic essays.
They have regular opening for online elite editors and need to be a native English speaker and a college graduate to become eligible working with them.
They recruit freelance editors for editing research articles, thesis, admission essays, etc.
The requirements of applying are minimum 2 years of professional editing experience, knowledge of various styles, native Fluency in English and a graduate holder.
If you are a talented editor with excellent working knowledge of grammar, usage, punctuation and know standard editorial conventions inside out, then opt for a 1 hour sign up process with Wordy.
The minimum payable amount is 50 Euros and payment is made monthly through bank or PayPal account.
A freelancing site like Upwork has a handful of online editing and proofreading jobs listed every day.
Once you join as a freelancer with Upwork, you can start bidding (apply to a job with a cover letter) on jobs related to proofreading and editing.
Note: The pay is quite low compared to the traditional editing and proofreading service companies. If you can find some way out to earn money from Upwork, you may consider it; otherwise you can skip it totally.
Flex jobs are a professional job service platform that first pre screens the jobs and check its legitimacy before making it available to the freelancers and part timer job searchers.
They do have regular listing of online editing and proofreading jobs with them from various companies dealing in proofreading and editing services.
To avail Flexi jobs full job listing, you need to opt for their subscription at $14.95 monthly and $49.95 yearly.
Contena is a proper job board dedicated to the writer's community. Along with the writing gigs listed, you will also find online proofreading and editing jobs with them.
But you need to go for the paid membership plan called Contena Pro to start finding editing and proofreading gigs.
It is a paid service business model in order to find a job for oneself.
Similar to Upwork, Freelance/com is an online marketplace where you can browse freelance editing and proofreading jobs in bulk.
As a freelancer, you can start bidding on projects you would like to work and start working on projects when the client accepts your bid on various parameters.
As a Freelancer, you can opt for free (restricted bids) to paid memberships such as basic, standard and premium, the only difference is in the number of bids allowed.
Indeed.com is a job searching site where you might want to look for online editing and proofreading jobs by browsing their job sections.
Try using keywords like 'proofreader', 'editor' ,'proofreading jobs', 'editing jobs' on the what column and use 'home based' in the where column to get desired results.
Proofreading tools that may assist you:
You may also keep some proofreading tools handy to make your life easier and do your editing and proofreading jobs more effectively.
Dropbox

Google Docs

PaperRater

Polishmywriting

Ginger
You can even read popular EBooks related to proofreading and editing like the Elements of Style, The Blue Book of Grammar and Punctuation, The Chicago Manual of Style, Proofreading Secrets to highlight a few to get familiarized with the fundamentals and kind of touch up your skills before applying to any of these companies.
Also sign up for Kindle unlimited and read as many books related to editing and proofreading for 30 days free.
To sum it up, Online editing and proofreading jobs are plentiful round the year and can be a good supplemental income for freelancer editors and proofreaders wanting to work from home.
I hope you found this article useful. Please do comment and share.