3Play Media is a captioning, transcription and translation service provider and is been in business since 2007.
But what makes 3 Play Media stand apart from its competitors is its unique business model that integrates technology and Human.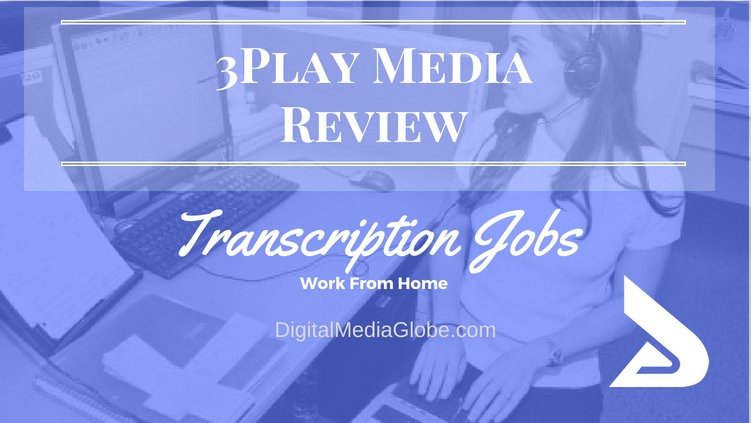 3Play Media Transcription Review
3Play Media Transcription Jobs:
3Play Media Jobs are more of a transcription editor job than a typical transcription profile like you see in Scribie or Rev.com.
3Play Media has its own proprietary voice recognition software to transcript audio or video file.
All you need to do as a transcription editor is to edit the already transcript file for imperfections.
3Play Media Transcription Profile:
Similar to other general transcription jobs, this is a work at home transcription editing job.
The work is flexible, you decide which projects to accept, how much you want to work and work according to your schedule and comfort.
But there is a turnaround time to complete the project you choose, so you need to be up to the mark to complete the editing work before the deadline.
But don't under estimate a transcription editing profile as there may be a lot of work to go through the transcript sample and catch hold of errors and correct imperfections.
3Play Media Transcription – Eligibility Criteria:
At the time of writing this review, they are having opening for Contract transcriptionist/editor profile.
To make it through their transcription test, they have certain qualification criteria's:
You need to be from U.S and at least 18 years of age
You are expected to have a blazing fast typing speed at 75 wpm,
Strong hold on English usage, grammar and punctuation.
Know the nitty gritty of how to do a internet search
Highly proficient with MS word, excel and computer applications in general.
High speed Internet Connection (min 10mbps download speed)
However they haven't specified about how much previous experience is required for 3Play Media Application.
So, I guess beginners are welcome to apply as far they can type very fast and meet their eligibility standards.
But yes, any previous experience can consider you as a strong applicant for 3Play Media transcription.
3Play Media Application Process:
You can apply here for the English Contract Transcriptionist Profile.
If you look at their application form, you will find their crisp general standard guide included.
Take your time and go through their standard guide and then try your hands on their video transcription sample test.
Adhere to them strictly while editing the sample transcripts and you can easily qualify their editor profile.
Also I am pre assuming that you have the ability to type super fast at 75 wpm or more.
If that's not the case, you should not waste your time applying at 3Play media. They are pretty strict about the typing speed.
Also Read: 13 Best Transcription Jobs from Home No Experience Needed
3Play Media Pricing:
They have mentioned it clear the compensation would be somewhere around $10 – $30 per hour based on your efficiency.
I guess the efficiency here means the ability to type incredibility fast (75wpm and more).
Since the pay they have mentioned is not per audio hour, I consider that you would actually be earning $10 to $30 per hour.
If that's the case, it's a good supplement income to go for.
The Payments are done monthly via check or through direct deposit to bank account.
Also Read: 14 Best General Transcription Jobs For Beginners That Pay Well.
Is 3Play Media Legit?
I look for a company legitimacy on how long they are into business and how they pay and treat their employees.
3 Play media is now a decade old (started in 2007) and from my online research I found the pay to be consistent and on time.
So they are completely legit in that sense.
Final Thoughts:
If you have the skills to type fast and have excellent familiarity with English Grammar, I think 3Play Media is a good place to apply for.
The pay is another plus when compared to what the other general transcription companies offer and who want to miss such as opportunity for a decent side gig.