FTC disclaimer: This post contains affiliate links and I will be compensated if you make a purchase after clicking on my link.
The first thing you see on internet  when you want to earn money online is plenty of work at home transcription jobs.
Because it doesn't require any specific tech skills or a mandate graduate degree to apply.
General transcription work can be a good supplemental income initially and once you gain experience you can look for more high paying transcription jobs and make it as a career too.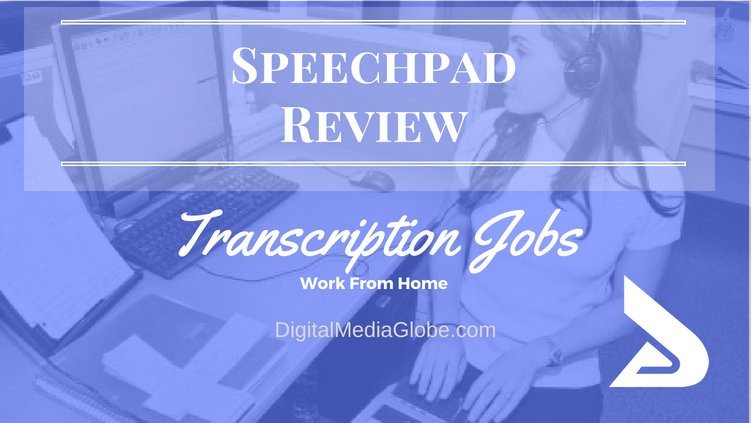 Speech Pad is one of the transcription companies that allow beginners who are new to this transcription thing.
Also, Speech Pad is a global transcription company and allow applicants from any part of the world, not necessarily U.S.
Also Read: 13 Best General Transcription Jobs for Beginners No Experience Needed 
Speechpad Review
Speechpad Pay Rate:
Speechpad transcription jobs have per audio minute pricing model.
If you are just starting with them, you will find Speechpad rates starting at $.25/min.
Once you gain experience and show high quality work, the pay rate can go up to $1/min
In case you are not aware of, per audio minute is not the same as the actual per minute transcribed. Depending upon your typing speed, it may take longer time to actually complete it.
Say for instance, it took you 3 minutes to type per audio minute file and your actual earnings will be one third of it.
As a beginner, you will initially be making around $5 to $10 per hour depending on fast you type.
With consistent rating of 94 and higher, you get access to their high paying files and can earn around $20 to $30 per hour.
You can even get invited to become a reviewer from Speechpad if you have produced exceptional transcripts for them.
The Speechpad pricing for reviewers starts from $.20/ audio minute and goes up to $1/ audio minute.
Experienced Speechpad transcribers can also extend their hands on captioning and become premium Captioner as well.
Speechpad Payment:
There are no payment processing fees at Speechpad and will be paid the full amount to your verified PayPal account.
You are paid in U.S currency every week Tuesdays and Fridays.
Work for Speechpad:
The best part working with Speechpad; there are no minimum working hours with them. You are free to choose your work schedule and decide how much or little work you want to do.
From what I have researched, the Speechpad reviews have been mostly positive and Speechpad workers are actually happy working for them long time.
What they love the most are the understanding support staff, timely pay, opportunities to grow within the company, consistent pay, plenty of work available to transcribe, you get large files to work with and much more.
The complaints are mostly towards their aggressive rating system where you need to maintain a rating of 94 and above to access jobs.
Speechpad Eligibility Criteria:
Though it allows beginner to apply, Speechpad is kind of choosy while selecting general transcribers.
The following skill set are expected from you if you have made your mind working for them
Fluency in English Language and good with Grammar.
Typing speed of atleast 40 wpm.
Able to understand various dialects and accents of speakers.
Detail oriented and know how to search web for proper nouns and technical terms.
A computer or a laptop with internet connection
Good quality headphones
Foot pedals.
Speechpad Transcription Test:
Fill in their application form to get notified whenever they resume their hiring process.
Once you are notified that the hiring is started, you have to attempt their basic transcription test and a grammar test.
You will be qualified only if your score 94 and above in their transcription test and 75 and above in their grammar test.
Click here to start with their application process.
How does Speechpad Work?
Once you are through with their transcription test, you are provided with a Speechpad worker account.
The Speechpad job board is where the list of all available jobs  appears and there are no fixed rates to any of their files.
You may first see job listing as low as $.25 per min and once you start producing consistent ratings (94 and above), you get qualified for higher paying files which may be $.36 per min, $.45 per min and so on.
The better qualified you become; the more jobs become available to you.
But you will get excellent turnaround times to finish the jobs at hand and you can even mail them to extend it further if the reasons are genuine.
Also a key to maintain the required ratings and not fall short of it (you won't get access to good jobs), is to make sure that you fully understand their style guide before submitting your work.
Their support staffs are always helpful in solving your queries related to audio files and style guide.
They even have rush jobs for the elite Speechpad workers who have shown consistent rating of 96 and above for around 500 mins of audio and they are paid up to $.40 per minute.
Speechpad has a transcription console with an in house editor where you will be doing your actual transcript work.
All the completed transcripts are reviewed by editors and it takes 3 to 7 days to come back to you.
For self improvement, you can compare your reviewed transcript with the original to know exactly where you have gone wrong.
For more in depth information check their FAQ section.
Is Speechpad Worth It?
If you have a quest to make money online from home, it stops right here at SpeechPad.
There are so many growth oppurtunities SpeechPad provides for  beginners where you can start as a transcriber and make your level to become a Reviewer, Captioner and Translator.
In one word, it the best side hustle beginners should look for.
Just make sure you are consistent with your ratings (their style guide is the key) and you can start seeing some actually money with Speechpad.