FTC disclaimer: This post contains affiliate links and I will be compensated if you make a purchase after clicking on my link.
GoTranscript is a beginner friendly online transcription company that deals in transcription, translations and captioning services.
Just like Tigerfish, Go Transcript has been in the transcription industry for more than 12 years and has got around 20000+ people working for them currently.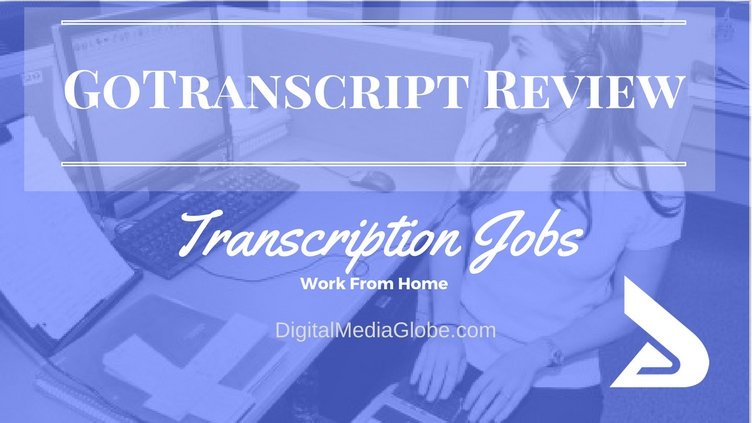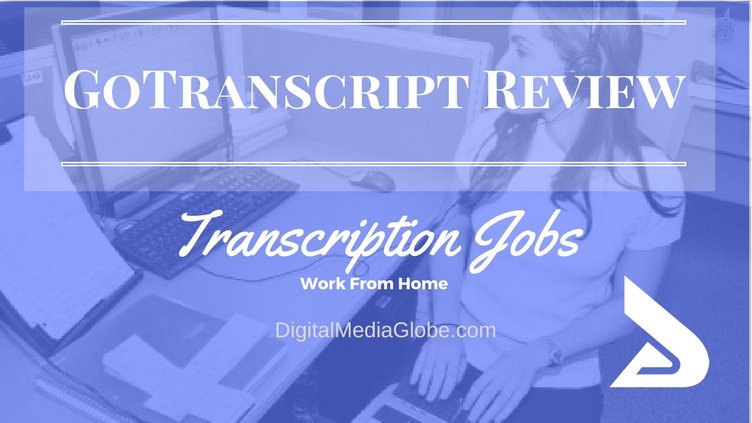 They have been constantly praised by transcriptionists for having a supportive and understanding support team, proper timely pay (if you perform well) and excellent turnaround times (6 hours to complete 10 mins audio file)
What made GoTranscript popular among transcription seekers is they allow beginners globally with little to no experience.
Also Read:  Rev.com, another beginner friendly and globally hiring Transcription Company.
GoTranscript Review
GoTranscript Hiring Requirements
The hiring requirements are down to basics and just what every other transcription company required you to have.
A working computer or laptop with high speed uninterrupted internet connection.
GoTranscript has their own in house transcription software and it's great as you don't have to invest on a costly transcription tool like express scribe.
But instead invest on a headphone to cancel the noise outside and this tremendously helps if you are working at home.
There are no minimum typing skills required and there is an even a option to extend time if you happen to be slow typist.
You can be a citizen of any country, not necessarily belong to U.S or U.K and no previous transcription experience is expected to attempt the test.
Go through their FAQ section before you decide to apply with them and know thoroughly what to expect after you pass the test.
Also Read: 13 Best Online Transcription Jobs from Home no Experience needed
GoTranscript com Application Process
It is an easy and simple process to apply at GoTranscript.
Visit their Transcription Jobs page and click on apply now button.
Create a GoTranscript account using your email and set a password for it. Once you have logged in successfully, you have to take a single transcription test.
Before attempting the test, go through the entire GoTranscript style guide, make notes and internalize it thoroughly.
Once you have done your homework, attempt the test (find the link at the bottom of their guidelines section).
You would get an update on your test status within a week or so through the email id you have provided them.
In case you have failed the test, you can try a reattempt after a few days.
I guess if you can memorize their guidelines, you can pass their test with ease.
GoTranscript Transcription Pay

If you look at the screenshot, you are given a pretty clear picture that you can earn up to $.60 per audio minute.
It doesn't mean you will earn $.60 per minute. To convert an audio file into a written text takes atleast three to four times longer.
It can even take an hour or so. It depends on your typing speed, how clear the audio is, the background noises, the accent of the speakers, etc.
For an instance, consider that it takes 4 times longer to complete a $.60 per audio minute file, your earning capacity would be around $.15 per minute which converts to $9 per hour.
So, in order to earn  close to $150 per month, you need to work at least 4 to 5  hours every single day with them.
A PayPal or Payoneer account is must in order to get paid with GoTranscript.
There is no minimum payment threshold and you are paid on time every Friday.
Also they will cover the PayPal fee and you receive the exact amount to your PayPal account.
Also read: 14 Best General Transcription Jobs for Beginners that Pay Well
GoTranscript Work
Once you have received an email saying you have cleared the test, login  their website, pick and chose audio files that you find the easiest.
GoTranscript has some excellent TAT; the deadlines are so lenient that you will not have major inconvenience that you are running out of time.
Their support team is good, so make sure to clear any doubts on the guidelines before starting to work on a file.
A typically completed file goes to an editor who checks for grammar errors or style guide errors and rates your work accordingly with feedback and suggestions.
Only when the editor approves your work, you are paid for that particular file.
Note: Make sure your ratings are consistently above 3.4, otherwise you would be removed from  GoTranscript and your previous accumulated earning will not be paid.
On the lighter side, if you managed to get ratings consistently above 4.5, you are very well qualified to be an editor too.
Is GoTranscript scam or legit?
If you can ask some important questions on any company you find online, you can easily decide whether a company is scam or legit
How long they are in the business?
The older a company is, the more reliable they are. GoTranscript was founded in 2005 and they are in business for almost 12 years now. Sounds legit.
Are all information available or displayed in the company website?
GoTranscript is very clear with the pay, job requirements, style guide to be followed, etc.  
Do they actually pay their employers on the stipulated time?
Yes they do. Gotranscript pay their employess every Friday without any exception.
Are there any complaints elsewhere or what other people have to say about them?
The only negative complaint I have heard or read elsewhere is about  the editors who had given them low ratings and their account are closed without being paying.
They have cleared mentioned in their style guidelines page. Since they are upfront about it, that is legitimacy in the first place





My Take on GoTranscript Jobs
Like every other beginner friendly transcription job, GoTranscript can be a great side hustle for people looking to earn money from home.
The main key is their style guide, master that and you can work on their files as much and how much you want on a given day.
My caution to newbies applying with GoTranscript: Get some experience with other beginner friendly sites like Transcribe Me, Scribie and Rev.
You can avoid getting low ratings at GoTranscript and get chucked out eventually.
It is both a waste of time and energy and you ended up earning nothing. Not a great idea!
Hope the review helped you to get a better understanding on GoTranscript job and share your inputs with us.
Happy Transcribing!