FTC disclaimer: This post contains affiliate links and I will be compensated if you make a purchase after clicking on my link.
We all know one of the easy and quick ways to earn money online is opting for a work from home transcription jobs.
What if I said you that one transcription company is newbie friendly, hires worldwide, pays well (provides extra bonus!),has internal promotions, provides flexible work structure and gives referral commissions!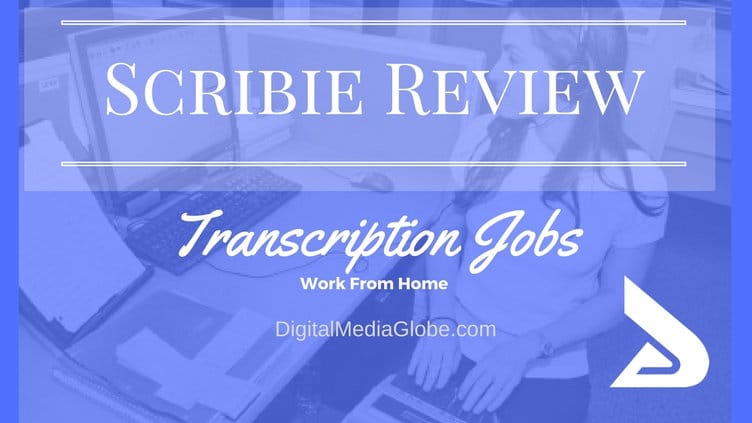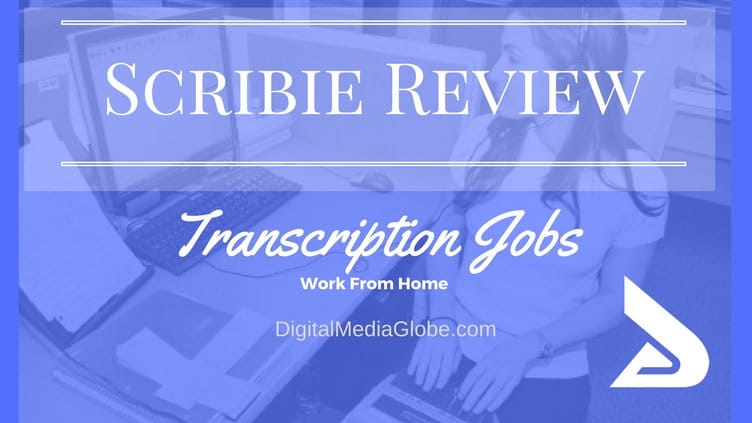 Curious?
I present you Scribie, a popular transcription company that provides freelance income opportunities for general transcribers.
Scribie Review
This Scribie review will focus exactly on all those parameters and will find out whether these Scribie transcription jobs are really worth the hype.
Rajiv Poddar who owns Scribie founded this audio transcription service company way back in 2008.
It comes with an in house editor making it easy for transcribes to work without investing on any software.
Work Model of Scribie Transcription Jobs?
All the Scribie jobs are freelance based (home based) and allows transcribers to work with them at their convenient time.
You can login anytime and start working on the audio files available. As certified transcribers, you would be working on 6 mins or less short audio files.
The best part working at Scribie is that there are no monthly transcription expectations from you and you are allowed to pre hear an audio file and can decide whether you want to transcript it or not.
But remember each short file should be completed within 2 hours and submitted to the reviewing team. Failing to do so will lead in account cancellation.
Make sure you have a good speed internet connected to your computer or desktop, a headset (noise cancellation),  a latest version of any of these web browsers (Firefox, Chrome, and Safari) and Adobe Flash plugin installed to the web browser to start working without any hassles.
Below is the screenshot of a typical Scribie audio transcription process:


When you login into Scribie workplace, you will find a series of different splitted audio files ready to be transcribed.
As a new Scribie transcriber, you will be doing the raw transcription work on these 6 mins short files.
Once you start performing well, you may get a chance to work as a reviewer, even self review your own transcript, then promoted as a Scribie proofreader and a Quality check specialist.
What is the actual Scribie pay?
Scribie Company pays you $5 to $20 audio hour rate (vary in pay is based on your experience level) even though you would be actually be transcribing audio files that are per audio minutes.
They also have an impressive monthly bonus payment of $10 unlike its counterparts like TranscribeMe or Rev.com for every 3 hours of actual completed work.
Pay is only made through a verified PayPal account that as been linked to your local bank account (make sure you do this before initiating your payment withdrawal). They are kind of strict with this whole verifying thing.
Also, there is no minimum withdrawal limits and you can even opt for a daily payments.
How much Scribie salary you can earn?
Let's first convert the $5 to $20 per audio hour into per audio minutes which will be $.5 to $2 for every 6 mins audio transcribed.
Note: Per audio hour files should not be assumed as a one hour typing time. Typing a one hour audio file may take around double to triple time or even more than that to transcript. It depends on your typing speed (the more your typing speed, the lesser time it takes to transcribe) and how accurately you listen to an audio file (how many times you replay and proofread).
Case 1:
Let's assume that you have an average typing skills at 60 wpm, you would roughly transcribe a 6 mins audio file in 18 mins (triple the actual time!)
Your Scribie earnings will be approx $.16 to $.6 for every 6 mins audio file you have transcribed.
If it takes you triple the actual time, you will at the maximum can transcript 3 audio files (6 mins each) in an hour.
The Scribie income in that case will be: $.48 to $1.8 per hour.
Monthly Bonus amount: $10 paid for every 3 hours completed work.
Assuming you work atleast one hour daily, your final Scribie salary for full 30 days including bonus could be from $44.4 to $84 monthly
Case 2:
Another case could be where your typing skills are really good (70 – 80 wpm) and you could transcribe a 6 min audio file in 12 mins.
Your Scribie earnings will be approx $.25 to $1 for every 6 mins audio file you transcript.
Since it takes you double the actual time, you can transcript up to 5 audio files (6 mins duration) in an hour.
So your Scribie income will be: $1.25 to $5 per hour.
Assuming you work atleast one hour daily, your final Scribie salary for full 30 days including bonus could be from $67.4 to $180 monthly.
So if you compare Scribie vs. TranscribeMe or Scribie vs. Rev, Scribie is the clear winner when it comes to pay.
The catch at Scribie is the extra bonus you can earn to maximize your overall earnings every month.
Also, once you move up the ladder as a reviewer at Scribie, you can join their referral program and earn 2.5% referral commission for every referrer you have sent.
Scribie Jobs Application Process:


The application method is slightly different from other general transcription company's norm.
Apply: Fill their standard application form mentioning your typing speed in words per minute and submit the application.
Confirm email: They will review your application and send you an email on your application confirmation status.
In case you got failed; you can delete the application and reapply again.
Wait List: You would be put on a waiting list before you would be invited to attempt the Scribie transcription test. The standard waiting period is 9 days but it make take even weeks for your number to come.
Invite for a Test: You would be invited for a test after the waiting period is over. A link will be provided to your email id asking you to create a Scribie account prior to test.
Submit test file: The test is to transcribe a 6 min audio file and reciprocate into words accurately what you have heard.
Certified: Once you have cleared the test successfully, you will be notified via email and will also be paid for the tested file.
If failed, you would get a reviewed file mentioning your mistakes and you can reattempt another test file to qualify.
Maximum attempt is 10 per account.
Scribie Test:
Please read the Scribie guidelines here before starting the application procedure.
You can also view their sample transcripts and try hands-on with their practice files in order to understand how transcript files look like.
Scribie FAQ:
Still have some doubts pertaining to Scribie transcription jobs, please visit here for in depth information.
Is Scribie a Scam?
Scribie Company allows you to create a certified profile page at their website and even use an embeddable widget if you happen to run a blog showing your transcription career.
You are accredited as a certified transcriber at Scriber and you can show your transcription work done at Scribe to future transcription companies as a reference.
Also there is a daily payment option with no minimum threshold.
All this points out to the fact that Scribie is a legitimate and a genuine company to work for.
Scribie Careers:
If you already decided to go for Scribie work from home opportunity, you need to know the grades and promotion system that Scribie uses to track performance.
Depending upon your accuracy (error rates) in your raw transcription work, you would be graded an A+ (5/Excellent) to D (1 /Poor).
The chances of promotion (reviewer or self reviewer) depend upon this rating and it should be maintained above 3.25.
If you maintain a good 3.25 plus average as a reviewer, you would be then promoted as a proofreader. (Pay is higher here!)
They even have a contract positions for proofreaders with a fixed monthly salary income.
Definitely, Scribie is a good place to start your long time freelance career in transcription.
Scribie alternatives:
As far as the earning goes, Scribie is well ahead compared to TanscribeMe, Rev, Quicktate etc because of the extras.
However, it is still a great strategy to apply to as many general transcription companies you want to monetize your free time. That why freelancing is awesome. You are the boss in choosing where and how much work you want to do.
If in any case you think you have very good typing skills (70 wpm plus), high accuracy levels and can comprehend English well, you better plan to make a long term career out of transcription. You can join Transcribeanywhere eCourses on general transcription and learn how to make a livable income out of it.
Hope you liked my Scribie transcription review! Please share and inputs your thoughts.