An old player in the transcription industry (28 years), Tigerfish has been doing transcription service on Video production, legal, healthcare, Qualitative research, Marketing and Consulting sectors.
If you visit their website, you can find a handful of big conglomerates and Industry big names to be clients of Tigerfish transcription.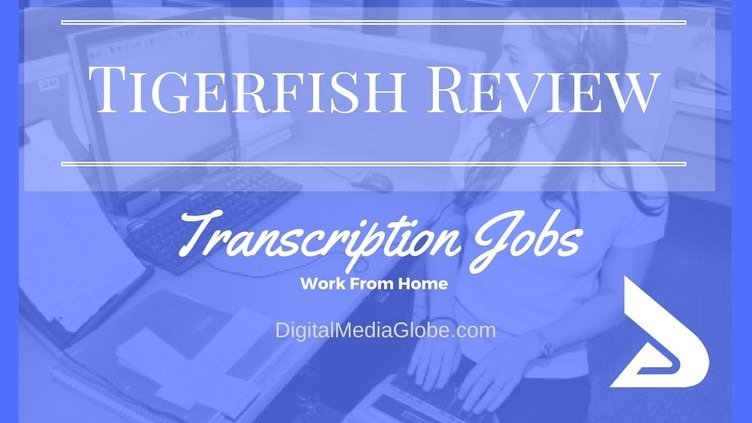 The more the clients, the more could be the opportunity of Tigerfish transcription jobs for transcribers.
My Tigerfish transcription review will focus more on how to enter into Tigerfish transcribing, what is their application process, how difficult is their test, the eligibility criteria and most importantly the Tigerfish transcription pay.
Is Tigerfish Transcription Legitimate?
Considering that it has been in the transcription business for quite a long time, speaks for itself on the legitimacy factor.
They do have two proper offices at U.S apart from being virtually online.
There had been not much negative aspects of Tigerfish work environment and work process. On the contrary, they have employees who are still working with them for more than 10 years. It should definitely be a legitimate transcription company to work for.
Tigerfish Application:
The big plus to go for Tigerfish transcription application is that they allow beginners who have absolutely no previous experience in Transcription.
In case you want to know similar transcription companies hiring beginners with no transcription experience, read my 12 Best Online Transcription Jobs from Home no Experience Needed
The requirements in order to apply at Tigerfish are:
You  should be a citizen (above 18 years old) residing in U.S.

Strong command of English language

Skillful in typing

high speed internet with a window based computer or desktop connection (Mac not compatible)

Express Scribe transcription software and

Importantly interest towards transcribing.
Also, you need to invest heavily on the $200 Start Stop's Power Play for Windows media in case you got qualified with them (a big minus!).
Their application process looks little stringent as they won't entertain any phone calls for follow up on your application status.
You can apply with them only through email and have to patiently put up with them for response to your application.
Tigerfish Test:
Like all transcription companies, you have to first go through Tigerfish transcription style guide in detail before attempting their test.
This step is important in any general transcription test because every company follows their own unique style guide to transcript.
The tiger fish transcription test requires you to download an audio file of Tigerfish and transcribe it according to the style guide mentioned.
The transcription test is fairly easy to pass even for beginners but make sure you follow their test format properly.
The audio file is divided into three segments (a focus group, an interview and a presentation) of 5 mins each.
Once you have transcribed all the three segments by adhering to the Tigerfish style standards , save them in a single document and mail it to Tigerfish.
To know more on the exact test formats, check here.
Tigerfish Transcription Salary
:
The official Tigerfish website has not talked or revealed about the Tigerfish pay and some old employees of WAHM forum has stated that the pay was around $.0005 per word transcribed at that time.
In case, if you guys know any information on Tigerfish salary, please share in the comments section, it would help freelancers searching for Tigerfish transcription job.
Tigerfish Transcription Complaints:
Even though the jobs at tiger fish are flexible, getting into Tigerfish is time consuming. Lots of people have complained on the long waiting time to hear back from them.
Also, I find that you need to invest heavily on the transcription software and it is inconvenient for those starting out transcription for the first time.
As we know that transcription jobs are more of a side income, such overhead lay heavily on freelancers getting into transcription industry.
They have not been upfront about the pay factor! It means the pay could be low at least for the beginners and it could affect their reputation (my personal opinion).
In such cases, you can look out for places like TranscribeMe, Rev.com, Scribie, Quicktate and Casting Words where there are no investments to start working with them and all have their stated their payments clearly on their official website.
If you still want to give a try on Tigerfish employment, please visit here.