Quicktate is a typical transcription company that hires work from home freelancers to transcribe memos, legal, medical files, phone calls recordings, conference calls and other audio files.
Quicktate transcribers with a good typing speed (60 – 80 wpm) will be converting these files into a written format with accurate spelling and punctuation wherever necessary.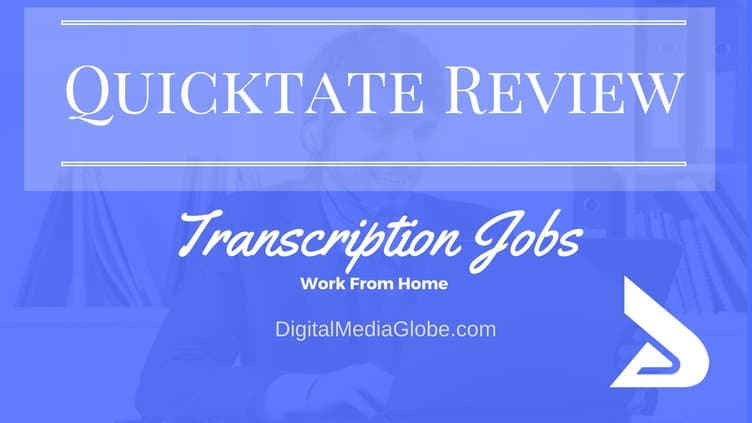 All these file last from a short 2-3 minutes file to one hour file.
Quicktate review will look into the pay structure, how legitimate the transcription jobs are and how much worth it is for someone looking to wet their feet here.
Quicktate Review
What does Quicktate pay?  
The Quicktate pay rate are per word basis instead of a standard per audio minute or per audio hour type.
Quicktate salary sucks at $0.0025 per word (1 cent for every 4 words) for general and legal transcription work and $0.0050 per word (1 cent for every 2 words) for medical transcription.
The Quicktate pay schedule happens weekly on every working Monday and the pay is only through a valid PayPal account.
As the Quicktate earnings are going to be way lower than you can imagine, better look at it as a practice transcription opportunity for a beginner.
Once you gain experience with them, you would be automatically promoted to work for their sister company iDictate where the pay rates are slighter higher than here.
Or simply use the Transcription experience of Quicktate to fill your resume and move on to companies that hires experienced transcribers like Allegis, Ubiqus, Verbal ink, etc to get paid well.
Note: You are hired at Quicktate as an Independent contractor and there is no guarantee of minimum wage and any employee benefits.
How does Quicktate Transcription job works?
Still interested? Read on!
Though the pay is very low, they always pay on time .Also, their audio files are damn easy to transcript.
You can work with them as per your wish. Make sure your work is accurate enough and transcribed within the time allotted.
You could just log on to their work board on your free time and start transcribing audio files.
I spotted a current Quicktate employee sharing his experience at Glassdoor mentioning about how Quicktate notified him through email when a huge chunk of work is available. (Interesting)!
Is Quicktate legit?
The low wage may raise questions on the legitimacy of the company. But as far as work and pay goes, they have work from real clients and timely pay, all points that they are a legitimate company to work for.
Does Quicktate check references?
It does. The Quicktate background check costs you $15 once you have completed their quiz and typing test.
Quicktate Requirements:
They have mentioned in their website that they are seeking transcriptionists (experienced and professional) who can accurately transcribe a given audio file.
It means that a beginner in transcription can very well apply at Quicktate. You need to give three references of yours who are not related to you and a strict no no on any arrests or criminal record.
They will run a background check of yours after you pass their quiz and typing test.
Quicktate Application Process:
Start your application process by filling a form in their application page by introducing yourself and giving three professional references. Attempt their typing test and a quiz in order to get qualified for their assignments.

Also, it hires applicants outside U.S too.
Quicktate complaints:
Though people have lauded Quicktate for the easy audio file they get to transcript and timely pay, the biggest complaint is their pay and the other management issues they face once they got promoted and started working at iDictate.
Sites like Quicktate
:
Of course, you cannot run your freelance career by working on websites like Quicktate. As an amateur transcriber, you can stick around them in the initial phase as the job is easy and work simultaneously at similar companies like TranscribeMe, Rev, GoTranscript and Scribie to gain actual experience.
Simultaneously you can invest on a good quality general transcription training courses like the one Transcribeanywhere offers and know the whereabouts on how to see some actual money in the transcription industry. (Go for it only if you think you have transcribing skills and you need some extra guidance)!
Hope you found my Quicktate review useful. Please share your inputs in the comments section below.