FTC disclaimer: This post contains affiliate links and I will be compensated if you make a purchase after clicking on my link.
Looking to earn a supplementary income from  work at home transcription job?
Transcribing for Crowdsurf can help you earn a quick side hustle daily on your free time.
A typical General Transcription job profile requires listening to an audio file and typing it in words.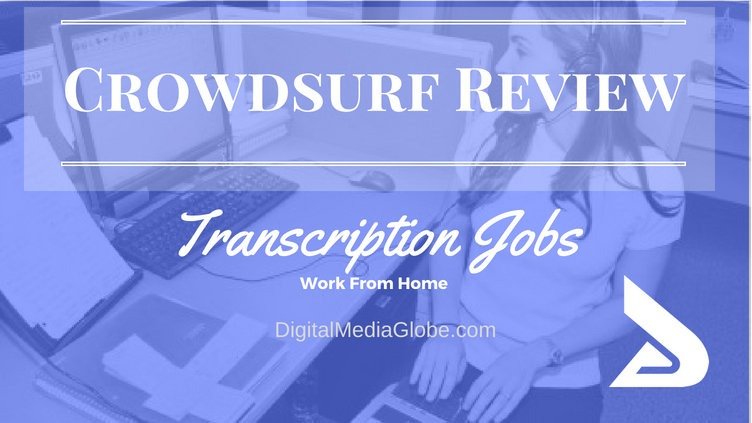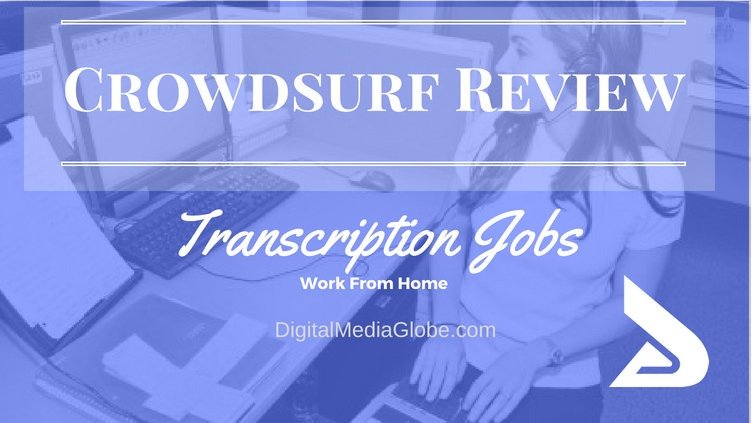 Instead at Crowdsurf, you will be transcribing video files and captioning them so that the deaf, hard of hearing and second language viewers can understand online media.
Crowdsurf Review
Who are Crowdsurf?
Crowdsurf has a community of work at home transcribers who help them provide transcription and captioning services for hearing impaired users.
Basically all their transcriptionists transcribe media files in Education, Entertainment and Business fields.
How to apply with them?
If you are interested to work as a transcriber at Crowdsurf, you first need to sign up on Work market .
Work market is a platform Crowdsurf uses to hire and pay their freelance transcriptionists.
Earlier they used to have Amazon MTurk platform for job listings until they have switched to their own private editing platform called Crowdsurkwork platform.
All of your Hits or job will be posted on this platform and you will be working exclusively here.
Once you have registered the work market account with the required personal details, click on the join Crowdsurf button.
In order to qualify and start working with them, go through the Crowdsurf guidelines  carefully and attempt their transcription assessment.
I heard their Crowdsurf test is very easy to crack and the trick lies in understanding their style guide.
Clear the Crowdsurf test and they will send work market login details to your email id within 3 – 5 business days.
Crowdsurf has one of the most simplest and straight forward application process and save you from the long waiting period frustrations.
Crowdsurf employment:
If you are beginner, it is very easy to join them as a new transcriber and work from any part of the world.
There are varieties of work available to pick and choose and you get paid daily.
There are no work commitments as such and you can work in your leisure time.
Since the transcription tasks are small bit sized video files, you can do lot of Hits even if you can spare only a few hours daily.
Also there are no minimum withdrawal limits.
Work as much you can in a day at Crowdsurf, once it gets quality controlled you can immediately withdraw your earnings to your PayPal account.
How Crowdsurf evaluates you?
Initially as a beginner, you are allowed to work on Hits named "Transcribe up to 35 Seconds of Media to Text" as part of on-job training. Once you have completed 25 successful Hits, you future Hits will become gradable.
They assign a particular quality score to each of your future transcripts.
You have to maintain an average QC score of 3.5 and above consistently to stay employed at Crowdsurf.
Also, if you have completed certain amounts of Hits in a week, you get paid with additional bonuses.
What about Crowdsurf Pay:
Crowdsurf pay is generic and depends on the level of proficiency and amount of work completed.
The pay ranges from $.03 – $.20 per media minute for 5 seconds to 30 seconds of short media file.
Once you have gained experience and completed a certain amount of Hit's (work) per week, you are paid additional bonus rates.
From the information I gathered, it starts at $1 bonus for 100 Hits per week to up to $50 for 2000 Hits per week. Take this numbers with a pinch of salt as I cannot guarantee on the sureness of it.
How much you can make on Crowdsurf?
This is the most important part of this review.
We know the files are short ranging from 5 seconds to half a minute.
Note: The per media minute is not the same as the actual per minute typed. So, a 30 seconds media file may actually take you 1 minute to 1.5 minutes depending upon your typing speed and audio quality.
Let's consider you are working on 30 seconds audio file and it fetches you 20 cents ($.20) per media minute.
Since it takes one minute of your actual time typing a 30 seconds media file; your actual earning will be only 10cents.
If you convert that into an hour of working (60 minutes), your actual earning will be somewhere around $6 per hour.
If you are working on media files that pay less than 10 cents, your earning will be less than $6 per hour.
Is Crowdsurf worth it?
It depends!
Looking at the Crowdsurf pay, you know you cannot make it a career or make steady income out of it.
Better consider it as part time cash out gig if you are a college student or just practice the HITs before applying to other General Transcription companies that pay well.
Also, it is easier to apply with them and get started and importantly work is available throughout the year.
Please input your experiences at Crowdsurf in the comment section if you think it is worth sharing.
Happy Transcribing!