In general, online transcription jobs are widely sought after to make money from the comfort of one's home.
Mainly, there is flexibility in the working hours with no commutation problems at all.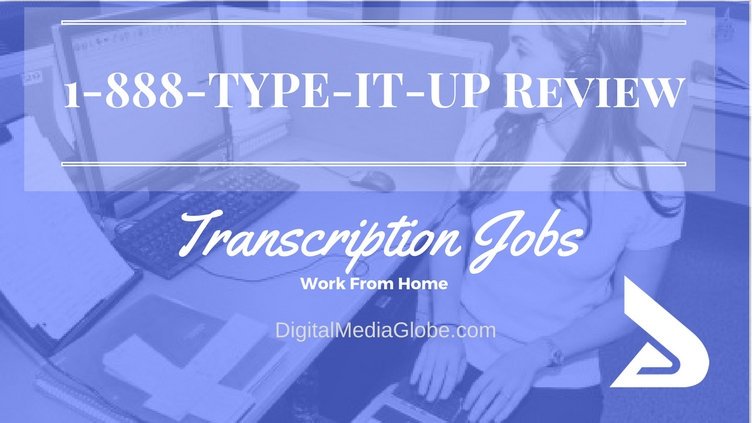 But people give up transcription jobs because the pay is never lucrative enough for a beginner.
1-888-TYPE-IT-UP transcription jobs can be your best bet since it welcomes new talent (beginners) to work with them.
They are one of the highest paying transcription companies out there.
1-888-TYPE-IT-UP Review
It is completely U.S based and provides services in transcription, closed captioning, copywriting, editing and proof reading.
The 1-888-TYPE-IT-Up review will discuss on their legitimacy factor, job requirements, application process and difficulty level of their online test, pay rate and most importantly, how much you can earn with them.
Is 1-888-TYPE-IT-UP Transcription Legitimate?
Lately, they have started taking an upfront application fee of $10. This has raised eyebrows within the transcription community on their reputation and legitimacy factor.
I have a screenshot of them explaining in detail about why they charge upfront.

Also, their hourly pay rate is the highest in the industry and they pay via PayPal monthly which shows they are legit enough to work for.
1-888-TYPe-IT-UP Employment Requirements:
Firstly, you must be a U.S citizen and over 18 years of age.
Other mandatory equipment's needed before you can start transcribing with them:
Computer with a high speed internet connection,

AOL messenger account

Express Scribe (free version)

Express Scribe Pro for transcribing video files

An infinity foot pedal from Amazon

A Gmail account

Quality headphones

Microsoft Office with a licensed subscription of $20 per month 
These are definitely some investments to be made from your side in order to work for them.
1-888-TYPE-IT-UP Transcription Pay:
The most important factor to note is the pay you get is better than the other transcription companies.
The pay is at least $1 per audio minute to $2 per audio minute mostly and sometimes even $3 per audio minute for higher quality audio files.
This is definitely higher than the rates we find from their competitors like Accutran Global ($.40 per audio minute), Casting words ($.10 – $.18 per audio minute), Rev.com ($.40 – $.60 per audio minute),TranscribeMe ($.79 per audio minute) and Daily Transcription ($.79 per audio minute).
Note: Per audio minute should not be assumed as an exact one minute typing time. Typing a one minute audio file may take you around 3 to 4 times or even more than that to transcript.
It depends on your typing speed (the more your typing speed, the lesser time it takes to transcribe) and how accurately you listen to an audio file (how many times you replay and proofread).
So, as a matter of fact you won't be earning $36 to $180 per audio hour that they have mentioned in their application FAQ.
Unlike Accutran Global, they are not much concerned with your typing speed to qualify their test.
But still, the faster you type the lesser could be your duration to transcribe files.
Let's do some calculations based on your typing speed and your hourly earnings rate.
The basic assumption here is that per audio minute will take you 4 times longer in real minutes (1:4) if your typing speed averages 60 – 70 wpm.
$1 to $2 per audio minute – your actual earnings per hour could be $15 – $30.
For typing speed that is more than 70 wpm, you could probably take 3 times longer in real minutes (1:3)
$ 1 to $ 2 per audio minute – your actual earning per hour could be $20 – $40.
So don't get lured by their statements saying that their transcribers earn $36 to $180 per hour.
But still compared to their counterparts, you will be earning a higher income.
How to apply at 1-888-TYPE-IT-UP?
You need to apply here to start their application process.
The application form is a standard one with requirements of personal details, your graduation degree (if any), transcription experience (if any), the other mandate equipment needed and your desired working hours etc.
The application form has a long list, so make sure you allocate sufficient time to fill in the details.
Submit the form and pay the non refundable fee of $10.
1-888-TYPE-IT-UP Transcription Test:
You will receive the transcription test once you have successfully completed the application process through an automated email to your email id.
The test contains two short audio files and all they expect from you is transcription accuracy and whether you have adhered to their formatting instructions.
If for any reasons you have failed the test or didn't hear from them, you can reapply after 30 days.
If you need some help, you can study the 7 days free course at Transcribe Anywhere to get you grooved for such companies test.
1-888-TYPE-IT-UP Transcription Complaints:
While they are highly sought after for the pay, there are complaints regarding their application fee. One cannot dent that.
Lots of newbies found the fee to be annoying as it is a hit or miss thing and doubted whether they could be a scam.
Also, they don't get back to you if your results are negative which can be taken as a rude gesture.
You have to pre buy lots of equipment and software as they are mandate fields in the application process.
In a Nutshell:
Even though the pay is ahead of its competitors, 1-888-TYPE-IT-UP could be an overhead for beginners venturing into transcription work for the first time because of the above talked complaints.
Yet, for someone serious enough to start a career with Transcription, 1-888-TYPE-IT-UP employment can be a welcoming boon if they managed to get through.
The decision is yours!
Best of luck to your transcription career.