Daily transcription provides work from home freelance opportunity for both professional and novice transcribers.
Daily transcription can be great starting place for beginners entering the world of transcription.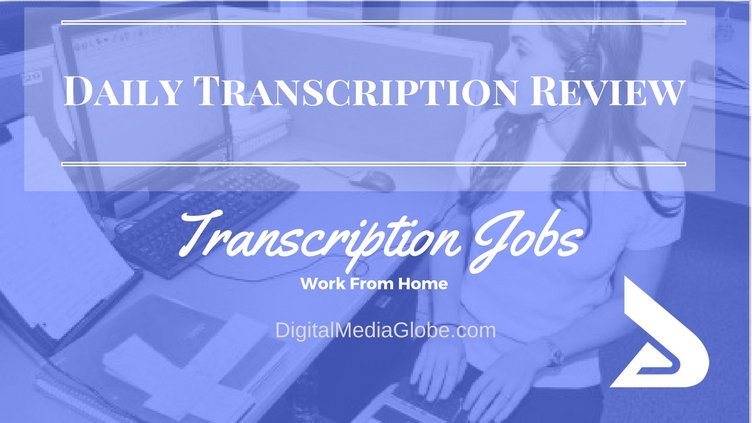 Just make sure you have a knack of doing accurate work and have the ability to submit work without getting pressurized.
Daily Transcription Review
At the moment, they hire freelancers only from U.S and Canada.
As the company name suggests, they provide daily transcription services to the entertainment industry. That's good news for the beginners as they can get hold of good chunk of work daily.
Let's look at the earning amount, the basic requirements to apply with them, what kind of work environment you get to work with, legitimacy point, etc.
How much does daily transcription pay?
Daily transcription pays you $.79 – $ 1.10 per audio minute for every audio file transcribed.
As I mention in all my review, per audio minute is not the same to per minute transcribed file.
It varies on the audio file clarity, your typing speed, listening and proofreading skills.
So a typical per audio minute file for average typing skill person could take three to four times longer.
In that case, a $.79 per audio minute will fetch an earnings of approx $11 – $15 per hour.
I heard they pay the current transcribers weekly via PayPal.
What are the requirements at Daily Transcriptions?
There are no mandate software or hardware essentials as such to get started.
However foot pedal and transcription software is recommended for beginners.
Make sure your laptop or desktop computer has a high speed internet connection and MS word in it and learn their style guide thoroughly before applying.
Is Daily Transcription legit?
Yes they are! No upfront fee, they sign a mandate non disclosure agreement with the transcribers, pay regularly every week and have a lot of reputed clients across industries under their kit.
Daily Transcription Test and Application Process:
The process is simple. Go to their careers page in the home section and fill in the necessary details.
You are required to submit the best tailored made resume of yours along with the transcription test via email.
They will get back to you in case you got selected.
The best part, there are no application fee to start transcribing with them.
Daily Transcription Work Schedule:
Daily transcription provides consistent work to transcribers during the busy months and the assignments are not monotonous as the files generally come from entertainment industry.
Also, they provide transcription services to a host of industries like reality television, market research, academic, corporate, legal etc other than entertainment industry. Hence the work tends to get interesting.
The work schedule is flexible and you can choose and pick as much work you want to do but you need to commit yourself to strict timelines and work accuracy is highly expected.
No compromise on that if you want to perform well with them.
Daily Transcription Scam:
They are definitely not a scam in any sense. They are in the transcription industry for a decade now and apart from transcription they do translation, voice over and closed captioning services.
Lot of transcribers are working with them for years and have always been paid on time.
Daily transcription Careers:
Current transcribers working with DT has praised the management staff to be very friendly and told that an effective internal communication exists on the company.
You get paid weekly without fail, can earn as much you want during the peak seasons, consistent workflow makes it a reliable source of income, overall a great place to work from home for beginners.
In a Nutshell:
Though Daily transcription pay rates are not the highest in the transcription industry, they are not the lowest either.
Also if you happen to read daily transcription employee reviews, they are mostly in praise of the overall relationship with the management people, work ethics and how smooth is to work with them, weekly pay and how satisfied they are to work with them in a long run.
So if you residing in U.S and Canada and looking for a decent transcription company to start with feel free to apply at Daily transcription.