Transcription jobs are an excellent way to earn extra income and hence a popular choice for home based freelancers.
Transcription work is typically a typing job but requires excellent listening skills.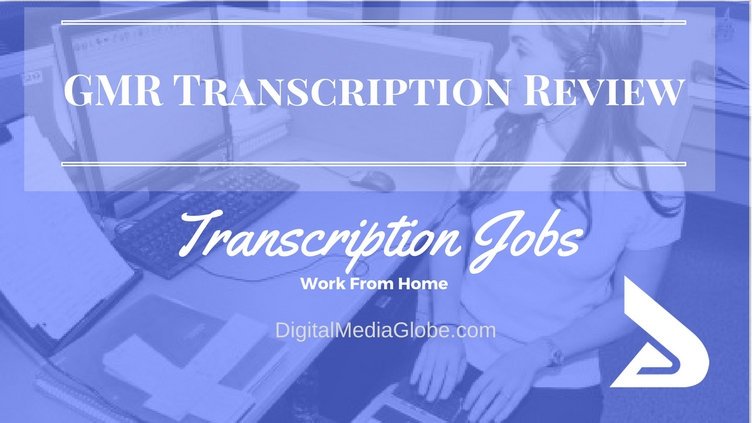 All you need to do is convert an audio file into a written text.
GMR transcription jobs are beginner friendly and can provide a great platform to your work from home transcription career.
If want to know more such beginner friendly general transcription companies, read my 12 best transcription companies with no experience needed.
GMR Transcription Review
Scroll down to know more about their pay rates, eligibility criteria, application process and how it fares on the legitimacy factor.
GMR Transcription Pay Rate:
They are not quite upfront about the pay rates. If you read their application FAQ, all they say is they do not disclose pay rates until hired.
But they have mentioned pay rate to differ based on the TAT, audio difficulty level and number of speakers involved.
But sources say, they pay you around $.70 to $1.25 per audio minute. Means, the faster your typing speed, better could be your pay.
Since the company has not disclosed the pay as such, take this information with the pinch of salt.
Note: Per audio minute is not the same as a real one minute time.
So, if you could type per minute audio file in triple of its real time, you could earn approximate $14 to $25 per hour.
The pay looks okay to me compared to other popular transcription companies like Rev, TranscribeMe, GoTranscript and Scribie etc.
GMR Transcription Requirements:
GMR allows applicants only from U.S who has a good command over English language and grammar.
Even though you are going to choose your work hours with them, make sure you are comfortable to submit work in strict deadlines.
If you happen to be Spanish and live in U.S, you get an added advantage of working on Spanish transcription and translation services.
GMR transcription doesn't require any mandate equipment in order to apply with them.
But keeping basic things ready will help you tremendously with the transcription work.
An internet connection

A computer or laptop with necessary firewall installed

MS office

Foot Pedal to have control over the audio

Quality headsets to facilitate noise cancellation and listen better
They regularly hire for Legal, General and Spanish transcription works and as per demand general transcription with a medical background and certified translators.
Keep an eye on their career page where they will let you know the open positions available with them.
Also, all newly hired typists are required to complete 2 hours of audio as part of probationary period before getting paid work.
Means you need to transcribe 2 hours of audio file without pay. Just keep that in mind before applying with them.
GMR Transcription Application Process:
Go to their career pages, choose your desired open positions available with them and submit your resume first.
You will get an automated test with formatting instruction to the email id you have mentioned in your resume.
Before attempting the test, take your time and thoroughly understand their formatting instructions.
Once you are confident enough, attempt the audio file that is sent in zip folder.
The audio file will have the most difficult speech clarity to test your listening and typing accuracy.
Once you have done with the test file, upload your test transcript in a doc format in the career section.
You will be contacted within two weeks in case you cleared the test and they would like to hire you as a contractor.
In case you didn't receive any message from them, you need to assume that you didn't make through the test.
Is GMR Transcription Legit?
Any company which pays you on time is a legit company in my opinion.
GMR transcription reviews from employees have repeatedly stated that they are always paid on time and a reliable company to start your transcription career.
Is GMR Transcription a good company to work for?
You get to work on your flexible hours and transcribe as much you want. Most of the time you find work to be available with them except for the off seasons.
Transcribers who have worked with GMR stated their staff to be very supportive and professional at the same time and their queries get resolved quickly.
You get a list of audio files that has different pay depending on the difficulty level, deadline and duration. The best part, the pay rate is more if the file's clarity level is difficult.
No matter what, you will always have the choice to choose which files you want to transcribe from the list as the pay varies on the nature of the file.
In a Nutshell:  
From what I could find from the internet sources, people love working for GMR transcription and they are associated with them for longer periods (3 years plus).
They found the company to have lots of work round the seasons, friendly management, timely payments and flexibility in choosing the work files.
Overall, GMR transcription could be an excellent choice if typing is your second nature and you could somehow crack their stringent qualification test.
Best of Luck for your Transcription Career!