If you ever plan to work from home, transcription jobs are the easiest to start with.
No degree or specialized skills or heavy investment are needed as such.
All you need to do is to transcribe what you hear into words and get paid for it.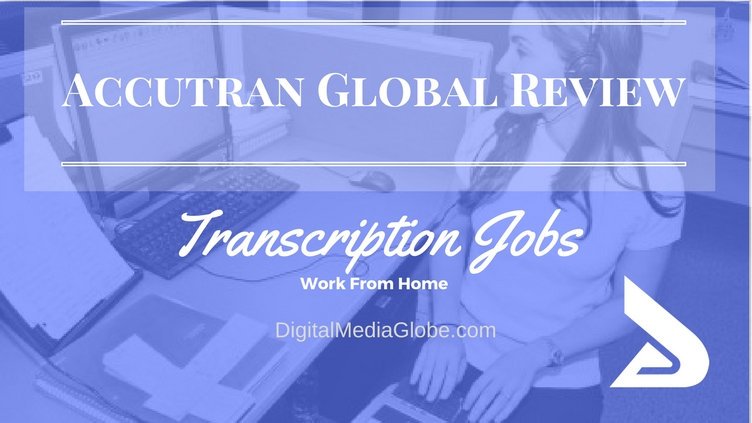 Accutran Global is one such transcription company that helps you earn passive income from home.
If you are a North American based out in U.S or residing in Canada, you are eligible to apply for them.  
Also, Accutran Global pay rate is comparatively good compared to other popular transcription companies.
Let's look at what Accutran Global can offer you and find out whether there anything called Accutran Global Scam.
Accutran Global Transcription Jobs
If you love working independently under strict timelines and has a good hand at typing fast, give yourself a shot for this Transcription Company.
They hires only Canadian and North American transcribers and editors for their work.
Unlike most transcription companies, the work is not flexible here. You need to commit yourself on the allotted timings every day from Monday to Friday.
It's like a part time work you need to perform daily.
If you cannot follow a particular time format, then don't waste your time with Accutran application process. Try companies like Rev, Scribie, TranscribeMe, and Tigerfish to name a few who have flexible work timings.
Accutran Global Pay:
They have clearly stated in their FAQ section the pay to be either per word or per audio minute.
The faster you type, the better your pay would be!
For entry level Transcribers, the pay ranges between $.004 and $.0055 per word and for longer TAT $.40 per audio minute.
Assuming your average typing speed is 90 wpm (since the main criteria to get qualified is more than 70 wpm).
For files paying $.004 per word; your income would be $.36 per minute and $21.6 per hour.
For files paying $0.0055 per word, your income would be $.50 per minute and $30 per hour.
If you are typing speed is blazing fast, you would be earning more than the above estimations.
You get an additional 20% bonus if the audio file has technical terms or heavily accented from foreign countries.
Accutran Global also provides room for promotions; their consistent performer is promoted as reviewer, editor and proofreaders.
You get paid through direct deposit to your bank account on or before 15th every month.
Note: The pay is for the work completed for the previous calendar month.
Accutran Global Employment:
They have clearly mentioned the pay scale range for entry level transcriptionist in their FAQ section. So, one might guess that Accutran Global work from home options are available for beginners too.
Looking for similar general transcription companies that hire beginners? Read my blog post 12 Best Online Transcription Jobs from Home no Experience Needed
If you look at the Accutran Global homepage it contains a work for us column and a small tab highlighting apply for work option. 
Click on apply for work button and you would find details on the current available contractor positions.
Currently they are hiring Canadian transcription contractors and you should be available between 4 pm and 8 pm from Monday to Friday.
Download the "Prospective Contractor Information" word document where you will get all the details and answers pertaining to that position.
The typing requirement is strictly 70 wpm and above, nothing less will suffice.
Once you have gone through the intro document, click the link provided at the bottom of the word document to attempt the application questionnaire and transcribing test.
You will be contacted shortly via email to let you know whether you qualified the test or not.
They do not encourage employment questions via phone calls instead send an email to them at info@accutranglobal with the subject line 'Contractor Query'.
Note: You are hired as a contract employer and not an full time employee with them.
Is Accutran Global Legitimate:
The Accutran Global Jobs are indeed legitimate as they are in this transcription business from 2002 (15 years) and they seems to have fixed clients as most of their work happens to be at particular seasons.
As I have earlier stated, the work timings and seasons are pre fixed and you have to provide your timings options before you start working with them.
Pre fixed Seasons where they guarantee work:
End of January to  mid of May

Mid- July to  mid -August

Mid- Oct  to Mid-Nov
Your mandatory availability to pre fixed timings (Mon to Fri):
4 am – 2 pm

4: 30 pm – 7:30 pm
Remember you need to pre schedule your work timings every week via Email or AOL and accordingly they will assign work to you.
Accutran Global Scam:
They don't charge you any application fee nor there is a need to invest on any heavy equipment  to start transcribing.
All you need is a laptop supporting Windows 7 or 8, min 4GB ram, any quality headphone sets and an internet connection.
They are stringent with the typing test, work timings and pay through a valid bank account which proves that they are definitely not a scam.
In a nutshell
Get better with your typing skills, get through the application process and Accutran Global will happen to be your best side gig during peak seasons if you happen to be in North America or Canada.
Or get some transcription practices from Scribie, Castingwords, SpeechPad or Quicktate where there are not much stringent rules and then try getting qualified with Accutran Global.
Good wishes and best of luck for your transcription career!