FTC disclaimer: This post contains affiliate links and I will be compensated if you make a purchase after clicking on my link.
Undoubtedly, 3D printing and CAD design have revolutionized modern engineering and design.
Finding the right 3D CAD software is key to making your projects easier and more efficient.
Here we will discuss some of the top-notch 3D CAD software tools available in today's market that will suit all your needs!
Understanding the Basics of 3D CAD Software
3D CAD software is becoming increasingly common for making stunning designs. It can be used across many different fields, including engineering design, product design, and architecture.
This powerful type of software allows you to create three-dimensional models that you can customize with lots of tools – it's like having a clay model right in front of you! The result? Highly detailed simulations which look just like the real thing!
Figuring out how to use 3D CAD programs may seem daunting but trust us it doesn't have to be too difficult if approached correctly; plus, it's so rewarding once you understand the basics since those visualizations will really come alive!
Having some basic idea of the principles behind 3D CAD software gives you an edge to get acquainted with available tools and how these can be used effectively in your designs.
There are two key elements here; the modeling environment and the rendering engine.
The modeling environment lets you alter objects in three dimensions by moving them around, re-sizing, or reshaping them using various instruments like extrusion or boolean operations (adding/subtracting). Pretty neat, right?
The rendering engine takes all this information and creates an incredibly realistic image when viewed at any distance.
Once you comprehend these core elements, it's time to check out more complex features like lighting effects, textures, material properties, animation systems, etc., which will give your projects a professional look while giving extra control over how the final output comes across in terms of its render into an image file (e.g., .jpg).
Moreover, many plugins are available for most 3D CAD programs, allowing users access to further customization options such as physics simulations or particle systems, adding even more realism if desired.
Finally, don't forget about staying informed with technological advances; new features pop up constantly, so stay updated on each program's latest capabilities to take full advantage!
Top 10 Best 3D CAD Software: Comparing Popular Options
Choosing the right 3D CAD software is beyond important for many industries, from automotive to aerospace and product design.
With many options available, picking one best suited for your project can be pretty confusing.
To simplify this process, we've compiled a list of 10 top-notch 3D CAD software, which you can compare and choose from.
Autodesk Inventor

Kicking off our compilation is Autodesk Inventor – an extremely powerful tool with tons of features!
This 3D CAD program has been around since 1999 and is still one of the most popular programs in its niche.
It provides many features like dynamic simulation, realistic visualizations, and precise analysis tools, making it ideal for any industry that requires exact engineering designs.
Its user-friendly interface makes learning super simple, even for those without CAD software experience!
Autodesk Inventor's ability to create parametric models sets it apart from other 3D CAD software. This means design changes can be effortlessly made at any process stage without starting from scratch.
By simply updating a parameter or dimension, the entire model will adjust accordingly, saving time and effort.
Moreover, Inventor's integration with other Autodesk products enhances collaboration among teams by allowing for easy data sharing and real-time updates.
One feature that stands out in Autodesk Inventor is its advanced simulation capabilities. Engineers can test their designs for strength, functionality, and performance before producing physical prototypes.
This saves costs and helps identify potential issues early on in the design phase. Additionally, with cloud-based solutions like Fusion 360, designers can access their projects remotely from anywhere.
SolidWorks Premium Edition by Dassault Systèmes

Regarding 3D CAD software, SolidWorks Premium Edition by Dassault Systèmes is a game-changer. With its rich feature set and user-friendly interface, this software makes designing complex models a breeze.
SolidWorks Premium has something for everyone, whether you are an experienced engineer or a novice designer.
One of the standout features of SolidWorks Premium is its robust simulation capabilities. The software allows you to test your designs in real-world scenarios before ever hitting the manufacturing floor.
SolidWorks Premium empowers engineers to make informed design decisions and optimize product performance from stress analysis to fluid dynamics simulation. This saves time and money and ensures that your end products meet or exceed customer expectations.
Another noteworthy aspect of SolidWorks Premium is its seamless integration with other tools in the Dassault Systèmes portfolio.
From PLM (Product Lifecycle Management) solutions to CAM (Computer-Aided Manufacturing) software, collaborating across different platforms greatly enhances productivity and efficiency. This tight integration enables teams to work together seamlessly and reduces errors caused by manual data transfer.
PTC Creo Parametric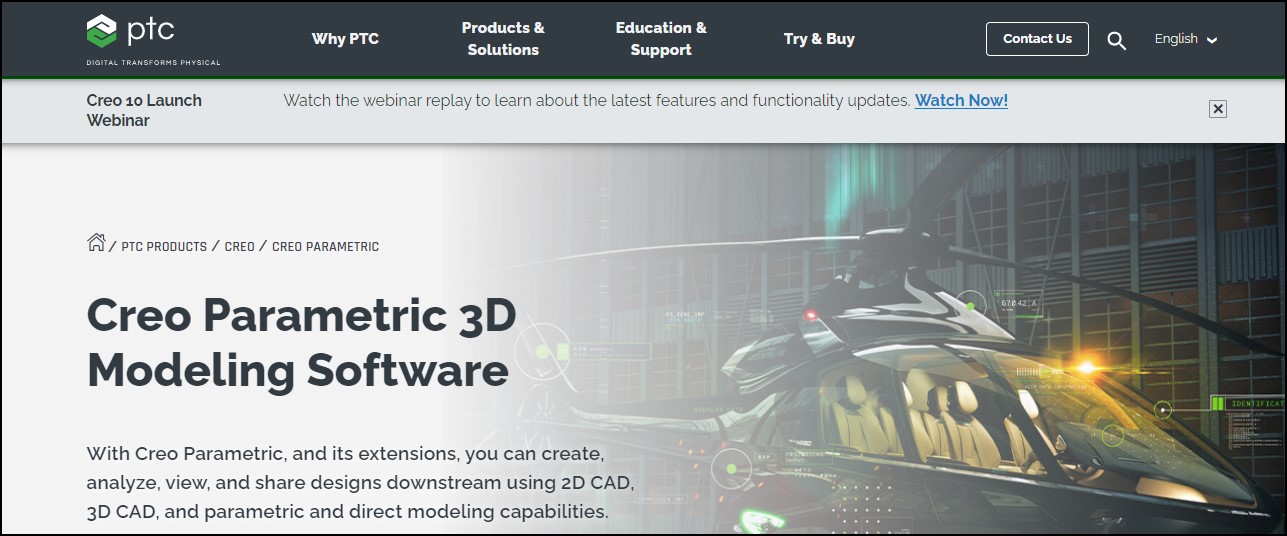 Third on our list is PTC Creo Parametric from the company PTC Inc.
It's become a favorite amongst engineers and designers for its various features like advanced assembly modeling tools, component libraries, integrated sheet metal design capabilities, and motion simulation options – all wrapped up in an attractive user interface specifically made to cater to mechanical design professionals.
What makes it such a great option? Its comprehensive suite of components makes designing complex 3D models easier than ever before!
This software takes 3D modeling to the next level. It provides powerful tools such as freeform surfacing and interactive modeling functions like drawing curves directly onto surface geometry.
Experienced engineers who need highly precise designs quickly can use this program without relying on additional tools or plug-ins – and it's no wonder they choose it over others!
With its advanced capabilities, you get accurate results in less time, allowing users more flexibility when creating their projects.
What makes this even better is that you don't have to be an expert modeler: anyone with basic knowledge of 3D design can quickly grasp how things work here and start making great models right away!
Siemens NX 11

Next up is Siemens NX 11 from Siemens PLM Software, which provides an array of powerful yet user-friendly features. This state-of-the-art tool is revolutionizing the way products are created, offering a wide range of features and functionalities that streamline the design process.
It offers integrated finite element analysis capabilities and advanced visualization options, enabling users to make complex shapes speedily while still having total command over their designs with exact accuracy.
One of the standout features of Siemens NX 11 is its robust parametric modeling capabilities. This means designers can easily create and change models without starting from scratch.
Whether tweaking dimensions or modifying complex surfaces, NX 11 gives users unparalleled control over their designs. It's like having a virtual playground where creativity knows no bounds.
But what sets Siemens NX 11 apart from other CAD software on the market? For starters, it boasts an intuitive user interface that makes navigation a breeze even for beginners. With its sleek design and contextual menus, finding the right tools has never been easier.
Additionally, NX 11 offers seamless integration with other software systems commonly used in product development workflows, ensuring a smooth transition between various stages of the design process.
Onshape Professional Edition from Onshape Inc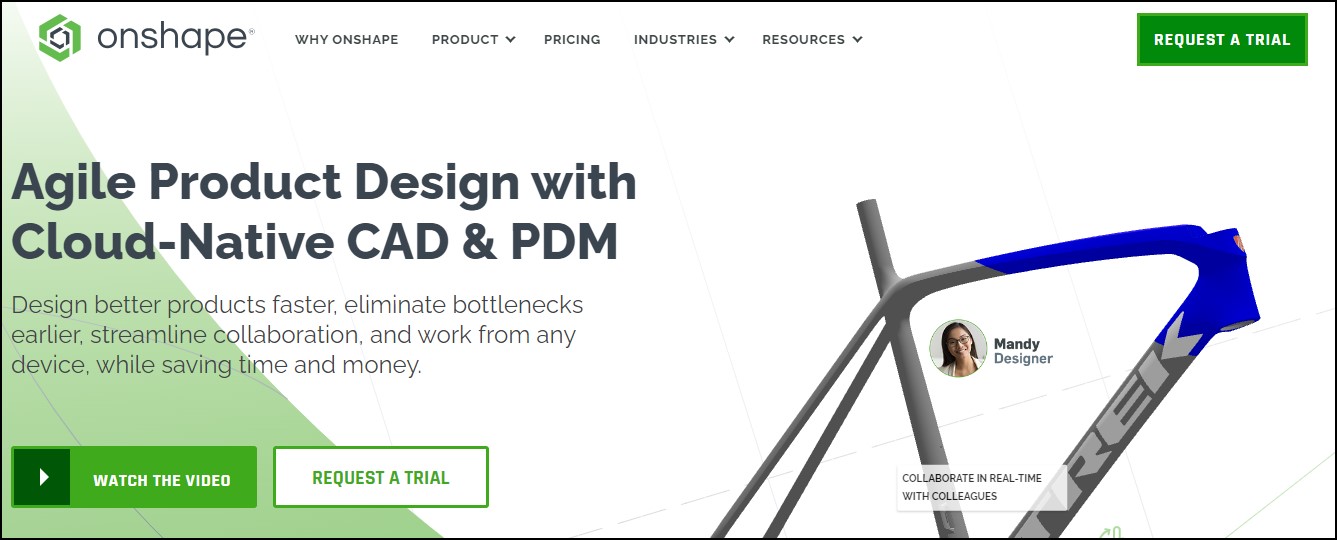 And that's not all – Onshape Professional Edition from Onshape Inc also comes next on the list!
Onshape Professional Edition is cutting-edge software that is taking the engineering world by storm, offering a unique blend of capabilities that will revolutionize your design process.
With this software, multiple users can work on the same design simultaneously, making collaboration smoother and more efficient. In addition, changes one user makes are instantly visible to others, eliminating any syncing problems that may arise.
Another key advantage of Onshape Professional Edition is its accessibility. As a cloud-based platform, it allows you to access your designs from anywhere in the world using any device with an internet connection.
This means you can continue working on your project while in transit or even collaborate with team members who are located across different time zones.
Plus, since all data is securely stored in the cloud, you don't have to worry about losing work due to hardware failures or accidents.
Fusion 360 Ultimate Edition by Autodesk Inc

To round out our top 10 best 3D CAD Software list, Fusion 360 Ultimate Edition by Autodesk Inc. is the perfect fit!
Specifically designed with industrial designers in mind, this program lets them access their projects anytime and anywhere without requiring downloads or installation processes – plus, they can collaborate online easily, making it ideal for working remotely or across multiple teams while maintaining tight security protocols.
What's more? This multi-functional software combines parametric modeling with freeform sculpting into one package giving industrial designers unlimited freedom when creating complex shapes as well as easy sharing options, allowing users to share creations online effortlessly – all without needing additional plug-ins or apps plus plenty of other useful features too numerous to mention here.
SketchUp Pro

SketchUp Pro offers powerful yet user-friendly tools ideal for professional designers needing high-quality results but with little experience working with complex software like AutoDesk Inventor and SolidWorks.
It also includes more advanced options if you need them – such as photorealistic rendering.
Plus, the program supports 2D drafting abilities (like measuring distances) and sophisticated 3D modeling functions, so you can transition from sketching your concept to engineering & manufacturing without ever leaving SketchUp Pro!
Moreover, its integration into Google Earth means you can view your designs in real-world environments before investing resources towards building physical versions of them – an invaluable boon for architects wanting accurate visualizations well before construction begins!
Bricsys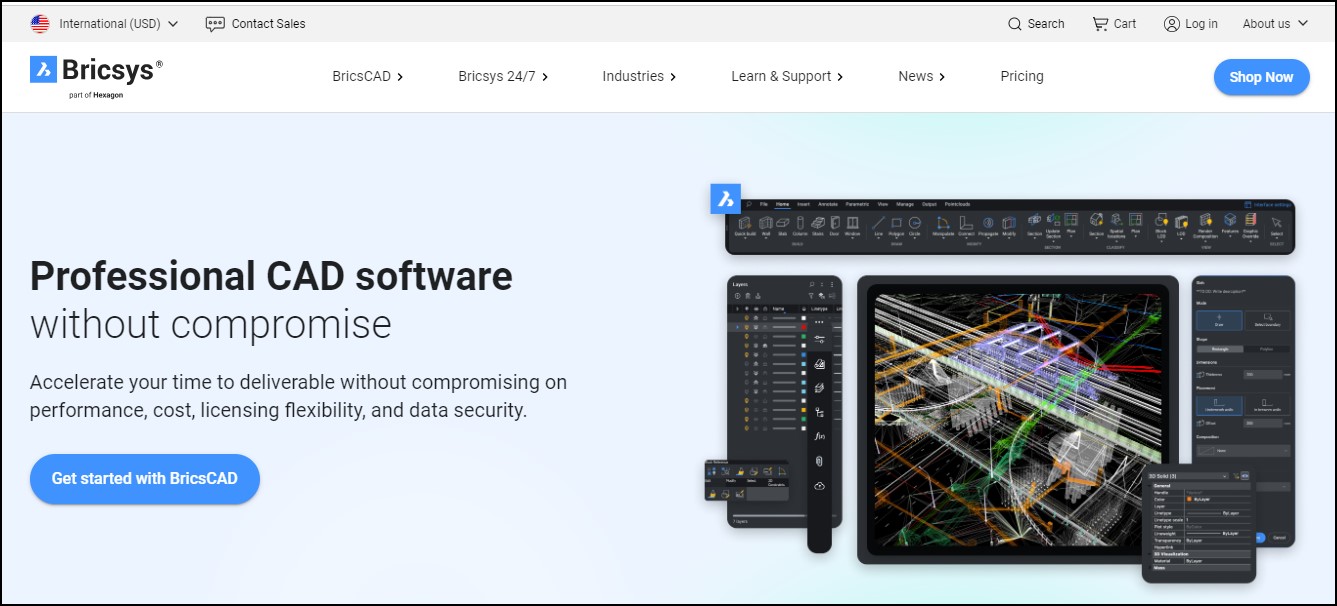 Bricsys is known for its flagship product, BricsCAD, which has quickly gained recognition as a worthy competitor to other well-established CAD software like AutoCAD. What sets BricsCAD apart is its commitment to innovation and affordability.
With powerful features like direct modeling and intelligent parametric components, BricsCAD offers a user-friendly experience without compromising functionality or performance.
One thing worth mentioning about Bricsys is its dedication to user feedback and community engagement. They actively listen to their customer's needs and continuously work on improving their products based on real-life usage scenarios.
This collaborative approach has built trust among designers worldwide who see BricsCAD as a reliable partner in pushing the boundaries of what's possible with 3D CAD software.
Whether you're an experienced designer or just getting started, exploring what Bricsys offers could be an exciting opportunity to enhance your creativity while staying within your budget. So why not give it a try? You might be pleasantly surprised by the possibilities waiting for you with BricsCAD.
ZW3D by ZWSOFT

ZW3D by ZWSOFT is another option for 3D CAD software. With its powerful features and user-friendly interface, it allows designers and engineers to bring their innovative ideas to life with ease.
One standout feature of ZW3D is its hybrid modeling capability, which enables users to switch between solid and surface modeling seamlessly. This flexibility increases efficiency and opens up new possibilities for complex design projects.
Another noteworthy aspect of ZW3D is its emphasis on collaboration. The software offers real-time file sharing, making it easy for team members to work together without hiccups or delays.
This collaborative approach fosters better communication, improving project outcomes and faster turnaround times.
Furthermore, ZW3D's compatibility with other popular CAD formats ensures smooth data exchange across different platforms, eliminating compatibility issues that often hinder seamless collaboration.
Shapr3D

Shapr3D is not just another 3D CAD software that provides an intuitive and powerful tool for designers and engineers that allows them to create complex 3D models with ease.
What sets Shapr3D apart from its competitors is its seamless integration with iPad Pro and Apple Pencil, making it a portable and efficient solution.
But convenience is not the only thing that makes Shapr3D stand out. Its innovative approach to user experience sets it apart from other CAD software.
With Shapr3D, you don't need prior knowledge of complex modeling techniques – it feels more like sketching than anything else!
The app's smart AI-powered tools are designed to anticipate your moves and offer suggestions, saving you time and effort while ensuring precision in your designs.
Beyond its intuitive interface, Shapr3D offers a community platform where users can interact, share their work, ask questions, and find inspiration.
This collaborative aspect adds a layer of value to the software since designers and engineers can learn from each other's experiences and push their creativity even further.
If you're searching for 3D CAD software that combines portability with power; simplicity with advanced functionality, look no further than Shapr3D.
Top Free 3D CAD Software Tools
IN RECENT YEARS, 3D CAD software has become immensely popular for creating and manipulating designs. It's employed in everything from prototyping to product design by experts and hobbyists alike.
Unfortunately, the cost of this type of software can be pricey. However, some exceptional free programs provide a copious amount of freedom plus capability in producing 3D designs! Have you ever tried using any?
Are you looking for an affordable way to enter the exciting world of 3D CAD? Well, here are three fantastic free software options!
Blender

The first one is Blender – it's open-source and incredibly powerful. This program can create amazing models, animations, simulations, and more.
Plus, with its scripting language, even experienced users can extend their capabilities beyond what they thought possible.
The only downside to Blender is that it has a high learning curve, but, fortunately, you can find tons of tutorials online, which make getting started with the program quite simple.
Fusion 360 from Autodesk
Second up is Fusion 360 from Autodesk, which offers a comprehensive suite of tools that allows designers to build detailed objects quickly and easily – perfect for beginners who want professional results fast!
Solidworks eDrawings Viewer
And finally, there's Solidworks eDrawings Viewer, which provides high-quality visualizations and editing features so you can control your designs at every step. So if budgeting isn't holding you back, try these solutions today!
OpenSCAD
Our second selection on this list is OpenSCAD – and this one differs from other 3D modeling programs as it uses code instead of graphical user interfaces (GUI).
It seems like an extra step compared to normal software, yet many people enjoy its flexibility for customizing their designs.
OpenSCAD is great for creating complex shapes without all the technical details associated with traditional modeling programs.
It's fast, easy, and perfect for those who don't want to spend an exorbitant amount of time on their projects.
On the other hand, there's FreeCAD, which also offers a fantastic way to start making 3D models but doesn't require as much investment in terms of money or learning how things work behind the scenes!
What sets FreeCad apart are features such as parametric modeling – giving users more control over their designs than what Blender or OpenScad might offer. This makes it ideal for those that need precise customization options while still getting up and running quickly.
Choosing the Best 3D CAD Software for Your Needs
Finding the best 3D CAD software for your needs can be quite overwhelming. With so many different applications out there, it's important to consider what kind of design you're trying to create and which features each program has that could help make it successful.
By learning about the various types of 3D CAD programs available and their capabilities, you'll better know which one will provide everything needed to complete your project!
Is this going in a specific direction? Are certain features absolutely essential or just nice-to-haves?
Questions like these should guide your research so that when finally making the selection, you feel confident in knowing its exactly what's wanted.
Figuring out which 3D CAD software to use starts by deciding what design you will create. From mechanical engineering design, architectural design, and interior design up to animation/visual effects creation – there's a whole heap of categories that boast their own set of features depending on your project goals.
So once you know exactly what type of project it is, it'll be easier to find the right program that suits all your needs!
The next step in selecting a 3D CAD software is assessing its capabilities and features compared to other programs of the same category.
Different designs need distinctive toolsets, so make sure the program you select has all the essential tools for successful completion and any elevated abilities necessary for more elaborate projects such as parametric modeling or scripting languages like JavaScript or Python if needed.
Besides that, consider how user-friendly each option is; if using complicated commands isn't something you want, then finding an easy yet effective interface should be your main objective while choosing among multiple competitors offering similar feature sets! Is this what suits you best? What do we have here? That's always worth looking into before making the final decision.
Role of 3D CAD Software in 3D Printing
3D CAD software has completely turned the concept of 3D printing around. These pieces of software are like a bridge between designing a 3-D object and seeing it printed out for real.
This way, designers can make three-dimensional models with exact measurements, which could then be used in 3D printing – making life easier by minimizing mistakes during the design process and providing uniformity all through the production stages.
Although most programs have similar features, there is still variation across platforms when talking about basic functionality offered by such types of software – while some offer more options than others, do you think that's important?
Ability to manipulate objects in three dimensions
Most programs offer users the ability to manipulate objects in three dimensions. Users can add or remove components, change angles, and sizes, rotate around any axis they desire, as well as adding textures and colors for a more realistic look.
Furthermore, many of these same applications are able to generate STL files that can be used with most 3D printers currently available on the market today, meaning you have full control over your project from start to finish!
The question remains though – what will you create?
Creation of a Digital Model for 3D Printing
The utilization of this type of software has completely changed the way designers approach their work when creating an object from scratch for use in 3D printing.
Instead of spending time and energy on sketching out ideas or hand-modeling clay, they can now quickly make a digital model that is much easier to print after completion.
This gives fewer mistakes during design phases which could save both money and time in the end while providing higher quality output due to its precise accuracy capabilities.
Moreover, it helps those new to 3d modeling learn how to modify without worrying about costly errors throughout their learning process, which was otherwise impossible before this tool came along.
The option for beginner users getting access to powerful tools like these lets individuals with limited understanding of complex designing gain insights into what's potential within their field, making more possibilities available than ever!
Features to Look Out for in Top-tier 3D CAD Tools
Design Engine
If you're looking for the best 3D CAD software, make sure to check out its design engine. A strong design engine can easily handle complex models and produce high-quality images that are great for marketing or visualizations.
It should also be able to render in real-time accurately and precisely so that your business gets the most out of its investment.
Ask around what other users think about each tool's performance before making a decision – it will save you time and money in the long run!
Intuitive controls and user-friendly interfaces
Additionally, top-notch 3D CAD programs should come with intuitive controls and user-friendly interfaces.
This makes them easy to use, even for novices. Moreover, they must have an extensive library of parts and components so that you can easily design complex models without having to start from the beginning each time a new piece needs designing or reuse/modify already existing designs by expending minimal effort on your part.
The library must have a wide selection of materials on hand so you can get an accurate idea of how products will turn out if made from different kinds of resources (for instance, metal, plastic, and others).
Integrated analysis functions
When it comes to 3D CAD tools at high levels, they should be equipped with integrated analysis functions in order for users to evaluate their designs before manufacturing them in real life.
What would make this impact even greater? Maybe include some tests or simulations as well!
Stress analysis lets designers determine if their designs meet safety requirements and functionality tests, such as ensuring components fit together correctly before printing with rapid prototyping methods, such as 3D printing or CNC machining processes.
Plus, having access to finite element analysis (FEA) in the software is helpful too; this evaluates how a product behaves under varying conditions like loads/pressures/temperatures and so on.
How can we ensure that products perform optimally when exposed to different environments?
Collaboration features
Having the right 3D CAD tools can give businesses a real competitive advantage. Allowing them to identify potential weaknesses during their early stages rather than after they've been manufactured already.
What makes today's top-tier software so powerful is that it includes collaboration features enabling multiple people to work on the same project simultaneously whilst seeing each other's changes almost instantaneously thanks to cloud storage support which gives everyone access to files over the internet from anywhere at any time – something unheard of before cloud computing became mainstream!
On top of this, modern-day solutions boast advanced rendering techniques, multifaceted simulations, and automated calculations & reports giving companies an unrivaled edge with state-of-the-art 3D modeling & simulation technology.
Tips and Tricks for Maximizing Your Use of 3D CAD Software
Using 3D CAD software is gaining traction in lots of industries. Most folks know the fundamentals, but there are tricks to get more out of this powerful tool!
Here's some advice that'll help you use your 3D CAD software effectively:
Thinking Before Utilizing your design or model
Think about how you want to utilize your design or model before creating it. This helps ensure each has an appropriate amount and types of features included.
If you know in advance how your design is going to be used, it's worth putting extra detail into the model. That way, you can save time and money and end up with a better product!
For example, adding more detail for printing purposes than if it was intended just for viewing. So make sure that when creating models using CAD software, use all the tools available – trust us; this will come in handy later on down the line!
Exploring features of 3D CAD software
There are a ton of options within these programs, like different shapes and sizes.
Exploring all their features helps give your models great aesthetics while saving money from buying extra parts that you won't need since they're already available on the platform!
It's an advantage for anyone looking to create amazing designs quickly and easily. Have you ever used any of these programs?
Using tutorials or online courses for 3D CAD software
Thirdly, using tutorials or online courses pays off when just starting out with 3D CAD software. It will help you become familiarized with all the features quickly and efficiently without needing much prior knowledge of its usage beforehand!
Many of these tutorials provide step-by-step instructions so that even beginners can learn in no time; they also offer great advice for achieving maximum efficiency while working within this type of environment.
Learning has never been easier – giving users an edge over those who don't take advantage of these resources – potentially saving both time (and money) in short-term projects like prototyping as well as long-term ones such as product launches where timing is key to success! Have you ever used any tutorials before?
Benefits and Importance of CAD Design in Industry
Computer-Aided Design (CAD) is a powerful tool that has been used by engineers, architects, and other professionals over the decades to generate 3D designs.
Its sophistication level keeps on increasing with time which enables users to create more complex three-dimensional models for anything from product designing to complicated engineering operations.
Moreover, CAD software helps in formulating virtual prototypes of products prior to even it gets produced; this way, savings can be made related to prototyping without requiring physical prototypes demanding hefty resources or investment.
Advantages of CAD Design
The advantages of utilizing CAD design are quite abundant.
Spot Design Issues
It allows designers to quickly spot potential issues within their designs before they set off into the production stage.
Moreover, it provides a very realistic visualization of what the finished product will look like and reduces time spent on design progressions by allowing designers to make instant transformations without needing to start from ground zero every single time.
Collaboration feature
Even more so, with contemporary CAD tools, creators can share and work together on their ideas with colleagues or customers globally in real time – making contact much simpler than ever previously!
How cool is that? This feature makes collaborating hassle-free – something everybody could appreciate for sure!
Reduce the cost
CAD software is a great way for companies to reduce the costs associated with production errors and inefficient processes.
By creating detailed digital models using CAD tools, manufacturers can spot costly mistakes like improperly cut parts or pieces that don't fit together before they get too far along in the design process – something which could have been avoided if identified at an earlier stage.
Built-in simulations
Many modern CAD programs come equipped with built-in simulations so users are able to virtually test different scenarios prior to committing any resources towards production; this helps save both time and money when creating products or components you're confident will work correctly once completed!
It's almost as if we now have "test runs" of our inventions before making them a reality – pretty cool, right?
Case Studies: Success Stories Using Best-rated 3D CAD software tools
When it comes to 3D CAD software, there are quite a few options available on the market. Making an educated decision requires you to compare and contrast different types of tools – one way is by looking into case studies or success stories related to particular 3D CAD programs.
That said, these studies may be subjective in nature; still, they can offer useful information regarding which tool best suits individual needs as well as organizational objectives.
Are you up for such an analysis before choosing your winning product?
Reading case studies can be a great way to gain knowledge from others' experiences when it comes to 3D CAD software tools.
It offers an insight into how these technologies have been employed in various projects and even gives potential users enough information so they can make well-founded decisions on choosing the right one for their own purpose.
This kind of research also makes it easier than ever for people who feel overwhelmed by all the options out there today; you don't need to go through every single option – do your research first!
The long-revered Autodesk AutoCAD is renowned for producing accurate 2D drawings quickly, while Dassault Systemes' Catia has earned its reputation as a go-to program for complex designs that require extreme levels of detail, such as aerospace components and medical implants.
Depending on their needs, organizations have found success using both programs; however, the cost can skyrocket if they don't research other tools like Solidworks or Fusion 360 before making any purchasing decisions based solely on repute.
After all, not every 3D CAD software will meet those specific user requirements and project outcomes in an efficient manner with minimal problems during the implementation and deployment phases. It's important to take time when selecting your tech—you'll be glad you did!
Conclusion
In conclusion, 3D CAD Software can be an incredibly powerful tool to assist with creating and producing your 3D printed objects.
With the right software, you'll have access to a plethora of features that will help make complex designs easier to generate in shorter amounts of time when compared to creating them without their use.
Furthermore, these tools are often user-friendly as well as reliable and economical – allowing for accuracy & precision within your model's details while simultaneously producing printouts with superior quality finishing touches than what is achievable through traditional methods alone.
So if you're looking for ways to enhance both efficiency & longevity in your product design projects, investing in some high-quality 3D CAD Software could be just what you need!