FTC disclaimer: This post contains affiliate links and I will be compensated if you make a purchase after clicking on my link.
Well written no nonsense articles are true gold for any internet marketer.
One needs quality content to save time, to increase site visits, build strong back links, or for blog expansion and blog branding.
Whatever the case is, you are in need of a medium to make things easy and iWriter is one such medium.
The iWriter review will solve all your legitimate doubts regarding this online marketing medium.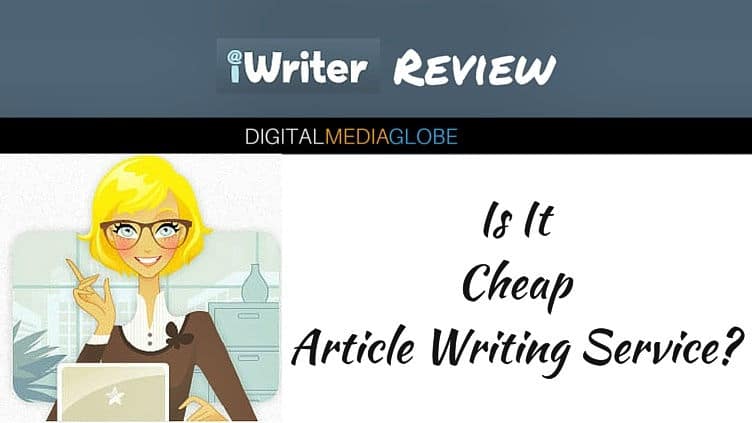 iWriter Review: Is it Cheap Article Writing Service?
iWriter in Brief
iWriter is basically a platform created by the well known Brad Callen and he aims to bridge the gap between the demand and supply game of article buyers and article writers.
Simply, it connects content writers and content seekers. It can be a win – win situation if a high quality article meets a good payable buyer.
What iWriter Can do for Clients ?
You no need to wait for article bidding like Fiverr and Elance (UpWork) or stringent document verification like TextBroker.
Just set up your username and password and login as a client. Deposit money through PayPal or credit card and you are good to go.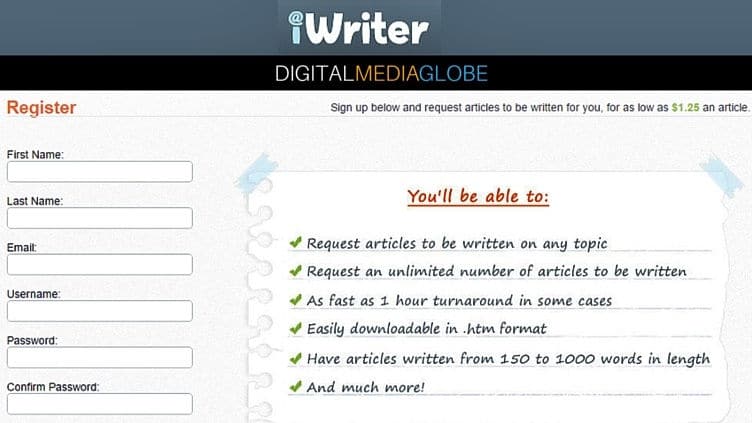 Posting your projects at iWriter is no rocket science. You have the flexibility to choose writers according to your budget.
They have three hierarchies of writers according to client's rating.
If you are start up or have a tight budget or a newbie to iWriter and want to experiment, start with basic writers (who are mostly beginners at iWriter and lowest in star ratings).
But trust me most of them are earnest and they write well. Since you are paying only $1.67 for 300 word article, $3 for 500 word articles and $7 for 1000 word article, quality can be a little doubtful for the price you pay.
If you are willing to pay less and review more, go for basic writers. But I had been lucky mostly, I do get quality article from basic writers too. My rejection rate is 27% with basic writers.
You can even play safe by choosing basic writers always, as your project is visible to all level of writers at iWriter. Remember basic writers include the no experience guy, poor rating guy too.
You say to me, I will pay decent but show me the best quality writers, choose premium writers.
All writers are rated 4 star plus by their previous clients and they are experienced guys. I do sometimes choose them if my article needs such demands (500 world article – $5.50).
The top guns of iWriter with 4.6 plus star ratings who demands higher price for their writing expertise.
If you choose elite writers, your project will be visible only to elite members.
So choose wisely, only if you can afford high price (a 500 hundred word article will costs you $10) and yes, quality is top class at this range. (You are a large enterprise and no compromise on quality then elite and elite plus writers are highly recommended).
Salient Features of iWriter:
They strictly run Copyscape software on all write ups before you receive.
I have crossed checked in Google and other copywriter software, one of the articles I approved in IWriter and guess, I was at peace as I couldn't found any.
The iWriter review gives thumps up for this idea as it makes iWriter a popular option to buy article writing service. All the writers are divided and given rating depending on their skill level and even the price you pay is skill based.
So overall, it is favorable situation for the article buyers. iWriter doesn't build castles in the air and they make things pretty much clear to article buyers before you post a project.
You can always download your approved article either directly or through spin tag version which can be good option for many (SEO purposes). You can also directly upload to your WP Blog.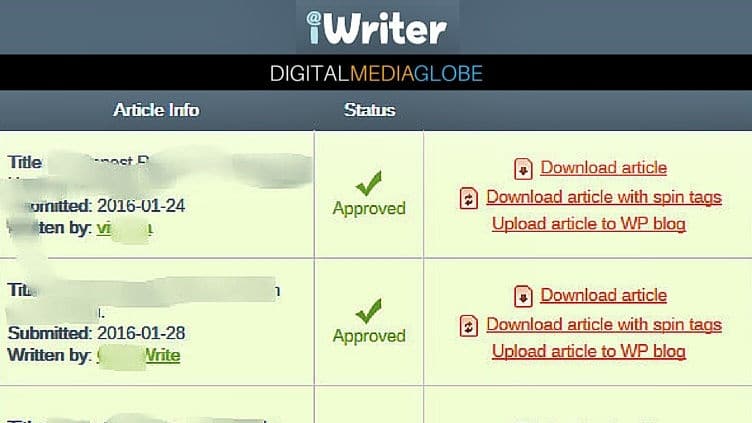 This is the USP of iWriter (why I love it) as it is the cheapest option out there in market unlike their competitors.
Prices are not sky high and there is a price range for every buyer and you get value for money in return. You can also click here to know their pricing in detail.
You can choose your favourite writers (who understand your instructions and what type of writing style you need) in the long run by sending your projects specifically to them.
That saves time and also builds relationships with handful of quality writers.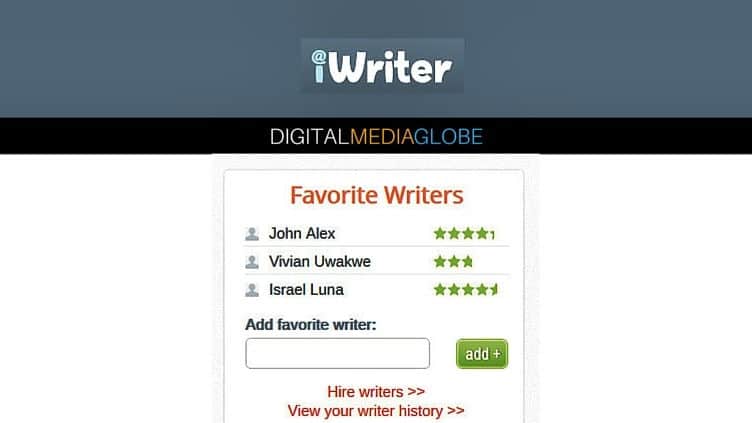 You can always reject an article despite the level of writers you choose. So you lose nothing for every penny you will pay.
I generally reject if the article looks like spun, or the writer completely misunderstood my write up instructions and ended up writing something else.
If the write up is good overall but needs structure or some other modifications I go for a article rewrite.
Moreover you can read up to 80% of content before approving (It gives fair idea about the write up). Earlier they allowed full content reading but they had cases of clients stealing the entire content without approving.
Let's talk straight in this iWriter review. With the price range they offer, quality issues are there for sure.
Being said that, iWriter can be a good choice if you got a decent number of favourite writers list (you have an option at iWriter before approving) and make jobs done from them.
The downside of iWriter:
The pros are the con here. Because its cheap, you have to roll the dice on quality (article rejection and rewrite request are high) compared to their counterparts. It's the best bet when it comes to budget but not the case when you talk about quality.
By chance you missed to review an article within 3 days, they will auto approve the article (they send email remainders before doing so). Somehow I find this feature to be not client friendly. They should keep it in pending lists instead and lengthen the approval period (My personal opinion).
I didn't find iWriter to be the one stop solution for article writing service as it has own downsides. You can use it parallel along with in-house writers. I guess once you spend quality years with iWriter, you can build a network of writers and it may profit you.
Who will benefit the most from iWriter?
One who wants quick article writing service instead of outsourcing
One who know how to get things done from writers at iWriter (identifying spun and spam articles without wasting much time and ignoring them)
One who is looking for a cheap article writing service
By choosing basic writers mostly (the best way to maximize your budget)
How to gain the most out of iWriter?
Always give clear cut instructions (prepare a template in advance) while posting projects.
Know how to get things done from the writers (as they aren't bad). That's how you can get quality article service at cheap prices
There are thousand writers at iWriter and don't have any pre notions about the type of writers you will work with.
The general notion is to always start from premium writers where I want differ.
Consider the basic writers also and instruct them well (tell them clearly how much keyword you need, SEO based or not, the article flow, etc.).
Please don't overdo the instructions and take a chance to look at the natural writing style of the writer too. Not satisfied, mostly ask for a rewrite instead rejecting bluntly. I once asked for article rewrite and got a really good article in return.
It makes things so easier and you would be noticing a favourite writers list adding up.
How to use iWriter?
The setting up process is very easy and simple.
Set your account with a standard login and username.
Deposit money (based on number of projects you will post) in your client account. I prefer PayPal as it is more secure than other fund transfer methods.
Then start post your projects which has a job description format and choose writers type and word count (you have to pay accordingly)
Finally, choose the time you need to write your article. They have a minimum of 24 hours to maximum of 72 hours. So choose according to your priority.
My take on iWriter
Yes, I like iWriter despite the downsides I talked about in the iWriter review.
It is budget friendly than the rest, quick way to get articles delivered to you daily, apt for less keyword density articles and overall, one of the good options to buy paid content online.