FTC disclaimer: This post contains affiliate links and I will be compensated if you make a purchase after clicking on my link.
The proxy servers are beneficial to unblock any restriction on the web that was imposed by government agencies and websites administrator.
It also helps you to keep safe and surf the web anonymously. This type of restriction is imposed because website owners don't want to serve the content in a particular location, or they want to keep themselves secure from any attack.
Usually, when you are surfing online, your online activity is exposed to website administrators, government agencies, hackers, and advertisers.
They use certain information like IP address, devices, and your online behavior pattern to manipulate what type of contents and ads need to feed to the users.
The other way, you are also blocked to see specific content that is not appropriate, or you need to be in that location, is called geo-restriction.
How using web proxy servers keep you safe?
When using web proxy sites, your request for a website is firstly get filtered with a web form, and finally, it reaches the proxy server.
The Proxy Server acts as an intermediary between web clients, like you and web servers. So, the traffic gets routed through a proxy server and the proxy server, on your behalf, request websites from web servers.
Usually, when we are surfing online, your traffic gets routed through ISP. So, the ISP can know which website you are surfing and can apply any restriction.
Even in such cases, the website administrators also know your IP address and location from where you are surfing.
But, with the proxy server, your IP address and location are hidden. So, for the webserver, the request seems to be coming from the proxy server, which is a different location.
If the webserver allows users from the location where your proxy server is located, then you can easily visit the websites without any restriction.
This way, the proxy server keeps your identity hidden and unblock any websites from any corner of the world.
VPN vs. Proxy server. What are the main differences?
You may have confused between VPN and web proxy sites. But, there are significant differences between the two.
Web proxy sites are the primary mode to hide your hide IP address and unblock any content on the web.
Additionally, proxy sites serve web traffic that is initiated from your web browser while using a proxy site.
On the other hand, VPN uses advanced technology to keep you anonymous, safe, and secure from any traffic originating from your device.
VPN is not restricted to only a web browser; instead, it covers all types of applications that are used to send requests to a web server or participate in any kind of traffic like downloading or uploading data.
VPN also provides end-to-end encryption, which means your data are secure and encrypted until it reaches the webserver.
The proxy sites are not always on, and when it gets identified by a web server, then it may get blocked. Additionally, you may not have any surety that all the websites will get unblock by proxy sites.
Whereas the VPN servers are always on, and it doesn't restrict any traffic. Because of advanced technology and protocols, it is tough to identify and ban any VPN servers.
So, better protection and anonymity, you can use a VPN like NordVPN that uses military-grade encryption and advance anonymity.
What to look for in free proxy sites?
Free proxy sites have certain limitations. So, it is better to use proxy sites for short term anonymity or to unblock banned websites occasionally.
You may find thousands of web proxy sites available, but not all are safe and secure. It is good to look for proxy sites that have a solid reputation.
You may also come to know that untested or unknown proxy sites indulge in identity theft and the insertion of malware infection.
So, what you need to look at free proxy sites?
Look for a variety of servers.
Many good proxy sites have a good number of servers in a different location. Because of this, you won't lose your connection and may find the server close to your location.
This way, it will increase your surfing speed online without losing any connection.
Are they disclosing server information?
There would be many proxy sites that don't disclose any server information. At this point, you need to be skeptical.
But, before leaving these proxy sites, you need to look after the reputation they have build and the users they serve. If it is satisfactory, then choose one and have some experience with it.
Are the free proxy sites customizable?
Some good free proxy sites give you the customization option. They give the option to add additional security by encrypting URLs and page content.
You can even have the option to block script and objects, which are said to be the source of malware infection.
Additionally, you will have the option to disable cookies that may be a threat to your anonymity.
Overall, all these tools give you fundamental and decent protection while using free proxy servers. It may be possible that some proxy sites offer some advanced protection when you upgrade to a paid one.
But, nothing beats the advance, well-tested protection from VPN like NordVPN.
Best Free Proxy Sites to Surf the Web Anonymously
Let's look in the list of best free proxy servers to surf the web anonymously.
Hidester – Best Free Proxy Servers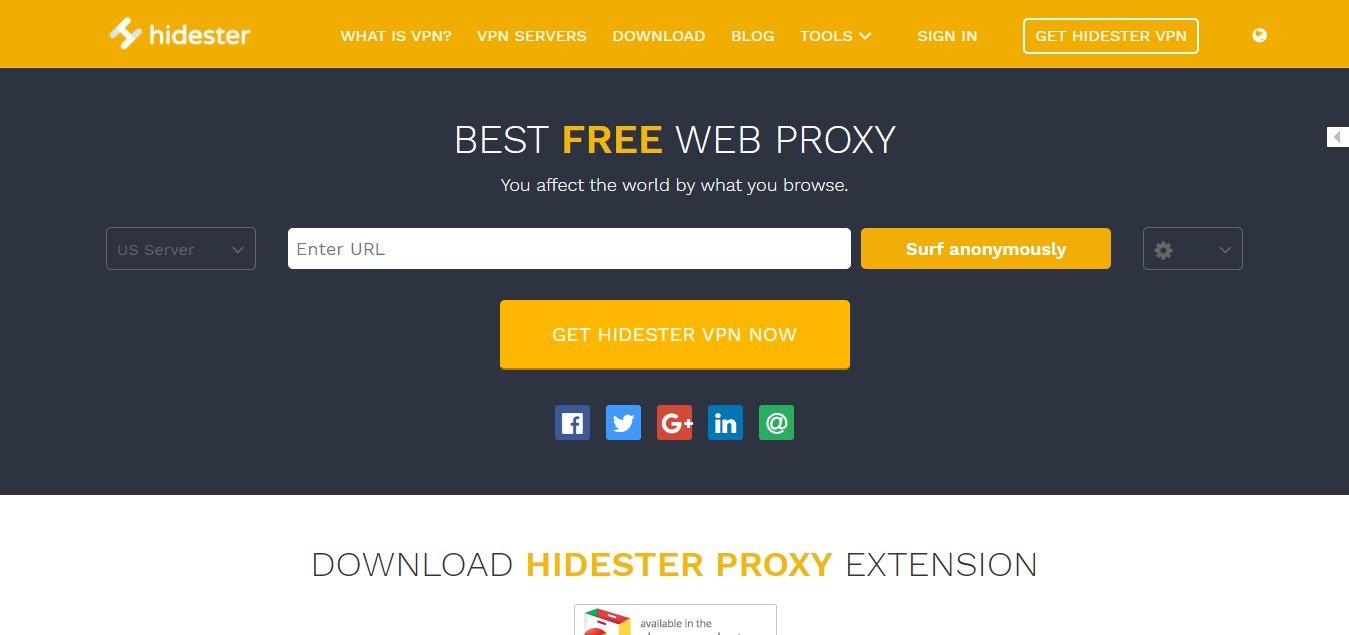 Hidester is most reliable and has a reputation in the market for free proxy sites. It has multiple server locations and customization options.
Currently, Hidester supports SSL proxy, which protects your data from a malicious script that may harm your system.
Before browsing, you can pick several server locations from the US or Europe. You also have the option to encrypt URL from getting leaked sensitive information.
Additionally, you have the option to disallow cookies, remove scripts, and strip objects from loading.
In a customization section, you can even change browser referrer, which may look to a web server that you are surfing from different browsers or operating systems.
Hidester web proxy also offers an opportunity to clear any cookies that are stored by websites. Besides, they claim that they don't keep or tracklogs, and they control all servers.
The Hidester proxy is also available for Chrome extension and offers a premium public proxy list.
If you want to get more advanced control and access to a premium proxy server, then you have upgrade Hidester service.
You can get free access to the Hidester proxy site from here.
Hide.me – Popular Free Web Proxy Servers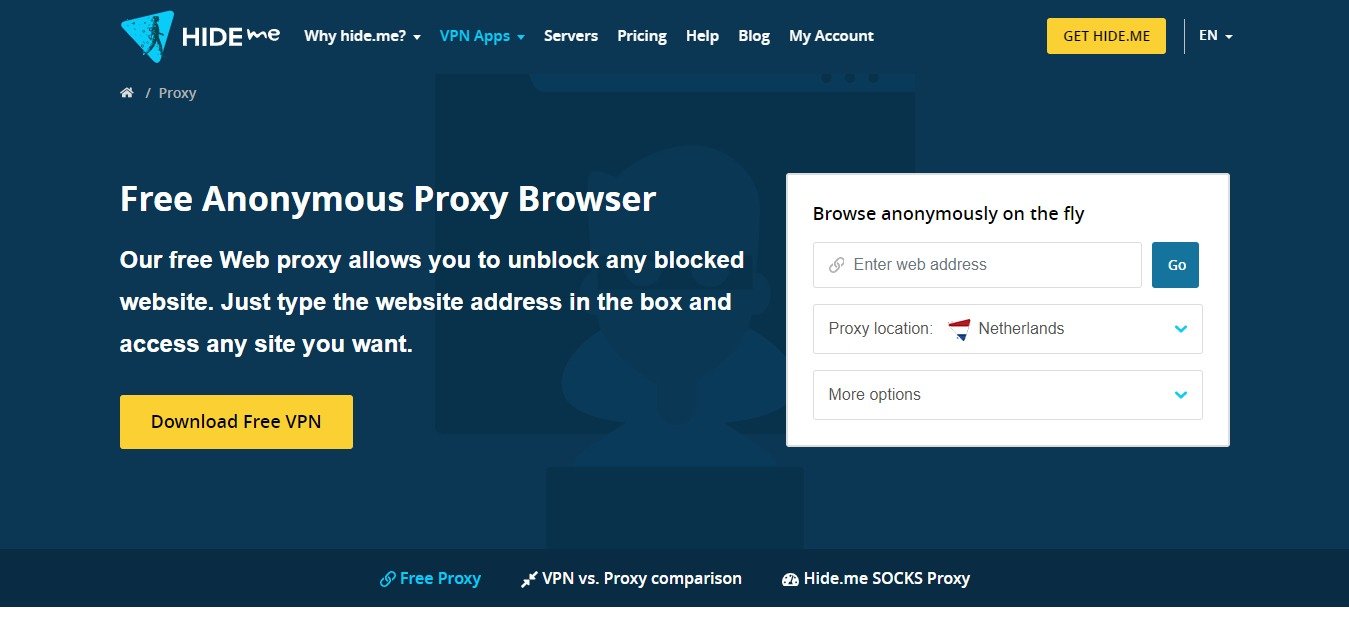 Hide.me is another most reputed free proxy site that allows anonymous free browsing.
They have handpicked servers that maintain high standards of privacy and security. And, all the servers are kept and controlled by them.
They don't store any logs or IP address, and each server is supported by a protocol like OpenVPN, IKEv2, WireGuard, SSTP, and SOCKS.
Their servers are currently located in three locations, namely – Netherlands, Finland, and Germany.
Like Hidester, it also has an option to disallow cookies, encrypt URL and pages, remove scripts and objects.
You can visit the Hide.me free proxy server.
HideMyAss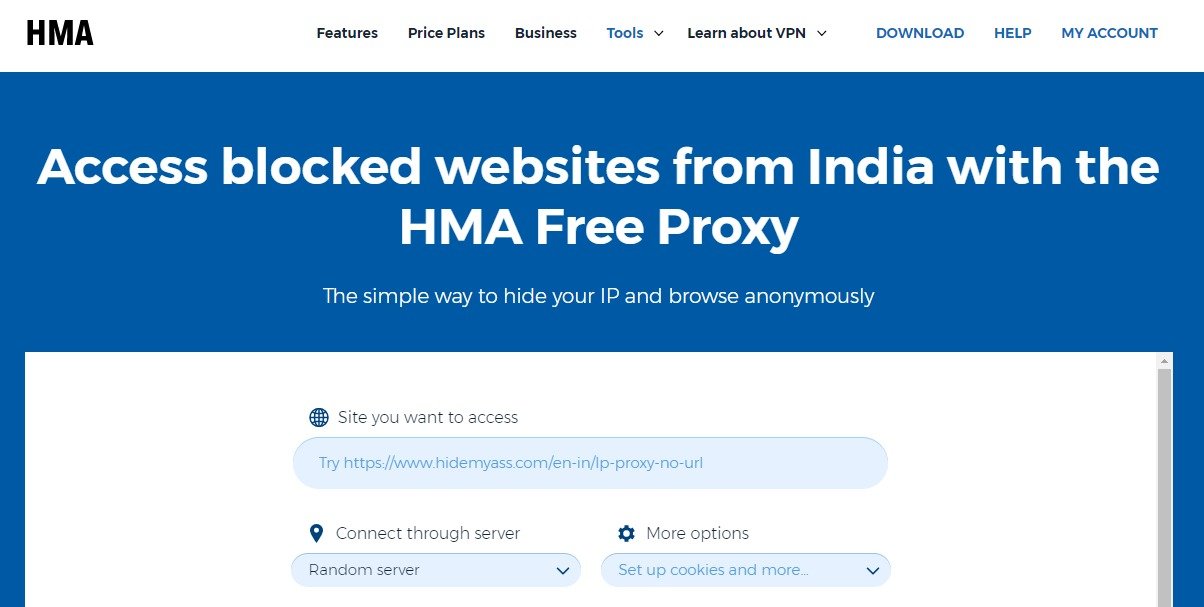 HideMyAss is one of the most famous and widely recognized free web proxy server. Its proxy server location is well distributed in the US and European countries. Although it has very few servers,s but its coverage is adequate.
Like any other proxy site, it also prompts you with three options. You can encrypt URL, disable cookies, and can remove scripts.
The downside of using HideMyAss web proxy server is that it doesn't guarantee the security and privacy of the user. Also, it doesn't claim that all the websites and their functionality can be adequately served.
To get an exclusive feature like anonymity and security, you have to use HMA VPN, which also offers 30 days free trial.
You can visit HMA free proxy servers from here.
ProxySite.com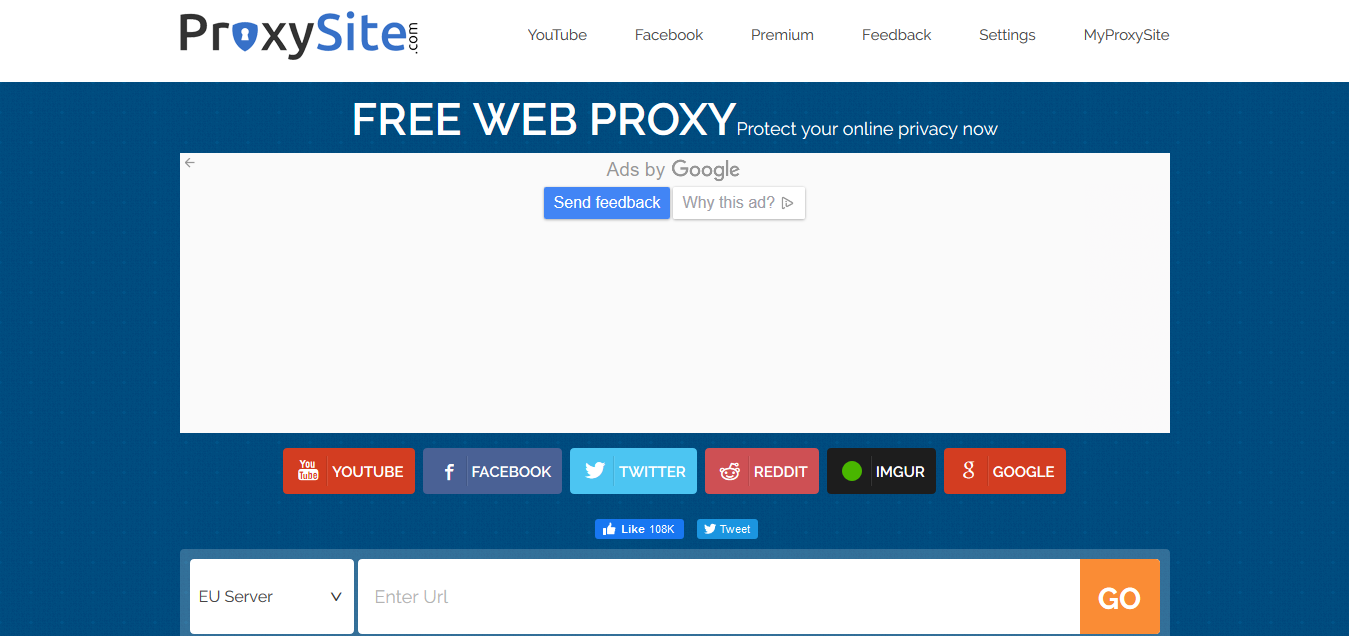 ProxySite is another free proxy site that is tailor-made to provide anonymity to your online activities.
This free web proxy site also gives you opportunities to select your server from the US and Europe. Also, they have not mentioned the location of the servers, which may affect your connection speed.
ProxySite offer encrypted SSL connection which means that it is safe to surf non-secure HTTP website.
They have also included the button for most famous sites like Facebook, Twitter, Reddit, and YouTube.
They do have the option to remove scripts and objects and disallow cookies while browsing any websites.
Sometimes you may face problems while opening any video streaming sites, but that can be temporary.
You can follow ProxySite from here.
KProxy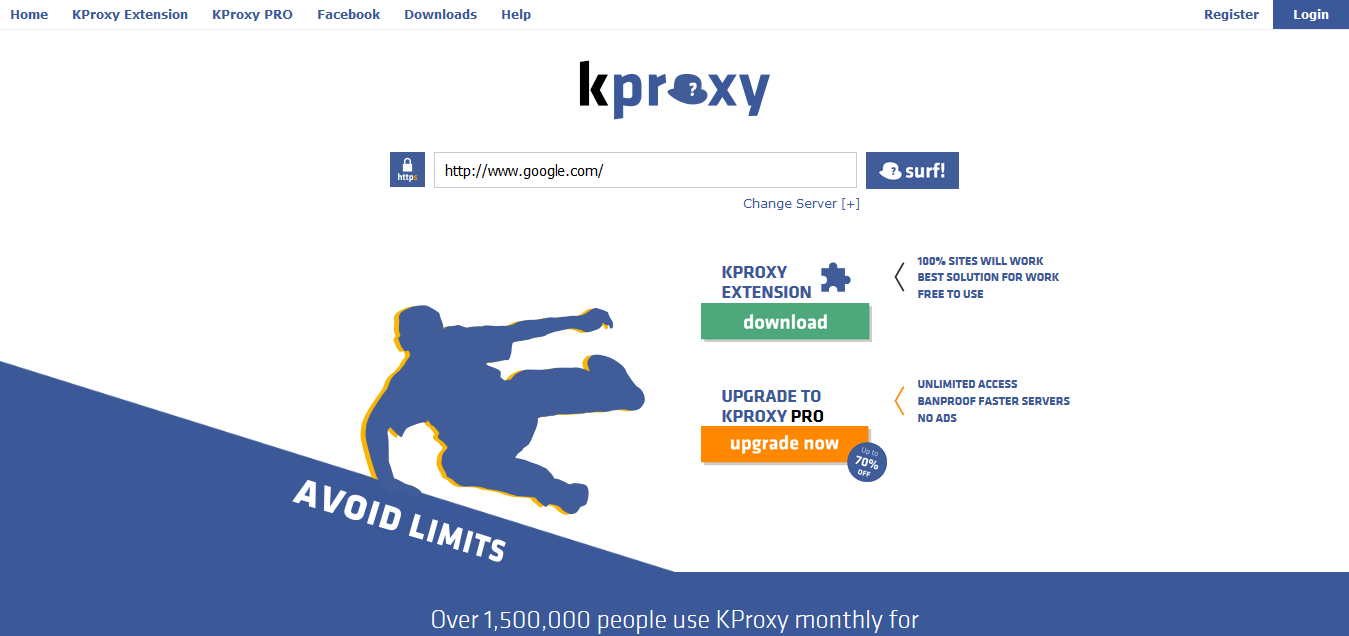 KProxy is another free web proxy server that doesn't require any registration or credit card to use it.
You can enjoy the KProxy server ad-free with the available extension to Chrome or Firefox.
If you don't have Chrome or Firefox browser, then you can download KProxy Browser and start surfing.
In KProxy, all the traffic through the KProxy server is encrypted to give complete safety while surfing.
The advantage of using KProxy is that you can hide the web address menu at the top of the screen, which makes it easy to browse effectively.
Also, KProxy provides you with ten different servers,s but they have not disclosed server location. If you find difficulty with one server, then you can switch to another server for better results.
The downside of using KProxy proxy server is that they don't have any customization option – like to disable cookies and removing scripts and objects.
Also, you may face slow speed or server overload in the pick hours. Also, they have not disclosed whether they maintain the servers or not.
You can visit the KProxy webserver from here.
4everproxy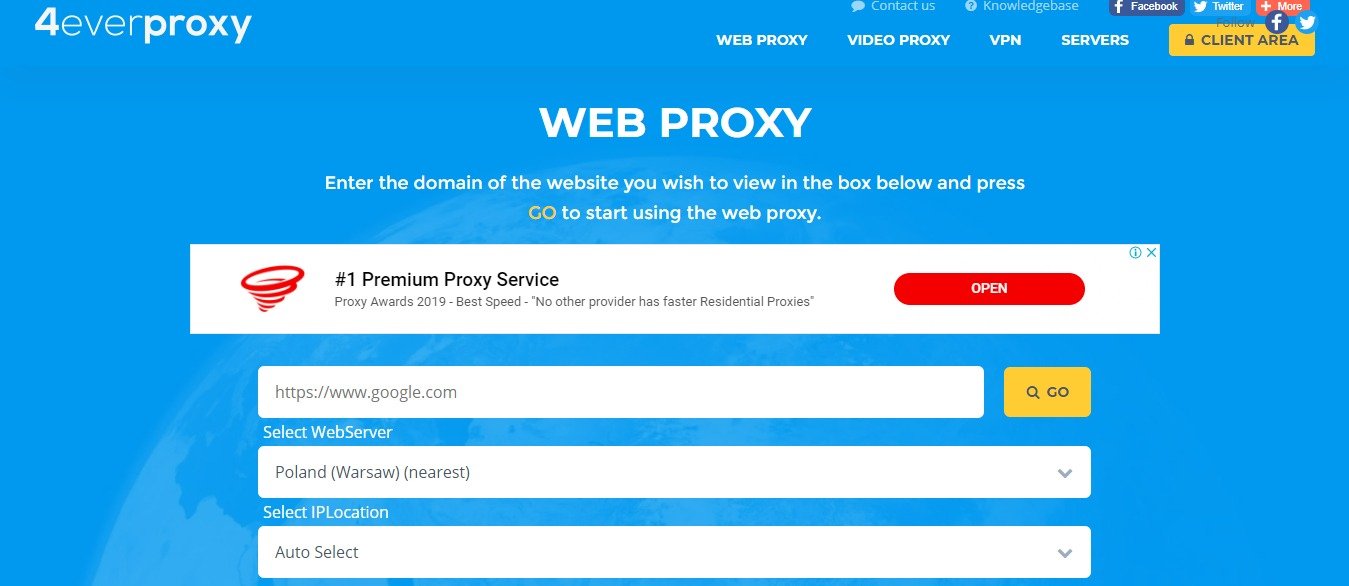 4everproxy is another free proxy servers that provides security using TLS. It can even serve websites that are non-secure through their secure connection.
The benefit of using 4everproxy is that every web page or URL you visit, it uses the different IP address.
Additionally, it provides privacy by deleting proxy sessions every 2 hours after you close your browser.
It also provides additional anonymity with double proxy servers. In double proxy servers, you can choose one location and then select the IP address of another location. So, now the request for any website would be from two servers.
They also have an option of custom HTTP Proxy, in which you can enter custom proxy. Now, the traffic from web proxy is routed through one of their proxy servers and then through your custom proxy.
They have other privacy options like to disallow cookies, remove scripts, encrypt web pages, and remove page tiles.
You can get free access to the 4everproxy web proxy from here.
Megaproxy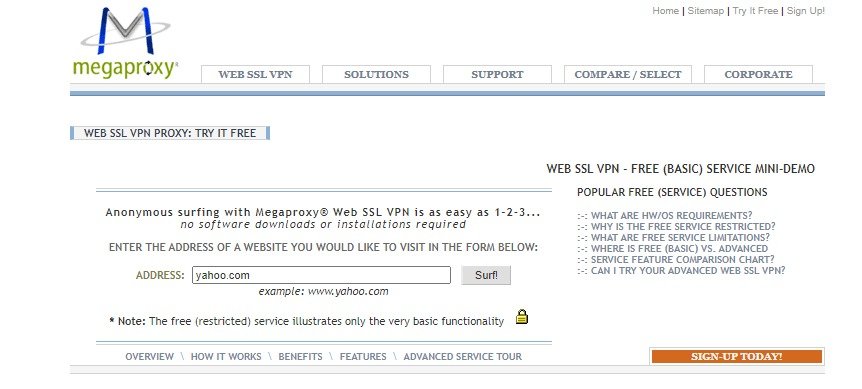 Megaproxy allows anonymous web surfing but with some limitations.
The benefit of using Megaproxy is that it shields your OS system, browser details and also hide HTTP referrer information.
Also, it has an option to remove advertisements from web pages, and you can limit animated images up to 2 iterations.
Besides, you can block all internet cookies, or you can encrypt and transform up to 20 web cookies.
The restriction that is imposed on a free or basic version of Megaproxy are
You cannot submit any web forms or able to login to remote web pages.
The maximum download file size is 200K
You cannot be able to manage internet cookies
You cannot stream or download any media
The maximum of 60 web pages you can surf in a 5-hour timeframe
Above all, the basic or free version of Megaproxy doesn't provide essential anonymity and security. So, it won't be safe enough to surf using the Megaproxy proxy server.
You can get here a free version of Megaproxy.
The bottom Line
If you are looking for the best free proxy server to surf the web anonymously, then Hidester and Hide.me would be the better option.
But, web proxy server doesn't provide you complete privacy and security because of the nature of the service.
To complete safety, anonymity, and security, you need to look for a VPN.
The best VPN that can offer complete safety and security along with additional features like ad blocker then opt for below three VPNs.
NordVPN
NordVPN is the best VPN that guarantees fast and high-quality streaming and military-grade protection. It offers P2P optimized servers, malware blocking, Bitcoin support, and much more appealing features.
You can get more than a 65% discount on NordVPN from here.
ExpressVPN
ExpressVPN is another best VPN that protects and is supported by all popular devices. It has strong privacy and security features with a server located in 94 countries. It unblocks Netflix, supports torrents, and has strict zero log policy.
You can get more than 50% discount on ExpressVPN from here.
SurfShark
SurfShark VPN is the most reasonable and low-cost VPN without compromising security and privacy. You can quickly get access to Netflix, torrenting, anonymous browsing, and can stay safe and secure on public WiFi.
You can get a deal of 83% off on SurfShark from here.