FTC disclaimer: This post contains affiliate links and I will be compensated if you make a purchase after clicking on my link.
The home network is necessary when you have more than one computer in your home, and you would like to communicate with other computers.
You can establish a home computer network with the help of a few devices like a router, wireless access point, ethernet hub or switch, and more.
Moreover, your home computer network can be wired, wireless, or a combination of wired and wireless.
Let's look into the in-depth guide on the home networks and setting up a home network.
Why do you need a home computer network?
A home network is needed to allow your computer to communicate with one another.
If you have more than one computer in a home, you can use the home network to do the following things.
Files and documents sharing
Share Internet connection
Print and scan document
Share TVs, game systems, and stereos
Share CD burners
The value and benefits of having a wireless home network increase tremendously with mobile devices like smartphones, smart TV, tablets, or streaming devices.
Which one to choose, wired or wireless home network?
A home network can be wired, wireless, or a combination of both. Earlier, the home network was predominantly based on wired networks.
But, the wireless network started getting popular with the arrival of more mobile devices like laptops, smartphones, smartTV, and tablets.
Let's look into which one to choose and why.
Wired networks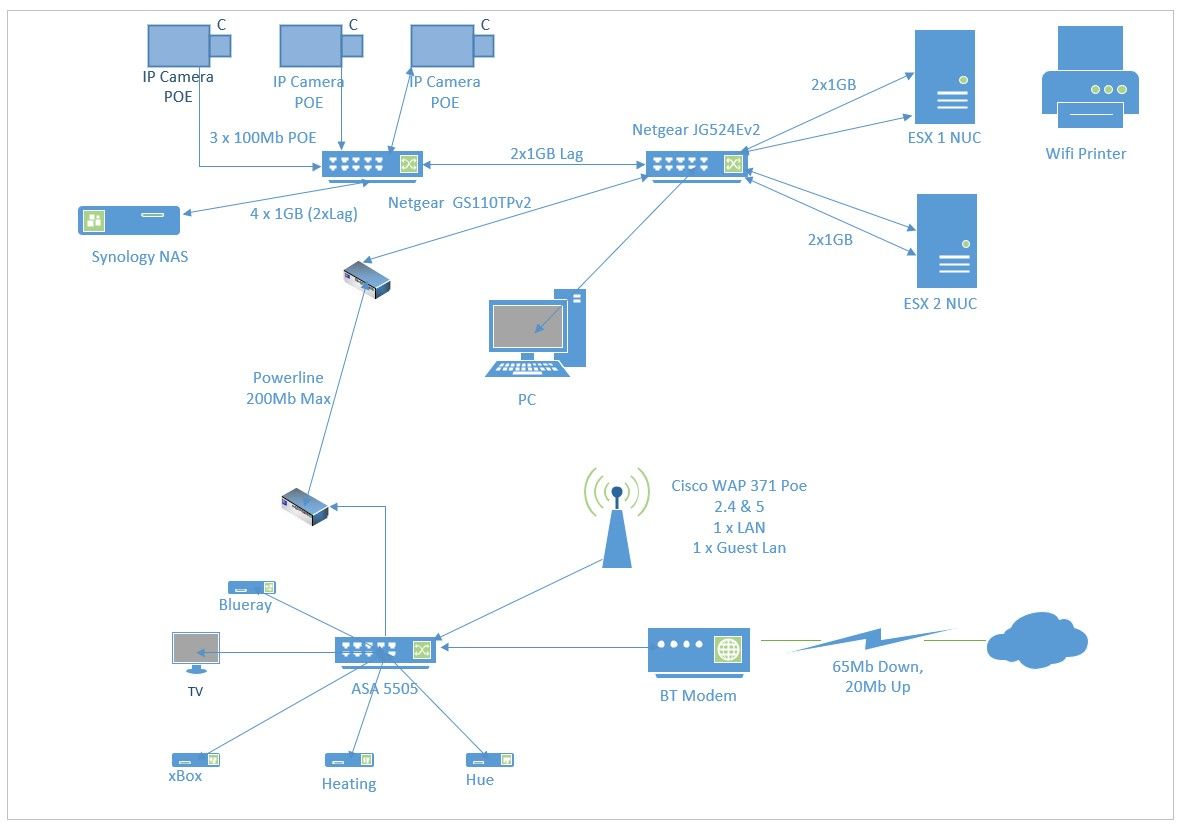 Wired networks are also called Ethernet networks. It has certain advantages and disadvantages, depending on how one uses it.
The advantage of using Wired networks is that they provide plenty of security and move data faster than the wireless network.
Overall, the wired network is faster than a wireless network.
The disadvantage of using wired networks is that adding up more devices in a home network will be costly.
Ethernet cable is expensive, and requirements increase as we increase devices.
Additionally, it creates a mess up with many wires running all over the building. Also, you cannot move from one place to another using a wired network.
What is required for a wired network?
An Ethernet cable is required to develop a network. The most commonly used Ethernet cable is Category 5 Unshielded twisted pair (UTP).
For a DSL connection, you need an existing phone line, and for the broadband connection, you require a coaxial cable.
If you want to connect two computers, then Network Interface Card (NIC) on both devices is sufficient.
But, if you want to connect more than two computers, you require an Ethernet router, and each device needs to connect to the router through cable.
Wireless network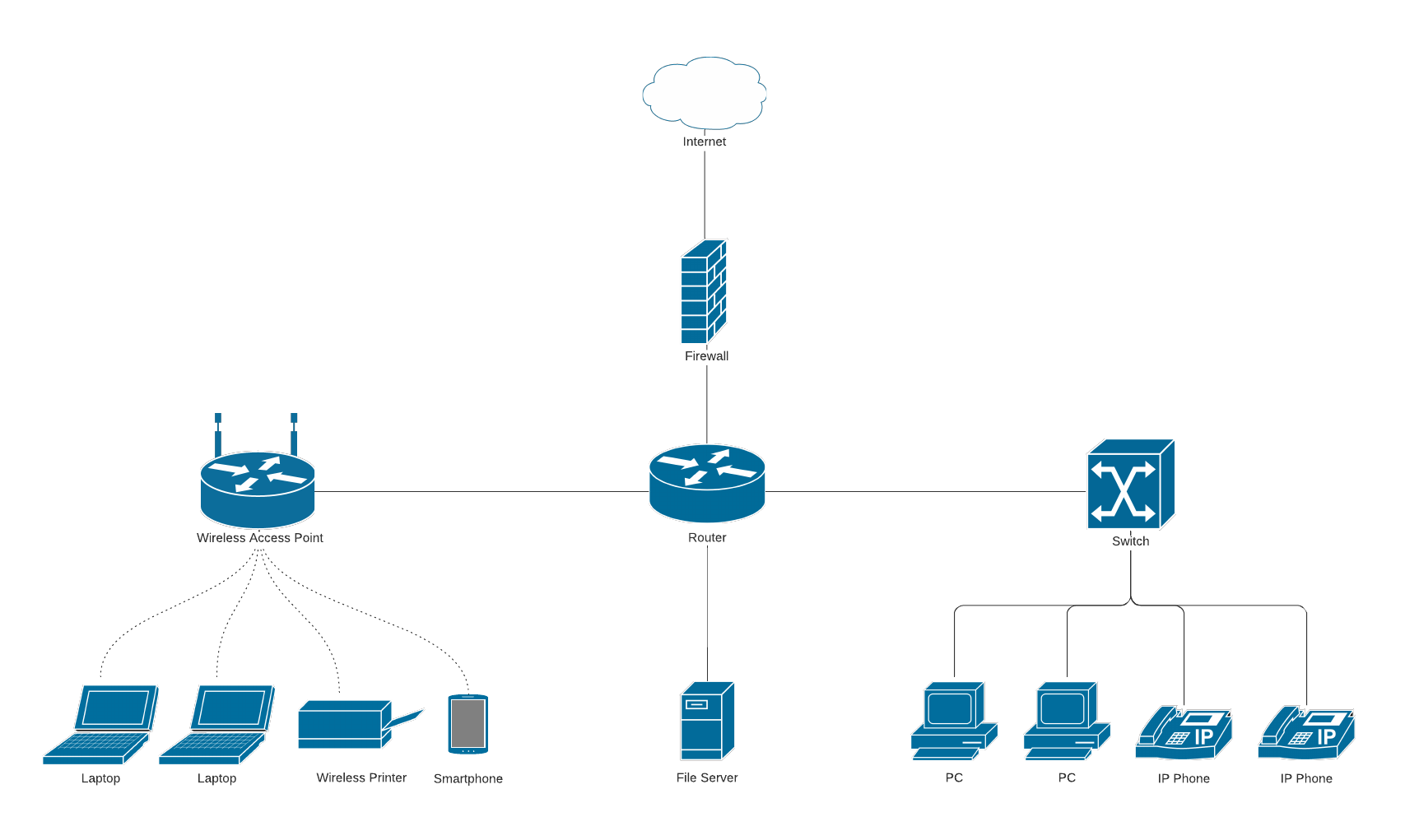 The wireless network is less expensive and uses radio waves to connect devices.
The advantage of using a wireless network is that it is flexible to carry devices from one place to another.
The downside of using a wireless network is that the transmission is slower and less secure compared to an Ethernet connection.
What is required for a wireless network?
The wireless network requires a wireless router and the range of the router depends on the type of router.
If the signal range is insufficient, you need to add an extender or repeater to complete the coverage.
You also need a wireless adapter and wireless Ethernet bridge if your devices are not built-in with this equipment.
Typical component required for home networks
Home networks can be wired, wireless or mixed networks. The main component of the home network can be your wireless router.
It is recommended to use the 802.11ac wireless standard router, the most current and fastest standard.
If your router standard is 802.11n, 802.11g, or 802.11b, the speed will slow down.
The wireless router usually incorporate multiple components such as
You will find that modern wireless routers serve both wireless and wired connections because of the presence of "Ethernet ports" or "Wired LAN ports."
DSL modem work converts the digital signal into analog signals and transfers it over a telephone line or cable.
You will find DSL modem comes with a built-in broadband router, and it is not purchased separately.
The telephone line also uses extra components like a Broadband filter to filter out DSL signals and telephone signals.
What would be your wireless router location?
The wireless router is usually placed near the telephone socket or cable socket.
But, if you would place somewhere else, you require telephone extension cables or longer WAN cables.
Moreover, a wireless router can also act as a wireless access point. So, it should be placed in the central location from where you will get full coverage.
Additionally, it would be helpful to keep in mind that never install wireless routers near appliances like microwaves and motors and don't try to hide the router behind the sofa or cupboard.
How to test your wireless signal?
After installing and placing your wireless router, you need to check wireless signal strength.
For this, you can use various mobile or desktop apps like inSSIDer, WiFi Analyzer, NetSpot, Network Stumbler, and more for your Android or iOS.
If necessary, you adjust the location of the wireless router.
How to extend your home network?
When your home or office is large, you need additional devices and a wireless router.
So, you can extend your home network using the following component.
Installing additional Wireless Access Points
Required extra cables to cover other rooms
Home plug adapters are required for power cables
How to set up a home network?
We already have gathered the component required to set up the home network.
Also, we have placed the home router in a location from where we will get maximum coverage.
We need to set up router settings, connect WiFi devices and configure the IP address.
Let's look into each part one by one.
Setting up router
You can access your router admin panel through a web browser and start typing your username and password.
Further, you need to make two changes to your router.
Change SSID of your router
Change the default admin password.
You can change your SSID to access your router, and also change the default password will make your network more secure.
Connecting WiFi devices
The standard way to connect multiple devices with your router is by clicking the WiFi network and then entering a password.
Further, most modern WiFi router is built-up with WPS (WiFi protected setup), requiring your device to enter a password.
You can achieve this by pressing the WPS connection button on your router.
Configuring IP address
Before you connect with other devices, your device needs an IP address.
An IP address is automatically assigned to devices through DHCP (Dynamic Host Control Protocol) service, provided directly from the router.
The automatically assigned IP address is the dynamic IP address.
But, if you would like to assign an IP address manually, then this type of IP address is called a static IP address.
A static IP address is mainly used for Port forwarding, and you can set it up directly on your router.
The IP address assigned to home networks is called the Internal IP address.
But, when you connect your device with the Internet, it uses an External IP address. The External IP address is the IP address of the router or Hub.
Router IP address, Mac Address, DNS, Internal IP address
If you want to know the detail of DNS (Domain Name Server), computer IP address, router IP address, and MAC address, then use the following command line.
For Windows OS: ipconfig/all
For Linux OS: ifconfig
Default gateway or default router is the router's IP address, and your router IP address is the gateway to the Internet.
Splitting your home network
Splitting your home network is required when you want to separate your home network for personal and commercial use.
If you have set up a home network in restaurants or hotels, you need to provide network access to your guest.
Most modern routers have a guest network facility, which separates the network into two parts.
Further, you can configure the guest network with username and password, speed limit, and data usage limit.
Another typical way to split network is through VLAN.
Home network security: Configuring Firewall
The router is mainly configured with security features that are enabled automatically. It is also the first line of defense against online attackers.
You can enhance your security with a Firewall which you can install on individual devices or install directly on a router.
A firewall protects your home or business network from intrusion on the Internet and adds an extra layer of protection.
Most of the modern router comes with in-built firewall functionality. Therefore, a single router can act as a NAT router and a Firewall.
It will protect your devices connected with the router from Internet traffic. Generally, you don't require any configuration for the local network.
But, if you require devices to connect with devices out of your home network, you need to configure your port forwarding.
Check your home network speed.
The home network speed depends on the component used in the network.
Also, a computer having a network card with a restricted speed can create a massive difference in network speed.
For instance, if your computer has a network card and supports 100Mbit/s speed, speed is restricted to that limit.
Also, the number of network components added to your networks, like switches and wireless access points, will create more restrictions to home network speed.
Further, you can use the application to test LAN speed.
Wrap-up
Installing and setting up the home network would be a tedious task, but if you understand the basics, the whole process would be easy to set up.
Once you have configured your home network, regular maintenance and up-gradation of software are required.