Udacity is an online education platform and provides MOOC's (Massive Open Online Courses) on professional courses such as web design, programming, tech entrepreneurship.
It collaborates with industry biggies like Google, Facebook, Twitter, AT&T and others to provide Nanodegree programs to students online.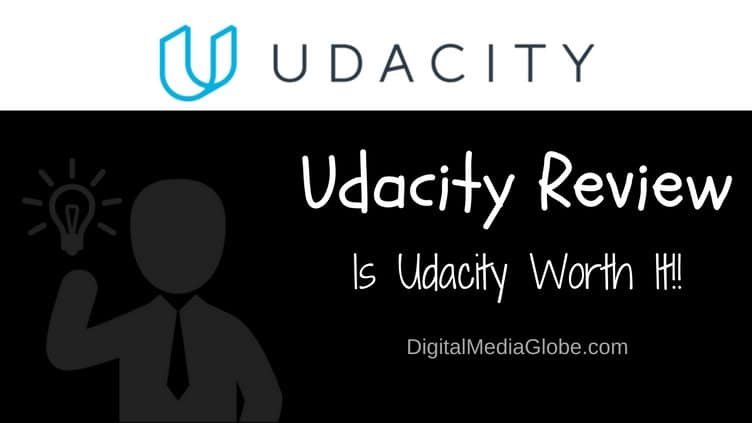 Unlike Udemy where anybody can become an approved instructor by following certain Udemy protocol and publish courses, Udacity has all courses designed by education experts from Universities and technical experts from Industry.
Currently around 3 million students worldwide study technical courses at Udacity.
What is Udacity Nanodegree Program?
Major Benefits:
Coaching and peer support

50% refund offer

Job Guarantee

Personalized project review from experts
Udacity Nanodegree programs make a great pavement to make you get into the tech industry at the entry level.
You can also download supplementary resources such as lesson notes created by the instructors, lesson documents (for better understanding of core concepts) and video screenshots as well.
You can get access to an exclusive forum moderated by coaches where you can post your queries and get answers from mentors, coaches and instructors.    
Every Nanodegree program comes with portfolio projects.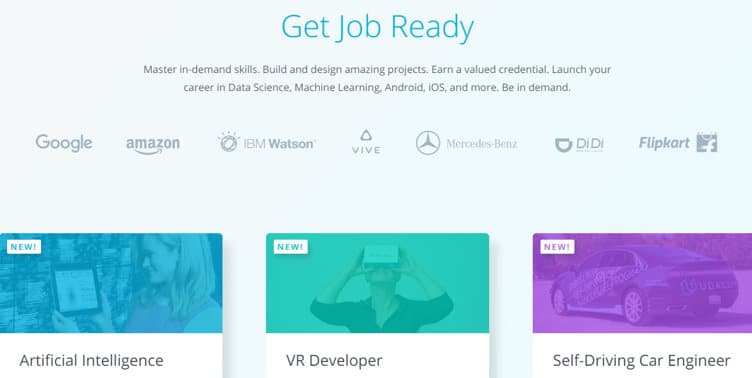 Pricing:  Each Nanodegree program costs $200 per month.
On an average it takes minimum 10 to 12 months to complete a Nanodegree course.
So the total costs stand between $2000 to $2400 average.
Udacity Nanodegree Plus Program Review:
A recent upgrade of Udacity is their Nanodegree plus program.
They are upfront about the job placement guarantee in their website within 6 months else they would refund 100% money back.
It is good news for all those who have enrolled in their $299 per month Nanodegree plus course as they are assured with job in 6 months.
They currently have 5 Nanodegree plus programs running.
Machine Leanring Engineer

Full Stack Web Developer

Android Developer

Become an iOS Developer

Data Analyst
Note: The entire job offer guarantee is currently eligible for only U.S Students. If you need to further details on the actual eligibility criteria and Udacity terms and conditions, you can visit here. 
Udacity course features:
Quizzes, exercises in between short video, interview with instructors and industry experts.

After every lesson, there is an exercise material to solve problems,

All courses have projects that can be added to an individual portfolio.
How to start with Udemy?
Udemy courses are categorized as beginners, intermediate and advanced.
All courses talks about the pre-requisite required from students before enrolling to that course.
There are no free certificate and credentials other than Nanodegree credentials.
Currently Udacity is partnered with Georgia Tech and offers a fully accredited Online Master's degree in Computer Science for $7000.
Udacity Advantages:
Udacity offers courses with subtitles in Spanish, Chinese, French and Portuguese.

All Udemy courses can be downloaded in zip files in .mp4 format. Make sure your video player supports this format.

Their discussion forums are huge and act as an active learning community. Students can post queries, feedback, even ideas related to courses, projects and programs with other students and also post answers to other student's queries. Students even have an option of thanking a comment they found useful.

Students enrolled to a Nanodegree program get access to special forum and get assistance from coaches and dedicated Udacity staff.

The recent Nanodegree Plus program comes with a job guarantee model which is first of its kind in MOOC's.

Udacity Courses are versatile where you can choose free courses to Nanodegree plus courses depending upon what are your career plans and what are you intent to learn at Udacity.
Udacity Disadvantages:
Udacity focus more on their Nanodegree programs and less on their free courses in spite of being the largest MOOC platform.

You need to be extremely motivated and high end tech lover as their Nanodegree is self paced and fully stacked with advanced technology concepts. Coursera can be a good option if you are a beginner to programming.

All the course are created by in house team of experts and hence follows same content format for all of its course
Udacity is an awesome MOOC platform provided you are that serious tech professional who is looking for a way to work with Industry tycoons.
Also, their free courses are still good with video tutorials containing useful learning content apart from their popular Nanodegree Programs.