If you are looking to start a small business site or niche specific site, price and value are the top most priority. In this MidPhase Hosting review, we will look over MidPhase premium service in a very reasonable rate.
MidPhase is in the Web hosting industry for a very long time and being part of UK2 Group, it has build up an extra reputation and reliability factor.
In this MidPhase Hosting review, we will analyze how they maintain a competitive environment in the web hosting space supported by thier robust infrastructure and highly skilled employees.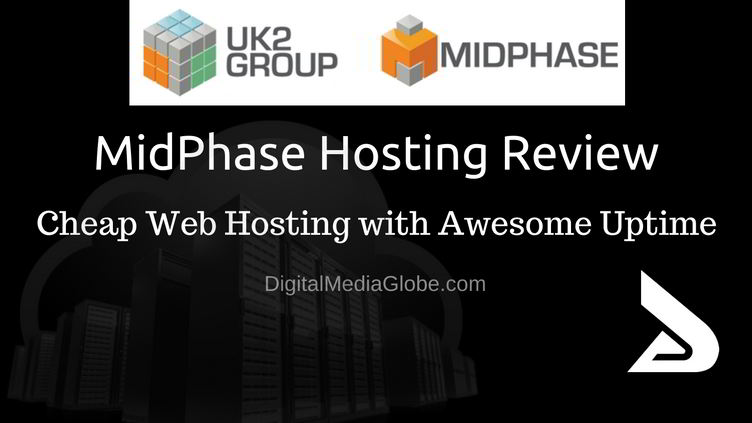 You will find thousands of web hosting companies out there in the market, but very few actually deliver premium features in affordable rates. MidPhase web hosting always keep customers as their priority and constantly improves their support system with regular feedback.
In this MidPhase Web Hosting review, we will look at nitty gritty details such as uptime, bandwidth, performance and support of MidPhase hosting.
The current available MidPhase coupon:

MidPhase Hosting Review
MidPhase Hosting Overview:
MidPhase is an American web hosting company started back in 1998 with the vision to help people and businesses to connect with each other in world wide web.
Since inception, they have built a good customer base of over 120,000. They have a team of more than 200 employees who share the vision and value of the company and are tagged as Mpowered. The Mpowered employees are trained to think outside the box, set their own challenging goals, maintain a decorum of workspace where they feel comfortable, confident and innovative.
MidPhase merged with UK2 Group (known for hosting more than one million domain in 140 countries) and to bring more reputation and trustworthiness to a company.
Type of MidPhase web Hosting Plans:
MidPhase Shared Hosting Plan
In case of linux shared hosting plan, MidPhase Hosting primarily come up with three type of hosting plan
Personal Web Hosting – $3.95
Professional Hosting – $3.98
Business Web hosting – $8.95
All shared web hosting plans have unlimited web space and bandwidth. They also offer free domain name with every hosting plan. The unlimited email option in MidPhase hosting plan gives great cutting edge competition to their competitors.
The limitation comes when you host more than one website, required database and sub-domain. The personal hosting plan gives you only one website, database and sub-domain, while professional web hosting plan increases the limitation to 3 website and database, and 5 sub-domains. The business web hosting is bit pricier and provides unlimited website, database and sub-domain.
You can also enhance the features (dedicated IP address, dedicated secure certificate, stats2 web analytics) of professional hosting plan by paying some extra amount, while you get these features free with the business web hosting plan.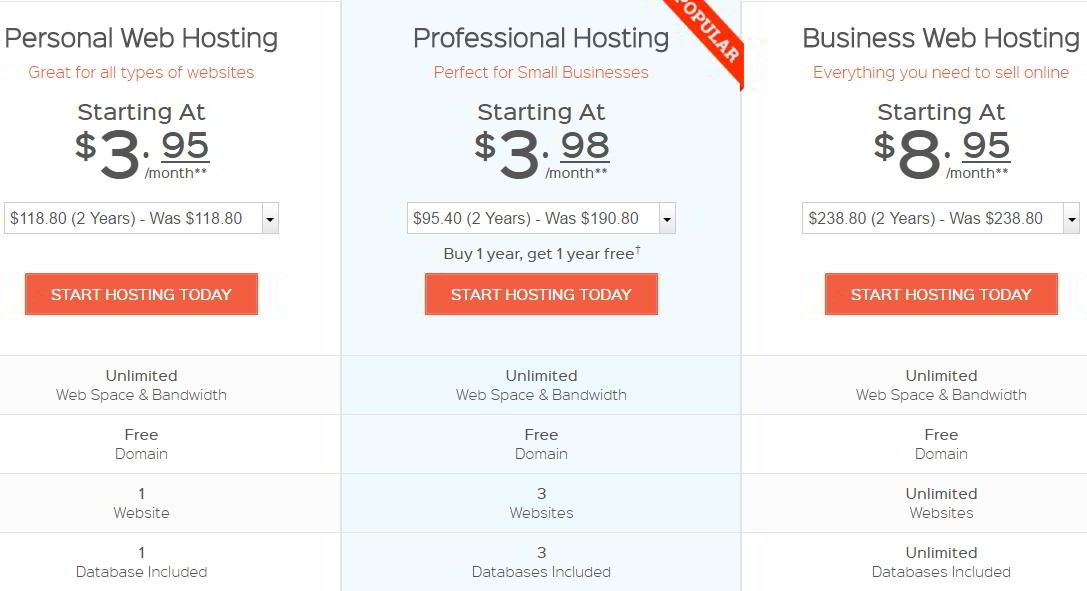 You can visit here to give a closer look at its feature details and price options.
On the other hand, they also offer:
Optimized WordPress Hosting
Dedicated server Hosting
Reseller Hosting
Optimized WordPress Hosting
Optimized WordPress Hosting is good for non techy people and if their website is based on WordPress CMS. They will take care of WordPress website hosting, backups and protect your website from malware.
Optimized WordPress Hosting comes with two plans
Primary – Starting at $4.99
Pro – Starting at $6.48
Both plans support only one domain name, backup included, CloudFlare CDN, automatic Malware removal and 30 days money back guarantee. They differ in SSD disk space, included emails and monthly visits. You can visit to get more details of its features.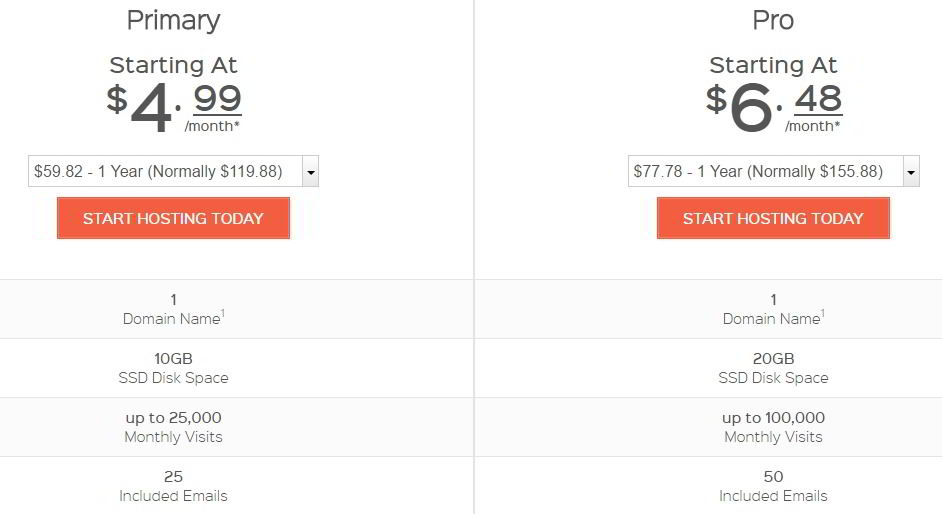 List of highlighted MidPhase web hosting Features:
Unlimited Web Space
Unlimited Bandwidth
Free Domain Name
Unlimited Email
Dedicated IP address ( Free with Unlimited Hosting)
Dedicated Secure Certificate (SSL) ( Free with Unlimited Hosting)
Option for Stats2 Web Analytics
Sub-domain
30 Days Money Back Guarantee
MidPhase In-depth Review of Web Hosting Features:
Ease of Use:
MidPhase has a pretty straightforward user interface. You can easily navigate from one page to another. If you are not tech savvy and bit new to web hosting, you will find their interface little confusing.
They support lot of software such as Softaculous which assists you to install software like WordPress with one click button.
MidPhase assist you in setup and website update. MidPhase supports control panel as well as comprehensive web builder tool. Sometimes lots of option can make one overwhelming too!
The customer who want to start web based business need SSL security, PayPal, Shopping cart application (CubeCart, AgoraCart) and other tools. MidPhase bridges the gap and are successful in delivering e-commerce tools.
Technical Support System:
Most of the customer have reported fast response from their technical support and some voted them as an average technical support. In our opinion, their response to a ticket was pretty good. Sometimes they take time to ensure that problems were resolved correctly. Though, they are very quick in live chat support. They managed pretty well to answer each and every of our query whether related to their domain or not.
Phone support hardly takes 2-3 minutes to respond by their corresponding representative. Sometimes they sound bit confused with some technical terms but at the end we found that they are patience enough to reply to our queries.
We found their technical support system as a decent support system. They are constantly improving their support system, and managing to answer every queries. In term of technicality, they need to improve still.
But for the price you pay, you are getting a decent technical support. Most famous hosting companies fails to maintain such good technical support.
Reliability and Guarantee Uptime:
We observed their uptime to be consistent and they guarantee 99.9% uptime. In terms of their service, they had even stated that if they fail to deliver the guaranteed uptime, they would reimbursed 5% for every hour your website is down.
Such a claim makes a webmaster feel more confident to host their website with them. They have a well equipped infrastructure and their data centers doesn't require any routine shutdowns maintenance.
They claim to have 3 reliable data centers in the US and all the data centers are provided with top notch security.
30 Days Money Back Guarantee:
MidPhase is confident that their services will definitely satisfy their customer base and if still you feel doubtful they are ready for any type of queries.
For the peace of mind of customer, they are offering 30 days money back guarantee. However, the money back guarantee doesn't imply on domain registration and transfers, SSL certificate and web hosting upgrades.
Final Verdict: Solid Uptime and Value for Money
MidPhase is giving a solid competition in terms of money, support and Uptime. They are known for their reliability and good customer base. They also offer 30 days money back guarantee to entice their service. We recommend MidPhase web hosting to individual and small businesses who like to save some money and doesn't want to compromise on quality.