If you have already hosted your websites with more than one hosting company and still figuring out that "something" you miss with your current hosting company?
InMotion provides a subtle balance between quality, support, server performance and pricing.
So "something" won't be a miss here and you would end up being a happy customer of InMotion Hosting.(Irrespective of any hosting plans you choose which is never a case mostly!)
Ok. Enough of my Jargons! My InMotion Web Hosting review will convince you why should you opt for InMotion without any second thoughts.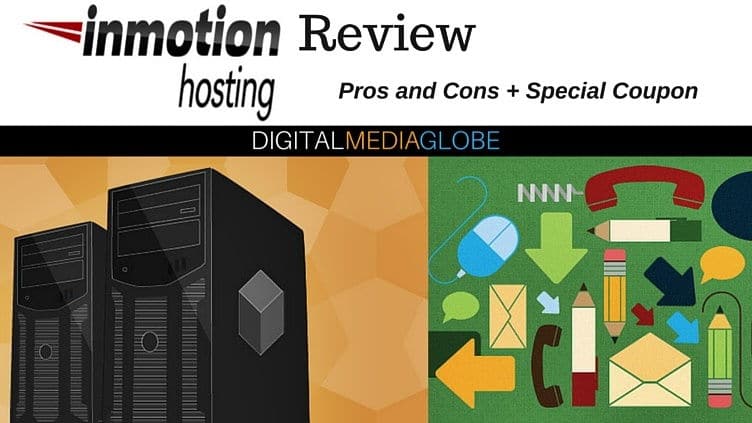 InMotion Web Hosting Review
InMotion Hosting Special Discount Offer
InMotion Hosting Plans:
Note: All InMotion Webhosting plans run on Linux Operating System. They are currently not providing Windows based OS.
Business Class Web Hosting:
Shared hosting is referred as business class by InMotion (Cool!) All plans (even the basic one!) have unlimited email accounts.
The three business plans are: Launch ($5.99/mo), Power ($7.99/mo) and Pro ($13.99/mo).
Even though the pricing is on the higher side compared to its competitors,the quality is laudable. They provide free ad credits, a free website builder, free domain registration or transfer in all their plans.
One downside, their pro level support (priority wise) is provided only at Pro Business Hosting Plan!
Extra Features you get by signing up their Business Class:
Free Domain Name: You get one free domain name as a freebie with all business class plans you buy at InMotion.
Free SSD Drive: For improved uptime, InMotion provides solid state drives as an additional feature (included in all business class plans).
Free 1 click Installer: Just a standard extra like most hosting companies provide. You can install most application like WordPress; Jhoomla etc with an easy one click install option(called softaculous) in their cPanel.
Google Apps Integration: One useful feature provided by InMotion. All Google apps are pre installed in cPanel. Just use their GUI interface to integrate with Google Apps and you are good to go.
Extra Coding Languages: Use their coding software like PHP, Ruby, PrestaShop and MySQL to build your websites. InMotion Shared hosting servers support all these additional programming languages.
Secure IMAP Email: Another impressive extra from InMotion is they provide email security through IMAP. Great!
Max Speed Zone: One unique feature of InMotion Hosting. If you are staying in U.S (where they have their data centers) you have got that added advantage. The Max Speed Zone helps you to pick data from server faster with their advanced routing technology .Choose your data center based on your nearest location.
The InMotion Web Hosting review gives thumbs up for their values addition add-ons in shared Hosting server plan.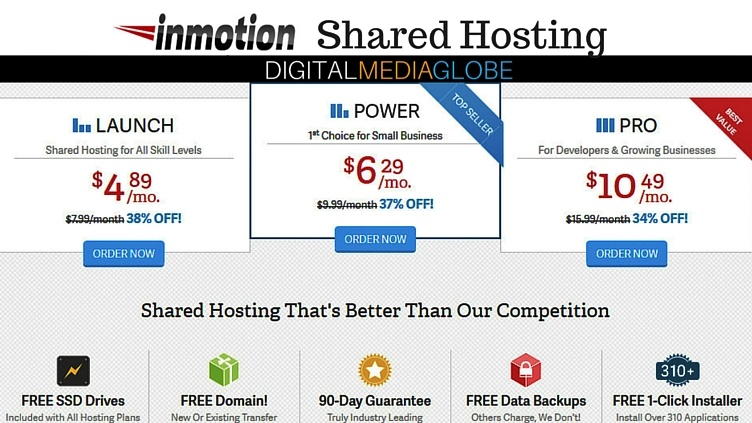 Visit InMotion Hosting for Special Discount
InMotion Hosting provides pricey VPS Plans but not much to complain with its features such as bandwidth, storage and memory (Sufficient).
InMotion currently offers 3 VPS plans at 4 GB ($14.99/mo), 6 GB ($24.49/mo) and 8 GB ($37.49/mo).
All three VPS hosting comes with free SSD (solid- state drives), free server management and free cPanel License.
Moreover, you get unlimited domains, websites, email accounts, MySQL database.
Powerful Features you get by signing up their VPS plan:
Automatic Backups: You get a free backup of your files with any VPS hosting plan. While it's important to personally back up your own data time to time, when you know somebody does that for you is a nice deal.
ECommerce Optimized: You can start your own online store using InMotion PrestaShop, WooCommerce and Magenta though Softaculous (1 click installation facility).
90 days Money Back guarantee: No question asked refund policy (Note: Only when you opt for their multi-month plan).
Max Speed Zone: As discussed earlier, you get to choose your data center (east coast or west coast) for better server performance and speed.
Server Management: InMotion provides LAMP stack updates, cPanel and WHM updates with all VPS hosting plans.
Overall good value for money considering the really valuable features you get along with VPS Hosting.
They are currently providing limited time 30 cPanel account transfers for free.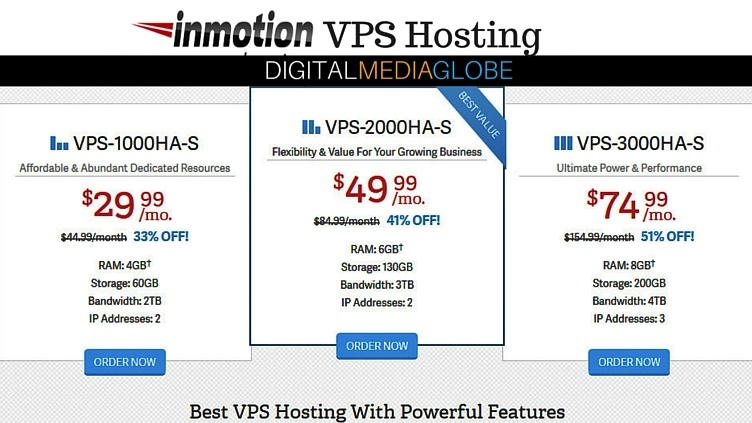 Click Here for Special InMotion Hosting Coupon Code
The InMotion dedicated hosting plans provide great value addition even at their dedicated hosting level unlike others hosting companies where value is mostly up to their shared hosting plans.
All InMotion dedicated hosting are Linux based and comes with a free server management, free Solid-State Drives and custom server configuration
InMotion Dedicated Hosting plan is divided as Essential,Advanced and Elite.
Essential comes at a whopping $119.99/mo, Advanced at $159.99/mo and Elite at $229.99.mo,all definitely pricy but apt for large enterprises who are looking for power packed features.
They also have a separate commercial class(for very large conglomerates) dedicated server plans starting at $419.99/mo.
Power Packed Features of InMotion Hosting Dedicated Hosting:
30 Days Money Back Guarantee: Unlike 90 days for other hosting plans, InMotion offers 30 days money back guarantee. (Note: Some hosting companies doesn't offer money back guarantee on their dedicated plans).
1-to-1 Sysadmin Time: It is a priority customer support feature of InMotion exclusively for all dedicated hosting members.
Other key features (guess most are self explanatory) include: 99.99% uptime guarantee, free cPanel and WHM, Kernel Care, CentOS experts, tier 1 network ,proactive monitoring and much more.
InMotion Dedicated Hosting plans are definitely pricy but there is an unmatched quality for the price you pay.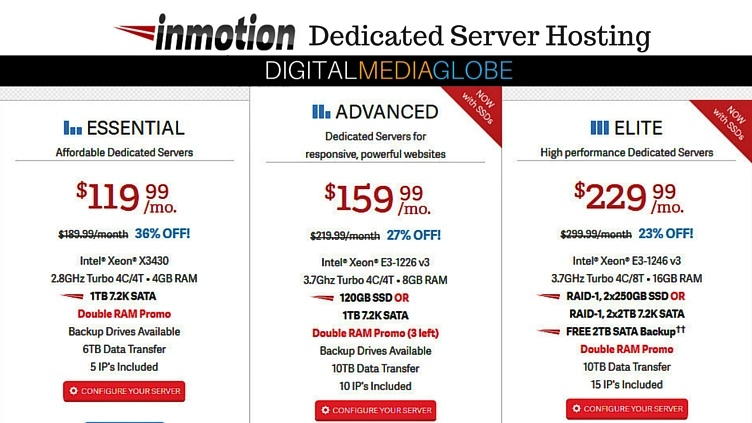 InMotion provides affordable reseller plans starting at $13.99/mo.
All plans comes with free SSD drives, free WHMCS (free billing software) , free eNom License, 90 days money back guarantee, free cPanel, web hosting manager and much more.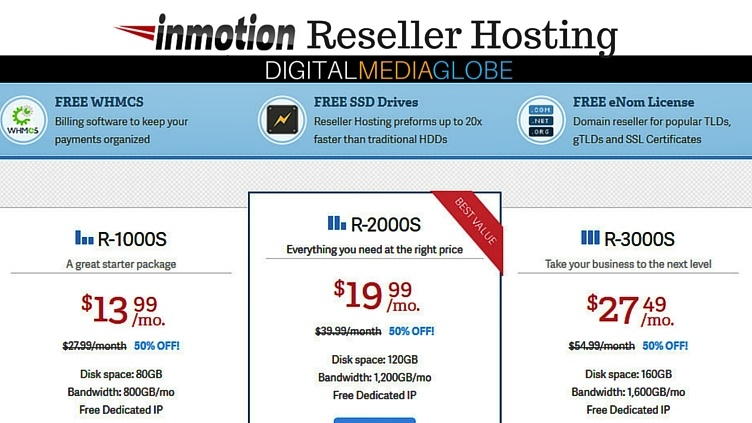 Get Special InMotion Hosting Discount
InMotion Features – The Plus:
It's little tricky to rate a hosting company customer support on the plus side.
Because, measuring a service is intangible. It depends on a whole gamut of people who are responding your queries and the type of problems you get stuck up every time.
I had come up with some benchmarks to know how InMotion scores on their technical support department.
The lesser the wait time, the quicker queries get answered.
Most of the time you end up waiting for longer than necessary, but your are ok with it as your queries got solved somehow!
InMotion is one rare hosting company who is there when you needed them the most as it offers the least wait time than any of its counterparts (value for time).
Sensible Response from CSR:
InMotion strikes gold here. You post a query in live chat and they provide you a solution that works! Not that their solution is creating more problems.
They explain all your queries in a detailed manner.
Tech person who understands your problem:
I am not kidding here. Remember instances, where you are explaining about your website problem and the tech guys understand something else.
All InMotion technical guys are expert in their field and they know what you are talking. That's how on earth one can provide quick, correct and to the point solution!
You don't have to explain them as a nerd Just type in layman manner and they have got your back.
They are not rude and insensitive:
All InMotion staffs are helpful, cooperative and knowledgeable.
You can ask them frequently, or you messed up something with your website which is so commonsense, they would reply in a professional yet polite manner (clearly).
To sum it up, InMotion support is fantastic and if you want top class customer service, InMotion is an ideal choice.
90 day money back Guarantee:
Wow! Money refund guarantee and you have 3 months to decide!
While most of its competitors stuck at 30 days (JustHost) or 45 days (BlueHost) 60 days (Arvixe) only Dreamhost being the exception at 97 days.
All hosting companies promise a 99.99% uptime guarantee on papers but never on reality.
Surprisingly, InMotion has solid uptime and no major downtime issues. So it assures customers reliability to keep your website up and running.
The unique speed zone technology by choosing server location close to where you live enables quick server uploads and download time.
No Confusing and slack interface on the contrary it is easy to use. All cPanel features are designed in-house by InMotion cPanel experts.
InMotion has newly launched BoldGrid exclusively for WordPress.
You can build beautiful websites with their drag and drop editor and they have a bunch of WordPress theme to choose from (industry wise).User friendly (even if you are a newbie).
InMotion does a free of cost migration services (which is $149 with BlueHost!).
Love to hear a hosting company cares for our environment. They have green data centers and strict recycling programs.
InMotion provides a variety of Hosting tools such as WordPress, Jhoomla, Drupal, cPanel, PrestaShop, Moodle, OpenCart and BoldGrid depending upon your preferences and needs.
InMotion Features – The Minus:
Not a budget hosting provider:
Let's make us clear. Their prices are not that cheap (Like GoDaddy or JustHost provides) irrespective whatever hosting plan you choose.
You cannot host your website with InMotion on monthly basis. You need to pay them in advance for multiple month (number of months you have subscribed).
If you want to refund after their 90 days money back guarantee, you won't get refund (Not a good deal!).
Who should go for InMotion Hosting?
For simple and powerful web hosting.
If you want efficient and expert support team.(Your Top Priority)
If you want unmatched quality at a decent price
If your priority is performance and not just the hosting price.
Quick and reliable support team is want you want at the end of the day.
If you want an easy interface of website editor, professional templates backed with topnotch customer service and support.
If you want some serious security service at dedicated hosting level.
Feature rich hosting plans
Get Special InMotion Hosting Discount
Final Thoughts:
I am all in praise for InMotion Hosting service overall.
If you are looking for a new hosting provider with a long term commitment and premium service, InMotion Hosting is the loudest answer.
(P.S: InMotion is there at the back of my mind for other projects in case GoDaddy (my current hosting company) lets me down in future).