What is Lynda.com?
Lynda .com is an old player (started in 1995) in the online education industry and provides online training and tutorials mainly on software development, business, web development and Photography.
The website says, it currently caters to 4000 courses in Business, Technology and Creative skills and all developed by their respective experts in the field.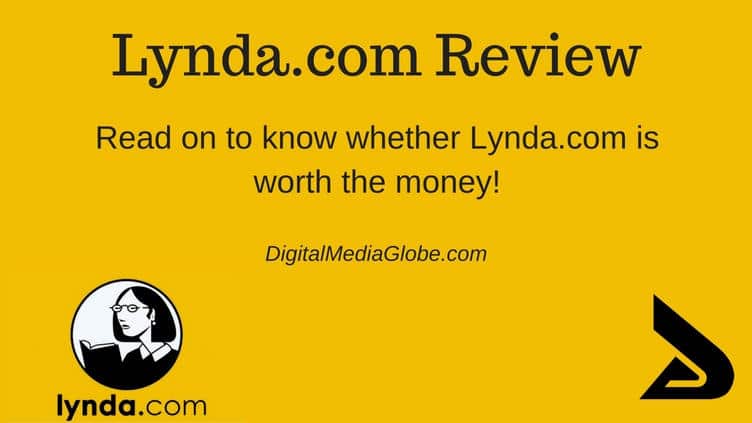 Lynda.com Review
How to start with Lynda?
Sign up first by entering you email id, password, card details and you are done.
Sign in and what you see is a course page where you can create your own playlist of courses to study conveniently.
Go to the browse the library tab and find courses you are planning to learn. Or you can simply search "Adobe Photoshop" in the search column and all courses related will appear.
Lynda also recommends courses based on your interest area. (The ones you have selected during the sign up process)
How much is a subscription to Lynda.com?
You can get access to the entire Lynda courses by subscribing to their membership fee monthly or annually.
Individual Membership:
They have currently two pricing plans for individual membership:
Basic Plan: Pay $19.99 monthly and $239.88 yearly.
Benefits:
Access to their entire course catalogue.

Anytime cancel with free 10 days trial.
Premium Plan: Pay $29.99 monthly and $359.88 yearly.
Extra Benefits: You get added benefits along with the benefits of basic plan.
You can use code practice files and project files of all courses.

Course progress assessment with quizzes.

View your courses offline.
Group membership: If you require training for more than 5 people, you need to opt for their group membership.
Lynda Advantages:
The courses can be accessed and studied in different apps modes – desktop, mobile, tablet, Apple TV.

Learn unlimited skills of your choice and at your own pace by paying once a month.

They are a registered education provider for the project management Institute. Added benefit for those appearing for PMI certifications.

You can take personal notes while learning courses at Lynda in the "Notebook" column and export them in any format: PDF, word, plain text, Evernote, Google Doc, etc.

You can contact Lynda customer support team via a toll free number, an international number and email.

Easy to use course apps like the transcripts, pass and rewind button, navigate to any course lectures (all are short and not more than 30 minutes),Course UI and much more.

LinkedIn bought Lynda for 1.5 billion dollars in 2015. More new features can be expected from Lynda in near future.

Audio and video quality is comparatively good than other platforms.
Lynda Downsides:
Similar to

Pluralsight

, you cannot sign up for their courses unless you have provided your credit card details. I have seen on various forums where users have vetted their bitter experiences with the automatic charge system of Lynda.  

Entering your credit card information even to try their trial period sounds fishy to me. There is a great hidden marketing strategy behind this. If by chance you forget to cancel your Lynda account once the trial period is over, they would direct the billing though your stored credit card information. (The company also warns you in their

FAQ

section to cancel account to avoid being charged!)

Unlike

Udemy

, there is no rating and review features (not even discussion forums!) for any Lynda courses. Other than the course preview, there is no way you can know whether a course is good or bad.

Like Pluralsight, no real value to the Lynda course certificates.

You need to opt for an entire year premium membership to avail offline access to your courses.  It can be a downside to pay $350, if you are planning  to study only a handful courses.
Is Lynda.com any good?
That's why one reads a review, isn't it? Now to be honest, they have some great online resources mainly on coding training (Lynda calls it as developer courses) and their library base is vast.
Being said that, one asks how much is the value addition one derives from such array of courses topics. Most of the courses at Lynda are either at beginner level and goes up to an intermediate level at the maximum. So, for advanced and niche topics, Udemy is far better than Lynda.  
Cost wise Lynda can be effective for those who are beginners and planning to learn basic skills. They would feel satisfied as they can learn as much courses for a monthly rate. Coursera can be a good alternative to study without paying monthly.
Also, if you are a self study junkie and have your own ways to allocate time to study and learn, give a blind shot to Lynda. You will benefit. 
Otherwise try other platforms like Treehouse, Udacity and Udemy.  You get that extra  support and assistance from authors when you have doubts or queries, an internal community with discussion forums to help you connect with like- minded individuals.
My Verdict:
Lynda is beneficial only when you are kind of self motivated and that you will learn what you have planned for without any assistance.  
Lynda does have some good courses to learn on a lot of different subjects.
Overall, Lynda.com is a good site, but not certainly the best one out there!