With several million students enrolling to edX online classes every year, MOOC's are the next big thing in the online learning era.
Being a close competitor of Coursera and Udacity, EdX offers MOOC's (Massive open online courses) based online education and facilitates high quality online courses.
All EdX courses are created by world's acclaimed colleges and universities through an open source edX platform called open edX.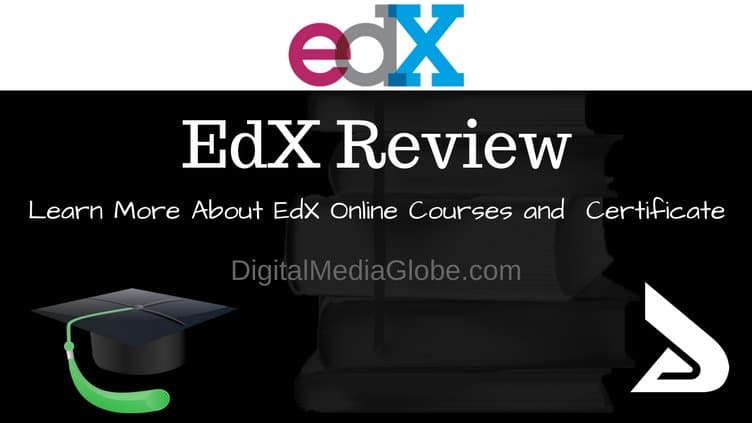 EdX has currently partnered with more than 100 course partners comprising of edX founders MIT and Harvard, top institutions and high profile universities.
To know the entire list of edX partners, check here 
Also,you can choose over hundreds of edX courses on a wide variety of course subjects ranging from Architecture, Art & Culture to Science and Social Sciences.  
To know the entire course list, you can check here
EdX Courses Review
The most popular subjects being Computer Science, Business & Management, Humanities, Language and Data Analysis & Statistics.
Is edX free?
Yes. It is totally free to learn.
You can also learn all archived courses at edX for free.
You can audit all  the current verified courses and convert them as free courses but you won't get a certification of completion once you finish a course.
EdX org Certificate and what are those?
Lately, edX stopped providing free honor certificates and started offering different types of certificates such as the Harvard edX certificate which comes with a fee and two weeks refund policy.
Verified Courses:
Simply put, Verified courses act as a document of proof of the course that you have completed at edX and it comes with a fee.
You get an edX verified stamp and an instructor signed course completion certification.
This can help you add that credential in your resume or portfolio while looking for job prospects.
To avail the certificate, you need to verify your personal identities. Submit a government approved valid ID proof, and Click your photo through a webcam all prior to course completion.
There is no universal fee like Coursera and fee varies from institutions who offer verified courses at EdX.
Professional Certificate Courses:
EdX has a handful of tailor-made skill based courses called the professional certificate program created by Industry experts to help you learn on demand professional skills.
Below are the Microsoft and ColumbiaX program details and requirements of a Microsoft Professional Program Certificate in Data Science.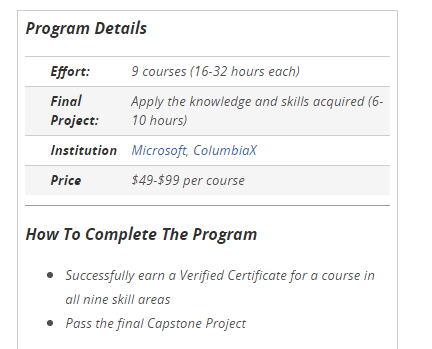 Credit- Eligible Courses:
EdX offers credit programs to students in partnership with institutions to avail academic credit.
The onetime cost is $49 to avail a verified course certificate.
MicroMasters Programs:
Top Universities offers Micro Masters programs on specific subjects through edX platform where a student can earn a semester worth credit by enrolling to these master programs with pay per course model.
You can use these MicroMasters credential to get a job in the related field or go for a blended master degree with the institute offering MicroMasters program.
EdX is roping more universities to provide MicroMasters program in the future.
Below is the screenshot of the latest MITx MicroMasters program on Supply Chain Management.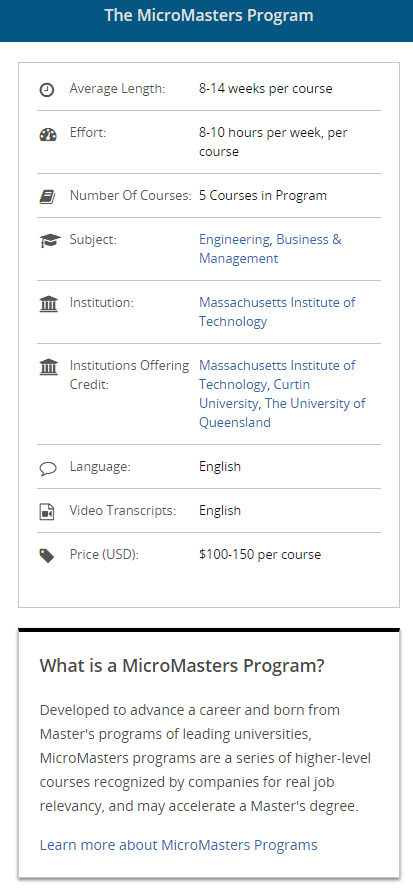 XSeries Programs:
Another unique program of edX is their XSeries Program.
Here you get to learn a series of in depth courses on subjects which are on high demand in market.
Simply enroll for courses that are tagged as XSeries Program and pay to avail the verified certificate option.
Below is the screenshot of a Microsoft created XSeries Program Microsoft SharePoint 2016.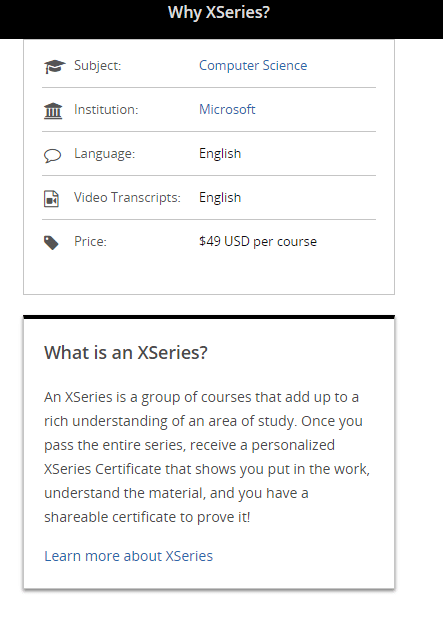 EdX Advantages:
Huge catalog of online education subjects to learn from.

Learn EdX classes totally free of cost.

No need of any credit card information or prior applications to register yourself to any of edX online classes.

100% legit and there is no such thing as edX scam even with huge number of registered users.

Most of the courses at EdX are self paced ones.

The verified certificate options at edX boosts your overall portfolio and thereby increases the likelihood of getting a job offer.
EdX downsides:
EdX no longer provides free honor certificates. You need to pay to get a verified course certificate if you are in need of one.
With such huge catalog of higher education courses at EdX, more and more learners across globe are going to benefit from them.