FTC disclaimer: This post contains affiliate links and I will be compensated if you make a purchase after clicking on my link.
A close competitor to Codecademy and Treehouse, Code Avengers is already making a mark in the coding education for beginners.
New Zealand Based Startup Venture, Code Avengers is an online platform to learn how to code and aimed at beginners looking to grasp and gain solid understanding of basics.
Code Avengers Review
How to get started with Code Avengers?
Code Avengers.com looked so similar to Code School site in design and tab features.
You have series of tabs such as Courses, Teachers, Parents, Pricing, Log In button on the left corner of the main website page.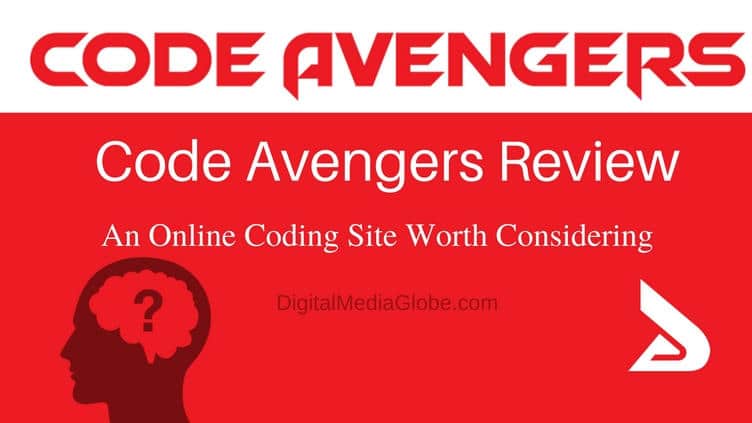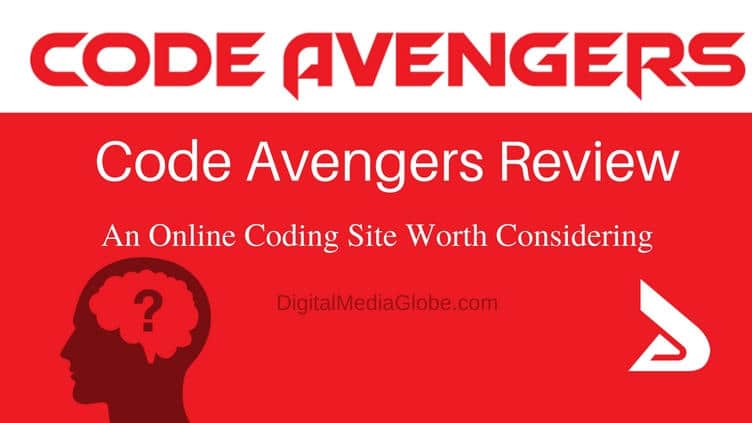 You can go for a free trial without entering your credit card details. Apart from English, you can set languages like Spanish, Dutch and other European languages as your default language.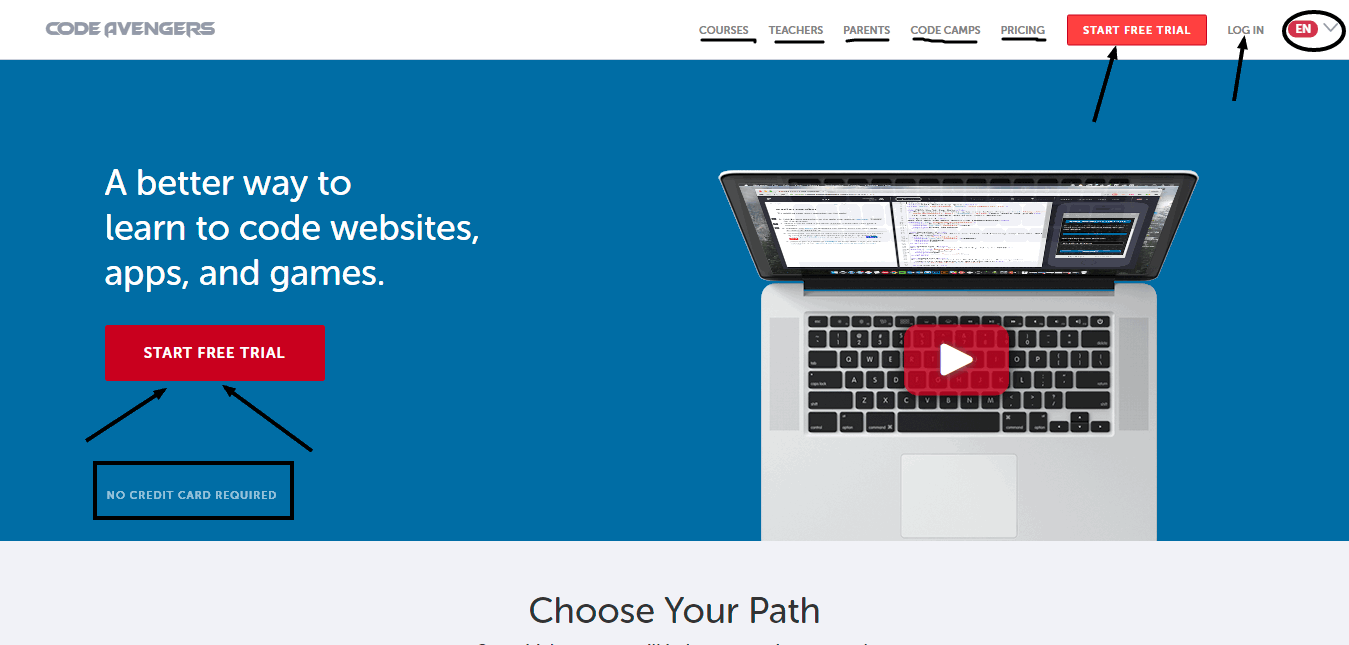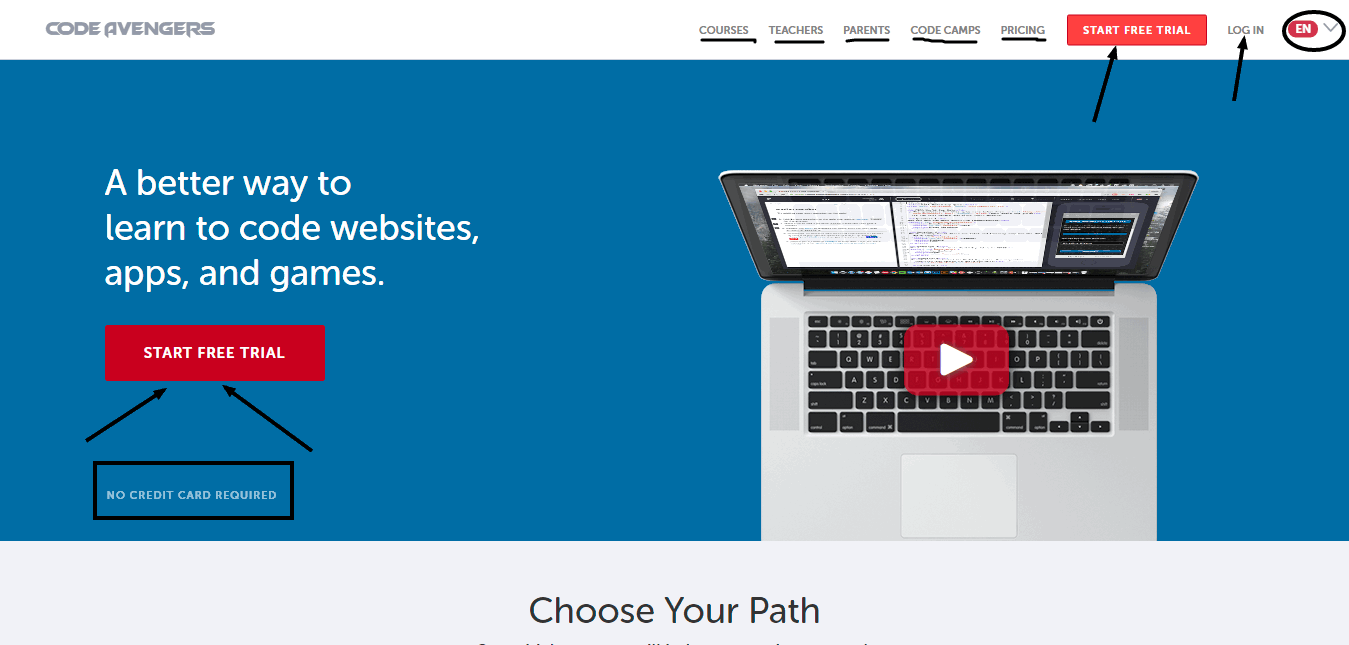 When you scroll below, you find 8 course learning paths in various topics designed by Code Avengers to help you get started.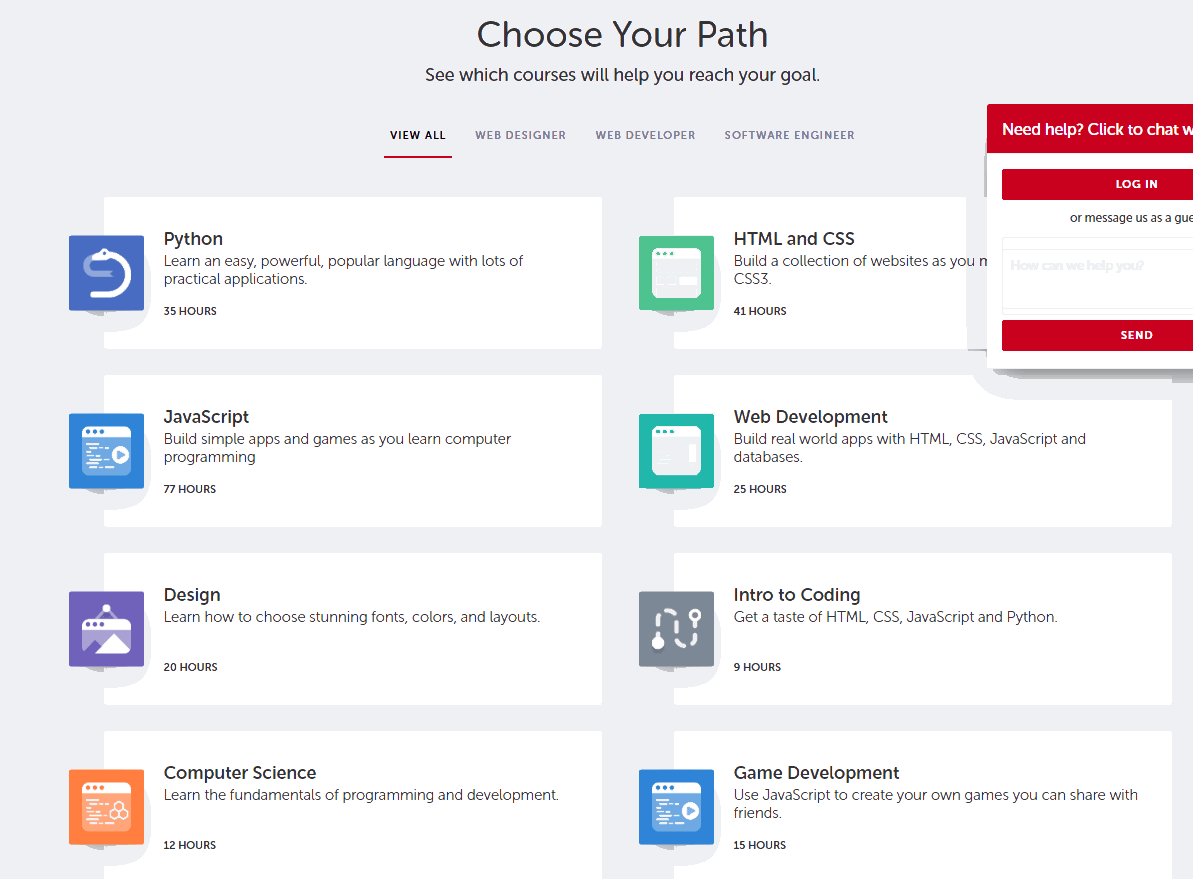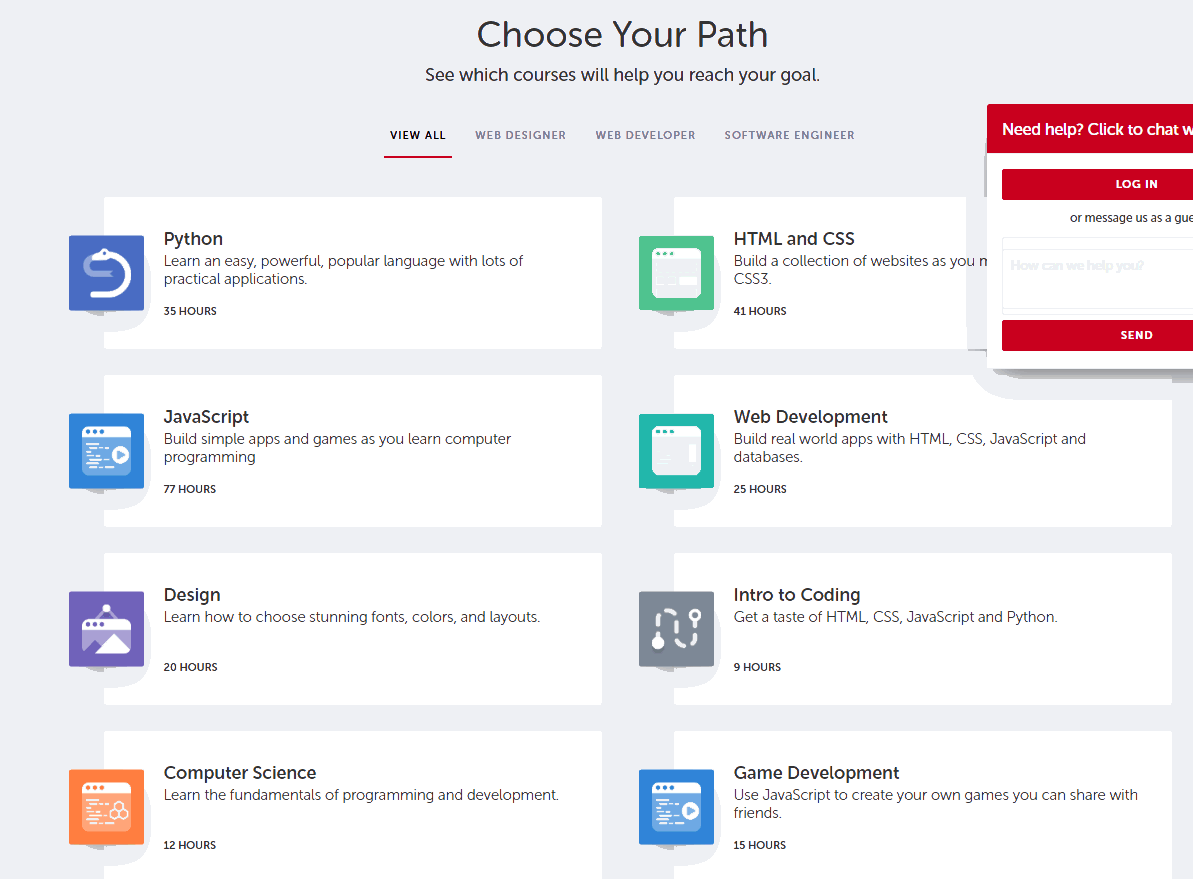 Code Avengers Course Features and Interface:
To activate you free trial, you need to provide a valid email id, create an username and password, tell them how you came to know about Code Avengers and  you are done.
Once you have successfully signed up, you will get a screen like this. Depending upon your preference and goals, you can start right away with building an app, a game or a website with Code Avengers or simply browse their courses.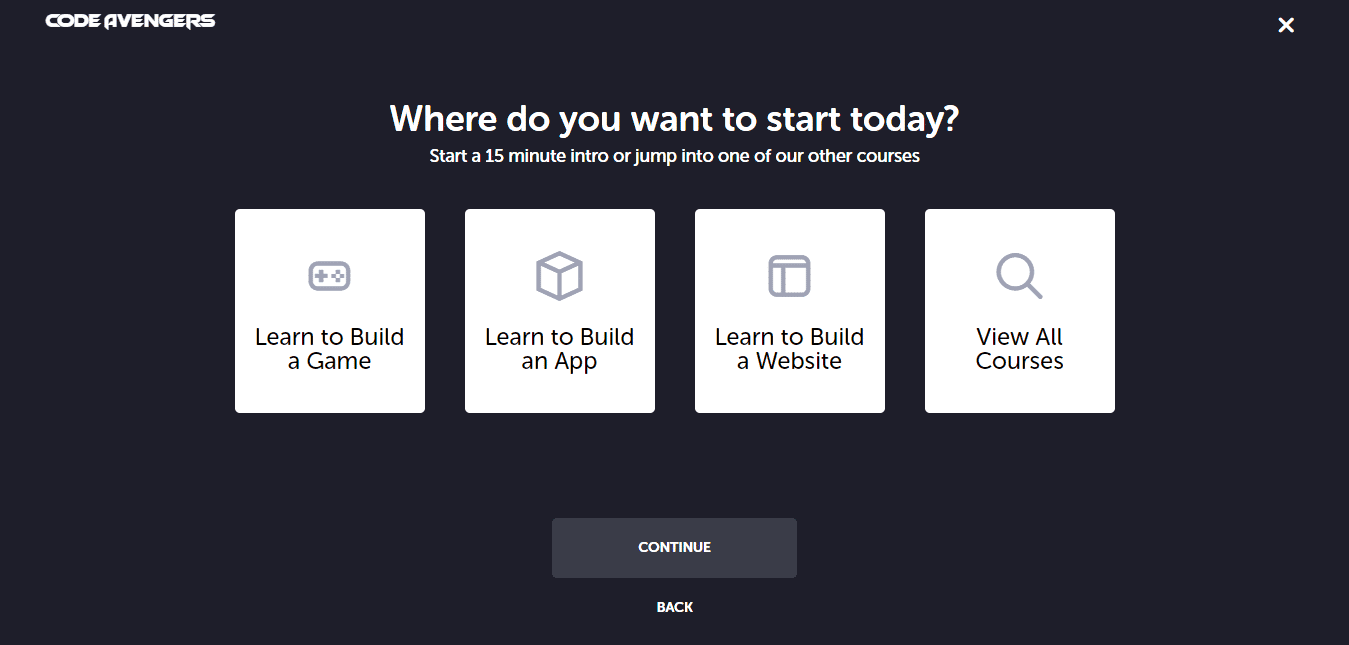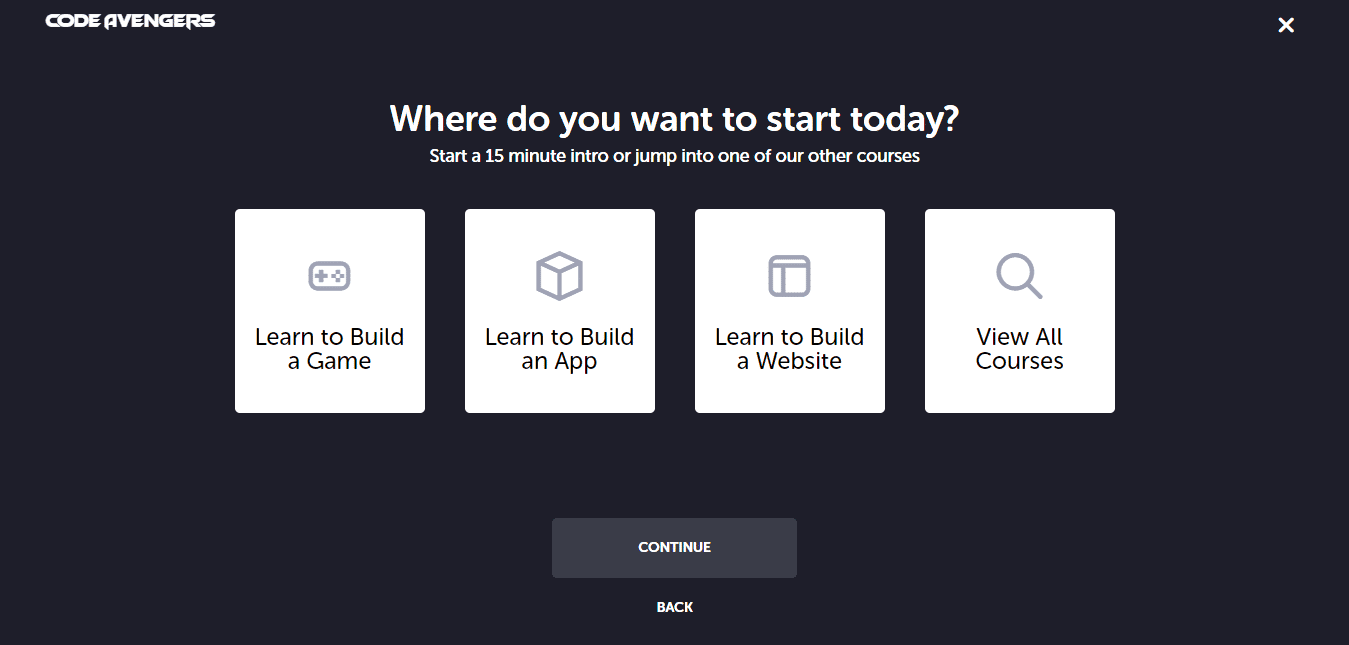 All courses have a learning path with them and divided into series of sub courses.
Each sub course has set of 10 lessons all for 20 mins duration, number of projects you need to complete between lessons and number of quizzes to attempt.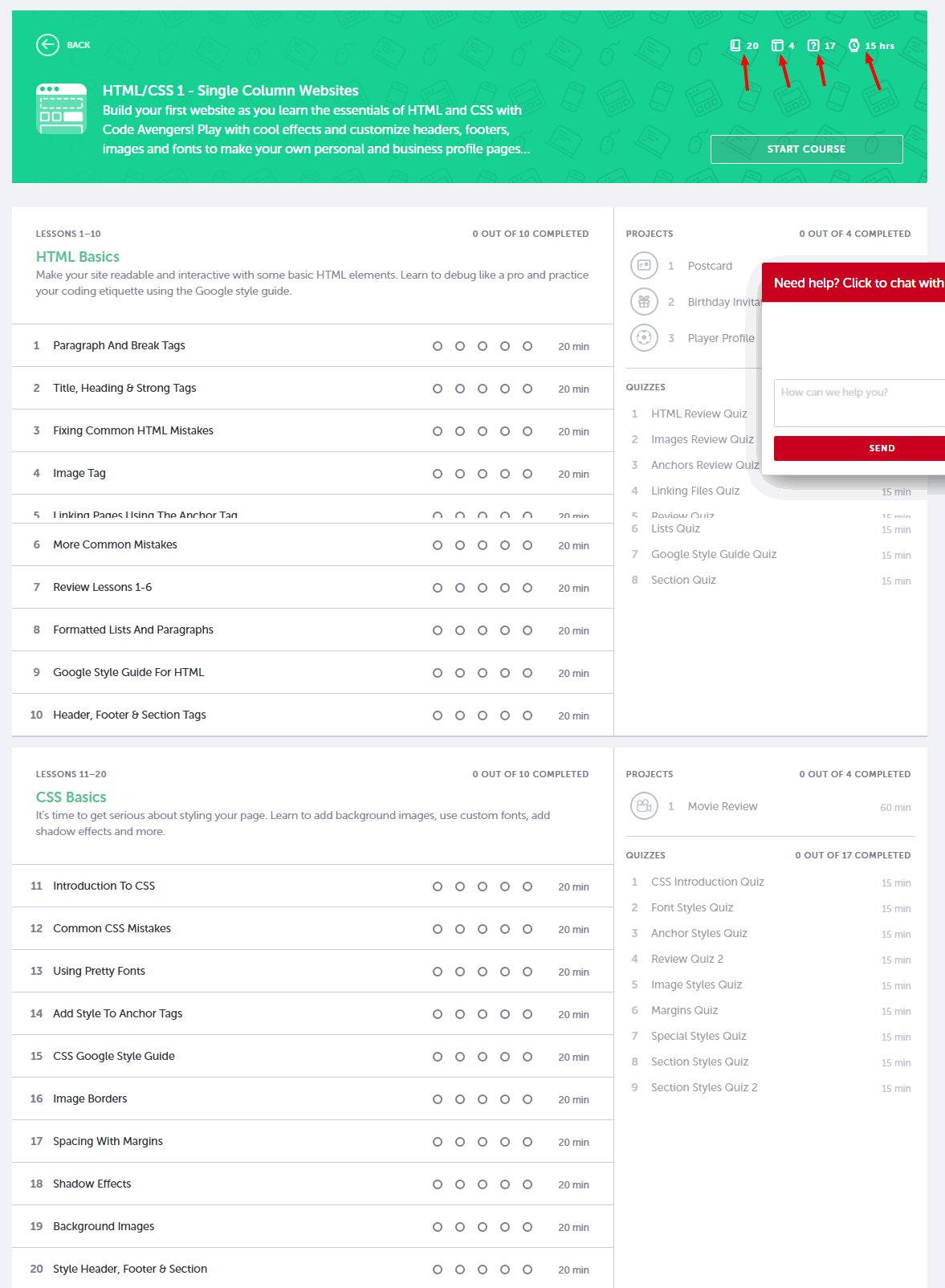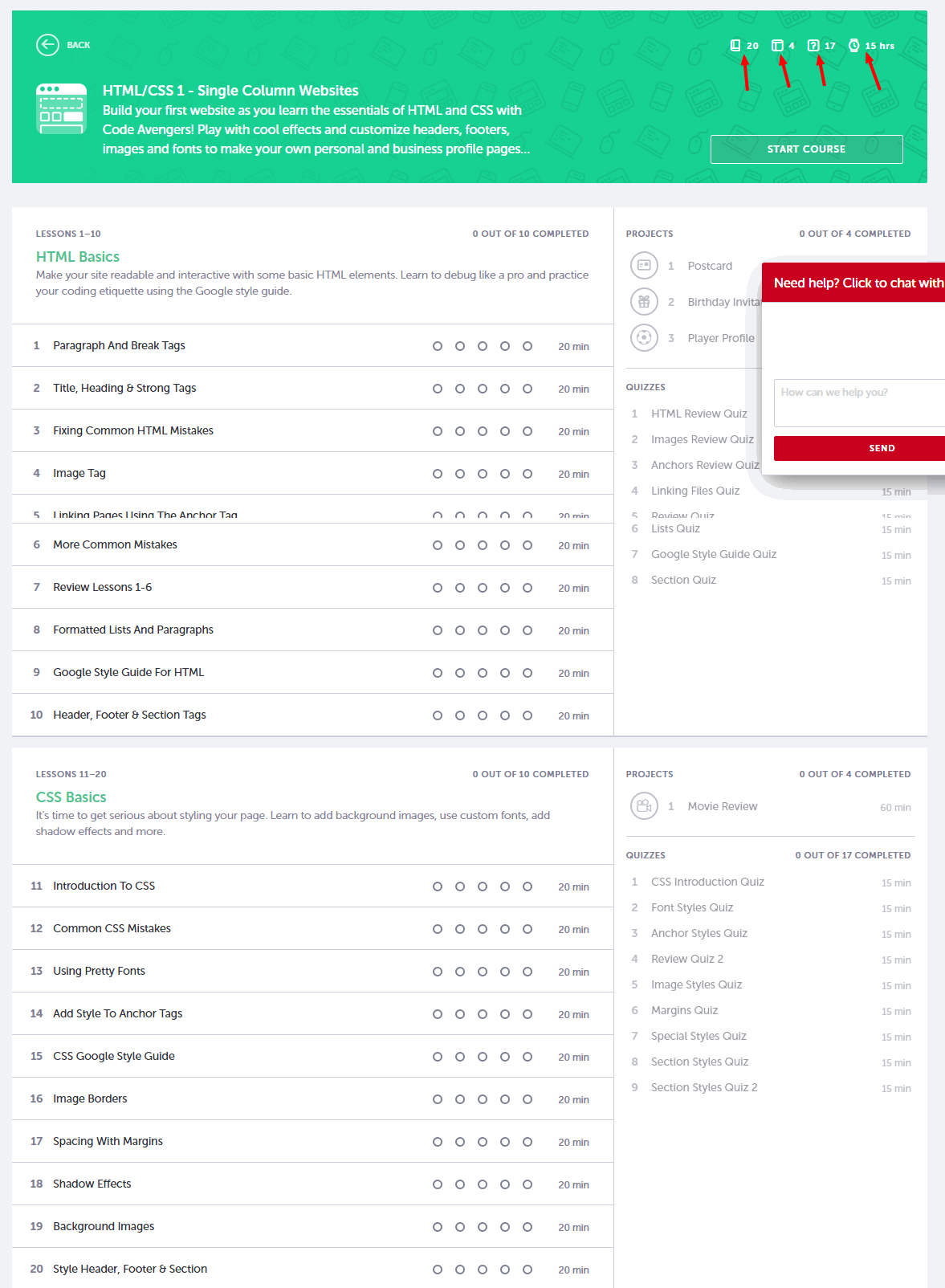 Earlier Code Avengers courses were all plain with just text, but recently they have introduced videos to make it engaging and fun way of learning for school kids.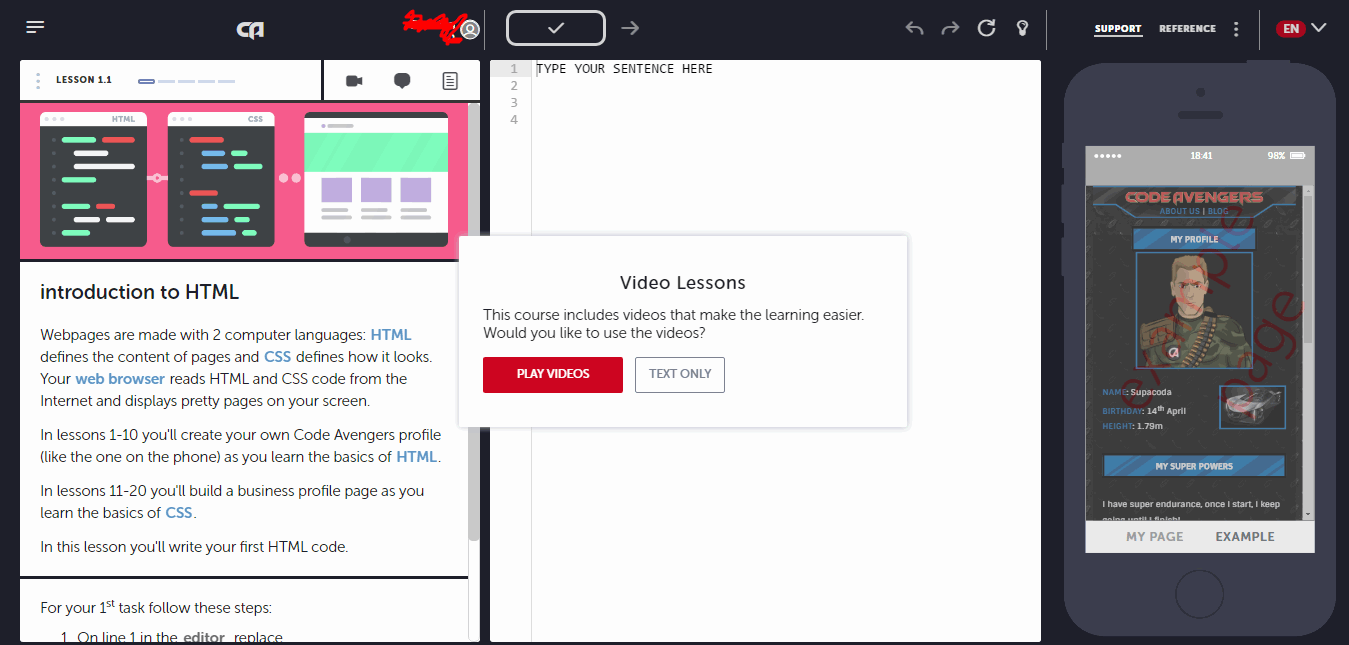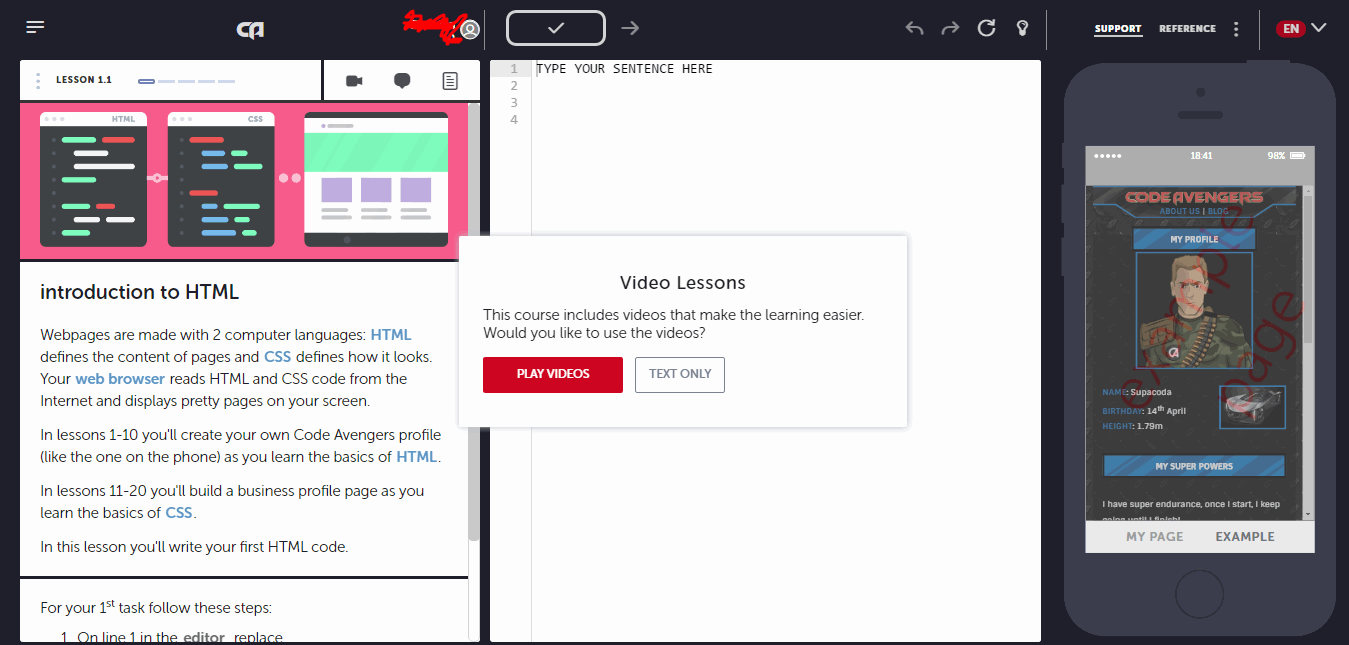 You have the course concepts in texts and in video format in the right tab, you can use the middle section to try your hands on coding, and you get instant coding results in the right side (which is awesome).
In case you got stuck, you have the option of support, references and other built in tool features such as notes and more.  You have an undo, redo button and reset code option to try out things as per one's need.
Overall, the interface looked neat and impressive with helpful features one would look for while learning.
Code Avengers Courses:
Below are the course topics available at Code Avengers currently:
Python

HTML/CSS

JavaScript

Web Dev

Design

Intro to Coding

Computer Science

Game Dev

Hour Of Code (Free Courses)

Olympic Games
Code Avengers Pricing and Plans:
They have two subscription plans with them currently.
Monthly Plan: $29 per month
Half Yearly Plan: $120 for 6 months.
Benefits:
Unlimited access to all their courses

Course completion certificates

Get access to quizzes; create projects with guidance from Code Avengers Team

Code Projects in their inbuilt Cloud IDE
They have a 7 days free trial to get an idea of how Code Avengers courses are and whether it is worth going for a paid subscription.
Code Avengers for Teachers:
If you are a Computer Science teacher by profession and you want to teach your school kids coding in a more fun and engaging way with additional resources, Code Avengers has an option for that.
You can register as teachers with an initial free account (30 days free trial) and you get access to all courses designed for teachers and you can use 5 intro lessons in your classroom as well.
Current Pricing for Teachers:
Annual Pricing:  $25/Student
For School wide license, you need to ask for a separate quote.
Is Code Avengers Free?
It used to be. Currently you only get a 7 days free trial as an individual or students and 30 days free trial as a teacher.  To access their course for long term, you need to opt for their subscription based paid plans.
Code Avengers vs. Codecademy:
I want to highlight some comparisons between them as their business model looked quite similar to me.

You can access all courses for free in Codecademy which is not so the case with Code Avengers.

The Codecademy pro plan is close to 20 dollars while Code Avengers monthly plan is around 30 dollars.

Codecademy has slightly more courses compared to Code Avengers.

Both mainly cater to absolute beginners in programming.

Code Avengers courses have video along with texts and more engaging than Codecademy which is fully text based.

I found Code Avengers interface to be more appealing than its counterpart.

Course quality wise both of them fair decently well.
Code Avengers Advantages:
Useful resource for teachers to teach coding basics like HTML/CSS, JavaScript to kids.

You receive course completion certificates.

Code Avengers uses gamified learning model. It uses Quizzes, code challenges, real time projects with in-house support, provides badges and points to make learning fun and rewarding.

The course interface is simple, appealing with beautiful colors and easy to use across ages.

The Code Avengers Cloud ID environment helps students build, create projects and share portfolio with others.

Code Avengers Code camp features helps students to learn coding together in group.

Students actually learn coding basics by writing real code.
Code Avengers Disadvantages:
For a monthly fee of close to 30 dollars, their course catalog is very limited.

No student's forums or community to engage with.
Though the courses listed are limited compared to Treehouse and other similar coding training sites, their course are good quality wise and would provide good programming basics to beginners.
Especially for students and kids learning how to code for the first time, Code Avengers is a good platform to begin with.