FTC disclaimer: This post contains affiliate links and I will be compensated if you make a purchase after clicking on my link.
Virtual Network Computing (VNC) technology enables users to share the screen with another computer over a network connection.
It is mainly used by people who would like to remotely monitor and control a computer.
VNC consists of VNC viewer or client, VNC server, and Remote Frame Buffer (RFB) Protocol.
VNC software is crucial for system administrators who prefer to assist users with software-related problems, troubleshoot and diagnose PC problems, and many other tasks.
We have hand-picked the best free VNC software that is cross-platform compatible, secure, and regularly updated.
You will find some of the Virtual Computing software is an open-source project which has no usage restriction.
The VNC software is compatible with Windows OS, macOS, Linux, and other operating systems.
Best Free VNC software
RealVNC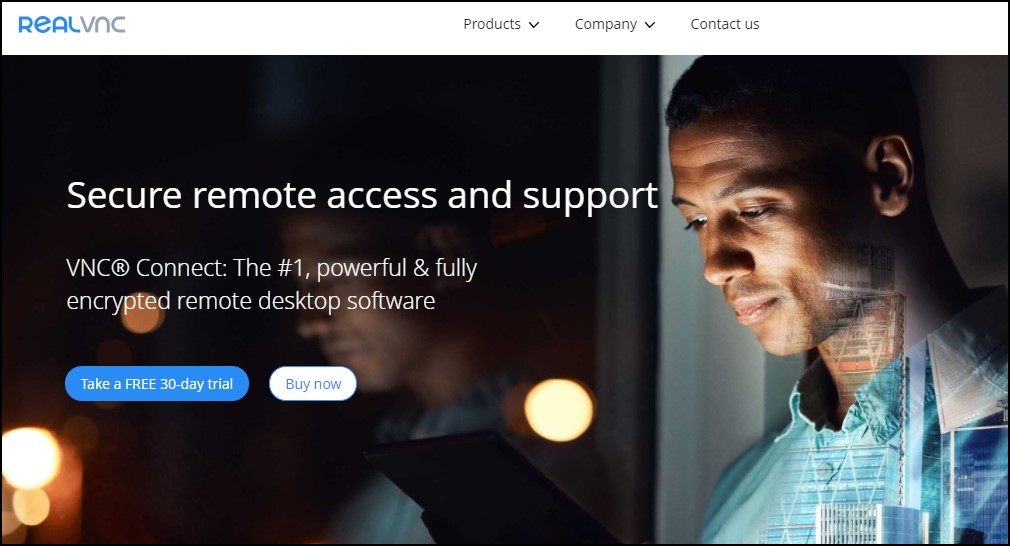 RealVNC is one of the most potent and complete encrypted virtual network computing (VNC) software.
It has a simple, easy-to-use, fast, and ultra-secure user interface. You will find an intuitive way to deploy and administer the whole process.
Additionally, you will get high-definition audio, superior image quality, and high-speed streaming videos.
Moreover, you will get multi-platform access to OS like Windows, macOS, Linux, and Raspberry Pi.
RealVNC provides 256-bit AES end-to-end encryption security feature to let you connect remote computers anywhere in the world.
RealVNC responsive and optimized screen sharing capabilities can facilitate you to take control, monitor, support, train, administer, and work remotely.
The advantage of RealVNC is that it is free to install and use for the home version, lightweight, and available on multiple platforms.
The disadvantage of RealVNC is that you can face issues in corporate networks and find difficulty in configuring advanced settings. It is mainly promoted to enterprise users.
UltraVNC
UltraVNC is a powerful and easy-to-use virtual networking computing software.
You can take the help keyboard and mouse to take control of the display screen of another computer.
It has a user-friendly interface that helps access remote computers for companies, administrators, and demonstrators.
It is preferable for learning, classroom control, and access to your home PC.
UltraVNC has a DSM encryption feature that secures communication between client and server. You can efficiently perform tasks like file transfer and chat.
The Chat system in UltraVNC is a quick way to communicate with another computer.
The advantage of UltraVNC is that it is free to use for all types of usage, including commercial usage.
The disadvantage of UltraVNC is that you won't get any advanced features with it.
TigerVNC
TigerVNC is high-performing and platform-neutral VNC software. You will find the user interface of TigerVNC almost the same across the various platforms it supports.
Further, TigerVNC is the most used client-server application that makes easy launching and interaction with graphical applications on the remote machine.
Additionally, TigerVNC maintains performance and interaction with 3D and video applications.
It ensures users' security features like TLS encryption and advanced authentication methods.
TigerVNC supports Linux, Windows, and Mac operating systems, and you can download directly from the GitHub release page.
Chicken VNC
Chicken VNC is another promising and open-source VNC software that makes easy remote access to another computer. The latest macOS version supports it.
It is stable, robust, and works flawlessly with the previous release, but users face a "Connection Terminated – Unknown message type 12" error with the latest release.
There is no doubt that Chicken VNC is a great project, but it is still missing some essential features like Proxy/Repeater, which is mainly required when the server is on NAT (Network Address Translation).
The downside of using Chicken VNC is that it lacks "Ease of Use," Retina support, and frequently throw disconnect error like "Unknown message type 5".
JollyFastVNC
JollyFastVNC is another free and secure VNC software that simplifies access to the remote computer.
Further, JollyFastVNC is a VNC client application for macOS versions. So, if the VNC server is installed on another macOS computer, you can easily access them with JollyFastVNC.
It also provides access through a secure SSH tunnel by selecting the "SSH" security option in JollyFastVNC.
JollyFastVNC supports multiple connections, multi-monitor, international keyboard, and fullscreen. Additionally, you will have a SmartZoom feature that supports viewing large remote desktops.
The advantage of using JollyFastVNC is that it supports full Retina display, intuitive window scaling, and many encryption protocols.
The downside of using JollyFastVNC is that it may be complicated to configure for new users and only available for macOS.
TurboVNC
TurboVNC is another high-performing and secure virtual computing software based on TightVNC, TigerVNC, and X.org.
It has enhanced features that maximize performance and compression with the 3D application, video, and other image-intensive workloads.
Further, it provides a complete solution for remote displaying of 3D applications.
It is an excellent alternative to TigerVNC with enhancements and features like compress 3D, video workload, less CPU consumption, and much more.
They provide additional security by authenticating with a one-time password or Unix login credentials along with VNC standard password authentication.
EchoVNC
EchoVNC is another secure and firewall-friendly virtual network computing software.
You can access a remote computer regardless of the router, web proxy, and firewall configuration. It is an excellent open-source project that works great even with two separate firewalls.
It supports Windows PC and macOS PC. EchoVNC provides basic options like full-screen mode, start menu, and more.