FTC disclaimer: This post contains affiliate links and I will be compensated if you make a purchase after clicking on my link.
You would be looking for the best free screen capture and recorder software that serves your purpose and increases production.
The software can be used for personal reasons to capture hobbies, memories, gameplay, or work where you can do training, coaching, marketing, and some demonstration.
Moreover, it is also widely used in the education field, where you can capture lecture videos, classroom learning, providing students assignments and feedback.
You need features like fast and easy use, customized settings, overlays, and uploading to the online library.
Further, it should be supported by most devices OS like Windows, Mac, Chromebook, iOS, and Android.
We have illustrated some of these captivating and impressive tools available on the screen capture and recorder apps below.
Best Free Screen Capture and Recorder Software
Screenrec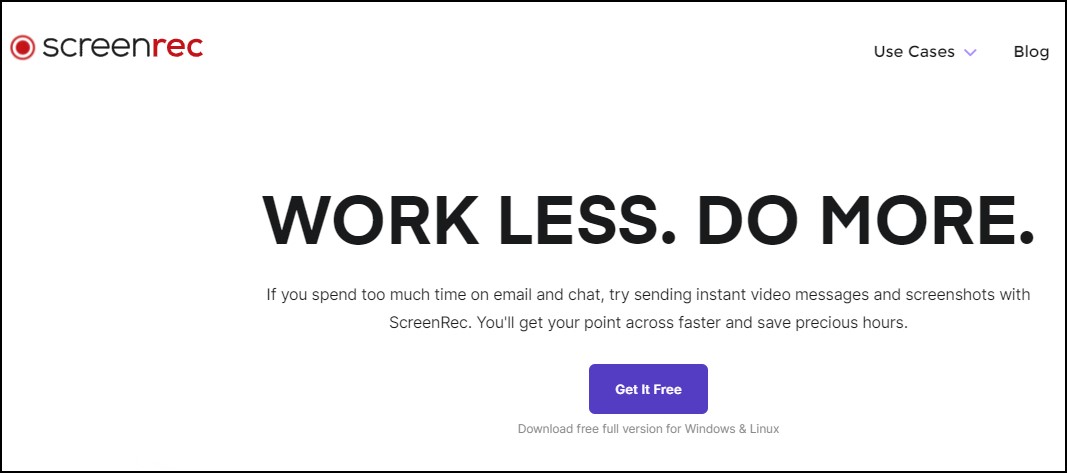 Screenrec is free to use screen capture and recorder software. It is a lightweight software that will record your screen and capture a screenshot.
Additionally, you can record your voice and upload completed videos on the cloud.
Further, it has a very clean interface that lets you easily enable and disable screen capture, add a webcam overlay, and record audio from the computer and mic.
The disadvantage of using free Screenrec is that it has limited time to take video, usually 5 min. Further, you can record video in SD and HD quality only.
Also, you cannot pause the video in-between when you have started capturing.
CloudApp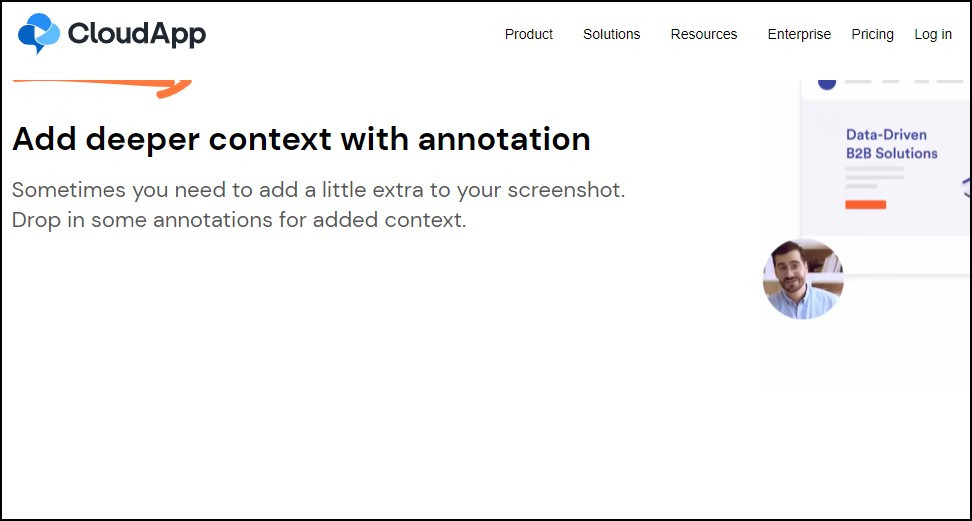 CloudApp is easy to use and highly recommended screen capture and recording software.
The CloudApp has multiple features like a recording screen or camera, annotating, sharing, and uploading screenshots with no clutter.
Further, storing and uploading your work to the cloud will save a lot of time manually. Also, you can use a shortcut key to capture a screenshot.
The downside of using CloudApp is that it sometimes crashes, which hinders productivity. Additionally, they still lack the full-page screenshots feature.
Also, the free version lacks file sharing, analytics integration, text font change, and more.
MarkupHero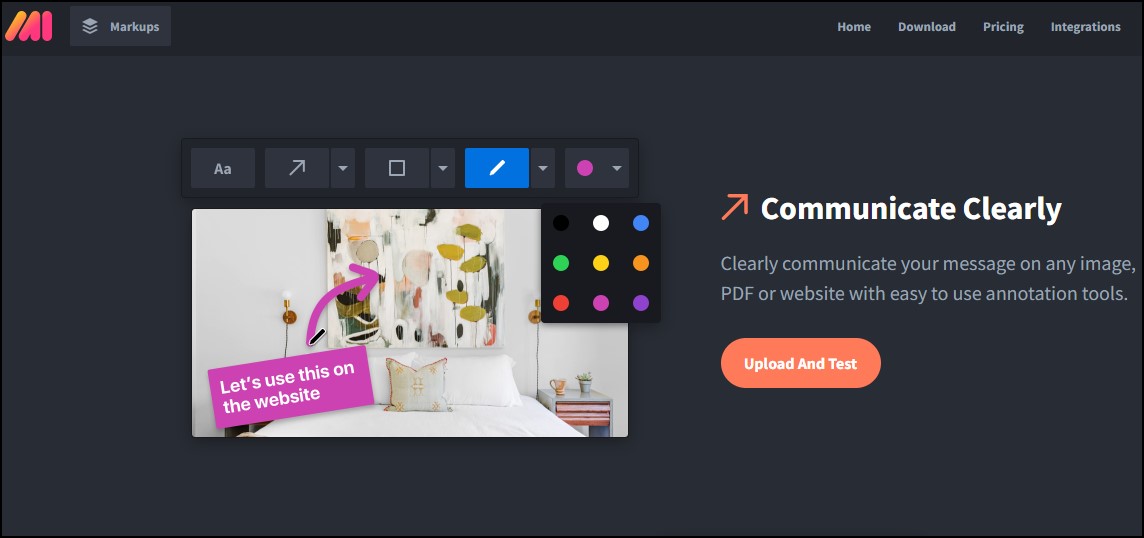 MarkupHero is another free screen capture tool that lets you capture screen, edit and upload images for future references.
Moreover, the Markup Hero screenshot and annotation tool work on Windows, Mac, Linux, and Chrome.
You can communicate messages and ideas on any image, PDF using annotation tools. It can take a screenshot using the shortcut key and re-edit saved screenshots quickly.
It has an uncomplicated and straightforward user interface with sharing feature. Further, you can have a maximum file size of 50 MB.
The downside of using Markup Hero is that it has no scrolling capture feature, missing branding feature, cannot create a short link.
It has a Chrome extension but no Firefox add-on. Also, it doesn't work well with the Windows Snipping tool.
You will also find the missing feature like OCR reader for PDF, custom domain for shortening and sharing links, and integration with OneDrive.
OBS Studio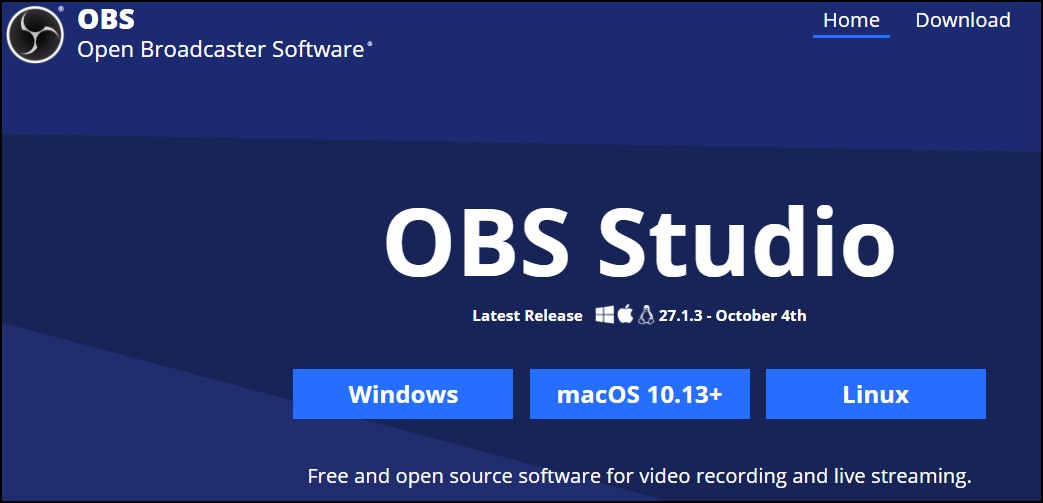 OBS Studio is free, open-source software to capture screen recording and live streaming. Windows, Mac, and Linux support it.
It has the feature of capturing video or audio in real-time, and you can mix and create scenes from multiple sources like images, text, browser windows, and more.
Further, it has easy-to-use configuration options that let you add any new sources, duplicate the existing ones, and configure the properties effortlessly.
The advantage of using OBS studio is that it restricts the recording length and can record and stream in high definition.
Further, it would help if you had a machine with a good graphics card and multi-core CPUs to record video in 60 FPS using customized hotkeys.
Apowersoft Online Screen Recorder
Apowersoft is a powerful online screen recorder and capturing app for unlimited recording. It is a web-based screen recorder, which means you don't have to download the recording software.
Your browser is enough for a free online screen recorder to work. Further, it can record all types of screens like video stream, live chat, self-demonstration, and more.
After recording, you can export video in multiple formats like WMV, FLV, MPEG, MP4, FLV, GIF, VOB, and more.
You can capture the screen in multiple ways, like by selecting a specific region or whole screen. As it has no limitation, so you can capture recordings of your entire lecture, TV Shows, Tutorials, and more.
Moreover, it is also empowered to use a webcam along with screen recording and audio simultaneously.
With screen recording, you can add annotations like shapes, colors, notes, and different icons. After recording, you can save it to your local drive or upload it directly to the cloud at no cost.
ShareX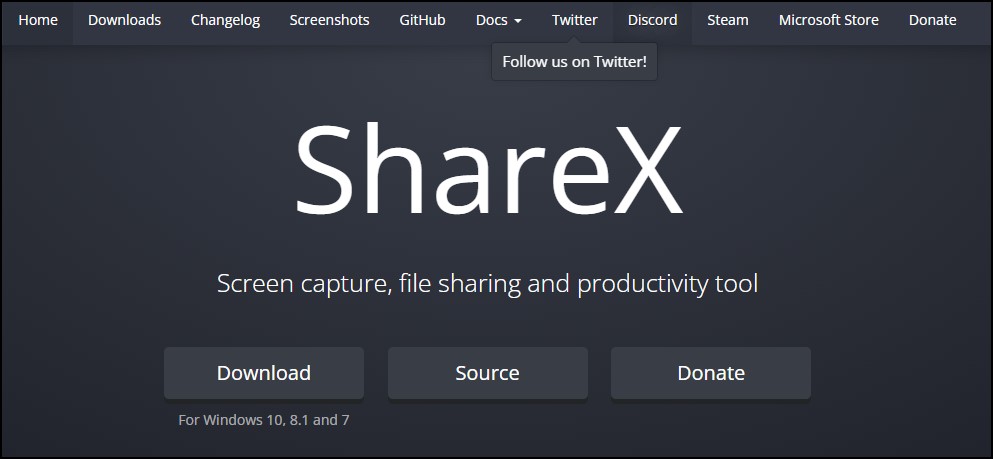 ShareX is a free, open-source screen capture and file sharing productivity tool.
The advantage of using ShareX is that it will capture the entire scrolling webpage and help you share directly to social media sites.
It has a feature to identify text via OCR, schedule screen recording, and shortcut key to capture screen recording.
Further, there is no time limitation for screen recording, and also you don't have to worry about any watermarks.
The disadvantage of using ShareX is that it doesn't have a full-screen mode for games, and the user interface is not very intuitive.
Overall, it is a great free screen recorder that will serve your purpose exceptionally well.
Screencast-o-Matic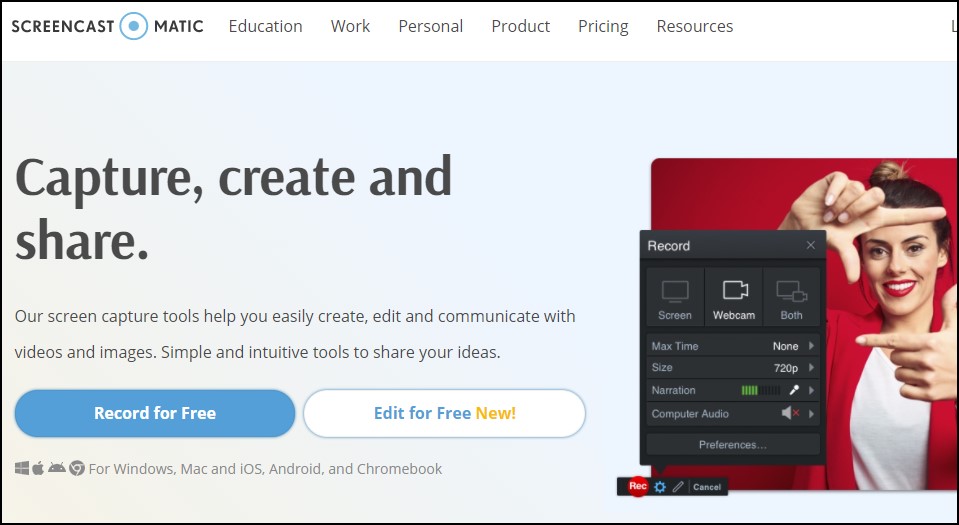 Screencast-o-Matic is another free screen recorder and capturing tool that helps you create, edit and communicate with your recorded videos.
It can be used for educational purposes to record classroom lectures or be introduced in your work profile for communication, marketing, and coaching.
Further, you can personalize your captured recording by adding text, shapes, images, and video overlays. Additionally, you can also add animation effects, automated captions, and more.
After capturing screenshots, you can markup text with arrows, highlight text, and create a shareable link.
The downside of using Screencast-o-Matic is that it has 15 recording limitations and has limited royalty-free music tracks. Also, the free screen recording is watermarked, which will be removed only after the upgrade.
Further, it is supported by OS like Windows, Mac, Android, iOS, and Chromebook.
Debut Video Capture and Screen Recorder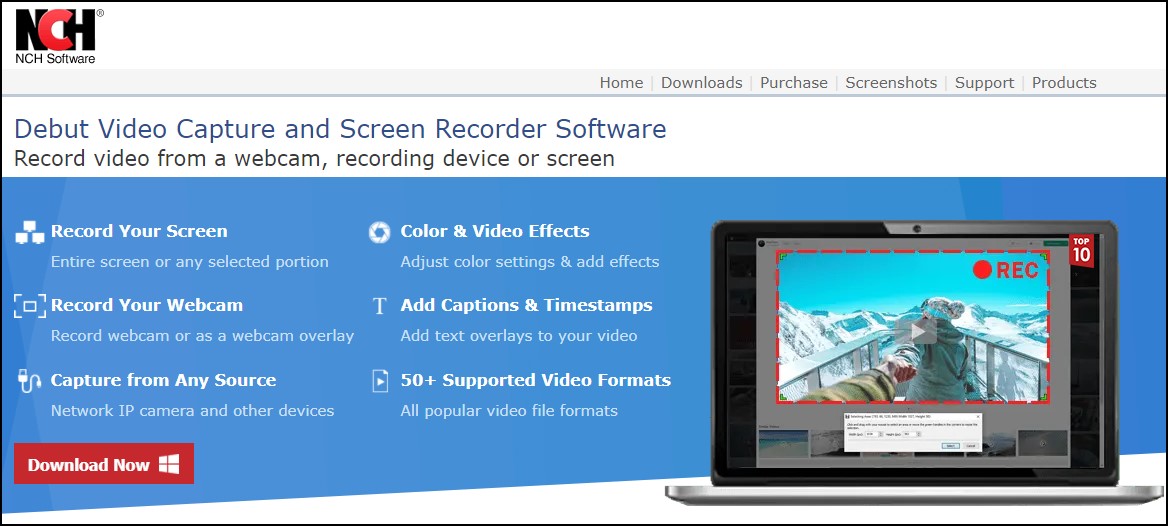 Debut Video Capture software is another free screen capture and recorder software. It has a feature to record your entire screen, single window, or a selected portion.
You can record a video in any format such as AVI, WMV, FLV, MPG, MP4, MOV, and more. It also can capture video from a webcam, video input devices such as a VHS recorder, or a network IP camera.
Moreover, you can add text captions, logo or watermark, background color, or screen to the video.
Before recording, you can go through multiple color settings, video effects, and much more. After recording, you can directly upload it to YouTube, Vimeo, or Flickr.
You can easily create screencast videos, photo snapshots of a video and burn the recorded video to DVD.
TinyTake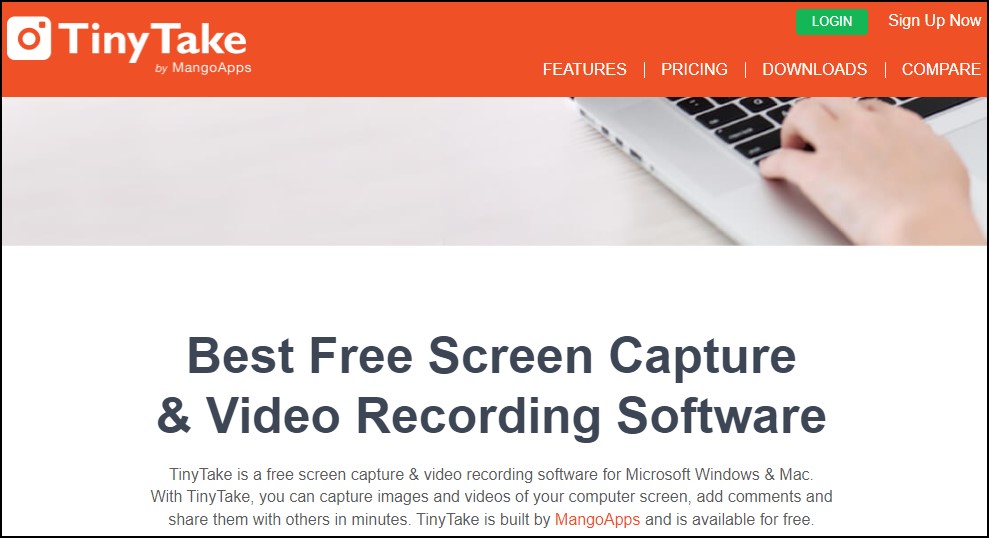 TinyTake is another one of the best free screen capture and recording software for Windows and Mac.
You can select an entire screen or small region for screen capture and video recording. After the screen recording, you can publish it online and get a shareable link.
Moreover, you can assign your custom shortcut key and work with a proxy server.
The downside of TinyTake is that you can record a video of 120 minutes only. Also, it lacks integration and collaboration features.
Vmaker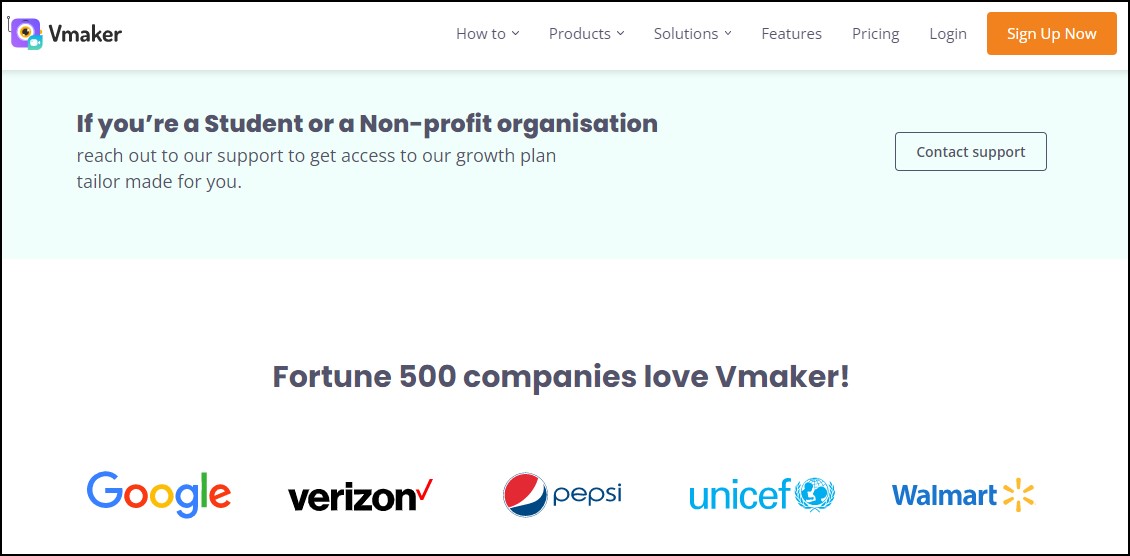 Vmaker is another free and simple to use screen recording software.
The most significant advantage of using Vmaker is that you can do unlimited screen and webcam recording. Additionally, they provide you with analytic and social sharing features.
Further, the download and cloud storage is unlimited in Vmaker.
The downside is that you can access only limited video from the dashboard. Additionally, you will get access to only basic frames and filters.
Furthermore, they don't have any collaboration feature for free users, and also they provide a basic editing suite. They don't provide you with branding and customization features.
However, priority support and SSL encryption are still available for free users.