FTC disclaimer: This post contains affiliate links and I will be compensated if you make a purchase after clicking on my link.
If you have started a business in media production, then free recording software would help in the initial stage.
Moreover, the free recording software has essential tools to make excellent music or podcasts from scratch.
You will come across very few reliable free recording software and provide free Digital Audio Workstation (DAW) to record music with various effects.
Most free recording software is equipped with audio editing or music production functionality using your laptop or computer.
Also, the list of free recording software can support both Windows and Mac, and some support Linux.
The Best Free Recording Software
Audacity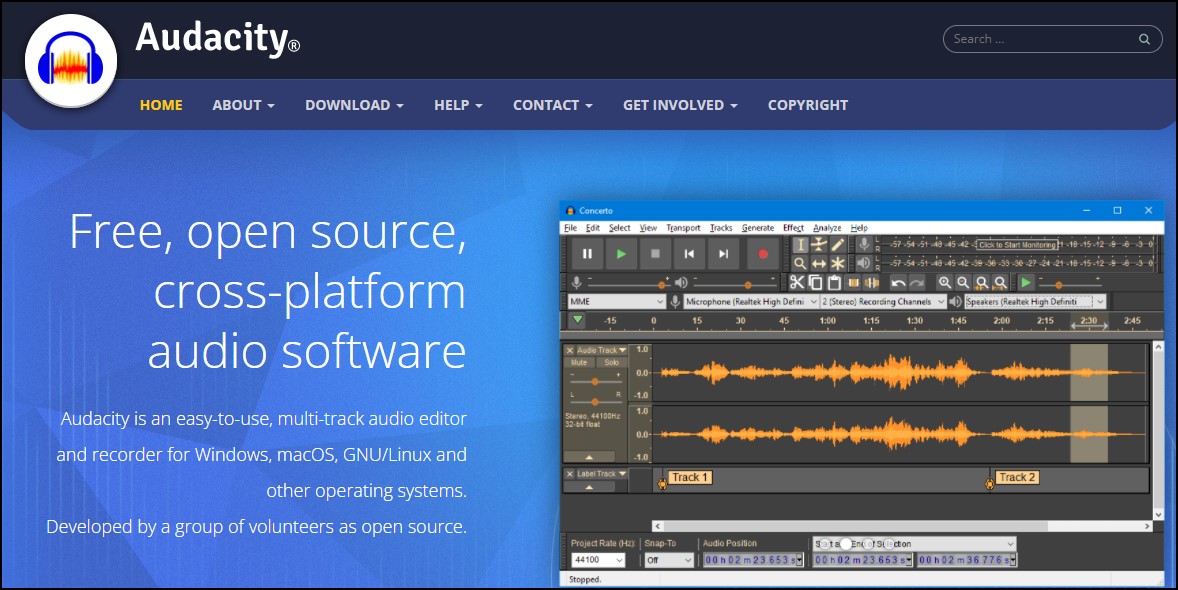 Audacity is one of the accessible, open-source, cross-platform recording software that is easy-to-use and developed by a group of volunteers.
It comes with a multi-track audio editor and recorder that support operating systems like Windows, macOS, Linux, and more.
You can record live audio through a microphone or mixer, which supports the digitization of recordings from other media.
It supports sound quality of 16-bit, 24-bit, and 32-bit. Plus, you can convert sample rates and formats using high-quality resampling and dithering.
The user interface is very supportive and helps you select an extensive range of keyboard shortcuts to track, select and edit the session.
After editing, you can have a real-time preview of LADSPA, LV2, VST, and Autio Unit (macOS) effects. Most plugins are available to give advanced audio effects.
GarageBand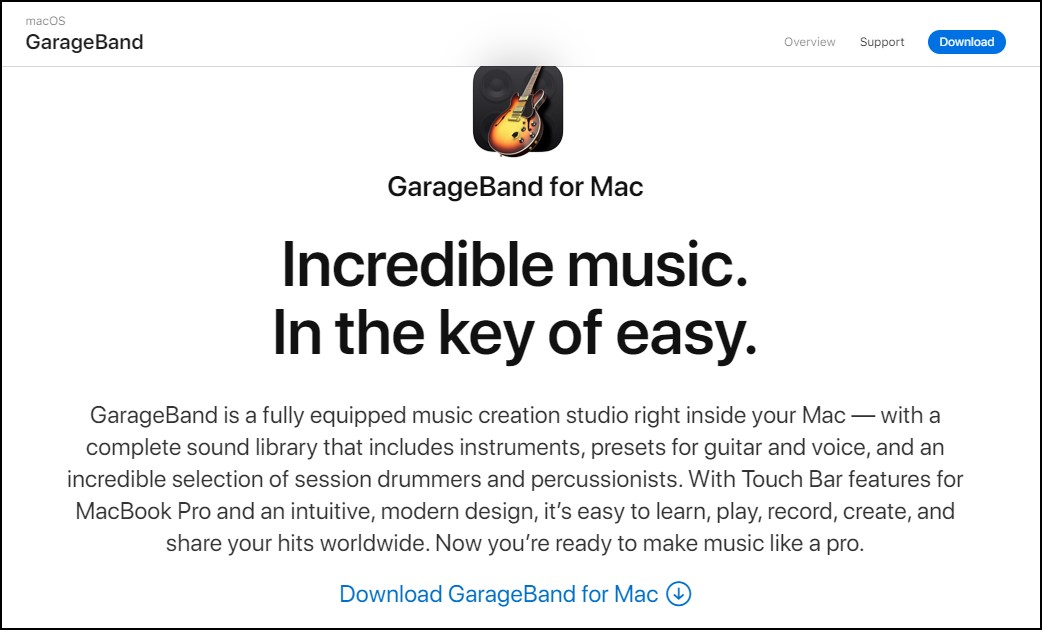 GarageBand is the most-used free recording software that comes pre-installed with Mac.
It is fully equipped music creation software for beginners to capture audio and handle basic mixing tasks.
The user interface of GarageBand is very intuitive and lets you create, record, and play music with professional audio quality.
GarageBand comes with a complete sound library that includes presets, instruments, and a great selection of sessions.
Plugin your guitar or mic if you want to make professional-sounding music.
You have to choose from an extensive collection of realistic amps and effects. Further, you can create human-sounding drum tracks and get help from popular genres like Indie, Hip-Hop, and more.
You will find 28 beat-making drummers and three percussionists created using top session drummers and recording engineers. Further, each drummer comes with a signature kit that produces various groove and fill combinations.
You will find 100 EDM and Hip Hop-inspired powerful synth sounds, and each synth is featured with Transform Pad Smart Control.
Overall, GarageBand is powerful, easy-to-use, well-designed, and simple to handle recording software.
Studio One 5 Prime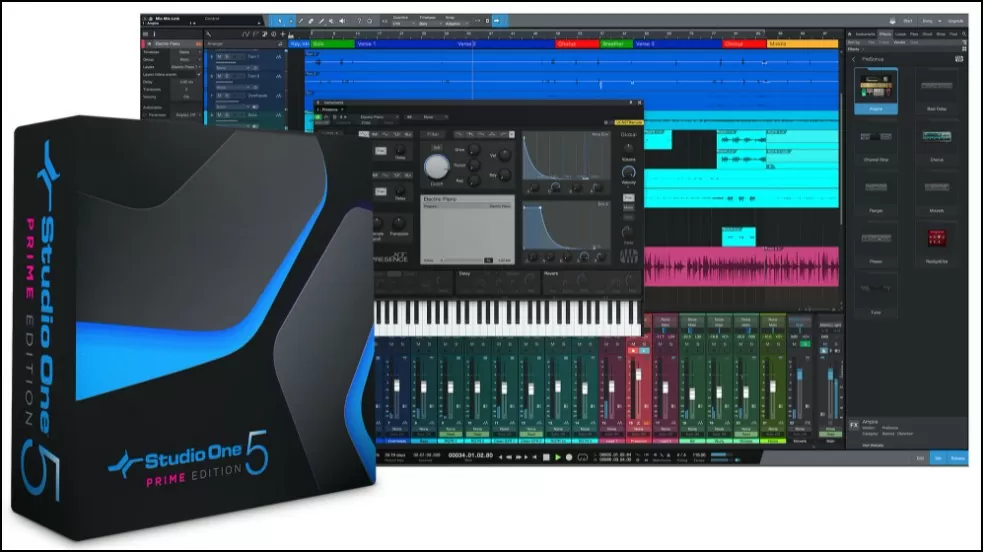 Studio One 5 Prime is professional, free recording software for content creation and audio production.
It is designed with intuitive, creative, and powerful tools to create music and podcasts with simple drag and drop functionality.
You can enhance and supercharge your creativity with unlimited tracks, buses, virtual instruments, FX channels, and native effects.
Further, Studio One comes with a Powerful Presence XT virtual sample player for keyboard and synth sounds.
Moreover, you can compose drums and melody with their intuitive Studio One's Pattern Editor.
You can download and run Studio One 5 Prime on your 64-bit Mac OS and Windows OS.
Cakewalk by BandLab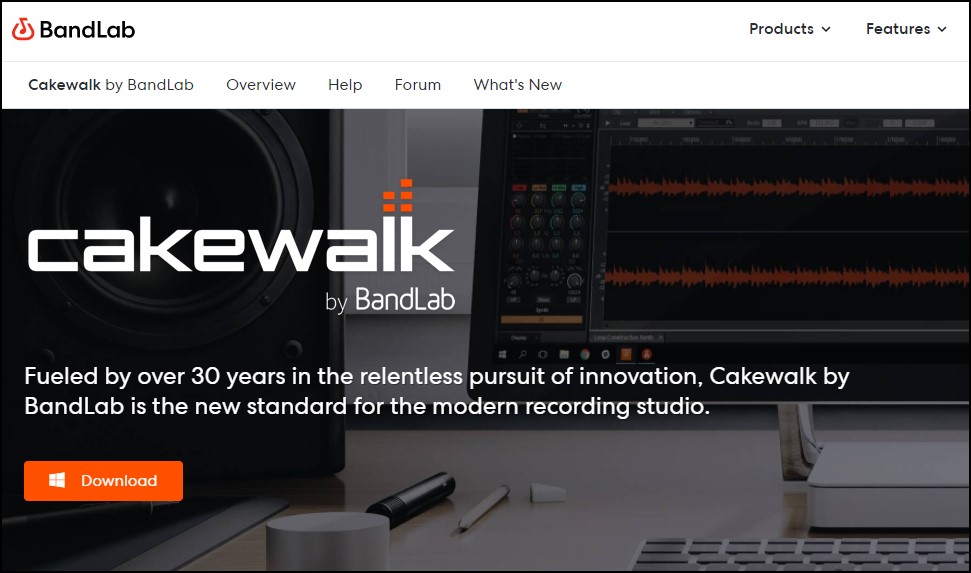 Cakewalk by BandLab is a leading and free-to-download Digital Audio Workstation for your creative musical process. A 64-bit Windows Operating System supports it.
An entirely free recording studio makes it easy to compose songs and capture unlimited audio.
You can edit your recordings and create dynamic mixes with advanced mixing tools. Additionally, you can take the help of advanced mastering tools to finish Mixes with perfection.
Cakewalk by BandLab provides you with a fully customizable and easy-to-navigate user interface.
You are free to enjoy unlimited audio, MIDI, instrument, loop, and tracks with every project.
Further, they have covered advanced 64-bit mix engine audio technology to deliver accurate, clean, and dynamic mixes.
Moreover, Cakewalk by BandLab comes with advanced plugins for quality audio output.
Your project also supports stable and efficient plugins for more FX and Synths.
Waveform Free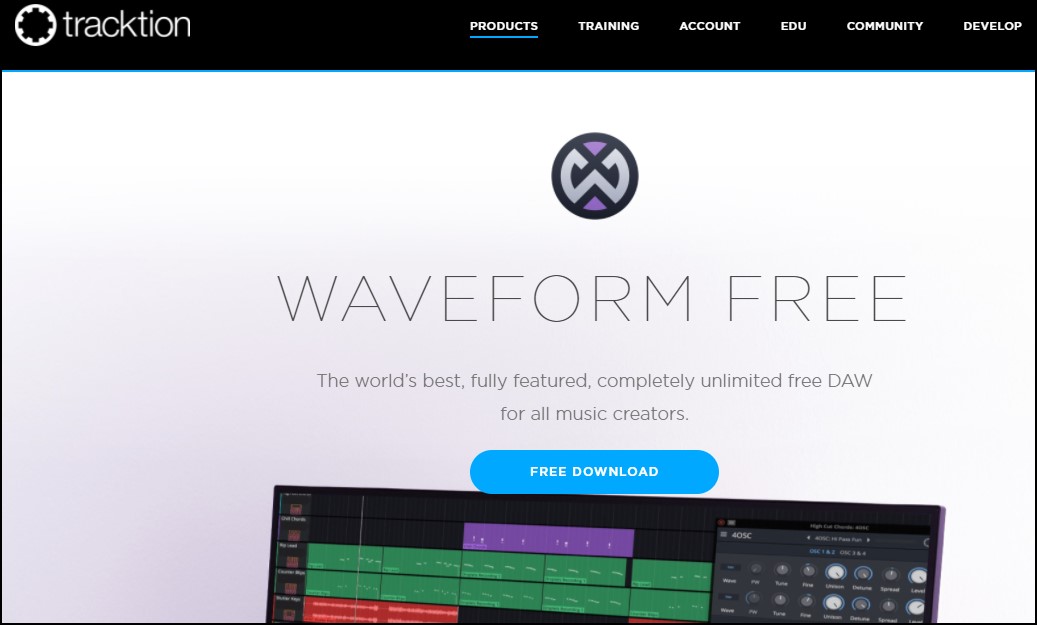 Waveform Free is a completely free, full-featured Digital Audio Workstation (DAW) for all music creators.
It offers you unlimited track count, support for popular plugins, and a selection of deep-dive tools.
The 64-bit operating systems like macOS, Windows 8, Windows 10, and Ubuntu support Waveform Free recording software.
You will find a modern user interface with a customizable actions panel, plugin racks, and plugin sandboxing.
It provides content creation tools featuring Micro Drum Sampler and MIDI pattern generators.
Ardour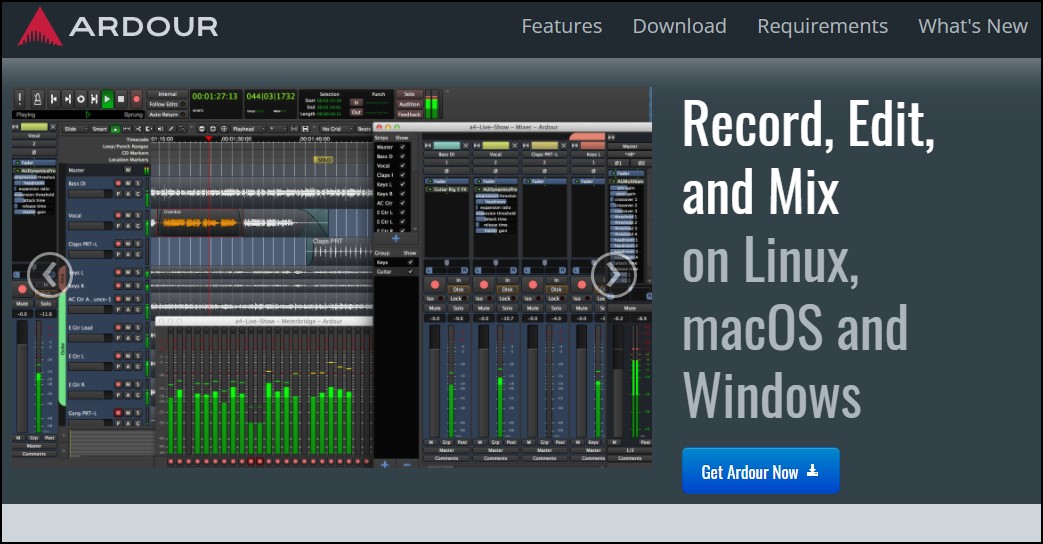 Ardour is another best free recording software that provides an easy-to-use user interface to record, edit and mix audio.
You only need to plug in a microphone or a keyboard and then add the track to record it.
Further, it supports hundreds of plugins for smooth and flexible mixing. Additionally, it encourages the creative process and provides complete control over your tools.
You will find Ardour with multi-track and non-destructive recording and with non-linear editing.
Moreover, Ardour comes with an FX plugin and plugins that support AudioUnit, LV2, LADSPA, LunuxVST format.
You will also benefit from sync to MIDI timecode and LTC, sync with JACK transport and MIDI clock, send and receive MIDI Machine Control.
Additionally, you will find pre-defined mappings for many MIDI controllers plus dynamic MIDI learn dedicated Mackie Control protocol.
The operating system Linux, Windows, and Mac support Ardour recording software.
Hay-Wave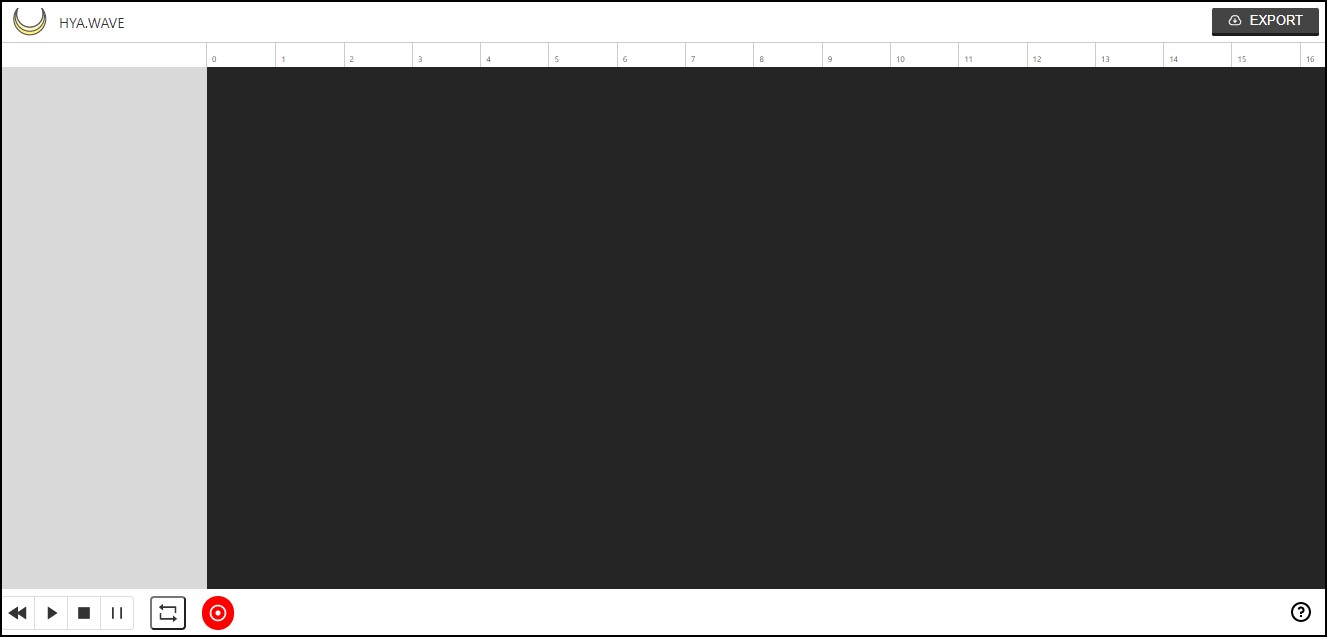 Hay-Wave is a free online recording app that needs only your web browser.
It is a browser-based recording app that allows you to record, copy, paste, crop, and cut your audio as needed.
Further, you can apply effects to your media and directly share on social media. Also, the audio effects are pretty basic and help change the audio texture.
It is a pretty basic recording app that does not support multi-recording features.
It is straightforward to use and produces decent recording output.
Moreover, you cannot store the data in the local drive; instead, it is uploaded directly to the cloud in real-time.
Zynewave Podium Free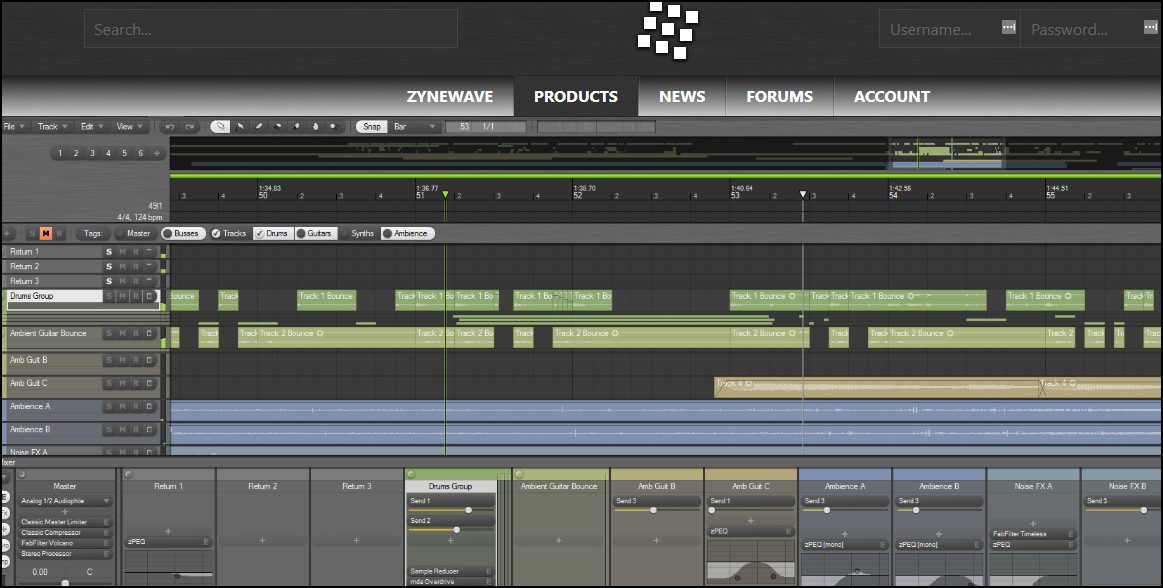 Zynewave Podium Free is another free and fully functional recording software.
The user interface of Zynewave Podium is straightforward but a little quirky to learn. It has an insanely customizable feature that can be tuned as needed.
The Podium free includes a feature like MIDI editor, third-party support plugins, including VST or virtual signal technology.
You will have free access to a full suite of different effects, which would be helpful for your tracks.
Podium-free has specific limitations and some drawbacks. It lacks multiprocessing, surrounds sound playback capability. Also, you don't have access to a 64-bit mixer engine.
Further, the MIDI editor has limitations, as it allows only single input and output at a time.
You may find the whole program running smoothly and see regular updates and bug fixes.
Conclusion
Recording software can capture digitized audio information recorded by a microphone or keyboard input and then turn it into code.
The above-listed free recording software has the necessary editing tools and decent effects that make your recording stand out.
Audacity is overall complete and most accessible free recording software, but it is preferable to use GarageBand if you are a macOS user.
Hya-Wave is another quick and free recording app with limited functionality and doesn't require downloading and installation.
Ardour and GarageBand are suitable for YouTubers because they work well with video and provide better synchronization.