FTC disclaimer: This post contains affiliate links and I will be compensated if you make a purchase after clicking on my link.
It is frustrating to have pop-up ads, banner ads, video ads whenever you are surfing a website, looking for videos on YouTube, surfing or downloading torrent files, and much more.
Ad blockers are the best ways to block annoying ads that compromise your privacy and security.
Moreover, most of the pop-ads contain intruder in the form of adware, malware, and trackers.
These intruders' work is to sit around your computer or device, gather data related to your browsing habits, capture your interest in particular segments, and understand your location preference.
Popular Adblockers play a basic role in preventing these malicious ads and protecting you from malware danger.
Although a paid ad blocker works the best by providing all the necessary features, the free ad blocker also satisfies you with all the basic features needed to prevent these ads.
How we have selected, listed, and ranked Ad Blockers?
If you look around, you will find multiple Ad Blockers that claim to block advertisements.
But, very few Ad Blocker understand the effectiveness of web browsing and at the same time protect your privacy.
We have tested some of the basic factors that are needed to have good free ad-blocker.
It should be free without compromising any of the basic features of ad-blocker
Frequently updated and doesn't require any signup to use ad-blockers.
Efficient enough to block any display ads such as floating, banner, static image, text ads, pop-up ads, video ads, and more.
Capable of blocking streaming video ads such as in YouTube, Daily Motion, and more.
We have also tested Ad blockers on torrent sites that contain malicious ads.
It is also not necessary, AdBlockers should satisfy all the above-listed criteria, but it should satisfy most of the factors.
Let dive in and look into the best free ad blocker for a web browser as an app for an operating system.
Stands Fair AdBlocker (best for Chrome, Edge)

Stands Fair AdBlocker is powerful and has an extremely low impact on the browser.
It is the best ad blocker extension for Google chrome that keeps you away from annoying ads, popups, malware, and tracking ads on Facebook and youtube.
Stands Fair AdBlocker gives full control to the user to decide what to block and what not to block. They have divided the blocking into two modes: basic and advanced.
The basic blocking feature blocks annoying pop-up ads, expanding ads, autoplay video ads, interstitial ads, overlay ads, YouTube ads, and more.
The advance blocking feature further blocks Facebook ads, Webmail ads, Search ads, and gives you anti-tracking protection.
The good part is that Stands Fair AdBlocker is completely free forever. The only drawback is that it is available for only Chrome browser and currently introduced for Edge browser.
Availability: Chrome (free), Edge (Free)
AdLock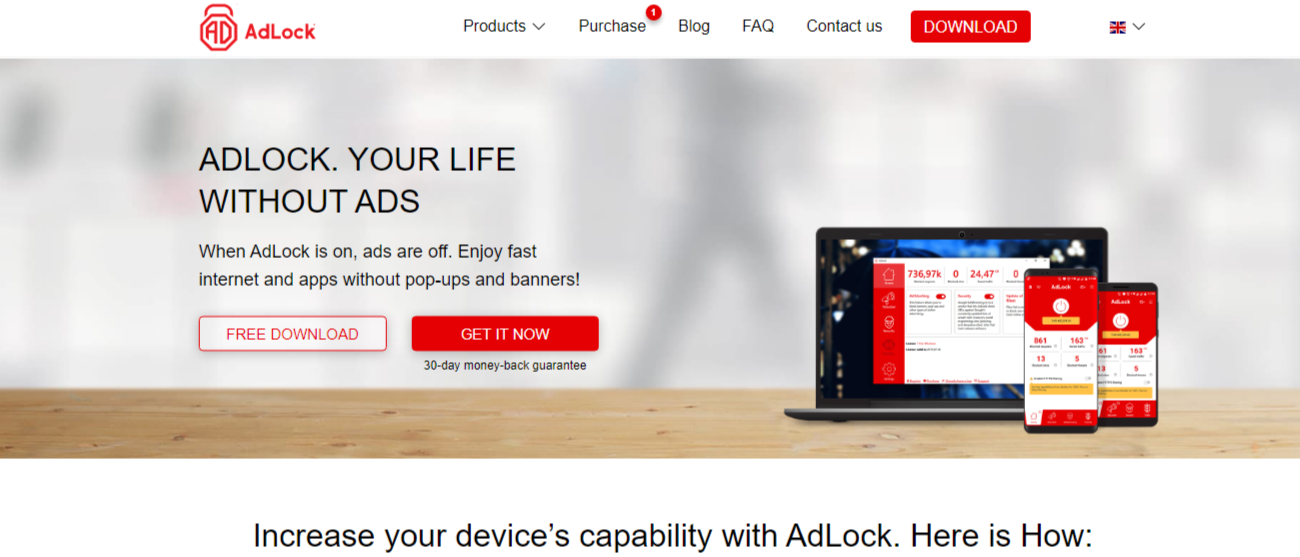 AdLock is an effective and comprehensive ad removal tool that blocks any pop-ups ads, banner ads, video ads, cryptocurrency mining ads.
Further, it protects you from potentially harmful and malicious links, protects your data, and trace spyware.
It also saves you from unwanted traffic, battery life, and internet usage. Additionally, it speeds up site loading speed and improves system performance.
AdLock feature is applied to every site you visit, but if you want to whitelist some sites, you can do it by navigating through its settings.
It also has a paid version if you like to have some additional features, but it is better to stick with the free version because they don't offer any trial version.
Above all, it works great with Windows and Android OS and with chrome browser.
Availability: Chrome (free), Android (free and paid), Windows (free and paid), Safari (Free), iOS (free and paid)
Adblock Plus

Adblock Plus is very effective in blocking YouTube ads, pop-up ads, and fighting against malware.
It has been found that the app has been downloaded more than 10 million times in the Chrome Store. Because of sleek ad-blocking capabilities, you can enjoy sites like YouTube interruption-free.
Further, it stops tracking and gives you more privacy and faster browsing. It also fights against destructive malvertising that hides inside ads.
Additionally, Adblock plus also supports Acceptable ad, for websites whose revenue completely relies on advertisement but without compromising the user experience.
Availability: Chrome, Firefox, Microsoft Edge, Internet Explorer, Opera, Safari, Yandex Browser, iOS, Android.
Poper Blocker (best popup blocker for Chrome)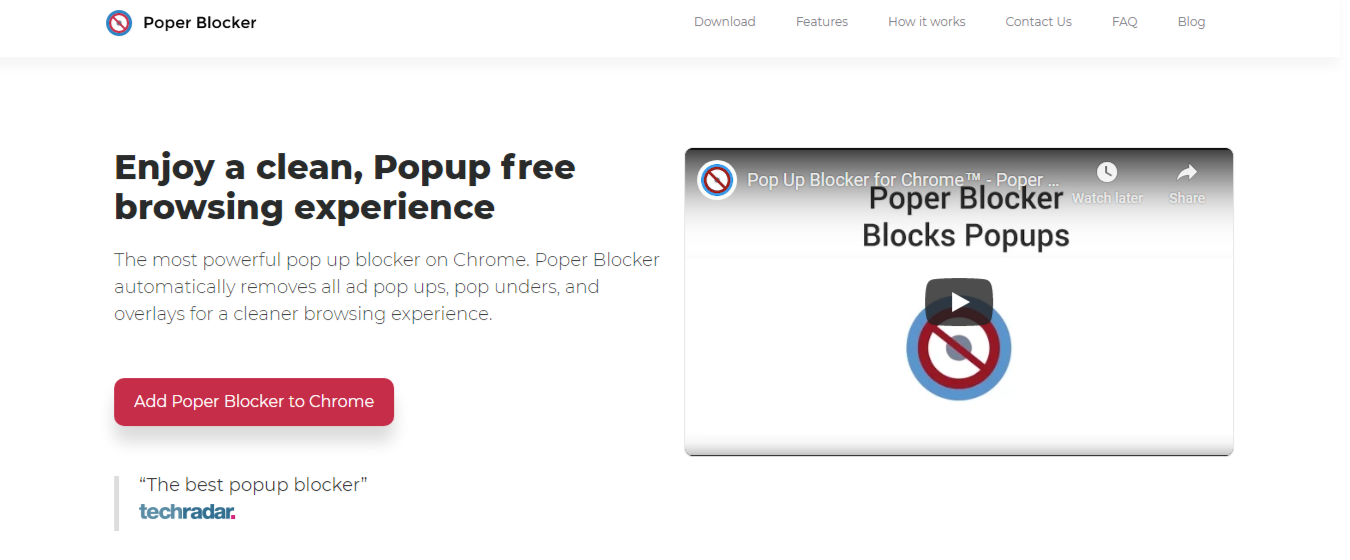 Poper Blocker is another addition to the pop-up blocker that can block annoying popups, popunders, and overlays very effectively.
It has worked on an advanced algorithm that correctly checks which pop-up to block. Poper Blocker easily identifies pop-up advertisements that lead to new tabs and new windows.
It intelligently detects any spam type and efficient in blocking popups in video streaming sites, gaming sites, and torrent sites.
Poper Blocker satisfies most of the criteria we have listed above, and it doesn't hide any of the features behind a paywall.
The biggest advantage of Poper Blocker is that it doesn't require any sign-up to use their service, and it is completely free.
If you look in the Chrome Store, then Poper blocker has received more than 2 million reviews, of which most of the reviews are positive and satisfactory.
Although Poper Blocker still needs to work on accuracy and efficiency, some pop-up ads come back after refreshing the page.
Availability: Chrome and Firefox
AdBlock (good for all browser)

AdBlock is one of the oldest and remains of the best ad blockers. It is available for major web browser extensions like Chrome, Firefox, Edge, and Safari.
Additionally, it is also available as an app for Android and iOS devices.
It has a great ability to block all types of ads throughout the web, and an additional customizable feature gives you ultimate control over the ads.
Like AdBlock Plus, AdBlock also supports Acceptable Ads program, allowing non-obtrusive ads by default.
But, if you like to obliterate ads, then you can easily opt-out in AdBlock's settings.
Further, you can use other customization options like custom filters for individual ads, whitelisting sites, and theme modification.
AdBlock's topmost concern is to protect your privacy by blocking malicious ads, stop third-party tracking, phishing scams, and cryptocurrency miners.
The other advantage of AdBlock includes backup and synchronization of settings and customization rules across browsers.
After installing, you will experience good and quick page loading speed due to minimum ads and improve battery life.
Availability: Supported by Chrome, Firefox, Edge, Safari Browser, and available as an app for iOS and Android.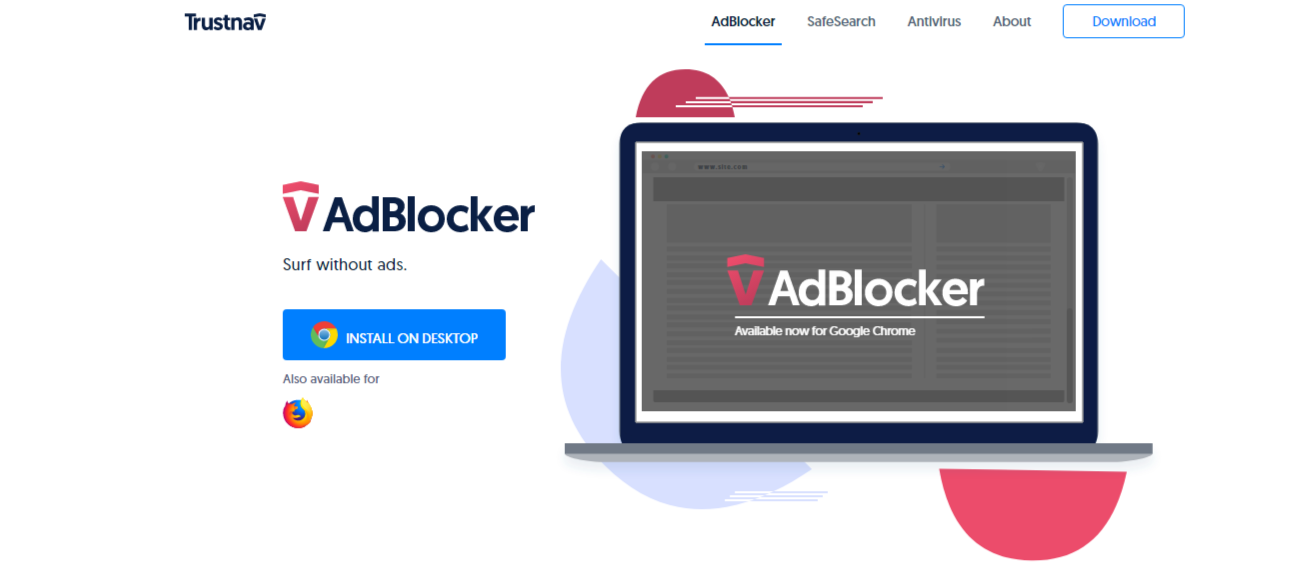 AdBlocker by Trustnav has gained so much popularity in a short period of time.
It's an ad-blocking ability, very easy-to-use, and light on the system has become a favorite ad blocker for the user.
AdBlocker by Trustnav is currently very effective in getting rid of pop-up ads, banner ads, video ads, and block advertising companies that try to trace your move online.
The only drawback of AdBlocker by Trustnav is that they don't provide you with many customization options.
The settings of AdBlocker by Trustnav are minimal, which means that they have a fundamental toggle option.
They don't have features like whitelisting sites, fine-tune ads availability, and ad blocking stats.
Also, AdBlocker by Trustnav is not effective in blocking autoplay video ads.
Nevertheless, it is completely free and very effective in blocking most of the ads and has satisfied most of the above criteria on all fronts.
Availability: Chrome 
AdBlocker Ultimate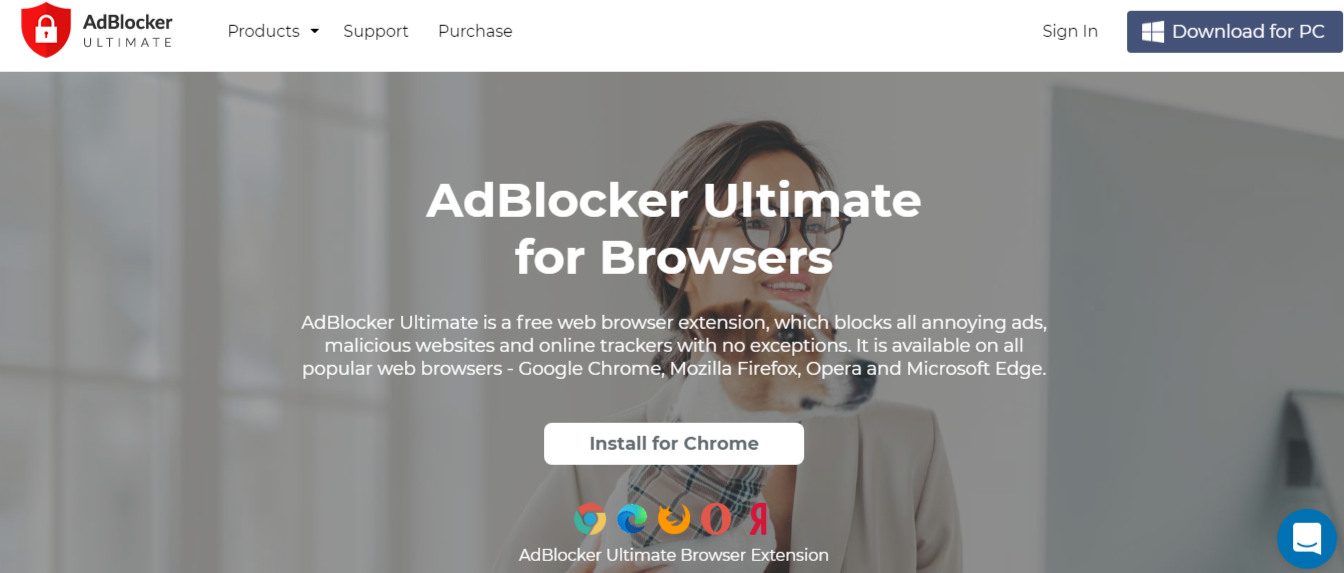 AdBlocker Ultimate is a free and improved AdBlocker that completely removes all ads.
It is built and designed for one purpose to remove all ads and focus only on content.
Moreover, AdBlocker Ultimate doesn't believe in "Acceptable Ads" and doesn't support features like whitelisting websites or ad networks.
AdBlocker Ultimate effectively blocks malicious websites, domains, or ads that try to spread malware and be involved in sneaky tracking.
Further, if you go through its filter, you can easily block annoying display and video ads from YouTube and other video streaming websites.
Availability: Support Chrome, Edge, Firefox, Opera browsers, and Android and iOS.
UBlock Origin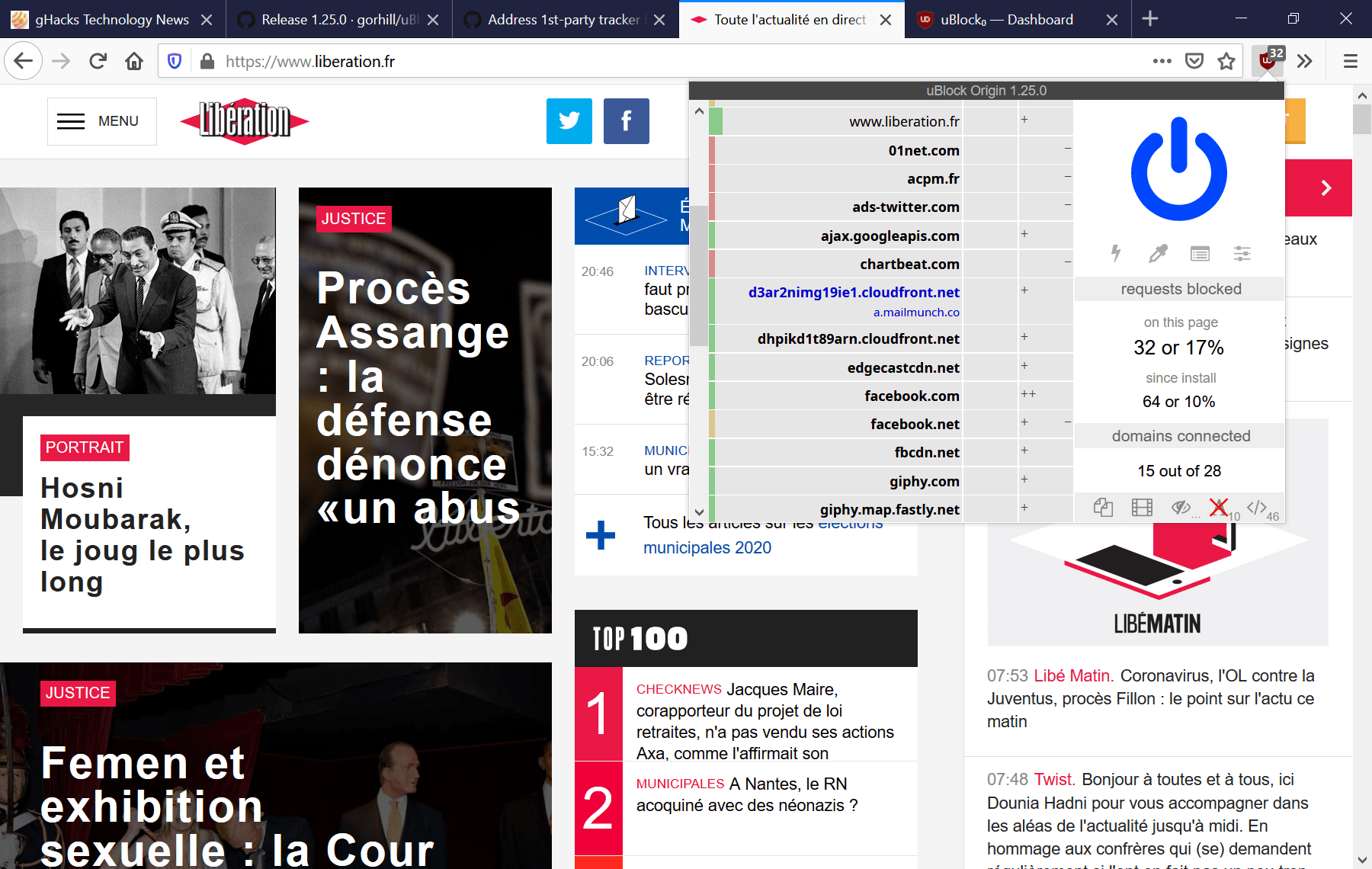 UBlock Origin is another effective ad blocker for the browser that is available as an extension of Chrome and Firebox.
Moreover, UBlock Origin is loaded with lots of filters from the host, including uBlock Origin filter lists, EasyList (ads), Online Malicious URL Blocklist, and EasyPrivacy (Tracking), Spam404, and much more.
Further, you can also create your own custom filter list from host files.
Its efficiency in ad blocking is easy on CPU and memory.
Availability: Chrome and Firefox
Ghostery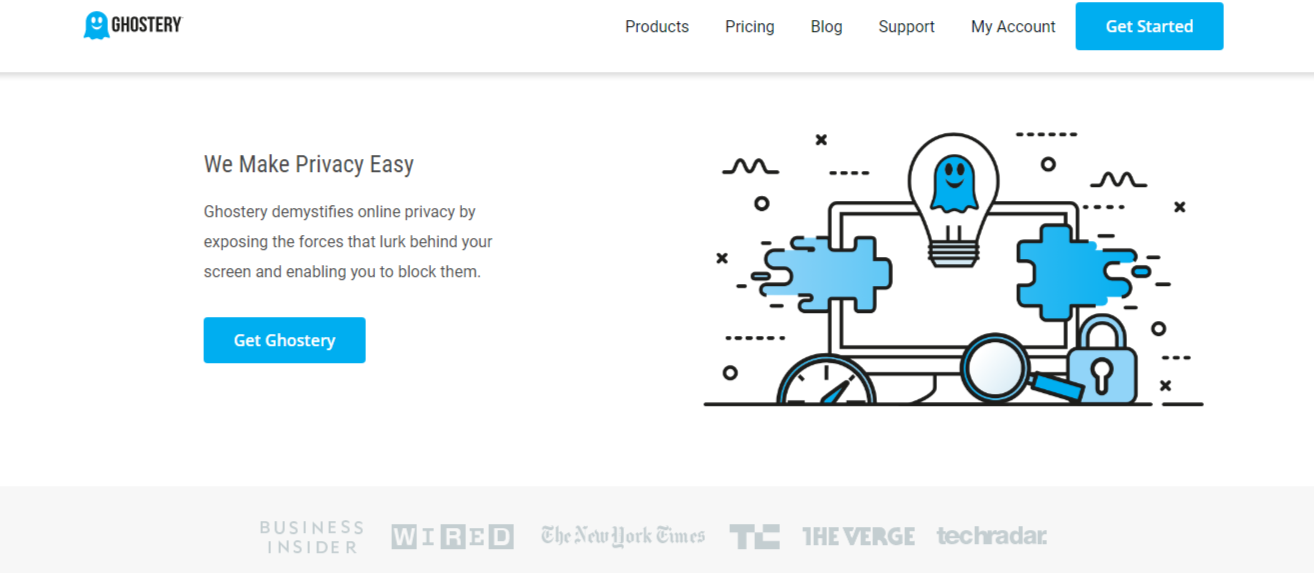 Ghostery is another good addition to free ad blockers that support multiple browsers like Chrome, Firefox, Opera, and Edge.
It makes your browsing easy and safe by removing unwanted ads so that you can focus more on content.
Ghostery privacy protection feature will let you view trackers who are trying to collect data unwillingly. It is very effective in stopping different types of trackers and maintaining your privacy.
The drawback of Ghostery is that the free version only provides you with basic protection, but for advanced protection, you have to subscribe to its paid version.
Also, the free version of Ghostery is only available for a browser extension. For Android and iOS apps, you have to subscribe to their paid version.
Availability: Chrome, Firefox, Opera, Edge
AdAway (Only for Android) – Ad-blocking Mobile app
AdAway is another open-source ad blocker for Android mobile devices.
It uses the host file to redirect requests from an ad to a local IP address, which means that it will return nothing.
They have a good customization option in which you can include your own host file or white-list or black-list host file.
You can further incorporate the predefined host files downloaded from the app into the system's host file.
Currently, AdAway is not available on Google Play, but you can easily install it from F-Droid.
Availability: Android app
1Blocker X (only for iOS) – Ad-blocking of Mobile app
1Blocker is an easy to use ad blocker for iPhone and iPad that need to flip a couple of switches to block ads and trackers.
It blocks all type of obtrusive ads, sneaky trackers and annoying and distracting element that stops you from enjoying the sites.
1Blocker is specially optimized and designed for Safari to make your browsing experience faster and more secure.
It tells Safari's content blocker API what to block when you are browsing for sites. As a result, it will save lots of system resources and time to surf a site.
Moreover, 1Blocker is featured with more than 115,000 blocker rules, but you can customize the predefined rule by setting the option if you want.
1Blocker is free to use, but you can opt for a premium version if there is a need for advanced features.
Availability: iOS app
Ad-blockers included with VPN
If you want complete security, then an ad blocker is not enough. Virtual Private Network (VPN) provides you with complete security and privacy so that you can surf the web without any problem and from anywhere.
VPN open geo-restriction and block government agencies, hackers, and sneaky spyware from stealing your data and spying on your activity.
Most of the VPN also comes with an in-built ad blocker effective and light on your computer.
Let's look into some of the most known and efficient adblocker.
CyberSec by NordVPN
CyberSec is an in-built best ad blocker of NordVPN that secures you from phishing or malware scams.
Further, it will block irritating and annoying ads that slow down your browsing, video streaming, and torrenting.
CyberSec already has an extensive list of addresses that are involved in malicious activity. Whenever you visit any website, CyberSec will first scan the website and match it with the extensive list before opening.
NordVPN prevents the website from opening if it found any website known to spread infected files, adware, and malware.
Moreover, CyberSec effectively blocks unwanted pop-up ads, banner ads, video ads, and any other advertisement that hinder you from opening a website.
Further, it improves loading times and saves mobile data.
The only drawback of CyberSec is that it cannot block ads on Android app downloaded from the Google Play Store because of Google policies. But, it still protects you from malicious sites.
To access CyberSec freely, you need a NordVPN subscription. After subscription, you can access CyberSec from 6 simultaneously connected devices.
CleanWeb by SurfShark
CleanWeb is a built-in ad blocker to SurfShark's VPN app that blocks unwanted ads and provides robust protection from malware, trackers, and phishing attempts.
It successfully blocks banner ads, sidebar ads, pop-up ads, and autoplay video ads that slow down the site loading speed and use too much bandwidth.
CleamWeb also compares websites with a database of over 1 million dangerous websites.
It also blocks any chances of phishing from scammers that try to steal your private information.
CleanWeb comes with a SurfShark subscription at no additional cost. You can also give a try to a 30-day money-back guarantee that comes with no restriction.
The good part of SurfShark is that you can connect simultaneously to unlimited devices. Also, they provide you with a 24/7 live chat support facility.
R.O.B.E.R.T. by Windscribe
R.O.B.E.R.T. is a great adware removal tool by Windscribe that blocks ads and malware. It also prevents you from browsing unwanted sites that are a threat to your system.
Moreover, R.O.B.E.R.T. works great in eliminating all types of ads by blocking all DNS requests from the domain list.
Further, it showed great improvement in website loading speed and removed the congestion caused by ads and trackers.
R.O.B.E.R.T. comes with handy customization features. It offers you an opportunity to create your custom block list of domains or IP addresses.
Additionally, you can whitelist certain sites that you don't want R.O.B.E.R.T. to block.
R.O.B.E.R.T. comes with both free and paid subscriptions of Windscribe.
The only difference is that a subscription to Windscribe offers access to unlimited devices simultaneously. But, the free version of Windscribe lets you access only 3 devices at the same time.
Also, they need to improve customer service response time and replace chatbot with real human chat team for help.
Browser with Ad Blocker
Most browsers come with an in-built ad blocker that doesn't require any add-ons or plugins. You can even customize
Opera (Desktop, Android, iOS)
Opera is one of the best browsers with ad blockers and anti tracker feature. You don't need any type of add-ons to block ads and anti-tracking software.
You need to go to the setting and switch on the built-in ad blocker and anti-tracking feature. Further, it also comes with a built-in VPN service, incognito mode, and warns you of any fraud and malware activity.
If you still want to increase opera capabilities, then look from the wide array of browser extensions.
If you are looking for the mobile version of Opera, go to the Google Play and Apple store for Android and iOS apps.
Download Opera: Windows or Mac, Android, and iOS
Tor Browser (Desktop, Android)
Tor Browser is a private browser and an open-source project that allows you to communicate anonymously. It doesn't help you to block ads but protects you against tracking.
When you browse for any website, the traffic has to cross the Tor network, comprising three relay and encryption layers.
A relay, also known as Tor Relays, is comprised of thousands of volunteer-run servers.
While browsing for a website, Tor Browser will randomly choose Tor Network for each website for private browsing. It means that each website will have a separate path to reach a server.
Further, it means that Tor Browser isolates each website you visit so that the trackers and intrusive ads can't follow your browsing habits.
Also, Tor Browser will automatically remove cookies for each website after you are done with browsing.
So, in this case, your browsing history will get deleted after surfing the web. And, it would be difficult to know which website you have visited and when you have visited.
In last, through Tor Browser, you can visit any website banned by your ISPs or government agencies. Also, to add-up more security to your connection, you can use a VPN like Nord VPN or Express VPN.
VPN with Tor Browser is a perfect solution for multi-layered protection from one point to another point.
Download Tor Browser: Desktop, Android
Onion Browser (iOS)
Onion Browser is another original free, and open-source Tor powered web browser for iOS.
It works similar to the Tor Browser and helps you browse the web anonymously. It provides you more security and privacy from website tracking with no extra cost.
Whenever you browse for any website, it will secure your traffic by ensuring wireless connection and ISPs.
Additionally, it will automatically switch to HTTPS-enabled websites, block scripts, and automatically clear cookies, and delete history when you are done with browsing.
Download Onion Browser: iOS
Brave Browser (Desktop, Android, iOS)
Brave Browser is free and open-source software that provides you with the most secure and fastest browsing experience.
It has an in-built ad blocker and prevents trackers from being protected from ads infected with malware.
Brave Browser is very effective in blocking pop-up ads, banner ads, script, and cookies.
Further, it reduces page loading time and also improves overall performance. As a result, it reduces both battery and data consumption.
The biggest advantage of Brave Browser is that it allows you to use Tor right in a tab. Tor hide both your history and location from where it is visited.
Moreover, your connection is encrypted and routed in a Tor network to increase your anonymity.
Download Brave Browser: Desktop, Android, iOS
Wrap-up: How to choose the best ad blocker for you
We have listed above all free ad blockers that support multiple devices and browsers.
Most ad blockers are available as an effective browser extension or available as standalone apps.
It would help determine whether the free service meets your expectations or needs to upgrade to acquire more features.
Most ad blockers satisfy the need for basic ad blocking, but only some free ad blockers incorporate advanced ad-blocking.
If you don't like to add browser extensions, you can move to different browsers with built-in AdBlocker and prevent tracker.
For better privacy and security, we always recommend you to have a VPN that comes with free ad blockers than to go for paid ad blockers.