FTC disclaimer: This post contains affiliate links and I will be compensated if you make a purchase after clicking on my link.
Restriction or banning of websites can be annoying, and with time, government agencies are censoring or restricting content more than ever.
Sometimes, it may be possible that you like to access some websites, but it is blocked. Although the internet is working fine still, you are not able to access the websites.
There would be the possibilities that the website server was down. But, in most cases, it was either blocked by your ISP or restricted by a website server.
If you would like to verify whether the website is down for you or everyone, then you can use the tool like "Down For Everyone or Just Me."
Additionally, if you are using any spam protection software, that too would have blocked websites in a belief that it is the source of spam requests.
Websites can be blocked under three levels: Device-level, Network Level, or ISP/Government agencies level.
We have gathered some very easy to follow method to bypass any restriction or censorship to access blocked sites.
Quick Method to Unblock Blocked sites
Unblock Blocked Websites Using VPN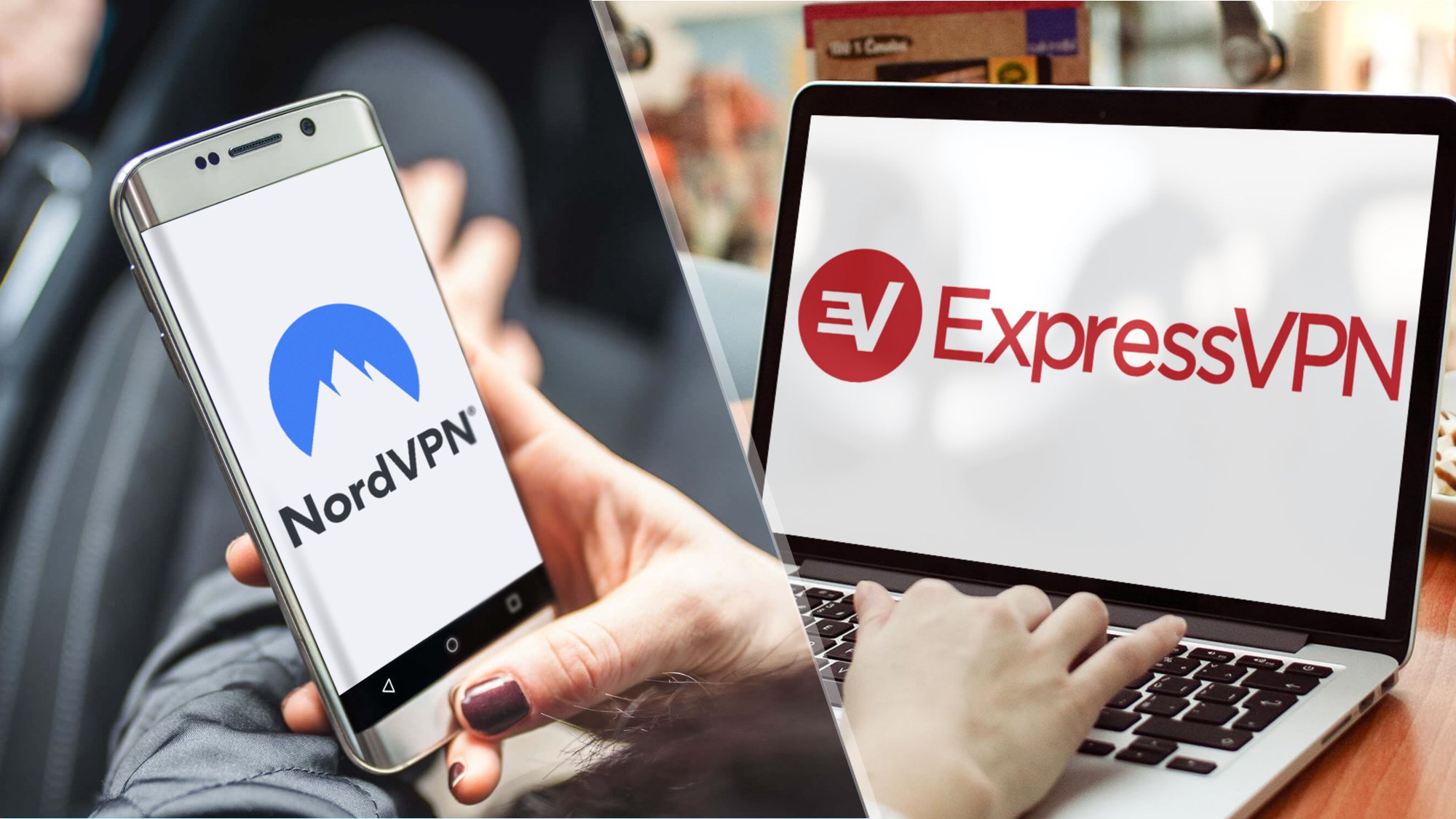 VPN is the most powerful and secure way to unblock blocked websites. When you start using a VPN, you can choose your preferred location, and it will assign an IP address to you.
So, whenever you request any website or web page from your browser, the request will appear to come from a new IP address.
In other words, the VPN server comes in between your device and the internet, and all the browsing activities are routed via the VPN tunnel.
In this way, the VPN able to mask the IP address. It is the IP address that reveals your exact location and the activity you perform in a browser.
Further, the VPN also encrypts your connection, so any type of data transfer or communication would not be visible to anybody. They don't even keep any logs, so you are secure from any third-party investigation.
Surprisingly, you will find many VPNs available in the market; some are free, and most are paid.
Most of the VPN may unblock any websites, but not all are secure and safe. It may be possible that your ISP may identify your activity.
To keep you completely safe, secure, and anonymous, we have sorted the top 3 VPN below.
Top 3 VPN to unblock blocked websites:
NordVPN is the best VPN you can use for any type of online activity. It is secure and comes with lots of features.
Whereas ExpressVPN is equally secure, but it lacks some features and a bit costly. But, if you are looking for a low-cost VPN with no compromise in security, then SurfShark would be a good deal.
Above all, VPNs support all devices like PC, MAC, Android, iOS, and also available as an add-on to most of the major browsers.
Using web proxy to unblock blocked sites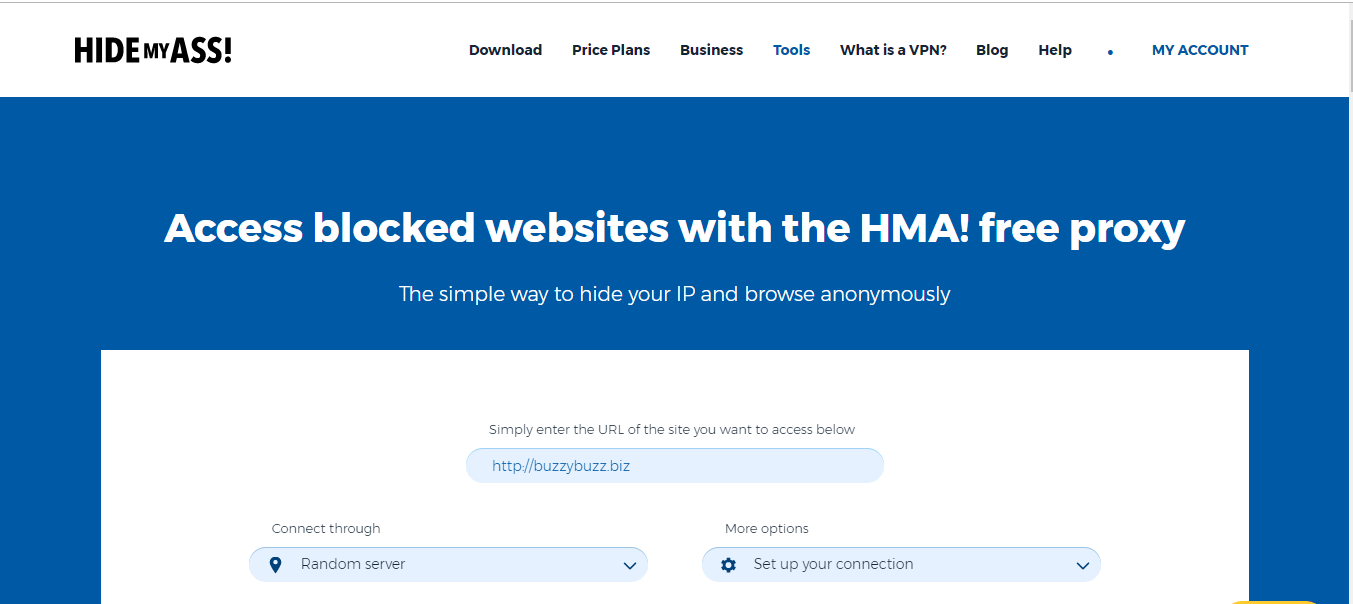 The quick and easy way to get access to any blocked websites is by using a web proxy.
How to use a web proxy to unblock blocked websites?
The web proxy sites can easily be opened using their URL. Once that's done, they allow other websites to browse from their site. They use an internet connection protocol through which you can access any website.
The web proxy works somewhat the same as a VPN, but they won't provide any type of encryption. It means that it is easier for school or college administration and ISPs to detect your online activity.
It may be possible that your ISP and school administration may have blocked access to the web proxy. But, still, there are hundreds of web proxy alternatives available for you.
Many good VPN companies also offer web proxy, which you can use for basic unblocking of websites.
Some useful web proxies are:
Unblock sites using web browser proxy extension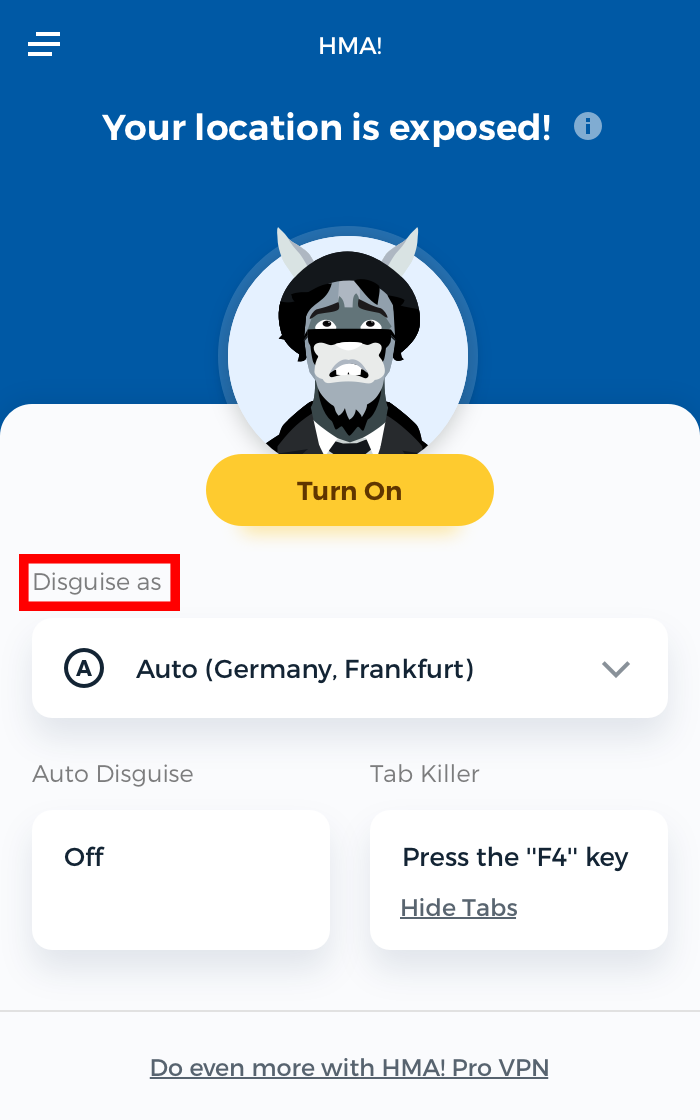 A web browser proxy extension is the most convenient and faster way to access any restricted sites. It simply sits right in your browser and ready to access block websites.
Unlike web proxy sites, you don't have to wait and waste time to navigate all the time to access multiple sites.
There is plenty of useful proxy extensions available freely for chrome and Firebox.
Some good proxy extension is:
Using Tor Browser to unblock websites online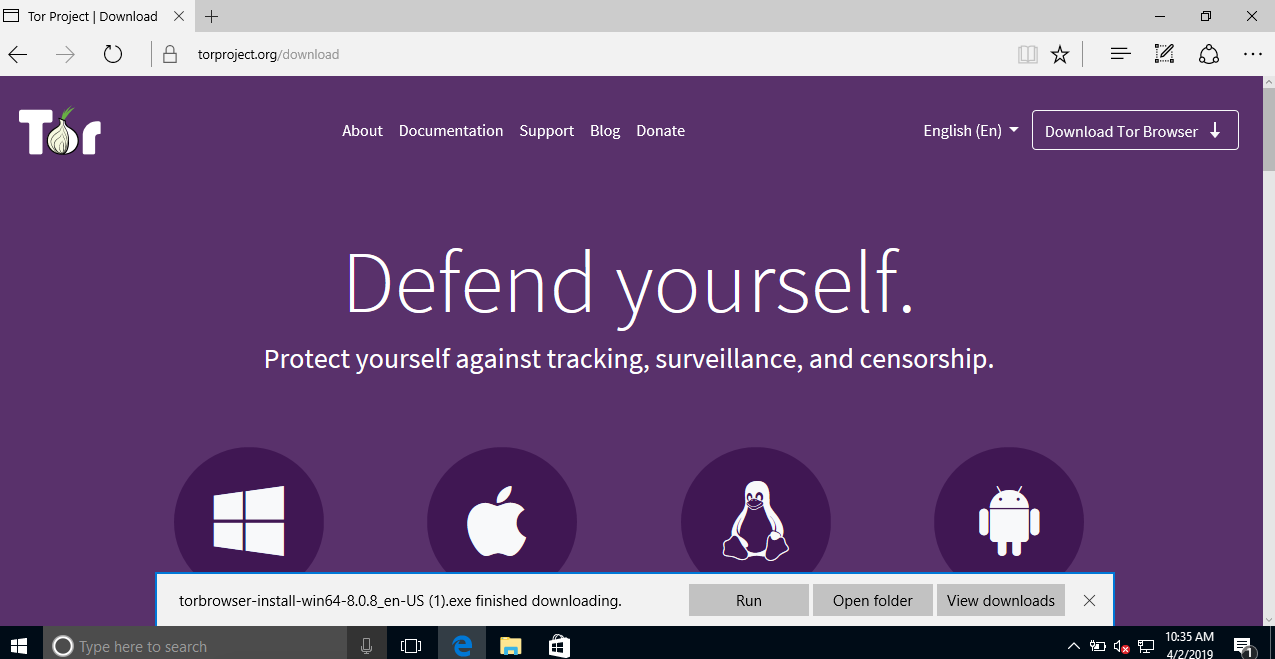 Tor is an open-source web browser that allows you to access sites anonymously and securely.
You can access restricted content easily using the Tor browser. But, the speed would be slow because of the layer of encryption the Tor browser is using.
Moreover, most of the places like schools, colleges, and workplaces won't allow you to install the Tor browser.
Currently, the Tor browser is compatible with almost all devices and platforms like Windows, Mac, Android, and iOS.
You can install the Tor browser from here and follow the instruction.
While launching the Tor browser, they will put two options "Connect" or "Configure." It means that you would like to configure before connecting.
The configuration option is for those who are living in a country where Tor was also censored.
To know more details on how to use Tor Browser to surf the web anonymously, you can follow this tutorial.
Further, to have complete safety and security with Tor Browser, you can use a VPN with Tor Browser.
Use a URL Redirect and shortening tool to unblock websites.
The URL redirect or URL shortening is one of the smartest ways to open block websites.
The method is applicable anywhere, especially in schools, colleges, or workplaces, where they use primary blocking restriction.
Some of the most famous services for URL shortening are:
This method works without a VPN, proxy, or Tor browser. So, how a URL shortening method works?
Suppose you would like to open a Facebook.com social networking site in your school, colleges, and workplace. Then, go to any of URL shorteners, such as is.gd and enter the website you want to unlock and press "Shorten."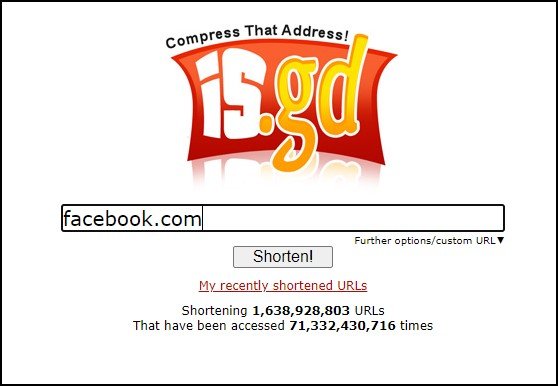 Now, copy the shorten URL and place it in the browser to open.

Without any problem, you can now bypass the restriction and open the blocked website.
Use a translation service like Google Translate.
Google Translate is one of the most effective methods to unblock blocked websites.
This method is also helpful if you are in school, colleges, and workplaces because Google Translate is a powerful tool, and there is no reason to ban it in an institute.

To bypass the restriction, you just have to convert block websites into another language. And, then click the translated URL, it will open up in the browser without any problem.
Use search engine cache.
This method works if you like to access the cached version of the websites. The administrator may have blocked the live version of the site.
So, in such cases, you can access the cache version using the search engine like Google.
For this, you need to go to Google.com and type in the website that was blocked.
Now, you need to click on a downward pointing arrow adjacent to the URL of the website and then click on "Cached" to open the cache version of the website.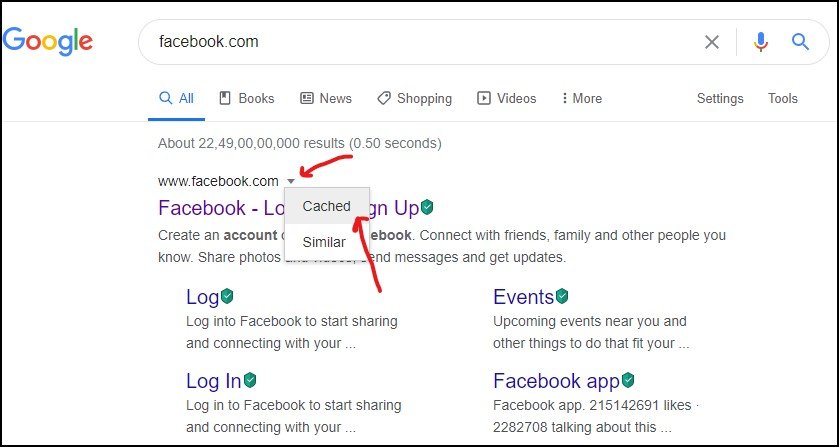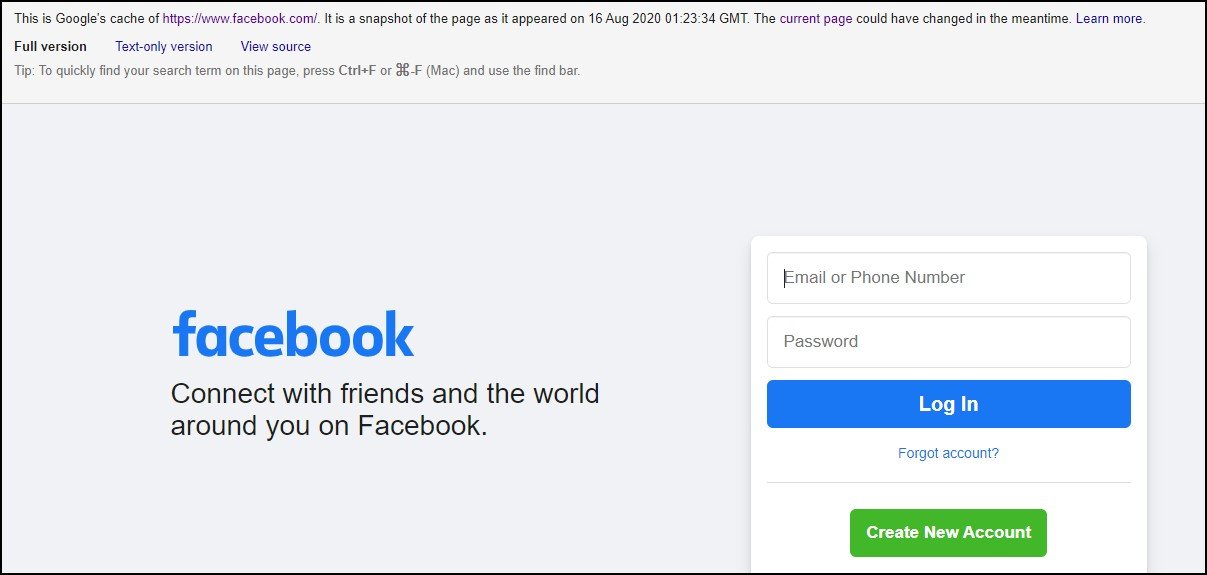 This way, it will open the cached version and bypass the blocked restriction.
Using proxies to unblock sites
The proxy server is somewhat similar to the web proxy. But instead of websites, the proxy server has a real IP address, which you can put on your browser setting and can surf any websites anonymously.
Though, it is very uncommon to use proxy servers only to unblock websites. The proxy server is mainly used for web scraping or by application to access content or files without any restriction.
If you still want to use proxies simply to unblock websites, then you can look for free proxy for a short period.
But, the free proxy is dangerous to use because it may steal your data and are more prone to malware or virus.
Additionally, the free proxy is not permitted to access most of the websites due to security concerns.
So, if you are looking for a more extended period then better look for paid proxies such as
Residential proxy
Elite proxy
These types of proxy servers act like real users on behalf of the client and are completely secure.
Using the IP address rather than the domain name
If the network administrator has only blocked the URL but not the IP address, then this method will work.
In such cases, you have to use the IP address instead of the domain name to open the blocked websites.
To use an IP address instead of the domain name, you have to find the IP address of the websites. For this, you can use a tool like IPVoid to find the IP address of any sites.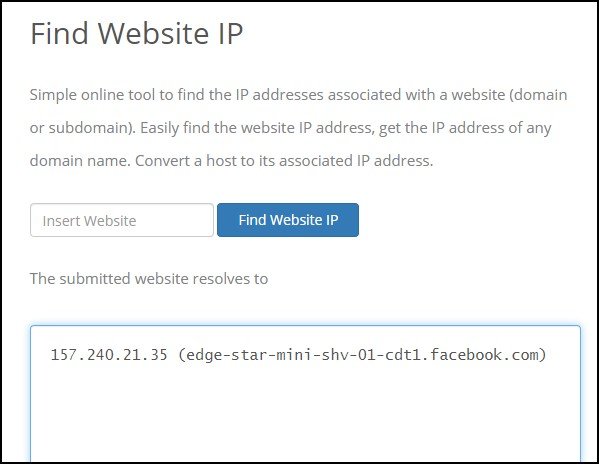 The flaws of this method are that some websites do not allow their server to use the IP address.

But, most of the websites like Facebook, BBC does allow access to their sites using the IP address.
Changing protocol from HTTP to HTTPS or vice versa
The changing protocol might help to unblock websites when they have blocked either HTTP version or HTTPS version.
You can switch from HTTP version to HTTPS version or vice versa to open block websites.
Suppose https://facebook.com version may have blocked, but it may open http://facebook.com version of the website.
Mostly, the HTTP version of the websites throws a security warning. But, you can ignore this warning if you are familiar with sites you are opening and click on the "Proceed Anyway" option to visit the website.
This is not a standard method to open any block websites, but it comes handy in some cases.
Changing DNS server to remove the restriction
Changing the DNS server is one of the quickest ways to unblock any websites. The DNS server is generally set up by your ISP.
To change the DNS setting, you have to go to Network and Internet (in Windows) and DNS Servers (in Mac) and change the default DNS or automatically acquired DNS to Google DNS or newly launched Cloudflare DNS.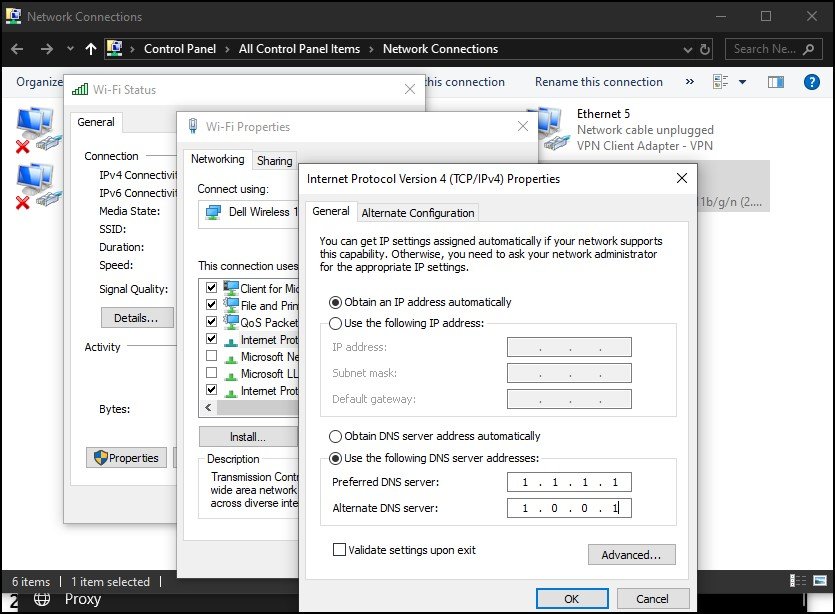 For Google DNS, you have to use Preferred DNS server as 8.8.8.8 and Alternative DNS Server as 8.8.4.4
For Cloudflare DNS, you can use Preferred DNS Server as 1.1.1.1 and Alternative DNS Server as 1.0.0.1
In Windows 10, you can follow the below path:
Control panel => Network and Internet => Change adapter settings => Right click on the Wifi network => Properties
For Mac, follow the below path.
System Preferences => Search for DNS Servers => Click plus button to add DNS server => Click again plus button to alternative DNS server.
Using Wayback Machine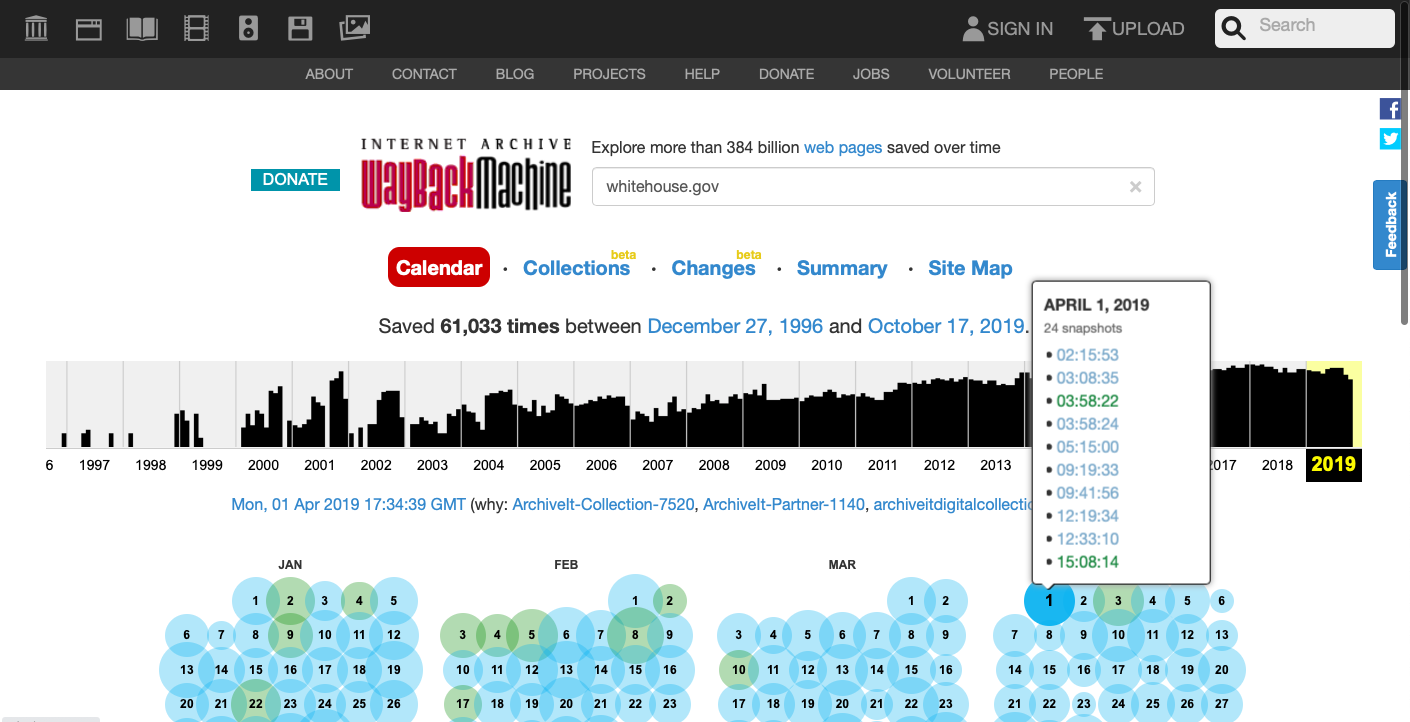 Would you like to access the previous version of the websites? Wayback Machine is an exciting way to open such sites.
Wayback Machine won't give you the current version of the website, but you can easily access a one-week-old version website captured by Wayback Machine.
Although, some of the functionality or media may not work properly as you can't be able to access those using a captured website.
But, it is great to access some of your favorite websites to read articles, listen to audio, or even view videos.
Keep in mind; you cannot use websites using Wayback machine where you have to first login to access websites, such as Facebook.com.
Using Portable Browser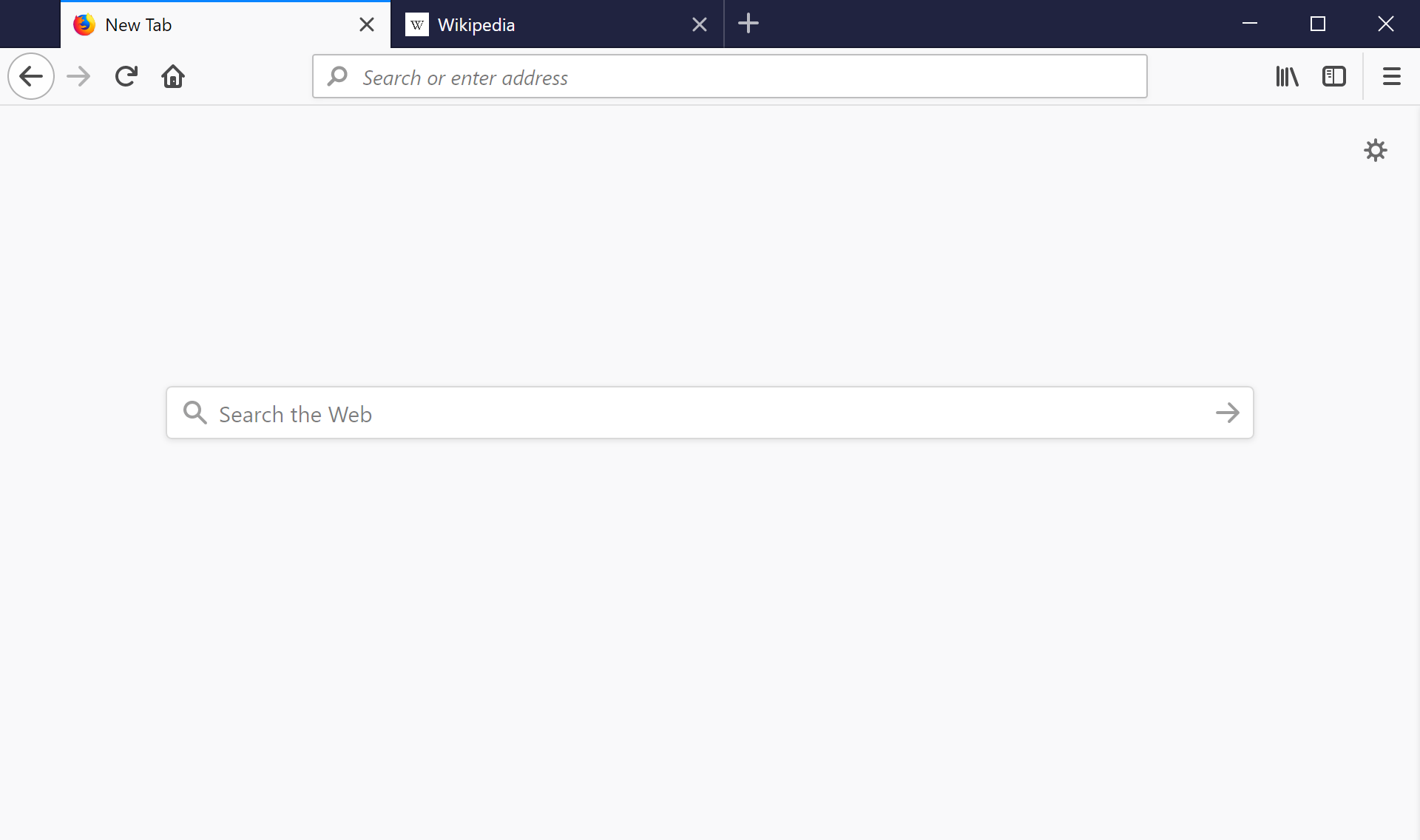 Carrying portable browsers like Firefox in your USB drive is another affordable way to open blocked websites in school or colleges.
But, in most schools, colleges, and workplaces, the use of any external drive is restricted. So, in such cases, this method won't work.
If the school, colleges, and workplace allow you to use your external drive or USB drive, then this is one of the best options to open blocked websites.
You can download a portable browser like Firebox or Tor Browser and transfer it to your external drive, and you are good to go.
Additionally, you can add browser extension like HMA, to browse safely and anonymously.
But, still, you won't get good privacy and security like what you get using a VPN.
Switch Internet network to access websites
Sometimes, it may be possible that your IP address was blocked by some of the websites or by your ISP.
In such cases, it is recommended to restart your Wifi router to get allotted with another IP address. Also, you need to clear your browser cookies and restart the browser.
Now, you may able to bypass the restriction and can able to access the blocked websites.
Most Common asked question
How to unblock websites in school and colleges using VPN
The VPNs add-ons would be helpful in school or colleges, where they would not provide authorization to install the application.
Some schools and colleges allow authorization to install any new application. But, due to internet filters, you are prevented from downloading the VPN app.
In such a case, you can carry a VPN installer along with other files in a USB stick and transfer them to your computer.
If it still doesn't work, don't worry. We have listed so many other methods above to unblock websites online free.
Is it illegal to use a VPN in school and colleges?
With very few exceptions, it is legal to use a VPN. Although, you have to go through your country laws and also read school policies to use VPN.
Secondly, we won't encourage any illegal activity by using a VPN, which may be vulnerable to students.
The Bottom Line
The most preferred way to open any blocked websites is by using a VPN. Because, VPN is safe, secure and you can access any website anonymously.
A good VPN like NordVPN, Express VPN has a strict no-log policy, which gives you internet freedom along with security.
Another good method is to use a browser extension like HMA and Tor Browser to open any restricted websites, but it won't provide you enough security. If you are accessing sensitive sites, then this method is not preferable.
Above all, if you like to access some websites for a short period, then you can take advantage of other methods to access restricted websites.