FTC disclaimer: This post contains affiliate links and I will be compensated if you make a purchase after clicking on my link.
A powerful SEO package which scores high in quality, productivity and deliverability will definitely give a lift to your online business in terms of ranking.
SEO powersuite is one such software based tool which provides complete package of SEO tools for your online presence with a one-time investment.
Though there are a ample of other SEO tools in the marketplace for website management, SEO Powersuite is far ahead in terms of features, compatibility, ease of use and deliverability.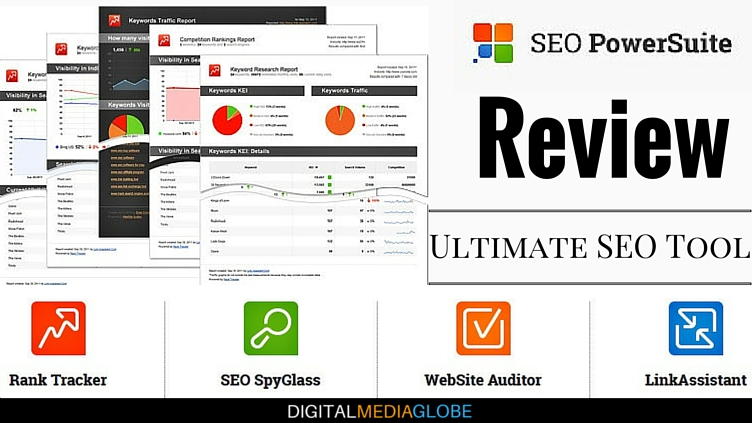 SEO Powersuite Review
Download SEO Powersuite for Free
The detailed SEO Powersuite review will focus on the above features, how it has played a central role to my blog and also you'll have a closer look on its feature, how and when to use, the automation features and how to keep monitoring your SEO campaign in terms of ranking, backlinks, and competition.
Before moving further, you would like to know what contains in an SEO Powersuite package.
Well, it comes with four different tool and all are desktop based complete SEO software packages.
Rank Tracker – Automatic Rank Tracking, Keyword Research and Analysis
SEO SpyGlass – In-depth Backlinks Research, Analysis and Anti-Penalty Link Audits
Link Assistant – Effective Link building, Outreach and Management
Website Auditor – Full Website Audit, Optimization, and Fixing an Errors and Links
All the software's comes with both free and paid version. The Free version is available for a free download.
Paid version has more advanced features and would be of tremendous help in managing your SEO campaigns, in link building for smaller to medium companies and for bloggers and website owners.
I would recommend you to give a try to their free version and get a hands on to understand the power of this tool and its usability in day to day life.
What You can do with SEO Powersuite?
Improve your website ranking and outrank the competition
Generate targeted traffic and sales
Able to find targeted, powerful and niche keywords for SEO campaigns
Able to find, analyze and manage backlinks from different sources
Can do In-depth competition analysis and management
You can run site audit, content optimization and error fixing of your website
Manage multiple projects and websites
Let's have a look on different SEO tools, its features, and what you can do with it.
Download SEO Powersuite for Free
If you are an online business person or a pro blogger, you would very well know the importance of keywords in SEO.
Rank Tracker is a complete keyword tracking tool which assist you in getting profitable keywords by using 18 inbuilt keyword suggestion tools. Rank Tracker also helps you to discover the competitive keyword and keyword difficulty of keyword list.
It also tracks the ranking of a keyword in search engine, analyze and generate report to provide better picture of the scenario. The automation feature of Rank Tracker checks the progress of a keyword in a predefined time and date.
Let's talk in detail what Rank Tracker can do for you
You can check the ranking of current keywords in search engines. The Built in automation feature will help you check it periodically.
You can even compare, monitor and check the ranking of your competitor. This will help you to improve your SEO campaign accordingly.
It will reveal the position of your keyword in a search engine which determines the competitiveness of the keyword
You can track your position in 325 search engine and you even can automate the tool for rank tracking.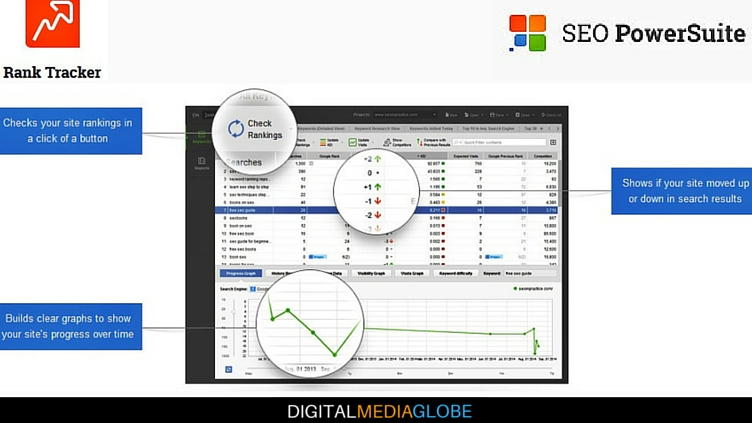 Helps you to discover profitable keyword from Google and Bing search engine.
You can even generate Google related searches, Google auto complete, and Yahoo search assist.
Rank Tracker has the power to harness keywords from Google webmaster tools, Google Trends, and Google Analytics.
Rank Tracker support various online tools such Keyword discovery and SEMRush.
Through Rank Tracker you will eventually come to know what people are asking or searching in Ask.com, Yandex and many more.
Want to build your own keywords? Rank Tracker comes with Word Mixer, Word Combination and Misspelled words, all of which will assist you to do it quite easily.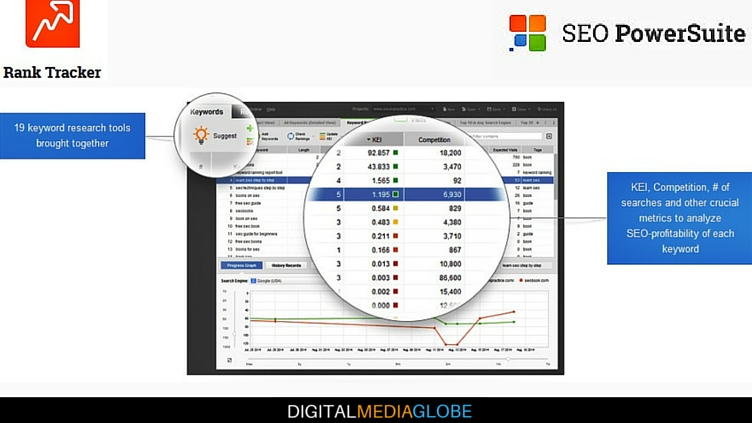 Generate Multiple Ranking and Traffic Report
You can generate ranking report (for Keyword) and visibility report (for search engine)
You can also gauge your visitor report and maintain keyword research report.
You can measure various metrics such as ranking, KEI (keyword Effective Index), competition, visitors and bounce rate.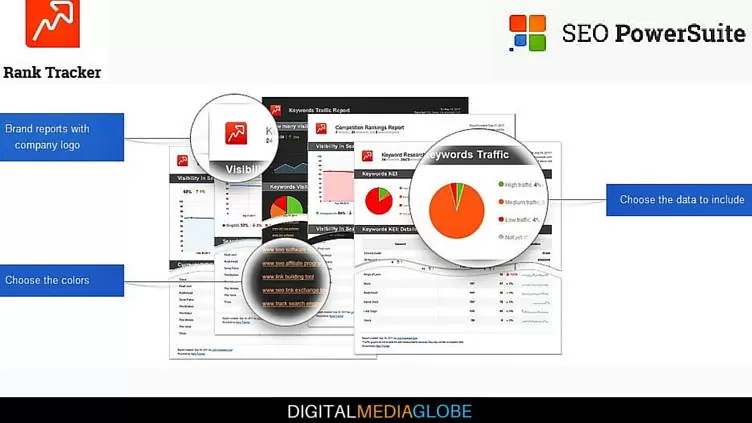 You can easily and conveniently manage multiple projects
Customize your project as per your convenience
You can even categorize and group the data by using tag functionality.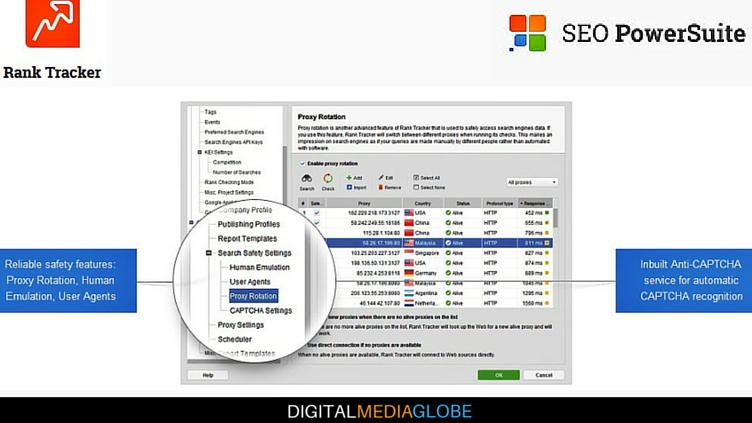 Rank Tracker provides multiple functionality and flexibility to configure in depth of your ranking data. Moreover, you can export your configured data in multiple formats (CSV, TXT, HTML, XML, SQL and many others).
Rank Tracker support multiple platforms (Window, Mac OS X, or Linux) and available for multilingual people.
Rank Tracker has comprehensive features which one needs to explore their ranking signal and dominate the search engine.
Download Rank Tracker for Free
You know very well that backlinks are the backbone of any website and if it's not done properly, your site rankings can be pulled down by search engine anytime.
I think webmasters are well aware of these facts and so that it's not about link building instead, you need high quality links which should be Penguin proof.
You need to discover and monitor your backlinks and even want to spy competitor backlinks. You need to keep an eye on every methods, tactics and sources from where the competitors are typically getting their backlinks.
Here comes the importance of SEO Spyglass. and let us see what SEO Spyglass can do for you.
Find, Monitor and Analyze your backlinks.
You can find all the backlinks which points toward your website.
You can monitor and analyze the credibility of your backlinks.
If you've already listed some of your backlinks, then simply you can import it and analyze them.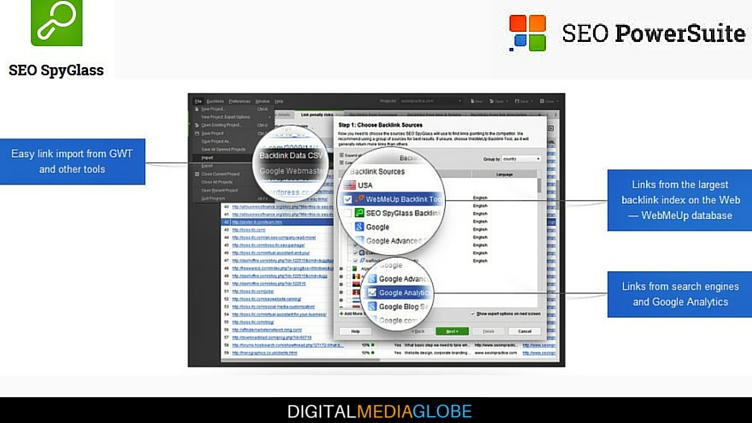 Run Anti-Penalty link audit for your backlinks.
It'll ensure and prevent you from penalty risk.
If needed, you can disavow the risky link or try to remove it by contacting webmasters.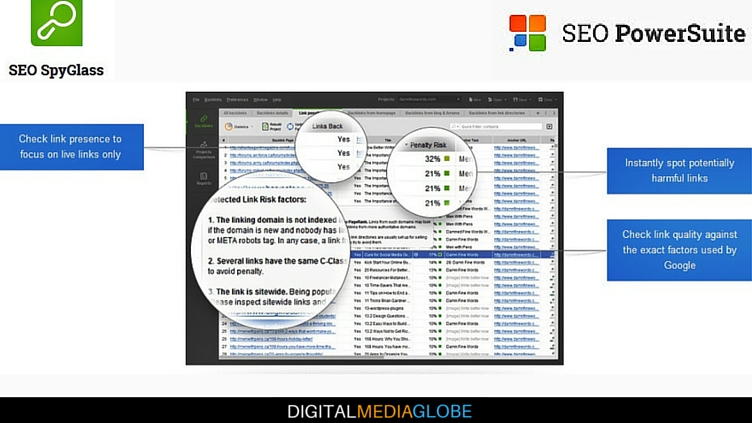 Fetch, compare and analyze competitor backlinks
You want to know how and from where the competitors are earning backlinks.
You can get the idea about the source (blog, directories, community) and its belonging.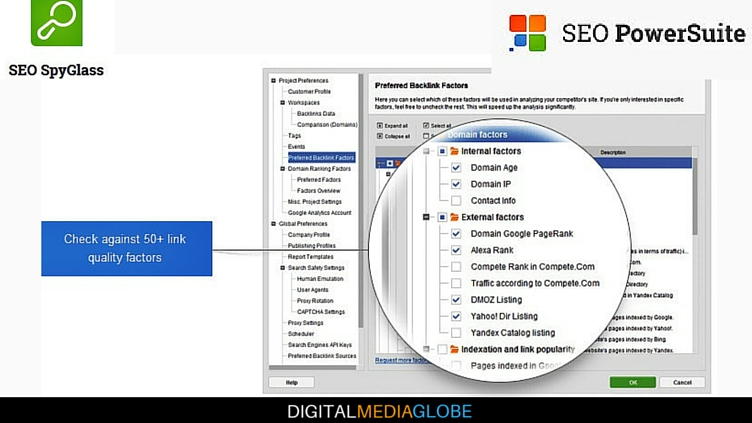 The above discussed tool will help you to save lots of time and to revamp your strategy for link building. If you want to analyze further, you can even generate report with a logo which can be helpful to you and your clients.
Download SEO SpyGlass for Free
Building links usually doesn't go wrong in ranking your website or to beat your competitor in SERP.
Now, as search engines are evolving and continuously getting updated, link buildings are the most difficult part to work on.
You have to work hard to earn a quality link. There comes the importance of LinkAssitant which will assist you in building quality backlinks.
You can do outreach for guest blogging, finding relevant blogs for commenting purpose, discover directories and business partners and much more.
Let's have a closer look on it features.
Find and manage opportunities for Outreach.
You can find blogs or website for outreach, its email address and the way to contact them.
Manage your outreach email for future assistance.
You can even contact webmaster to remove spammy links or to fix such issues.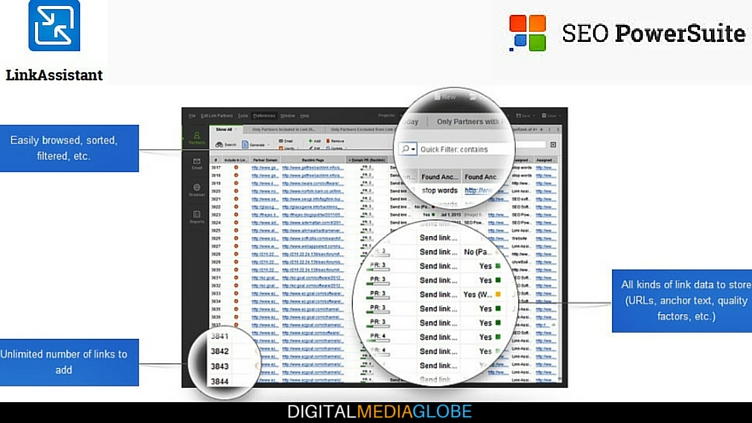 Verify backlinks conveniently
You need to verify whether a particular group is back linking or not
You can even import your current backlinks to know whether it's no-follow or do-follow.
You can manage or verify your blog commenting links whether it's accepted or linked back by webmaster or not.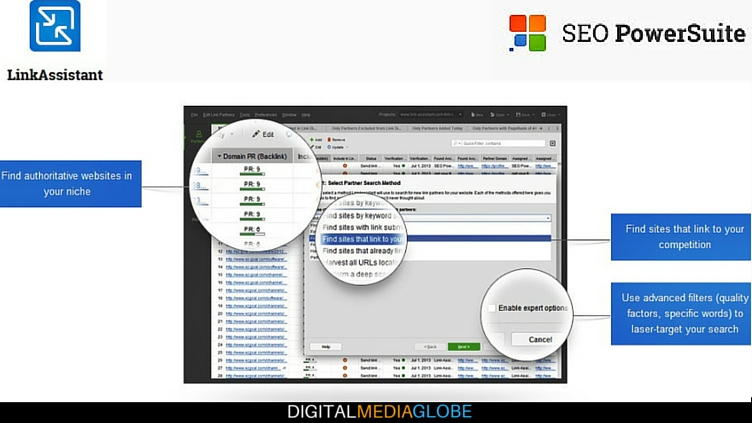 Identify various link building opportunities
You can search for forums based on your keywords and brand awareness; participate and maintain it from one place
Look for quality directories free or paid based on your niche
You can even look for review opportunities, giveaway products and services, find pages with link submission forms and other custom link building prospect in your niche.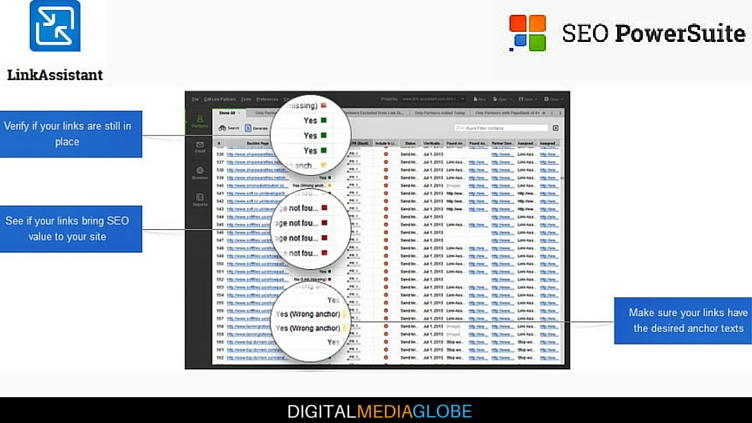 Other than that, you can maintain and monitor your link building prospect reports. This is one of the most effective ways to manage your link building campaign and monitor link acquisition.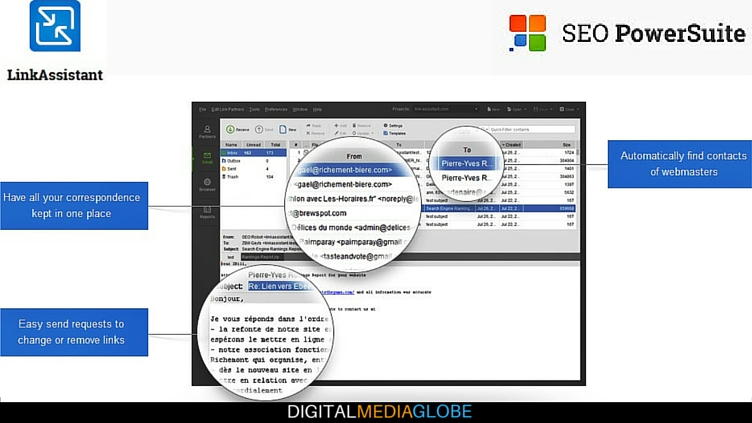 Download Link Assistant for Free
On-Page SEO is one of the major ranking factor but most of the time it was overlooked by webmaster or bloggers. It not only affects the search ranking but if the site errors are kept for longer time it may flag to search engines.
Most of the webmaster or bloggers hire SEO professional to fix the technical issue related to their websites which in return costs them huge bucks, while start-ups still can't effort to do the same.
Website Auditor comes handy as an economical SEO tool and efficient one too. This tool will help you to find, solve or fix an issue related to your website.
Even skilled SEO professionals miss out some errors while auditing but with Website Auditor it won't be a problem anymore. This way it will keep your ranking high in search engine.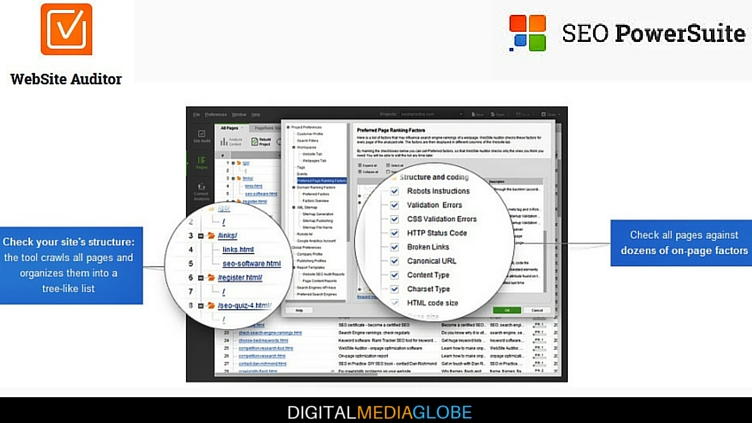 Let's have a look what Website Auditor can do for you:
Find and fix all type of Technical Issues
Identify whether your website is easy to get indexed and crawled by search engine. Website Auditor identify pages that are restricted for indexing by generating status code 4xx/5xx, examine the robot.txt file and probe the error pertaining with Sitemap.xml
Identify redirect issues (301/301 redirect), missing rel=canonical problems, fix pages containing frames and flash.
Website Auditor helps you to discover link problems (broken links, do-follow external links, and outgoing links) and fix the issues if the links are dynamic or too long.
Website Auditor identifies On-Page SEO issues (duplicity, title and Meta descriptions, and thin content) and generates solution how to fix them.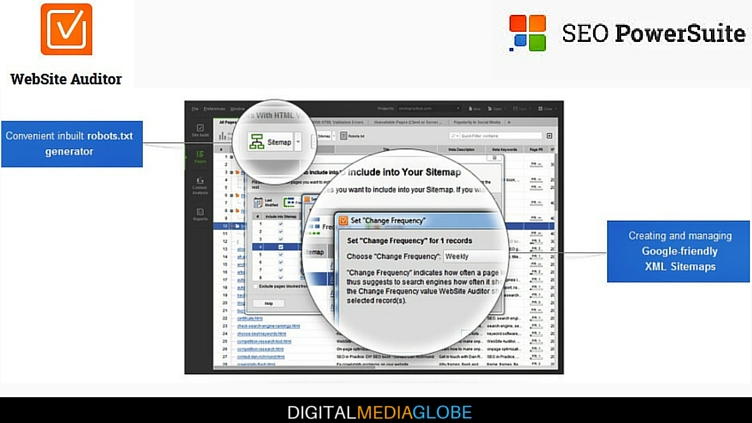 Build and Optimize content, XML Sitemap and Robot.txt file
Website Auditor has inbuilt features to generate XML sitemap and Robot.txt file, you just need to include the necessary pages which you want to get indexed in search engine.
It assists you to optimize content of every post or pages for your specified keywords
Keep track of your social media traffic and stats for each of your pages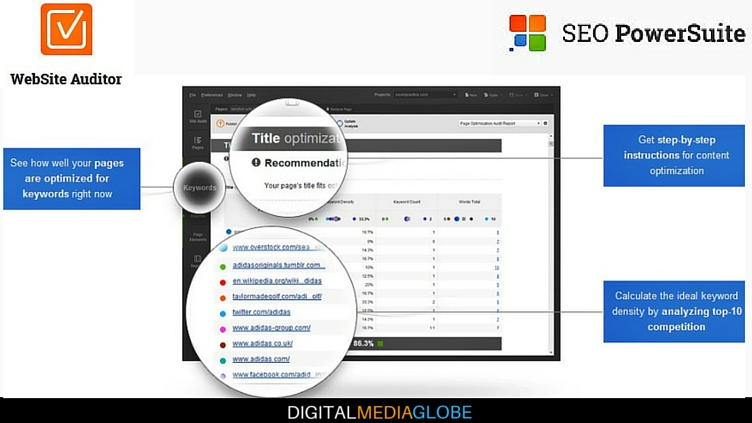 Download Website Auditor for Free
SEO Powersuite Pricing
You would be wondering how much does a SEO Powersuite will cost to you. But, the most important thing is that it's free to use and download (Limited).
But, if you're business owner or blogger, I would recommend you to buy professional SEO Powersuite, which has all features that is needed to run a successful SEO campaign.
So, let see the different pricing optiosn to choose from:
SEO Powersuite Free Edition ($0): The free edition of SEO Powersuite is great for those who is inexperienced or newbies. It gives them power to try their features for unlimited time, though the features are limited in free edition.
Professional SEO Powersuite ($299): The professional SEO Powersuite allows you to use unlimited website and unlimited projects to run on with more advanced features which are restricted in a free edition.
Enterprise SEO Powersuite ($699): In Enterprise edition, you'll get all the features of professional edition along with you've more advanced reporting features and data exports facility. The SEO Powersuite Enterprise edition is perfect for those who is managing clients or having multiple websites or organization.
Free SEO PowerSuite
Perfect to try SEO PowerSuite's functionality and how it works
$0
SEO PowerSuite Professional
Best choice for webmasters and website owners
$299
SEO PowerSuite Enterprise
A good fit for small and big agencies
$699
You may be thinking, what if I don't want all the tools in SEO Powersuite? The good news is SEO Powersuite tools are available individually too and you can click on the individual links below to buy them separately.
The bad thing is that if you buy them separately, it won't be cost effective but if your requirements are limited then definitely go for individual purchases.
While the cost is a concern, the professional version will cost you around $124.75 and enterprise edition will lead to $299.75.
Although, purchase depend upon individual choices and requirement but in terms of overall price and quality, SEO Powersuite beats every cloud and desktop based SEO software out there in the market.
Pros of SEO Powersuite
Cost effective and easy to use
Complete SEO software with the flexibility to have multiple projects and websites
Advance reporting features with import and export facility
Support for other cloud-based SEO software like Moz, SEMRush, Keyword Discovery and many more
It supports large number of search engines, Q&A websites, and other advanced search queries
Projects are highly customizable and manageable according to individual requirements
Regular updates, development and features addition
Proactive and rewarding customer support
Advanced tutorial for newbies (both video and doc format)
Download SEO Powersuite for Free
Cons of SEO Powersuite
Licenses are restricted to a single computer usage.
Individual purchase of SEO tools is not cost effective as compared to complete SEO Powersuite package.
Final Verdict
SEO Powersuite is more comprehensive, powerful, and a cheaper SEO tool for all SEO professionals, bloggers and business owners.
I've been using SEO Powersuite on my website quite a time or for other projects as well on a daily basis and it works fabulous for me.
Unlike other Cloud and desktop based SEO tools it is by far cheaper, effective and an essential marketing tool.
I've presented what I've experienced with this tool and it wholly depends upon your unique preferences, requirements and circumstances.
For me, SEO Powersuite is the most recommended and top marketing tool in my arsenal.
Let me know what you think about SEO Powersuite in a comment section. Have you experienced it? How much you gain by using it? What would be your other recommendation?