FTC disclaimer: This post contains affiliate links and I will be compensated if you make a purchase after clicking on my link.
If you are looking for free online photo editing tools that can quickly edit photos, there are plenty of free online photo editors like photoshop.
You can use a free online photo editor to improve selfies, fix blemishes, remove background, crop, and add text.
Further, you can also get advanced photo editing capabilities right from your browsers that don't require installation and registration.
You can also create designs for your social media post, marketing banners, presentation, logos, and more. Also, you can add filters and effects to your photos to take your editing skills to the next level.
Let's look into the in-depth list of the best free online photo editing tools for browsers.
Best Free Online Photo Editing Tools
Taler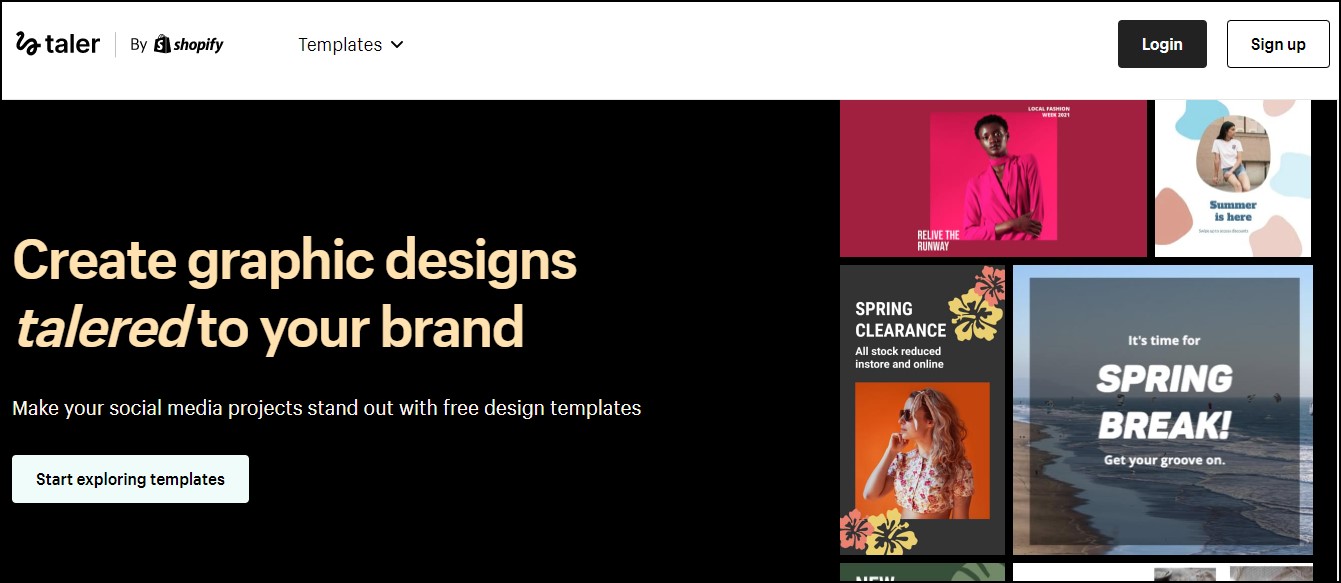 Taler is a free online photo editing app to create a custom design for your social media project. You will find free to use professional design templates for any project.
Moreover, you can also create your templates from scratch, which you can save to use later.
Also, you can build your content library that may contain a collection of curated designs, which will be perfect for any business.
The workflow starts with uploading the logo and personalizing the template with brand colors, custom fonts, and text designs.
You can also upload your photos, graphics, and icons simply using Taler's editor's drag and drop feature.
Taler online photo editing apps are created for small businesses who like to create stunning graphics and banners for portfolios and social media content.
The advantage of Taler is that it is free and doesn't need to install. You only need a mobile or desktop browser to access the Taler app.
You can easily select templates and create a Facebook banner, Instagram stories, Etsy banner, and more.
Fotor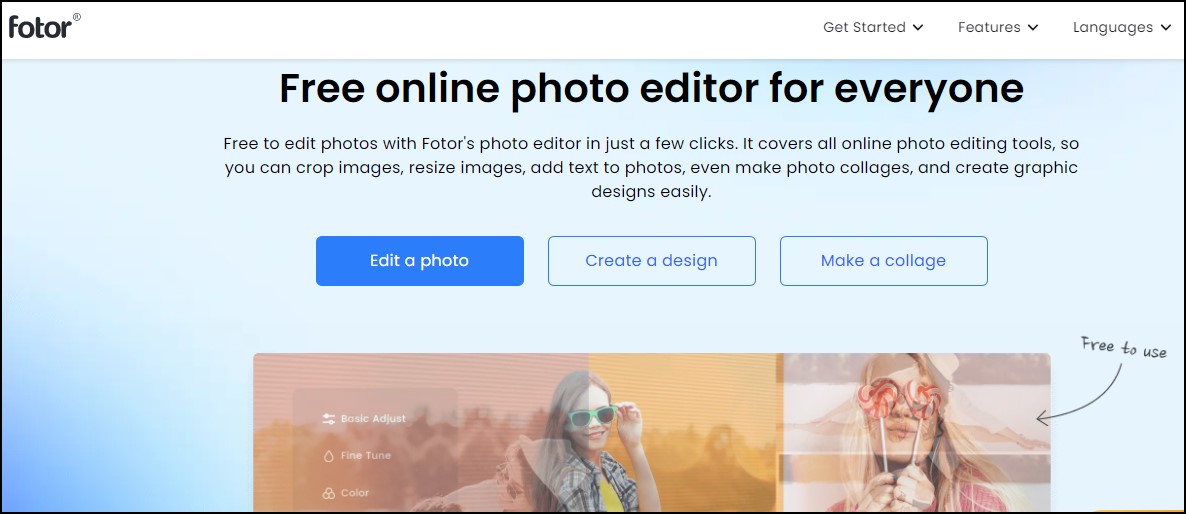 Fotor is a free online photo editing tool that comes with tons of features to edit your photo in just a few clicks.
You create graphic design, make photo collages, crop and resize images and add text to photos.
Also, you can remove the background of photos, apply effects, enhance photos and retouch portraits.
The workflow starts with uploading images and then selecting a feature from the menu. You can adjust and preview pictures and later on download and share.
Fotor is suitable for professional photographers, graphic designers, and individuals who like to edit images with basic features quickly.
Canva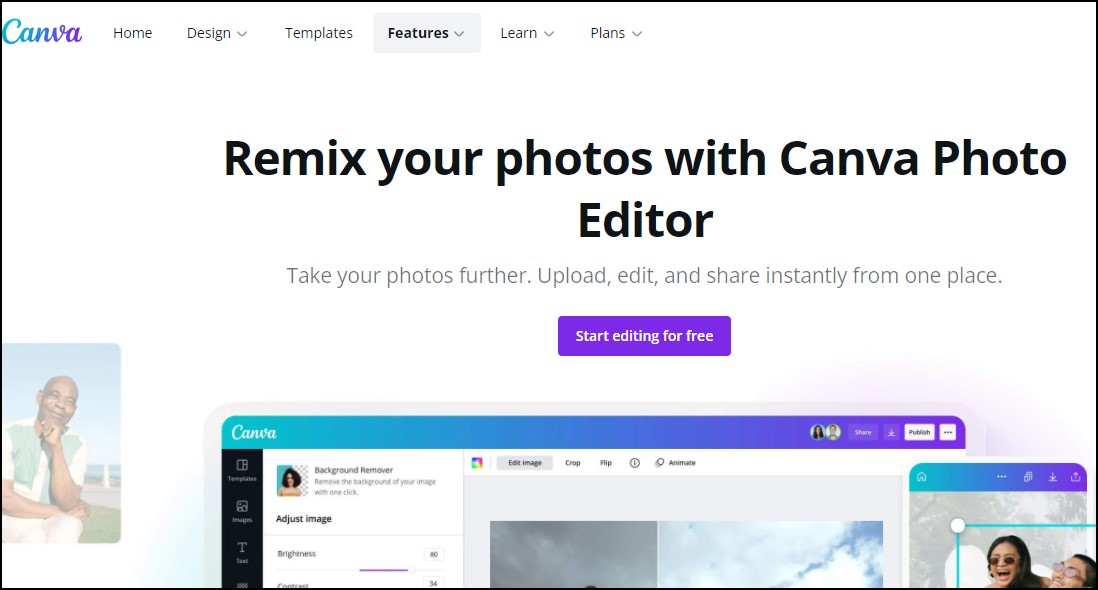 Canva is a free, simple, and effective solution for your photo editing project. It has a vast selection of templates for social media banners, presentations, marketing posters, and videos.
The photo editing process starts with drag and drops options, and then you can select freely available stock photos, pre-made illustrations, and vectors.
Further, you can add filters and adjust brightness, saturation, contrast, and vignettes.
Additionally, you will have features like background remover, autofocus, smart mockups, and more.
The Canva provides you effortless photo editing solution that creates impactful and standout content.
Wondershare Pixstudio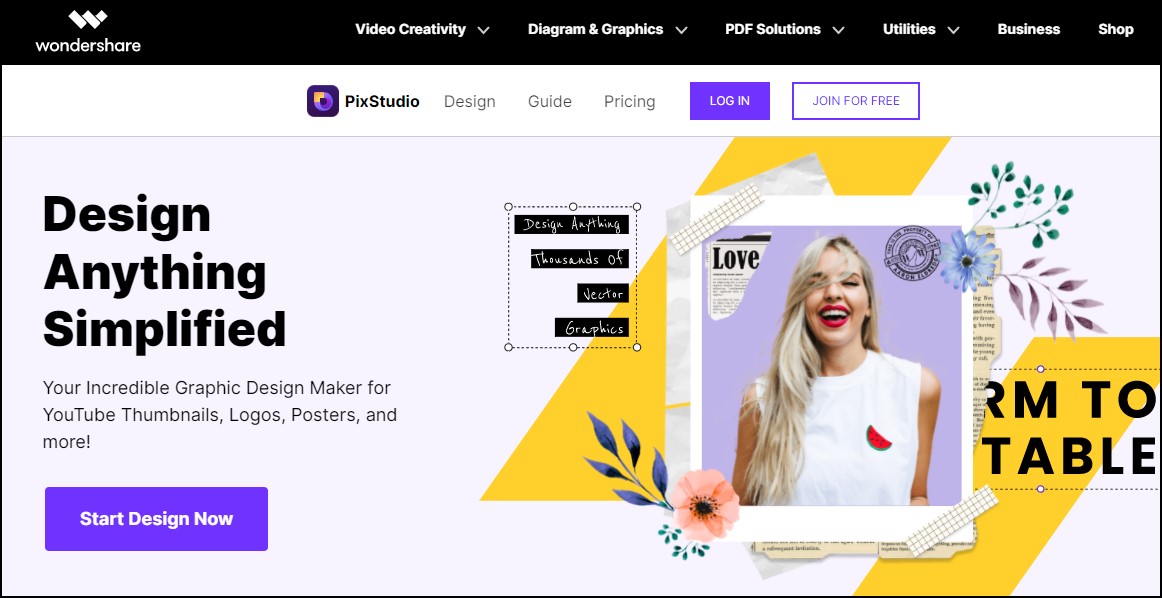 Wondershare Pixstudio is a free professional online photo editing tool to make YouTube Thumbnails, logos, posters, and more.
You don't need any professional skills to create graphic design. They have tons of professional drag and drop templates for invitations, social media posts, event posters, presentations, and more.
After creating a graphic design, download your creation and share it to Facebook, YouTube Thumbnails, and Instagram stories.
Additionally, you can customize your templates, quickly remove background color, add vector graphics, and more.
Pixlr X Photo Editor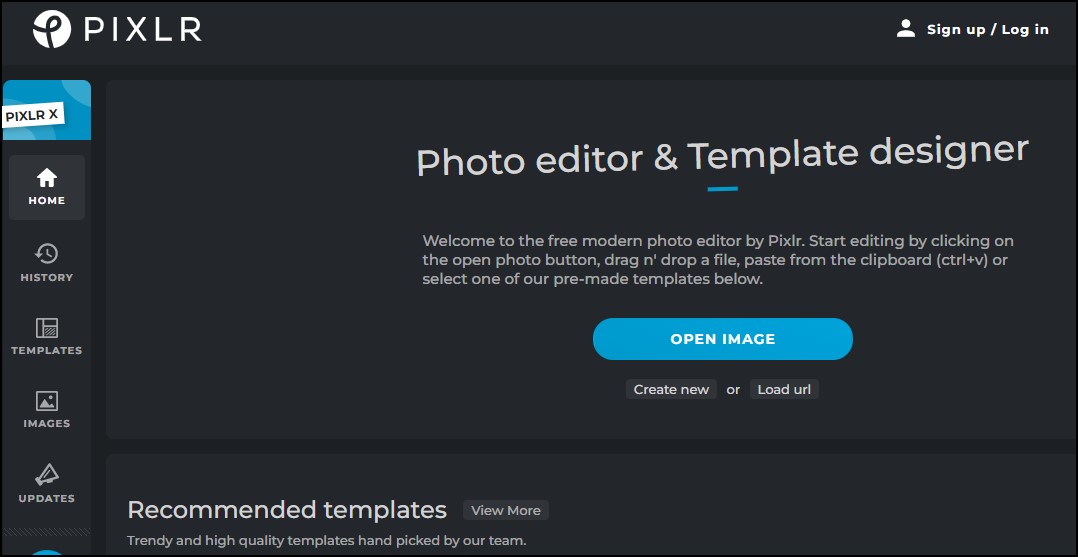 Pixlr is a free photo editing and design tool that can create stunning designs right from your browser.
You can use the professionally crafted template to create presentations, business cards, brochures, Instagram stories, YouTube banners, resumes, and more.
Pixlr has features like AI-powered background remover, photo collage maker, and transform your image with creative photo filters and effects.
Polarr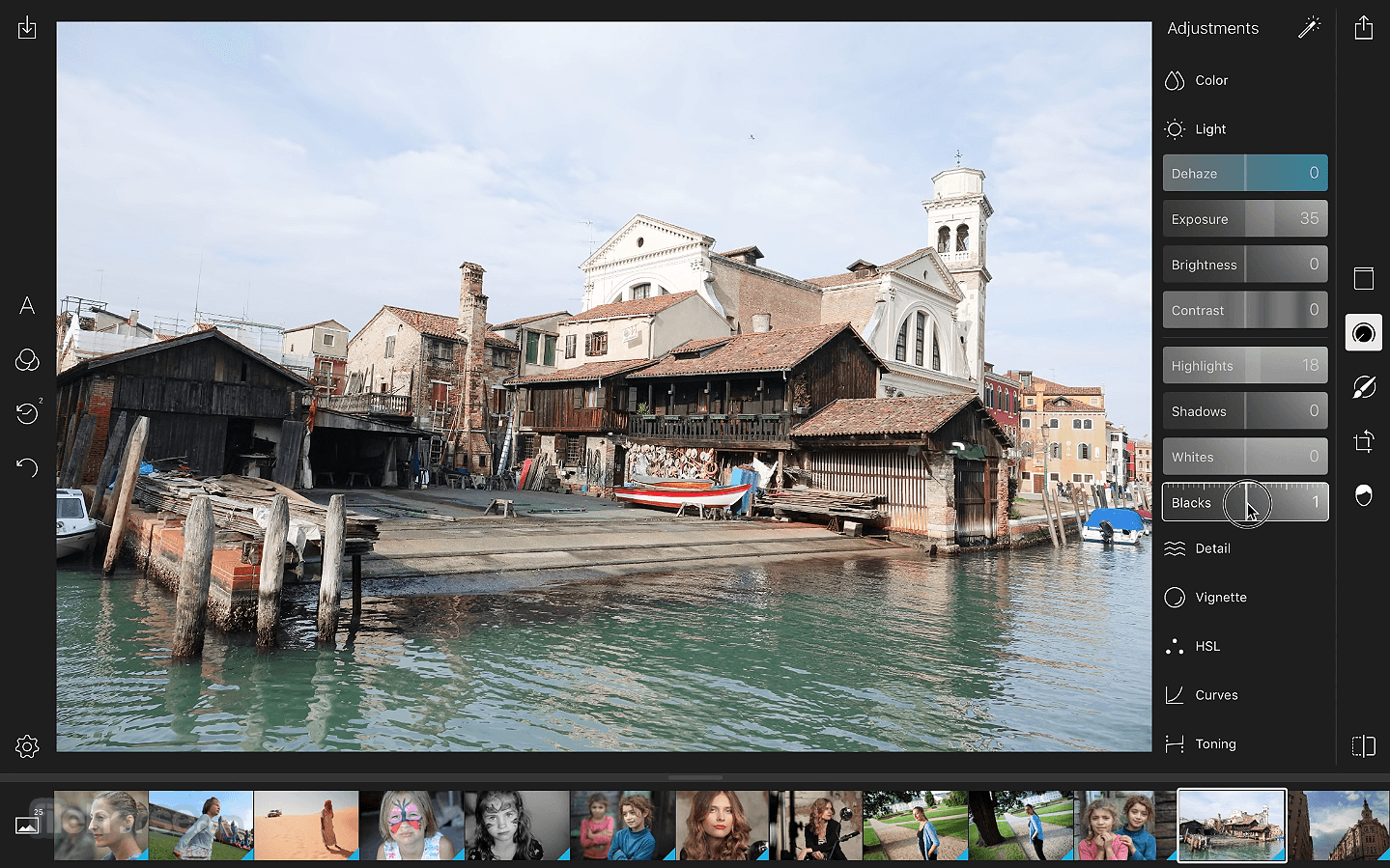 Polarr photo editor is a free photo editing tool that offers advanced enhancing tools and filters to edit every detail.
If you are a photographer, you would like to have local adjustment, layer support, curve tools, and border tools.
The border tool is an advanced and intelligent tool that will suggest colors based on the photo's colors.
Additionally, they have features like the Gradient mask, which lets you edit sections of your photos in straight lines. It helps edit landscape and nature photos.
The other features include depth masks, custom filters, color tools, color masks, flattening images, and face tools. Also, you can use the facilities like batch export, import filters, keyboard shortcuts, copy and past edits, and many more.
Further, you can change image quality dimensions and even add a watermark when exporting your creative.
Befunky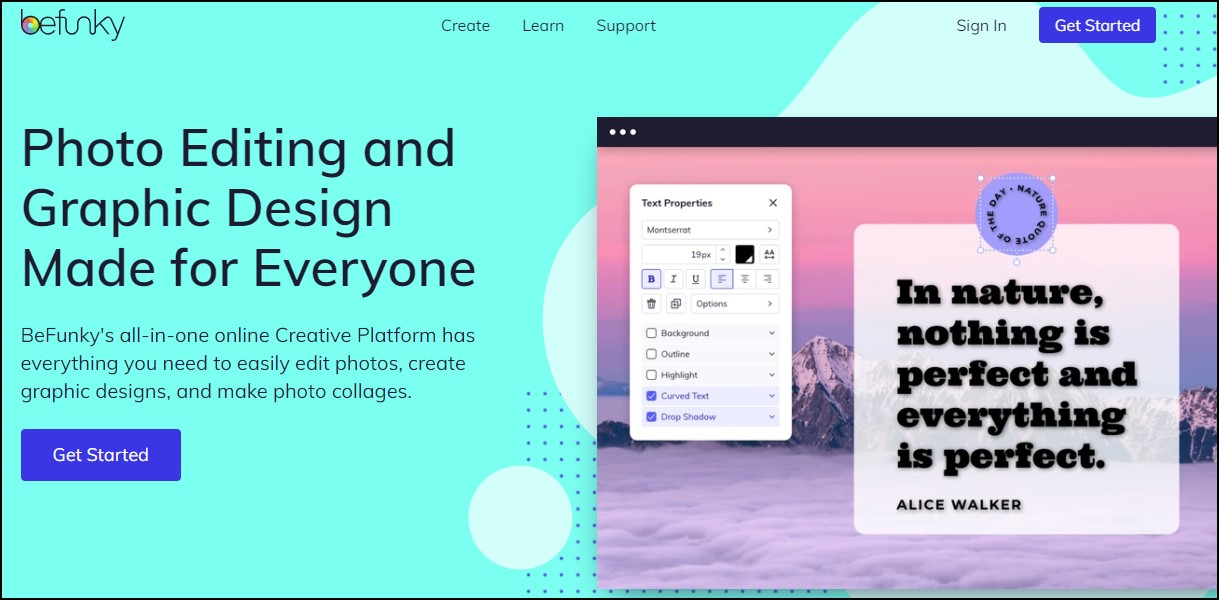 Befunky is a free photo editing and graphic design tool that can edit photos, create graphic design, and make photo collages.
It is an all-one creative solution with features like crop and resizing photos, batch edit photos, turning photos into art, removing background color, retouching portraits, and a one-click collage maker.
Befunky has many professionally designed pre-made templates, which you can customize to create a stunning design.
Also, you can add free stock photos collected from Pixabay and Pexels. Furthermore, they also have a good source of free vector graphics and icons to create the perfect design.
Befunky is an excellent alternative to a complicated, expensive photo editing tool that can create a beautiful graphic design online with a drag and drop facility.
It is an easy-to-use graphic design tool that helps you create a design project from scratch.
A collage maker is an additional tool to create Facebook, Pinterest, Instagram, and Twitter content designs.
Lastly, you can also explore their unique effects like Enhance DLX, Digital Art, and Cartoonizer.
iPiccy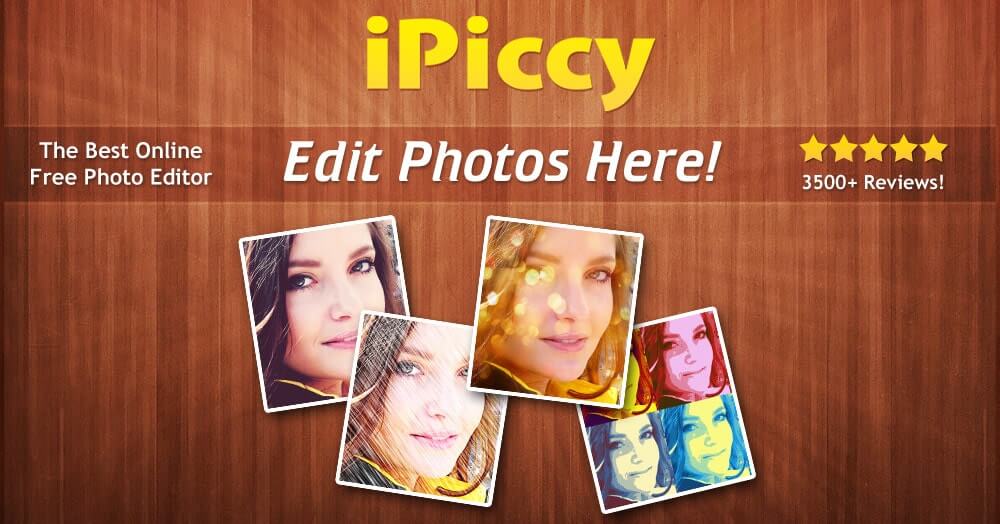 iPiccy is a free online photo editing, graphic designing, and collage maker tool that make your photo awesome online.
It has basic features like crop, rotate, resize, and auto-adjust images in one click. It has advanced features like Pro-level photo enhancements, facial retouching and frames, and 100+ photo effects.
You can use graphic design tools to add text, overlays, and stickers to a creative. Also, you can add stunning text effects and apply vector masks to your unique design.
Wrap-up
The best free online editing tools have basic and advanced features to serve small businesses and entrepreneurs.
You will find a collection of freely available stock photos thousands of drag and drop templates, ready to use professionally designed graphics and icons.