FTC disclaimer: This post contains affiliate links and I will be compensated if you make a purchase after clicking on my link.
The free online audio editing app is convenient for creating, editing, converting, and recording audio files.
You don't need any download, installation, subscription, or trials to start using the online audio editor.
Most of the free audio editor provides free online storage to Google Drive, Soundcloud, Dropbox, and more.
The web-based free audio editing tool only requires a web browser.
It covers all your essential editing features, but you can download a free audio editing software program for a more professional editing tool.
Best Free Online Editing Apps and Tools
Audio Cutter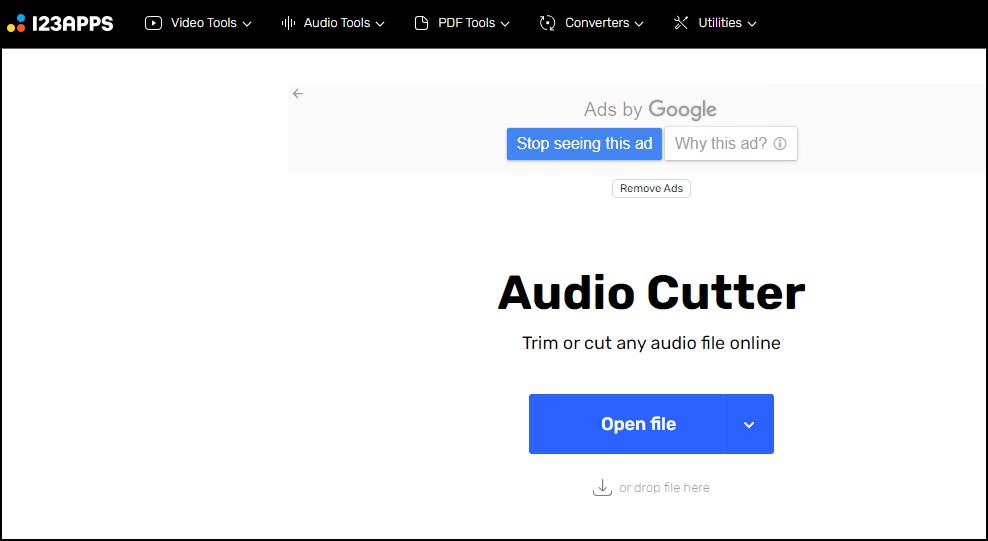 Audio Cutter is an easy-to-use free online audio editing app that requires no skills.
Further, you don't need to install audio editing software on your computer to start using the service. You can upload the audio file directly from your computer and start selecting and cutting the file.
It has a feature like fade in and fades out that let you create a phone ringtone. Moreover, you can also make ringtones for your iPhone devices and save the output file in m4r format.
Currently, it supports more than 300 different formats. Additionally, you can use Audio Cutter to extract sound from music videos or movies.
They also provide you with a detailed guide on trimming a song, cutting music, extracting sound from video files, and making a ringtone for iPhone.
Audiotool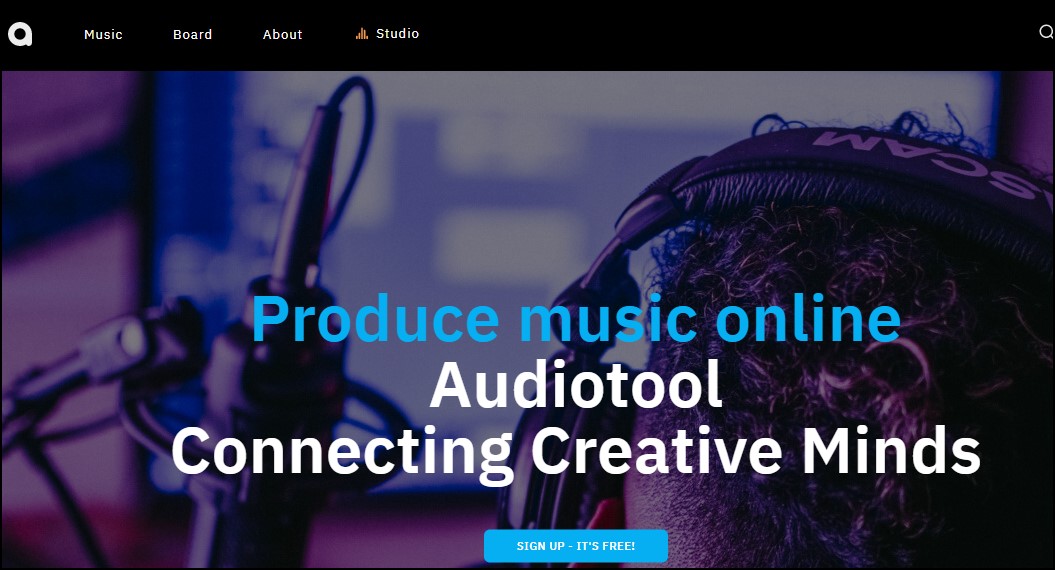 Audiotool is an award-winning free audio editing tool online that you can use right from your browser. It doesn't require any installation and trial period.
It has an intuitive user interface that helps you produce professional music and unleash your creative potential.
They give access to a library with an extensive selection of 200K presets and effects for your inspiration.
It also gives access to three drum machines and recreations of famous vintage drum machines that take your track to different levels.
Further, you can use the excellent range of synths ranging from subtractive to spectral synthesis to design your sound.
Moreover, they have an excellent collection of audio tools like 28 unique FX, including MIDI effects and powerful mastering tools. It increases the possibility of creating every sound you need.
Soundation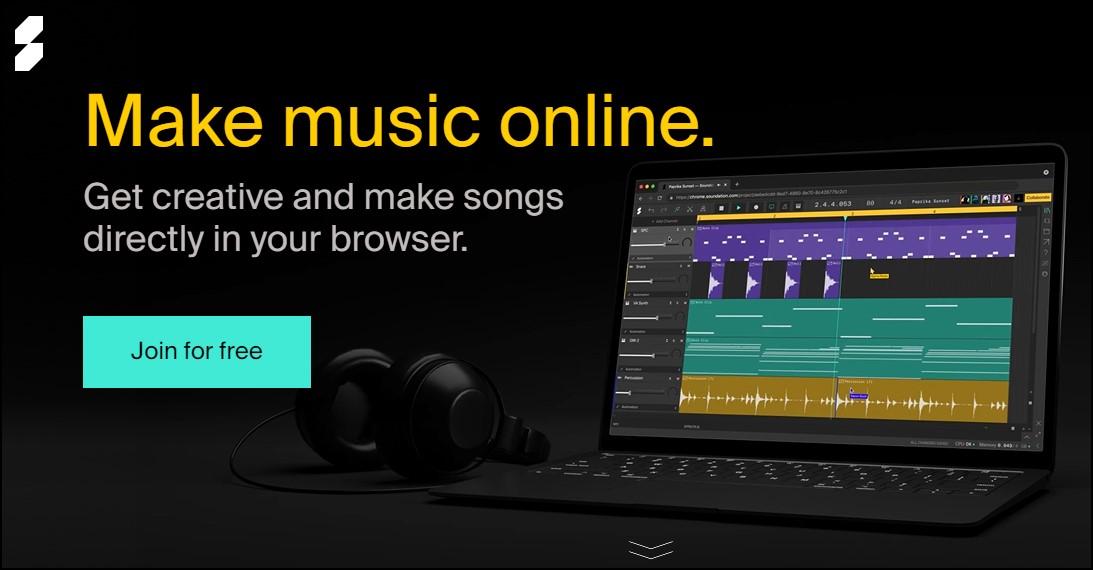 Soundation is another free online audio editing tool with multiple features to create your beats.
It has ready-to-mix basslines, drum beats, and melodies in the library. Moreover, it also provides easy-to-use drum machines, synthesizers, and samplers.
Further, you can get audio effects from reverb to distortion to the equalizer.
They have additional features like real-time collaboration, publishing music online, and building a fan base.
You can start with a free plan that provides you with three projects and 1 GB of storage. And if you need more features and storage, look for paid options.
TwistedWave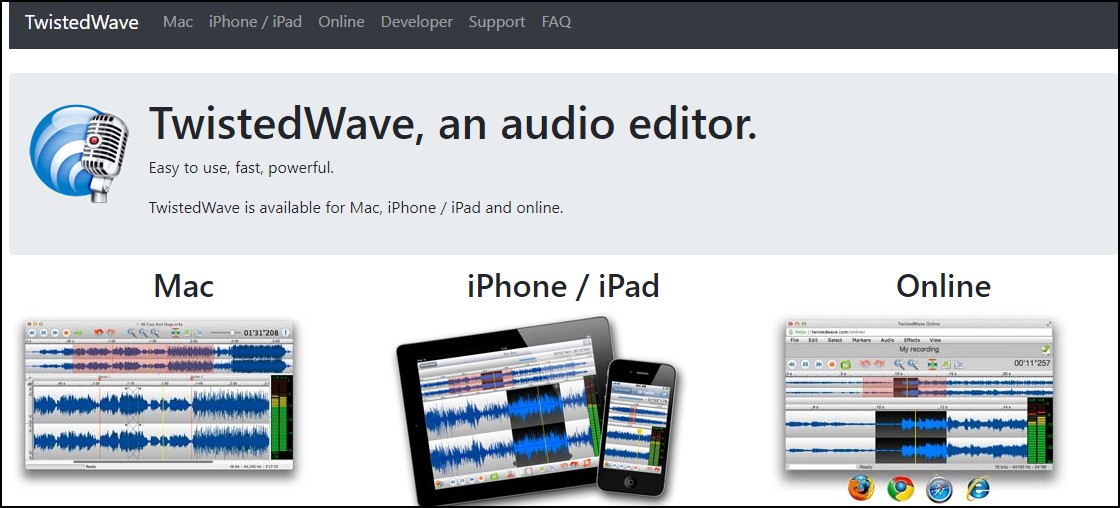 TwistedWave is another browser-based audio editing tool that requires installation or download.
You can access and process all your workflow directly from the browser. When you are done with editing, then close the browser.
All your work will be saved in the TwistedWave server. So, when you access again from a different location or browser, you can still start from where you have stopped.
The TwistedWave free account has basic features like VST effects, normalization, amplification, and more.
You can also convert sample rate, uncompressed audio recording, and manage all your audio files in cloud storage.
Additionally, TwistedWave allows you to export audio files to Soundcloud and Google Drive.
Online MP3 Cutter Pro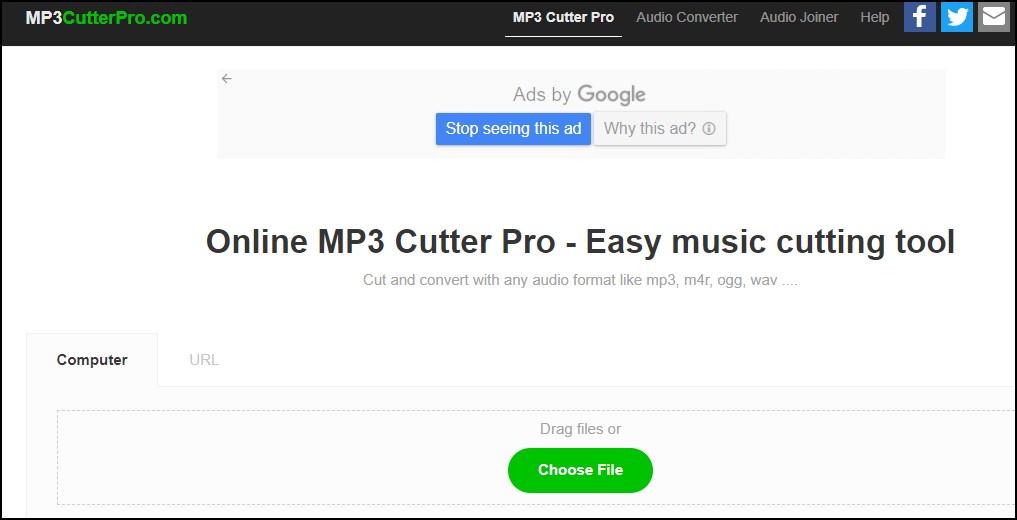 Online MP3 Cutter Pro is a free online audio editing tool that supports cutting and removing unwanted audio recordings.
You have to upload the audio file and select your audio file's start and end times. Further, it has additional options like converting audio format and setting to fade in and out.
The fade in and fade out feature is instrumental in creating phone ringtones by adding fading effect.
It is a web-based tool that supports all platforms and provides reliable security. The upload file is hosted in the Amazon cloud, and it will be deleted after 24 hours.
It supports multiple formats like WAV, MP3, M4A, AAC, OGG, FLAC, AIFF, M4R, and more.
Bearaudio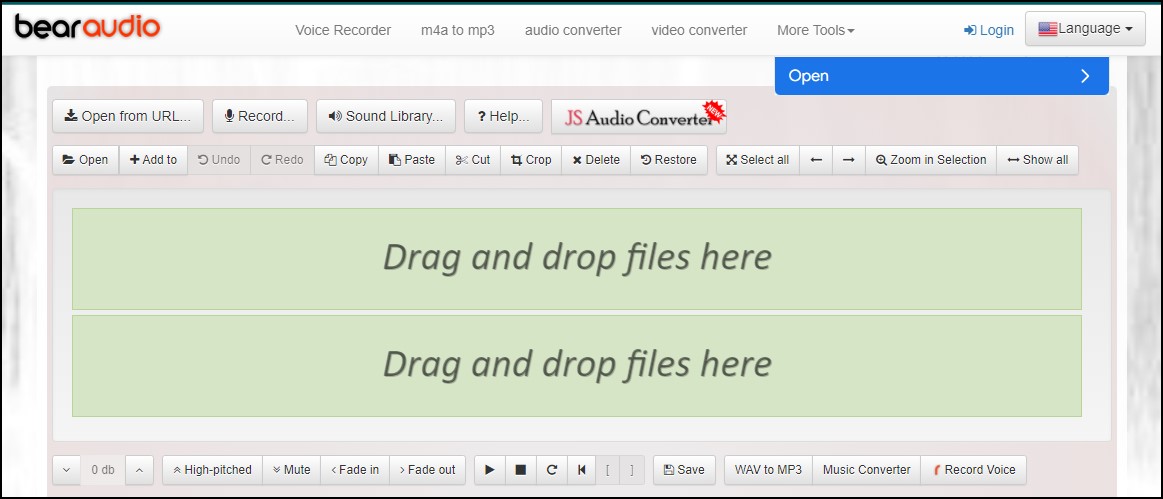 Bearaudio is another web-based audio editor that doesn't need installation, download, or upgrades.
You need to upload files online from a computer URL or record sound from a microphone.
It has easy to use interface that can process the following operation like cut, delete, merge, split, fade in, fade out, adjust pitch, and more.
Further, it supports multiple formats like MP3, AAC, WMA, M4R, OGG, WAV.
Audacity audio editor online

Offidocs comes with free Audacity audio editor online that matches premium features.
It has multiple features like cutting and combining clips, special audio effects, removing noise, and more. It is suitable for professionals who create music, audiobooks, and podcasts.
You can import the audio file or recording and then export it in multiple formats like FLAC, WAV, AU, AIFF, and more.
Further, you can use features like high-quality resampling and dithering to convert sample rates or formats.
Additionally, you can add audio effects, remove noises, alter frequencies, adjust volume, remove vocals and create a voice-over.
Audacity audio editor online has a built-in effect that includes echo, phaser, reverse, truncate silence, and more.
Apowersoft Free Online Audio Editor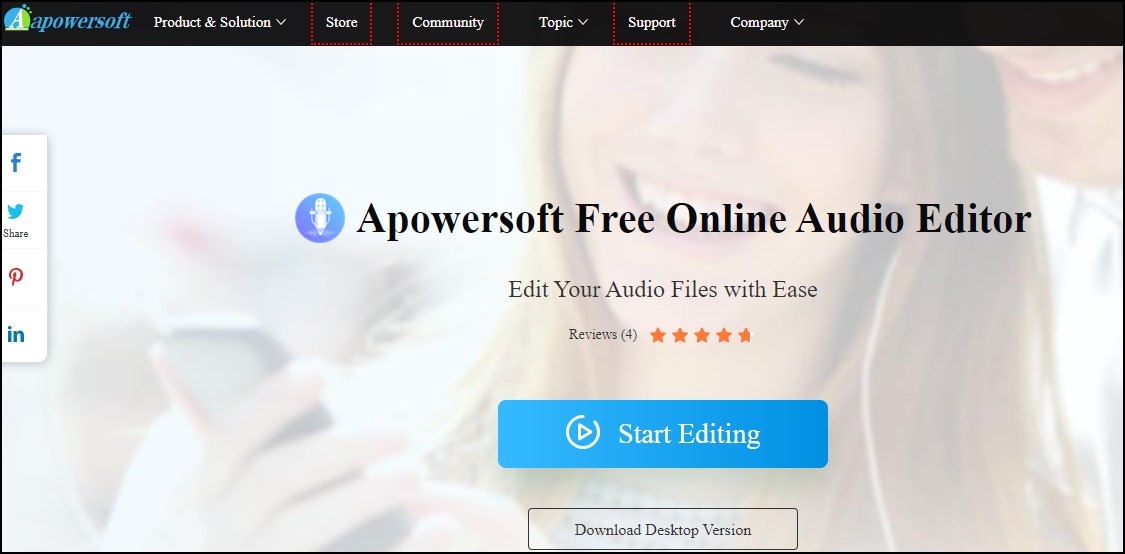 Apowersoft Free Online Audio Editor is a completely free online audio editing tool. You can have unlimited editing features, and audio files are processed under tight security.
You can perform editing features like trimming MP3 files, merging songs, and mixing several soundtracks.
The import and export of the file support a wide range of formats like M4A, WAV, MP3, AAC, and more.
In last, you can analyze audio online to visualize frequencies and plot spectrum.
Sodaphonic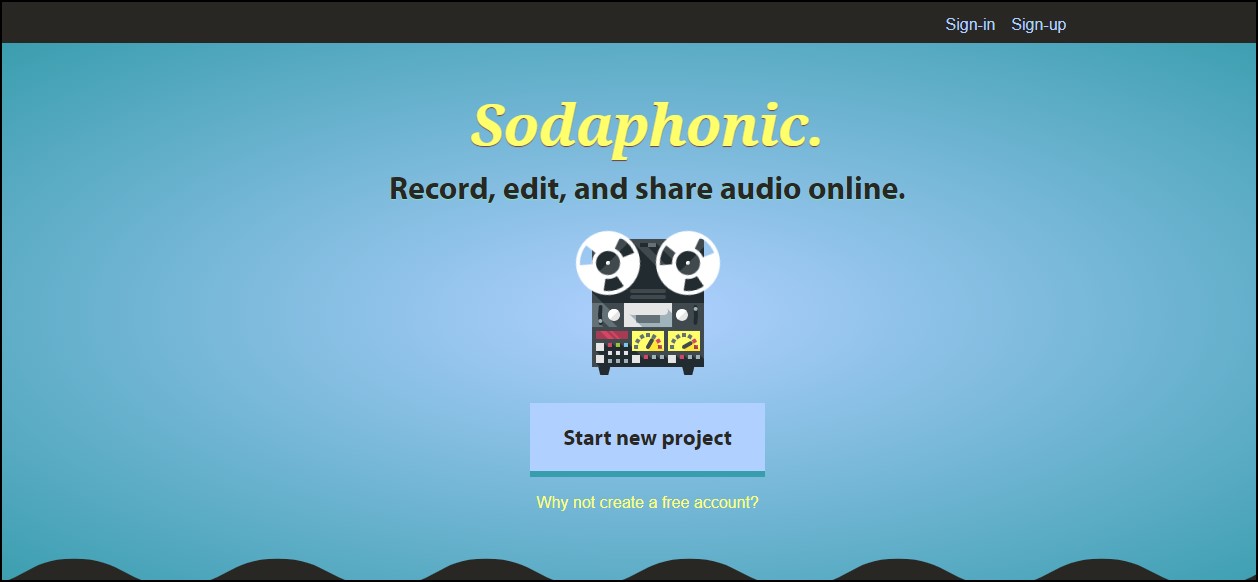 Sodaphonic is another simple and free audio editing tool available online to make changes to audio files.
It has essential features like cutting, copying, paste a section of your audio file. Further, you can record voice, edit podcasts, and more using Sodaphonic audio editing tools.
You don't need any download, installation, plugins, patches, or updates to run the app. You only need a web browser to access the app.
You can pick or drop files directly from your computer or cloud storage like Dropbox or Google Drive. Currently, it supports only MP3, WAV, and OGG file formats.
You can take the help from their knowledge base and increase your productivity using keyboard shortcuts for any other assistance.