Finance remains the heart of every business domains across globe. That explains the point why a career in finance is always rewarding.
People traditionally go for a graduate degree or a master's program with finance as major in a University or college.
In today's competitive and volatile business world, an additional finance fundamentals training online can help you give a better start to your career.
It can help you advance smoothly to more complex finance subjects like corporate finance, business valuation, finance modelling, financial analytics, etc.
Also Read: Best Big Data Online Courses, Tutorial, Training and Certification
Popular MOOCs and non-MOOCs online training platforms facilitate courses and training programs that can give you a strong base with finance fundamentals.
Also, if you are from a non- financial background, these online finance fundamental courses can be of great help.
5 Best Finance Fundamentals Course – Most Popular Choices
This is the best finance fundamental course you can learn at a MOOC platform like Coursera.
Offered by Yale University, it gives you a great overview of how popular financial markets like securities, insurance, banking sectors function in real world.
This is one of the few debt finance fundamental courses you can find at Coursera with excellent feedback and students ratings.
Course ratings: 4.8+ from 2,695+ students
Skills Gained: Behavioral finance, financial markets, finance and behavioral economics
Key learning's from the Course:
Learn the basics of financial markets, insurance and capital asset pricing model (CAPM)
Understand what is behavioral finance, forecasting, pricing, debt and inflation are all about.
Learn basic finance concepts like stocks, bonds, dividends, shares and market caps and the history behind these concepts
Get a sneak peak into economic recessions, bubbles, mortgage crisis and regulation
Course Reviews:

This is by far the most popular and thorough finance fundamentals training course you can find at Udemy (another popular platform to learn online).
The course is for absolute beginners in the world of finance and gives a major overview on almost all important financial topics: accounting, company valuation, financial modelling, financial ratios, etc.
Also, the course author is one of the highest rated professors on Udemy (finance and business), you can check his other popular finance courses as well.
Course ratings: 4.5+ from 6,707+ students
Key learning's from the Course:
Understand how to create, analyse and forecast an income statement, balance sheet and cash flow statement
Learn how to value companies using several different valuation methodologies
How to analyse financial statements using financial ratios
How to analyse financial statements using debt and inventory formulas
Course Reviews: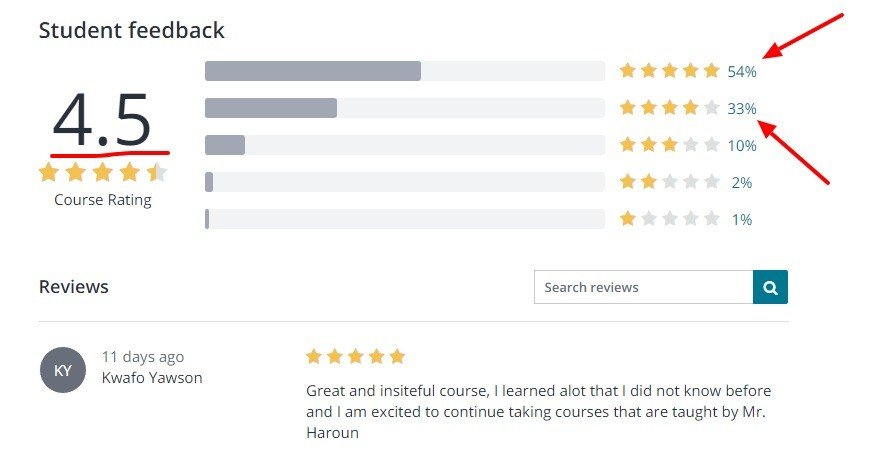 This is the best course to get enrolled if you are from a non financial background and your job profile demands a basic understanding of finance and accounting concepts.
Offered by UCI, it is part of their career success specialization series and the course looks hugely popular with one lakh and counting enrollments.
Course ratings: 4.5+ from 2,222+ students
Skills Gained: Accounting, financial ratio, financial statement and finance
Key learning's from the Course:
Gain general knowledge on accounting and finance and how to apply them for your organization's growth
What are the importance of budgeting process when making financial decisions
How to examine financial statements using key ratios
Get a solid understanding of key accounting and finance terminologies
Course Reviews:

This is another equally good fundamental of finance course for non-finance professionals at Coursera.
Offered by RICE University, it intends to provide roadmap and gentle introduction to financial decision making and their relation to other areas of business
Course ratings: 4.8+ from 480+ students
Skills Gained: Financial accounting, capital budgeting, corporate finance and finance
Key learning's from the Course:
Understand the basics of financial valuation: Compounding and discounting rates of return over time
How to perform valuation using discounted cash flow method
Introduction to capital budgeting tools: NPV, IRR, payback period and return on capital
How to measure cash creation and free cash flow: basics of financial analysis
Evaluating the cost of capital of a firm and how to analyse the risk and return associated with it
Course Reviews: 

Imperial college of London in partnership with EDX (a MOOC platform) teaches you how to use fundamental finance tools completely online.
You can even learn the course for free without paying for a verified certificate in the end.
Key learning's from the Course:
Learn how to value assets using time value of money concept
Understand capital budgeting with the help of a project
Allocation of assets for retirement: personal finance strategies
Understands concepts such as valuation of cash flow risks, bond valuation, company valuation, etc
Know about financial management concepts like portfolio selection, how to obtain a yield curve, variation of correlations and diversification opportunities over time, etc
How to implement CAPM for risky assets and how to calculate the rate of return for such assets
About the Course: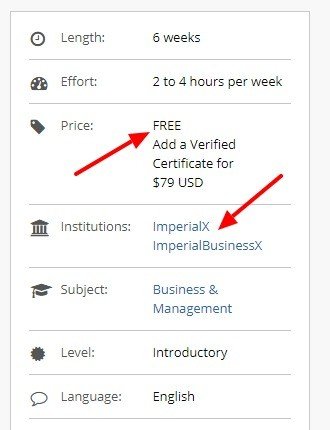 Let us know in the comments sections what are your best fundamentals of finance courses for learning online?