We are always looking for a solution on how to manage notifications in Window 10. To answer this, Microsoft has launched Action Center.
Action Center in Windows 10 has also encapsulated some quick action buttons like Settings, Brightness, Bluetooth and many others.
What is the Action Center on Window 10?
Action Center comprises of Quick Actions Button as well as Notification from different apps or services which are grouped together to display in a slide-out pane.
It is considered to be a central place to manage, organize, customize and rearrange multiple tasks as per your preferences.
The Windows 10 Action Center is very straightforward to use and also pretty customizable.
Where is Action Center in Windows 10?
With Windows 10 update to version 1809, Action Center will come pre-installed.
You can find it on the extreme right of your Taskbar (Fig 1).

How do I open Action Center in Windows 10?
To open Action Center in Windows 10, you need to click on Action Center icon situated on Taskbar's extreme right corner.
It will display a slide-out pane with notifications on the upper-side and below you will find quick action buttons.
Shortcut Key for Action Center:
If you would like to open Action Center with shortcut key, then press Windows Key + A
How Action Center in Windows 10 Helped users to organize things?
Helps in retrieving Missed Notifications:
Because of multiple apps or services, notifications are huge. It will keep popping up as toast notification in different intervals and then expire.
If you like to see an expired or missed notification, you cannot do such in the previous version.
The current version has a section in Action Center to view or organize any notification from senders.
Helps in organization of Apps:
With the help of Quick Center button, you can group together and display in a single pane.
Now users can easily access such buttons because it could be uneasy to pin each and every apps or services in taskbar earlier.
So, keeping these things in mind, they have introduced Quick Action in Action Center.
This is the separate pane in Action Center that has Quick Action buttons to access any apps or services
How to Customize Action Center?
Window 10 Action Center is easily customizable. You can either edit Quick Actions button or you can manage the display of notification from different senders.
For this, you need to open the Settings. You can either click on Start and search for Settings or you can use shortcut key Windows key + I.
It will open Settings window. Now click on "Notification & Actions" from your left sidebar (Fig 2).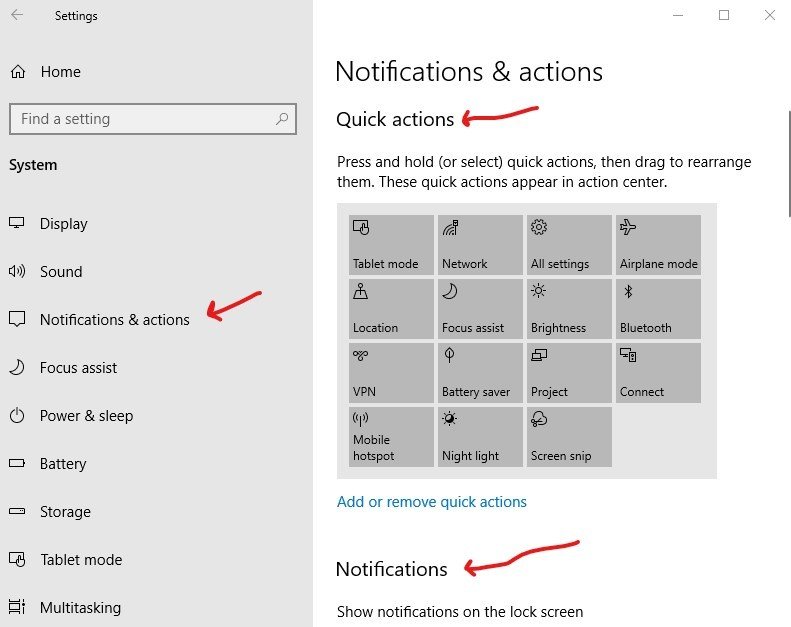 Here, you have two option to look for: Quick actions and Notifications.
Quick Actions in Action Center:
You would like to know what is the use of Quick Actions in Action Center.
Windows 10 Quick Actions Explained
Quick actions is a part of Action Center on Windows 10. It helps to manage Quick Action buttons by adding or removing it from Action Center.
When you will go to Action Center, you will find Quick Actions in collapsed position (Fig 3). You can expand it to view rest of apps (Fig 4).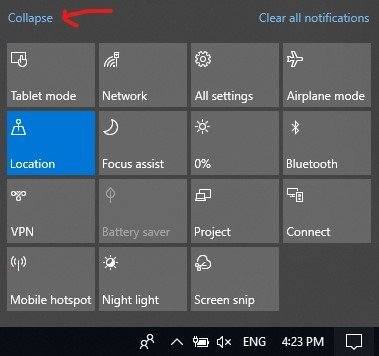 Rearrange Quick Action buttons in Action Center:
You can rearrange quick actions by pressing and holding any of these quick actions button and then drag to rearrange them (Fig 5).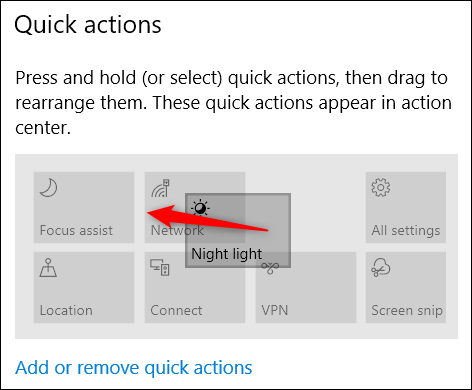 How to customize Quick Action button on Action Center?
You may not want some of these Quick Actions button to appear in Quick Actions pane. So, to add or remove quick actions buttons you should follow below steps
Add or Remove quick actions in Windows 10
You need to go to Notification & actions settings (Click on Start and start typing "Notification").
Notification & Actions settings in Windows 10 is a part of System Setting.
In a Notification & Actions, click on "Add or remove quick actions" (Fig 6).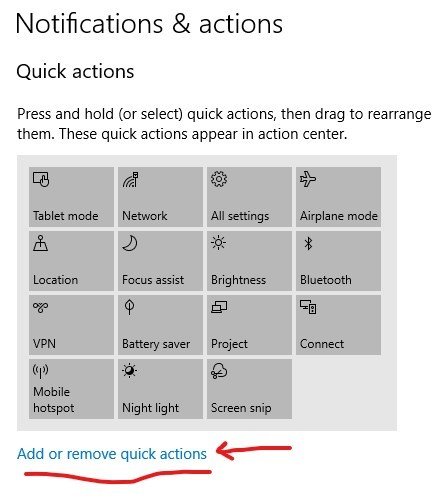 Here, you will find list of quick actions button, toggles ON or OFF to add or remove Quick Action buttons (Fig 7).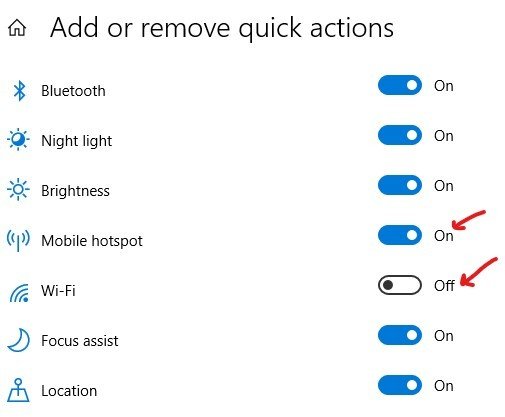 Notification in Action Center:
Any new notification you receive will appear in the Notification pane in Action Center.
To indicate any new notification, the color of the Action Center on Taskbar will change to white.
You may be interested to know: How to Use Snip & Sketch in Windows 10: Best Windows 10 Screenshot App
How to Manage Notifications in Action Center:
To remove single notification, you can hover your mouse on that notification and click on cross symbol (X) to close it.
If you want to remove notification from a particular app, you can hover to that app headline and click on cross symbol (X) to close it.
And, to remove all Notification in Action Center, you can move to the bottom of the Notification pane and click on "Clear all notification".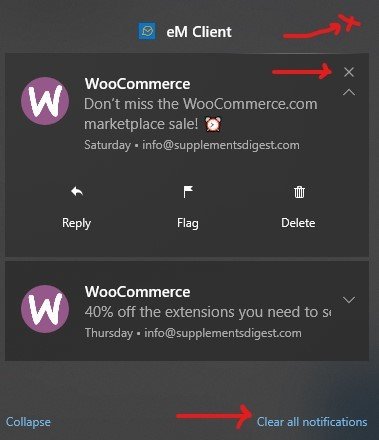 How to customize Notification and its display in Action Center?
For this you have go to go again to Settings (Windows Key + I) and click on "Notification & Actions".
Under Notification & Actions, we can look for another section known as "Notification".
Here, you can customize the display of "Notification" in Action Center (Fig 9).
Whether to show notification on the lock screen or not
You can customize to show reminders and incoming VoIP calls on the lock screen
You can decide to show me the Windows welcome experience after updates and occasionally when I sign in, to highlight what's new and suggested
Get tips, tricks, and suggestions as you use Windows
Get notifications from apps and other senders (Enable or Disable notification from all senders)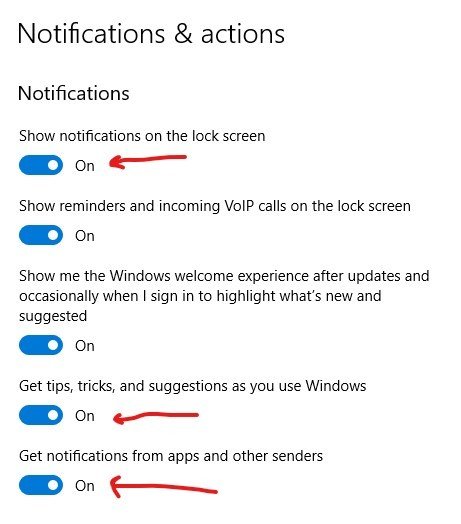 How to enable or disable notification from individual senders in Action Center
Under "Get notification from these senders", you can select an app or service that doesn't require any more attention or you don't want to display notification in Action Center.
Next, switch ON or OFF to enable or disable notification from individual senders (Fig 10).
Furthermore, some senders might have their own Notification settings (Fig 11).
So by clicking on individual senders, it will open a seperate screen with other options like
Keep notification private on the lock screen
Play a sound when a notification arrives
Number of notifications visible in action center
Priority of notifications in action center: top, high and normal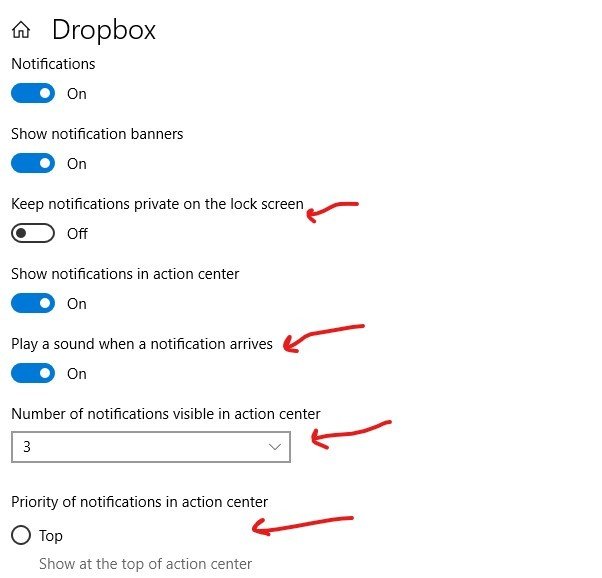 Wrap Up:
Hope, this article served as a complete guide on Windows 10 Action Center and learned how to use and customize.
Any future updates in Action Center from Windows 10, we will keep updating in this article.
If you have any confusion or like to know any of these features in detail, please let me know in the comment section.