You would be wondering how GetResponse is important for you ? and how GetResponse Review can create difference in your views?
Below, You will find indepth review on GetResponse Email Marketing Autoresponder and facts supporting on how I concluded GetResponse as the best email autoresponder.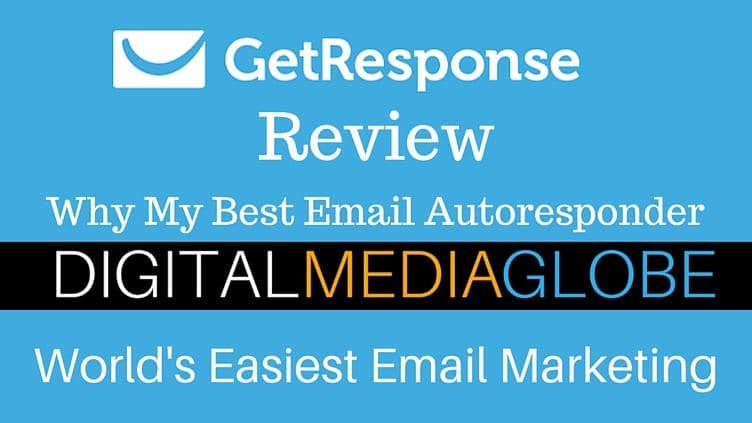 Being a blogger or internet marketer, when your customer base expands with popularity, you will be looking to design and create newsletters the easy way.
Every internet business needs newsletters to reach out. Whether it is interacting with your clients about the new developments, or attracting new customers, newsletters help others know about you and your organization.
It is the first and foremost step in brand building. Unfortunately, designing newsletters is definitely a tedious task and sending them out individually to your entire customer base might just not seem feasible as you progress.
Are you a small business owner, professional blogger, or marketing agency?
GetResponse got tools and features you'll love.
GetRresponse is the answer to the above discussed problem. Currently, it is one of the best autoresponder in the market.
It is also one of the most popular tools used for designing and sending HTML e-newsletters.
Try GetResponse – Free For 30 Days
GetResponse Review: Why GetResponse is my Best Email Marketing Autoresponder
In this GetResponse Review, I would discuss how it's has become an easy and favorite email marketing tool for users.
How About Pricing? Whether GetResponse is cheaper or not?
If you are looking to send email newsletters to your subscribers at an economical cost ( while designing it easily) you have an answer in GetResponse.
GetResponse is cheaper than its key competitors without compromising on the design quality. Moreover you have 700 templates to choose from.
If your database is loaded with email addresses you need to reach out to, this marketing tool is a really good option.
Consider, your mailing list contains between 9000 to 10,000 records, you will realize that hosting it with Get response costs you $65 per month.
This is significantly cheaper than most of the other options out there, like Aweber and Mailchimp and in some cases, has a considerable price difference with Campaign Monitor that costs you a whopping $85.
It is not only cost effective, but also provides as much functionality as its pricey competitors.
Keep in mind that there are no free options like Mailchimp, you have to pay $15 if you have less than 1,000 subscribers. The cost effective factor works well when the your subscribers are in larger numbers.
The free 30-day trial offer is more than generous and you can try it out without entering your credit card details.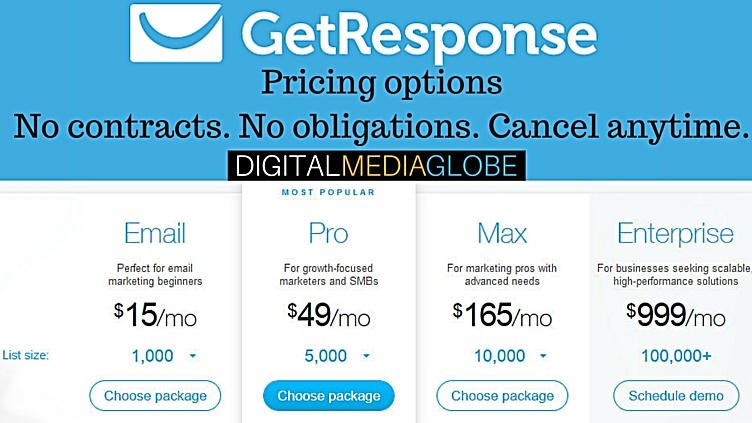 Why You Will Love GetResponse Email Marketing Software?
If you're looking for a newsletter designer that's mixed perfectly well to create a marketing tool wizard, you will find Get Response pretty useful.
There are pretty comprehensive marketing features available:
Wide Range of Templates: You have a wide range of templates to choose from, so that you can easily make your email newsletters different each month – no more making your subscribers think that you do not have a good enough creative team for designing the newsletters.
Split Testing: For marketing, you have split testing, allowing you to improve on every newsletter that you send and bringing in increased engagement rate. You can split test of up to 5 parameters to know which one's working the best.
AutoResponder: The auto responder functionality and responsive email designs help your readers get a better experience. Add to that, there are in depth analytics reporting and RSS functionality.
Social Sharing:There are social sharing tools that can help your readers to share the content really easily.
Import Data: The ability to import data within one click which means, transitioning from say Aweber to GetResponse is really easy.
Easy Integration: While you may not have easy integration with all software, you can make the changes needed easily.
The responsive feature is pretty much standard these days but something businesses still miss out on. With GetResponse, your newsletters are automatically adjusted to the user's device screen. While most other products offer the feature too, GetResponse goes a tad farther – it takes an instant snapshot of how your email looks like on your phone.
Try GetResponse – Free For 30 Days
How Well are the E-Newsletter Templates Designed?
This section is where Get Response disappoints a bit.
The templates provided of a box look rather old; they are not as attractive as the ones offered by say, Mailchimp or Aweber.
On the positive side, they are very tweak able, you can change fonts, layouts and imagery using the controls provided; and you can simply design your own HTML email template and import it.
There are tons of templates to choose from which are presented in an easy-to-understand categories.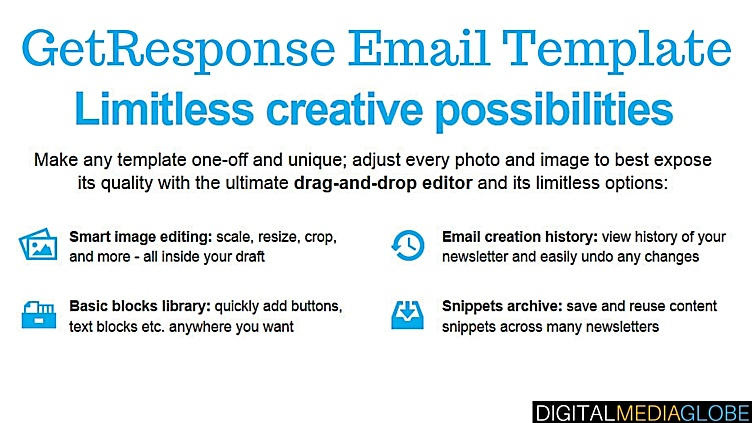 How Useful is it For Users?
GetResponse, on the whole, is pretty straightforward to use.
It is easy enough to do all the basics with it: import contacts, create campaigns, check statistics (which are very comprehensive) and set up auto responders.
Also, the interface is pretty clean and intuitive though it looks slightly outdated.
But, one area to my opinion, that could have been significantly better, is the e-newsletter editor. Though its drag and drop approach may sound good in theory, but in practice, it can get little clunky to use and can lead to accidental deletion of content or placement of it in the wrong part of the e-newsletter.
Overall, there are no major usability complaints, though it does need some minor correction and editing.
How Easy is to SetUp GetResponse Campaign?
For a newbies, it's quite skeptical for them to think about creating a successful email marketing campaign.
As they are less experienced in the field of Email Marketing, they seriously want a very intuitive and an easy UI to do that.
But the good news is that GetResponse Campaign are very easy to setup.
GetResponse Campaign setup process step by step:
When you start to create a GetResponse campaign, there are two options: either you want to create a Newsletter or  create Autoresponder
Newsletter campaign has two options: an Email Creator tool with pre designed templates or a simple HTML tool. The latter one is useful for those who already have their own code to insert.
By filling necessary detail, your Newletter campaign is ready to be previewed. Now, you can see your exact made both in desktop as well as mobile version.
With respect to that, Autoresponder campaign is quite tricky, which require various goal to initiate the autoresponder feature. You can create your own personalized message according to the subscriber behavior.
At the end, you need to check your setting and add contact or audience to whom you want to send the message.
All the above steps are very easy to implement and setting up your GetResponse campaign will not take much of your time.
GetResponse Analytics: How GetResponse Analytics help you discover subscriber behavior?
Get Response Also Scores on the Analytics Front
When you have set up a newsletter campaign or autoresponder campaign , you will want to know just how popular it is or how users are interacting with it.
And good analytics will help you track everything, from the click through rate to knowing how many people opened your newsletter. Get response offers very comprehensive analytics and reporting options.
How many contacts your email has received ? and how many has opened it ?
Integration with Google Analytics for more in-depth analysis
Quick update in your system as per user interaction
Mailchimp and Aweber offer similar reporting functionality but Get response's reporting tool is definitely the best out there.
GetResponse Customer Support: How good is GetResponse Customer Support?
Getresponse customer support is pretty comprehensive and it helps you answer most questions when you get started.
They offer toll free phone support (9am-5pm EST), email and live chat support along with various online tutorials / resources.
The live chat support is available 24/7, which is excellent. Unfortunately, phone support is available only in weekdays.
It's not clear from the Getresponse website what hours email support is operated but still you'll get fast response from them.
Pros of GetResponse Autoresponder:
Easy-to-use email creater with drag and drop feature
Free 30-day trial, no credit card required
Customer support available: Phone, Email and Live chat (24/7)
Strong reporting and comprehensive split testing feature
Comes with landing page creater
Cheaper compare to other top competitor
Cons of GetResponse Autoresponder:
No Free Plan
No Phone support on weekends
Email Customization and List Segmentation is limited
Have to pay extra $15 per month to use the fully featured version of landing page creater
Templates little bit on the dated side
Try GetResponse – Free For 30 Days
Final Verdict: Whether You Should Go for GetResponse or not?
You would want GetResponse autoresponder for its features. Plus the fact that it's feature intensive without being pricey makes it a good choice.
The landing page creator is pretty easy to use and the split testing features are more in depth than what we see with its counterparts.
That being said, opt for Mailchimp if you have lesser number of subscribers. MailChimp is free for instance for up to 1000 subscribers and has pretty good analytics and reporting features as well along with the ability to choose varied templates easily. But, as a free member you cannot use MailChimp autoresponder, that's downside of free membership
However, Get Response does offer a credible alternative and definitely one of the top autoresponder out there today if you have more subscribers and want in depth autoresponder features.