FTC disclaimer: This post contains affiliate links and I will be compensated if you make a purchase after clicking on my link.
Pitching your product in your niche market and making sure it is seen by a wider section of people is an almost impossible task in current scenario . More difficult, if you use conventional means of media marketing
The only way out is to step outside the box and start using email marketing software.
It should be simple to use and yet be flexible enough to change with the niche market you operate.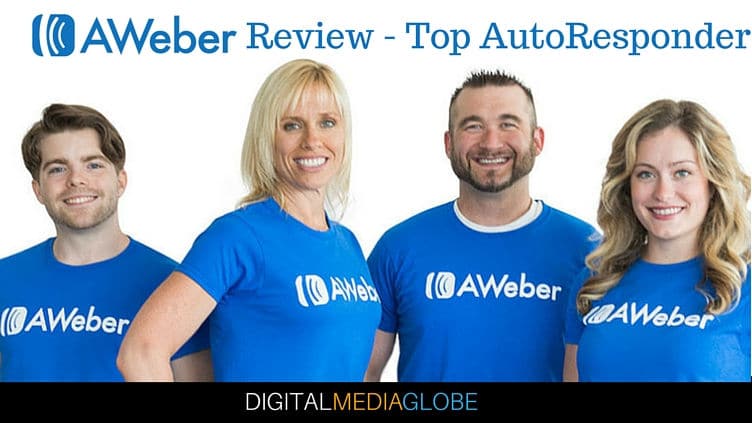 AWeber is an email marketing software that will do all the above and much more.
AWeber effectively manages your entire marketing campaign with panache and style. It needs minimum supervision and you can be rest assured while it does your job.
AWeber is like the perfect employee that is never late for work and does its job automatically without you having to hover about looking over its shoulder making sure everything is done right.
This frees you up, to do what you do best and leave your marketing in Weber's competent hands.
Your clientele will stay in the loop as to what your product(s) or service(s) are doing and new innovations that you have coming down the pipe.
AWeber Review – Top AutoResponder
A lot you say? Well, This AWeber review emphasis on how it can be the marketing savant when you talk about email marketing.
Flexible and Customizable: Why AWeber is Flexible and Customizable?
The First Key is Flexibility and Customization
Marketing is one of the most important ways to add cash to the bottom-line.
With changing times, we need to look into e-Mail instead of Snail mail and have your computer send and respond to quires, requests and manage your marketing campaign.
You would like to know what all factors make AWeber flexible and customizable Email service provider
Comprehensive Help Features
AWeber is quite impressive with wide range of help and guidance
Once you've entered into AWeber interface, you're provided with easy navigational menu: Home, Messages, Subscribers, Sign Up Forms, Reports, and List Options. You're also required to fill up one time basic configuration
Available in 3 Different Type of Editor
AWeber comes with WYSIWYG editor, a plain text editor, and a HTML editor for those who prefer to put their own code.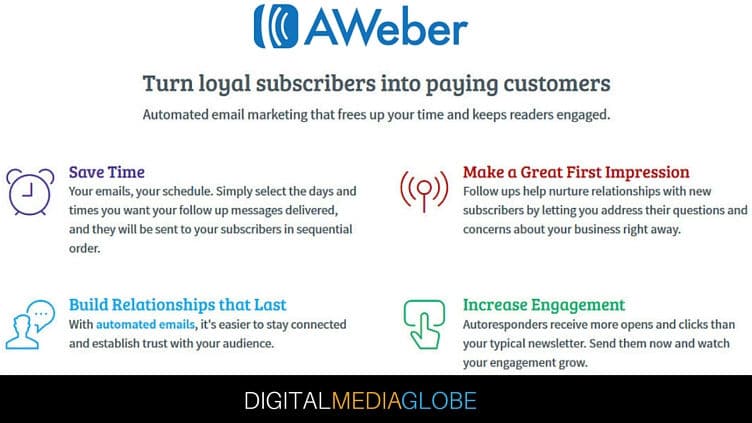 AWeber responder uses templates to set up your Email Marketing campaign.It allows you to set up days, weeks, and even longer time frames for sending out your messages.
Easily Customizable Elements and 700+ Templates Available
You've the option to choose from wide variety of templates and you can easily customize the elements as per your requirement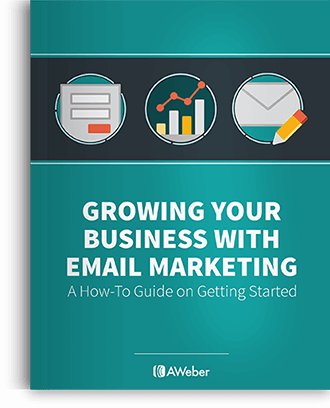 Learn how you can grow your business with email marketing.
Download Now!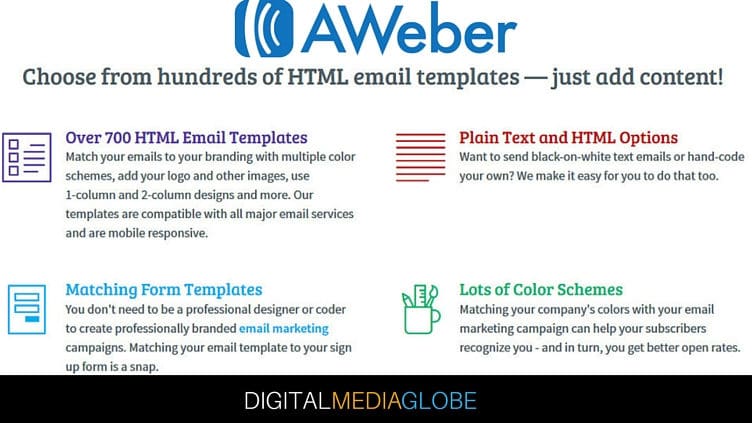 In addition to your AWeber responder, the Squeeze Page option garners the e-Mail addresses to fuel your AWeber Marketing system and it keeps you on the good side of  various search engines.
AWeber has pretty advanced option to segment your subscriber by interest, location, date of birth accordingly.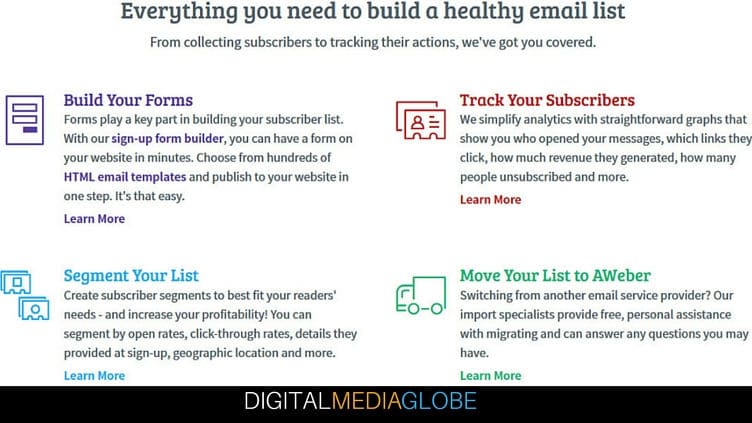 You can setup your own automation rule as per the behavior of subscriber. The automation rule can help you to add or remove subscriber from a particular list automatically.
Opt for A/B Split Testing
Split testing helps you to optimize your email marketing effort. Split testing will help you to discover what works best and which things to avoid. AWeber Email Marketing software makes A/B split testing pretty painless.
You can easily compile your own report and download them in CSV format. You also have the option to customize your analytics dashboard.
This tool from AWeber allows to edit a bit of text at once in email messages.
Schedule Messages on Recipient Local Time
Every subscriber are from different places and from different time zone. For this, AWeber has the option to send the email in their local time, which will automatically increase the opt-in rate.
The above customizable option and easy to use feature add value to your email marketing campaign. Interesting emails not only attract subscribers to your email campaign but also help you to get more visibility. They also add value to all your campaign endeavors.
Integration and Monitoring: How AWeber AutoResponder helps in Integration and Monitoring?
The Next Key is Integration and Monitoring
AWeber lets you use a wide variety of marketing management packages and monitoring systems. The use of 3rd party plugins allows for further customization.
Monitoring is a factor that is often overlooked in the initial stages of a Direct Marketing campaign. It should be one of the first things that needs to be thought about.
If you are getting the impact in the niche market you desire, you can adjust your messages and strategies accordingly.
AWeber currently offers 100+ addons and integration with popular software programs and services.
You also can take care of your Mailing Lists and subscribers along with getting real-time results of how your campaign is performing.
Google Analytics Integration
AWeber allows user to link their Google Analytics account. It enhances their monitoring features
You can sell your product or services easily with PayPal Integration. Based on product purchase, you can add them to different mailing list.
You can even track the subscriptions of your Salesforce contacts
AWeber provide easy integration to your WordPress or Drupal website. AWeber has a Widget that lets your WordPress web pages connect directly to your AWeber account. This means you have seamless connectivity to AWeber and you increase the impact of your Email Marketing campaigns.
AWeber Integrate with many popular shopping cart program such as Shopify or Magento
We cannot deny the integral connection of email marketing and social media and thus AWeber comes with social media specific integration such as Facebook, Twitter, SplashPost. You can easily share and promote your email marketing campaign and in return you can grow your email list
Weber's API is another way you can link your campaign to various homebrewed Apps that further customizes your AWeber to fit with your company's Direct Mailing goals.
You have virtually unlimited access to do whatever your imagination can conceive, to boost your ability to reach out to your market niche using AWeber.
You can now use Webforms that allows you to template your website's pages and fully integrate AWeber and change your web pages as your marketing campaign matures.
This greatly speeds up rolling out new pages to your current or new websites based on the results of your marketing plan progress.
Learn More About AWeber – 30 Days FREE Trial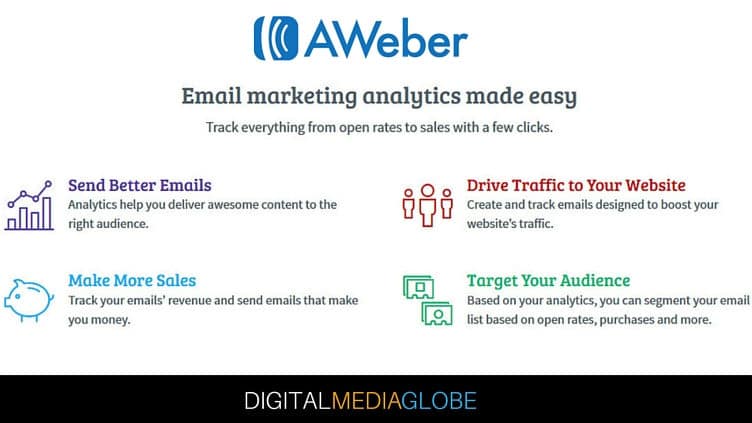 Deliverbility: How much AWeber Email Marketing is Deliverable?
One of the most important Keys to any Email Marketing campaign is deliverability
Your marketing plan is dead in the water if you can't get your message to your subscribers  on your targeted mailing list.
This is where AWeber excels as it has a 98% delivery rate. AWeber is getting the word out automatically and everything is going to be delivered on time according to your marketing plan.
AWeber allows the use of both HTML and Text Copy, you can tailor your marketing approach to get to the people you want.
What's even better your emails are vetted before sending. This ensures that they will pass through the current Spam filters with ease.
Any messages that don't measure up are returned making them more Spam resistant.
AWeber also uses Sender Policy Framework (SPF) that makes sure your traffic is spoof proof and the mail systems accepts your traffic without a ripple of complaint.
Add to all the above, AWeber uses DoamainKeys. This further ensures that your traffic is properly authenticated to pass through various Anti-Spam measures.
Were you aware, that if you send a text document, you increase the chances of delivery past Spam filter by a significant amount and that could mean significant difference in meeting your goals.
AWeber is like the "Pony Express of the Internet",neither filtering nor Anti-Spam tactics will stop your traffic from reaching its intended recipient's inbox at the exact moment in time you desire.
Customer Support: What Make AWeber an Expert ESP?
The Final Key is to make sure your marketing caimpaign runs smoothly
First, you are dealing with real live people and not an A.I. that couldn't care less about helping you, real people who really do care.
This separates AWeber from many other Autoresponder vendors. Many just give you an email address to send your concerns to and then someone in a country attempts to translate your need and you know the rest.
AWeber's staff introduces themselves and helps you in a friendly and sincere manner. It makes difference between a successful customer interaction and a dismal failure
You also get Webinars, tutorials, a Knowledgebase that has a cornucopia of information on how to do things with AWeber and its general use
And yes, they do have an e-Mail address as well. The difference being is the people who look at your problem are the pros who know AWeber inside and out, not an outsourced call center staffed with people who handle a thousand and one other products as well.
AWeber's people are dedicated to two things. Your satisfaction and they focus only on AWeber .
AWeber – Give it a try – 30 Days FREE
Final Thoughts
With these 4 key areas,  AWeber does its job well as your Email Marketing Campaign.
Flexibility, Integration, deliverability, and support make AWeber a cut above all the rest and it is why, it is still the best way to use Email Marketing to connect and communicate with your subscribers and potential subscribers as well