If you have a website based on WordPress, you would probably having some unused data in your WordPress database.
In order to optimize and clean up WordPress database, you need help of an Advanced Database Cleaner plugin.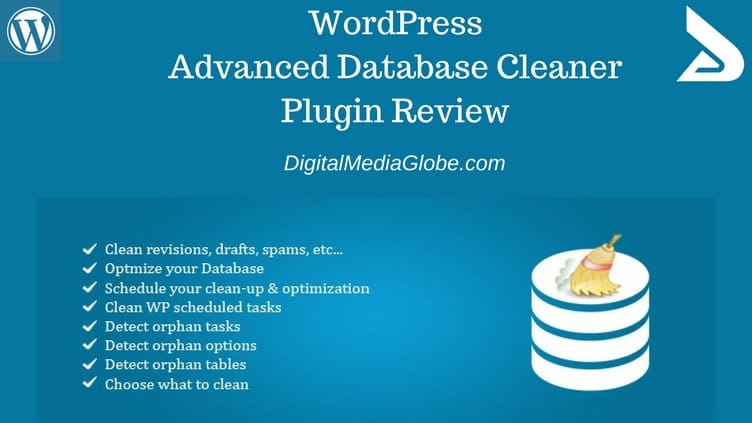 As you website gets older, your WordPress site may accumulate garbage in the form of orphan table that not only increases the size of your database but also makes your site sluggish and bloated.
Advanced Database Cleaner Plugin
How to completely delete WordPress plugin?
To remove old plugin data manually from a WordPress database is the most challenging things to do.
Advanced Database Cleaner plugin make your things easier by detecting and removing orphan tables, orphan plugin tables, and orphan themes table.
It also helps you to remove transient options, which gets accumulated every time you visit your admin area.
So, you can easily clean up WordPress database or delete leftover plugin data from database.
The leftover WordPress plugin database table may sound new to most of you because you have not given attention to its occurrence. Though,not a serious issue but it may kill your WordPress speed if it remained for a longer time.
The Advanced Database Cleaner plugin is savior for your WordPress database. You can remove unused data such as pending comments, spam comments, trash comments, Orphan postmeta, Orphan commentmeta, Orphan relationships, Dashboard transient feeds, auto drafts etc.
Advanced Database Cleaner Features
Let's have a closer look on Advanced Database Cleaner features:
After you have installed and activated this plugin, you will come across the below listed options.
General Clean-up:
In the General Clean-up section, you will find list of elements to clean.
It includes, revisions, drafts, auto drafts, Trash posts, Pending comments, Spam Comments, Trash comments, Orphan Postmeta, Orphan Commentmeta, Orphan Relationships and Dashboard Transient Feed.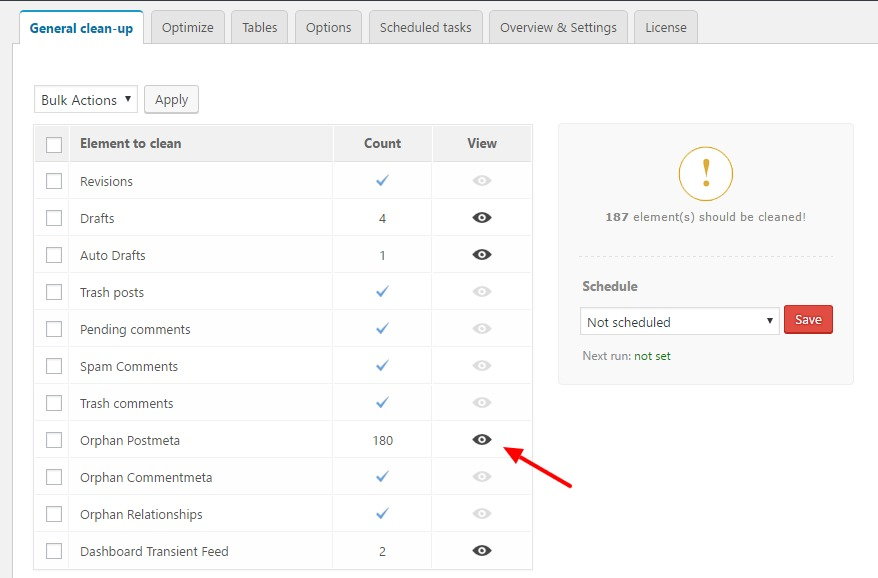 Before you clean up, you can also view the details of it. You can even manually check whether to remove your drafts and pending comments instead of auto scheduling it.
There is also an option of scheduling the above tasks. You set it for a day, week or month and your WordPress database would remain clean from unwanted database tables.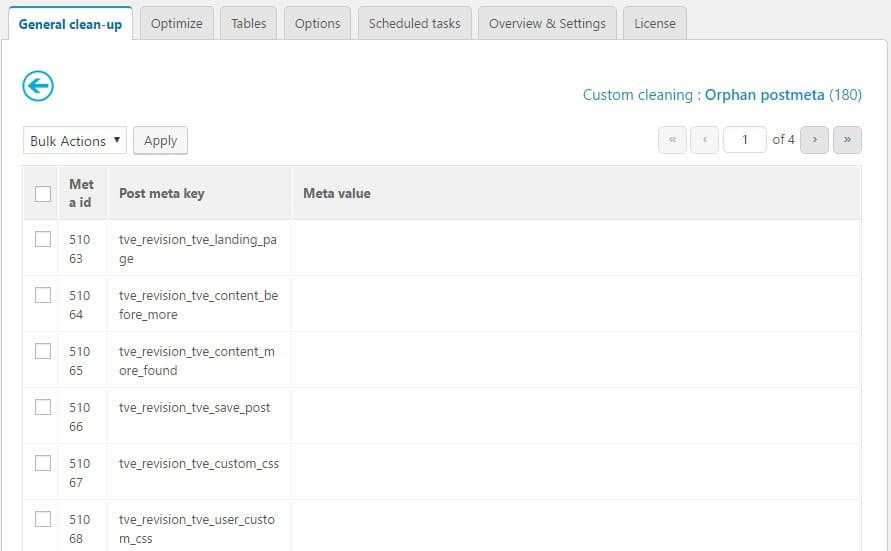 Optimize:
Optimize is an another section where you can free your WordPress database from unused data. These data are being collected by installed WordPress plugin.
You need to optimize your database table by freeing up lost space.You can  schedule them on  daily, weekly or monthly basis.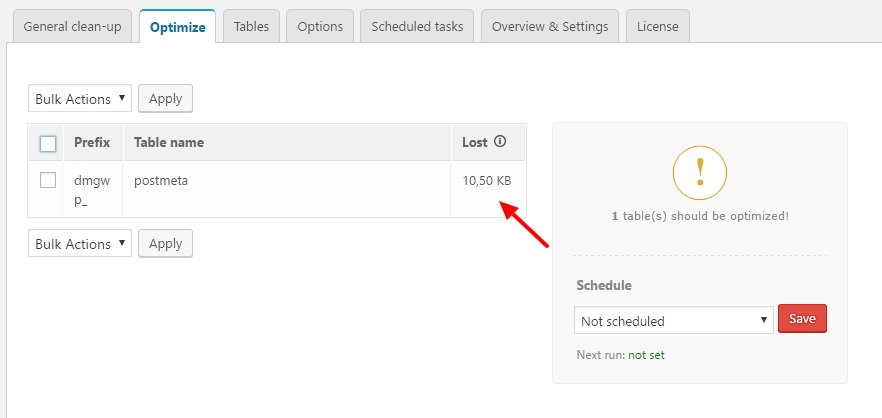 Table:
This section gives you the detail of table list created by plugins, themes, WordPress core and other orphan tables.
Orphan tables are those table which you are not currently using or it was left out by some WordPress plugin you have deleted earlier..
You can remove Orphan tables completely by selecting and filtering it from other tables. These orphan tables are killing your space and creating more time to take the backup of your database.
I recommend you take the backup of your WordPress database before you remove such tables. It will prevent you from any mishappening and secure you from data loss.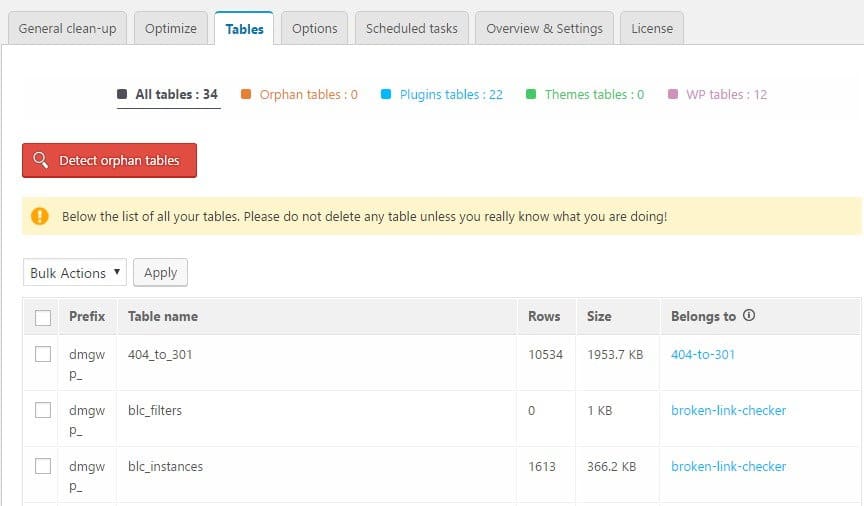 Options:
Options is a section of WordPress Advanced Database Cleaner which helps to remove option name and its value from the database.
When WordPress plugins, themes and WordPress core was installed, it create their own database tables and options. These options which you are not using it currently are knows as Orphans options. More importantly, it remain in your database whenever you uninstalled those plugins and themes.
You can clean-up these options from WordPress database to keep your database clean and free.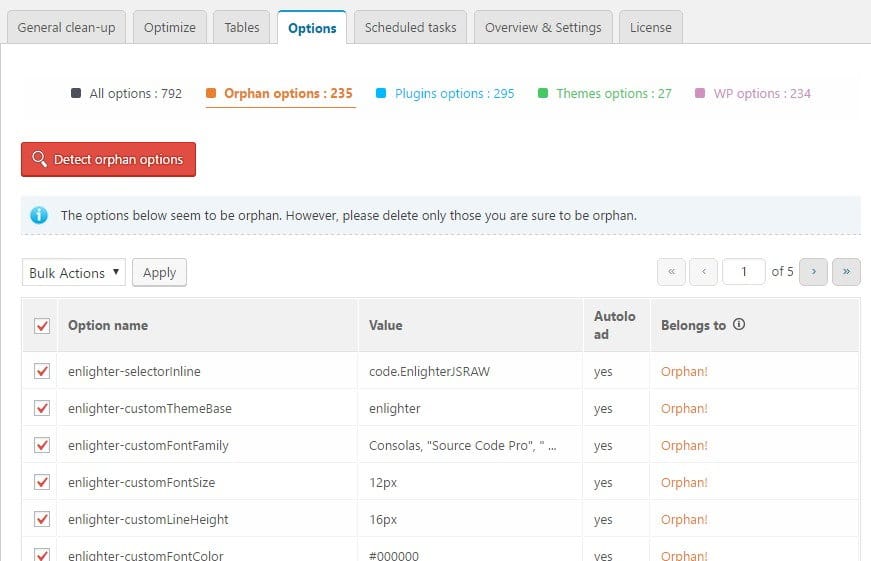 Scheduled tasks:
If you have scheduled anything or running in your background, you would like to know what they are. Whether those tasks are killing your resources or they are unknown to you.
Some tasks may be orphan, which are not giving any value to your WordPress site. You can have a deeper look on it and extract the detail of it.
You can even stop the task by visiting individually to a particular plugins tasks, theme tasks or WP tasks. It will not only increase your site speed but also reserves your resources.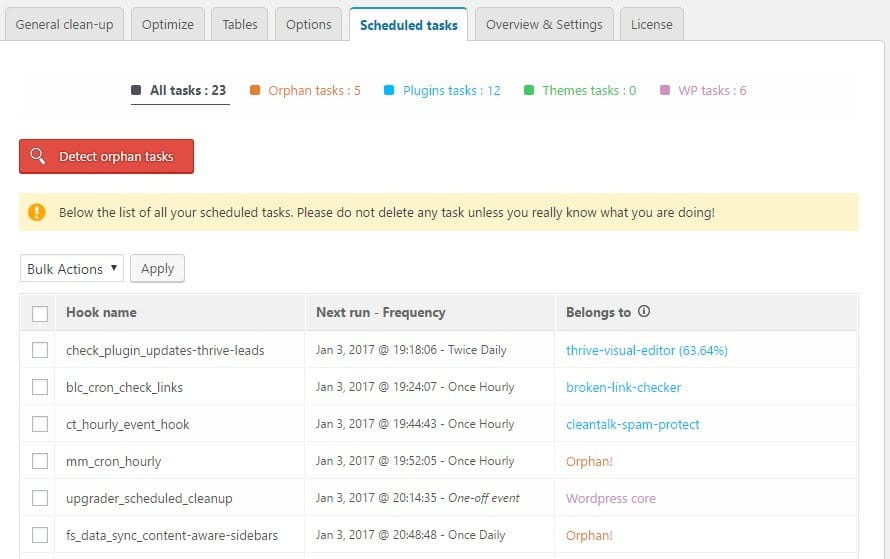 Overview and Setting:
This section will list down all your task details related to WordPress database.
You would come to know the overview of:
Database size

Total unused data

Total tables

Tables to optimize

Total options

Total cron taks
These are the most important views and records of your WordPress database. You should know about it and its functioning. This would help you to keep your database clean and optimized.
How Advanced Database Cleaner is different from other plugin?
WordPress Advanced Database Cleaner plugin gives you advanced options compare to other plugins such as Clean options WordPress plugin, WP Optimize WordPress plugin and Plugins Garbage Collector.
Most of the plugin are unable to provide the feature such as detect orphan options, orphan tables and orphan cron tasks. As far as supports are concerned, Advanced Database Cleaner provide fast support to any queries.
It's  pro features includes:
Display/view items before cleaning them

Detect orphan options, plugins options, themes options and WP options

Help you to Detect orphan tasks, plugins tasks, themes tasks and WP tasks

Detect orphan tables, plugins tables, themes tables and WP tables
The above mentioned options are not available in the other plugins available in the market.
The Advanced Database Cleaner is one of the most advanced plugin out there to clean and optimize your WordPress database.
I would recommend to have it as your arsenal for your WordPress site.