FTC disclaimer: This post contains affiliate links and I will be compensated if you make a purchase after clicking on my link.
Everybody desperately wants to know how to retrieve deleted Facebook messages. Might be you have accidently removed Facebook message, now don't know how to find deleted messages on Facebook. But the question is that whether you have deleted or archived Facebook message. Most confusing term in Facebook and most Facebook users don't know the difference. Before we move to know how to recover Facebook message, first of all see the difference between archive or delete messages.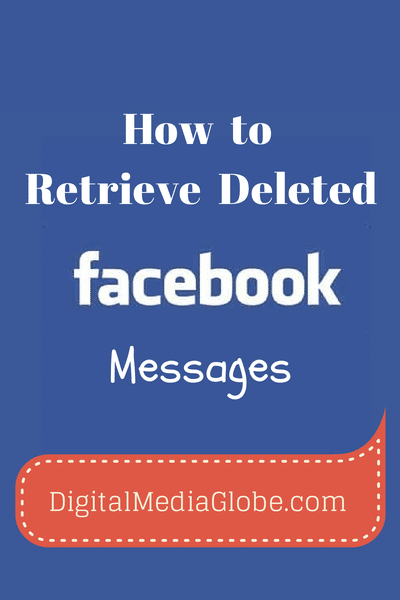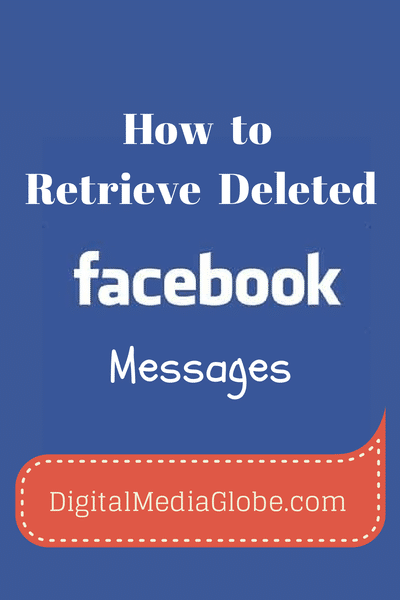 What is the difference between archiving and deleting messages?
When you archive a message or conversation, it means you hide it from your inbox. So, whenever you archive, it will disappear from your inbox. But, it will appear again whenever the same person starts a chat next time.
Well, when you delete a message or conversation, it will remove the message or conversation permanently from your inbox. So, no chance or hope of retrieving messages or conversation in future
So, How to archive messages in Facebook?
1. Click on message icon and then click See All to move to inbox.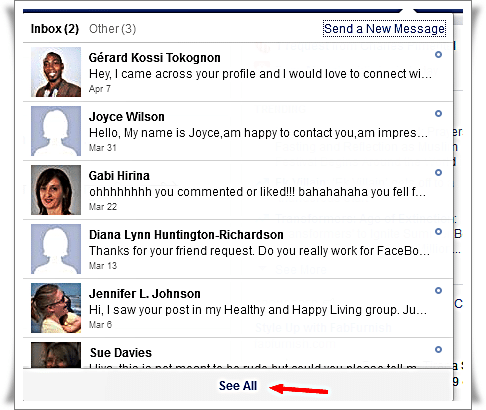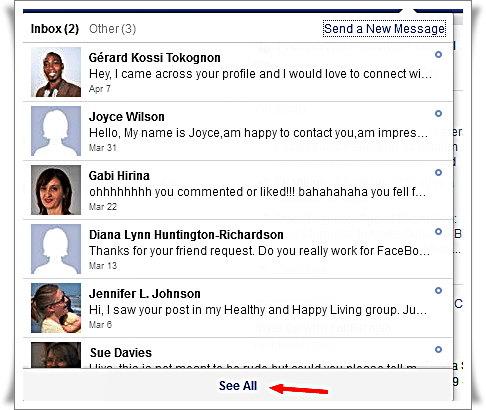 2. Select conversation from the left column and then select Actions from the right top menu. Click on the Archive, then conversation or message will be removed temporarily from Facebook inbox.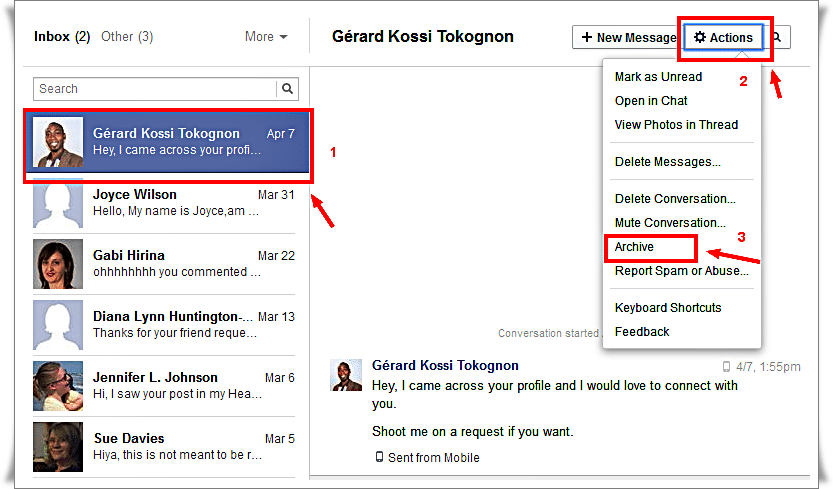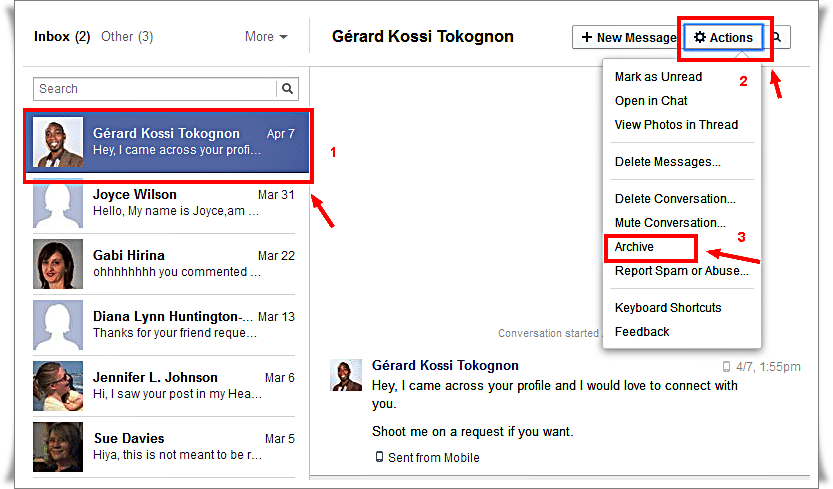 How to get old Facebook messages back?
1. So, to view archived Facebook messages. Click on More from the top left menu. Select Archived from drop down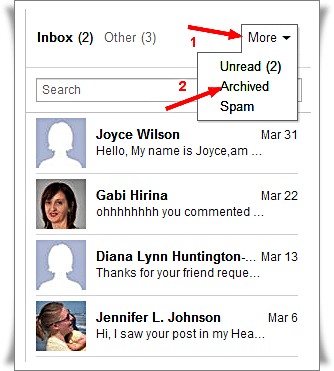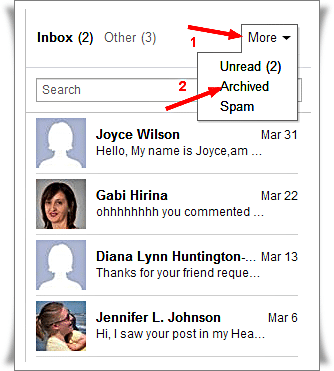 2. Click on Unarchive message from left column by selecting the conversation.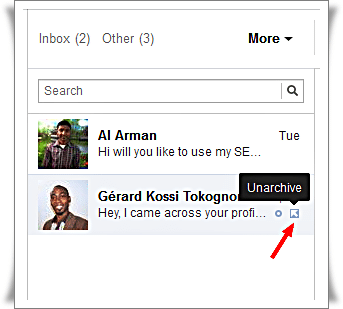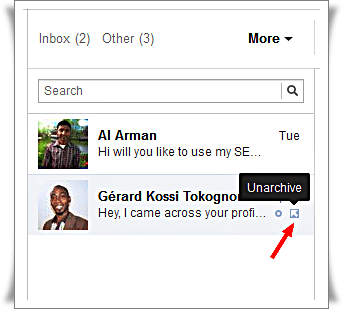 How to delete message from Facebook?
1. To delete message or conversation from inbox, click on Actions and then select Delete messages from the drop down menu.
Remember: Delete a message in Facebook remove selected part of conversation on Facebook and the choice would be upon user, but Delete a conversation on Facebook remove whole conversation in Facebook which you have done with a particular person in the past.
How to delete the conversation from Facebook?
1. To delete conversation from inbox, click on Actions again, and then select Delete Conversation from drop down menu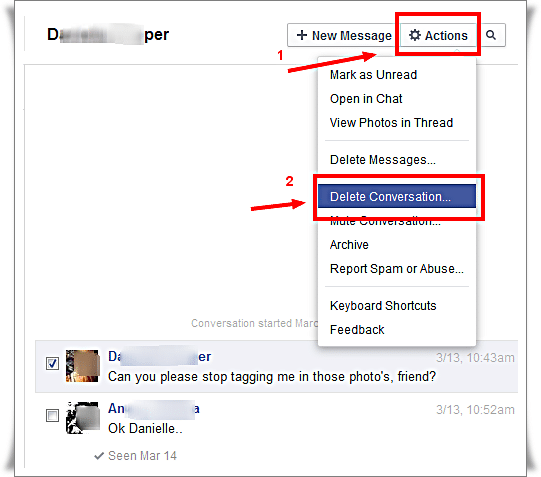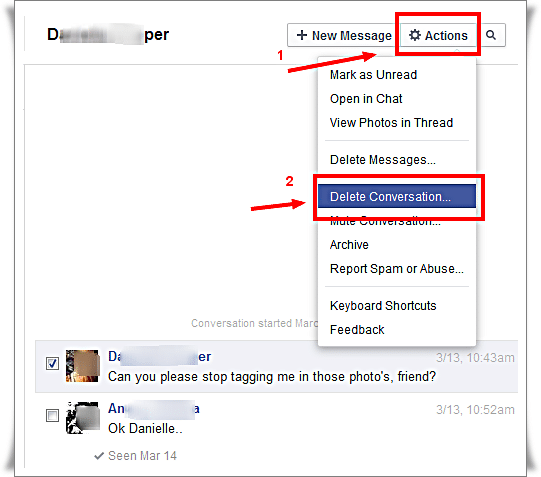 How to retrieve deleted Facebook messages or conversation?
No, you cannot able to retrieve deleted messages or conversation on Facebook. So choose wisely, whether you want to delete messages or conversations or archive message.