Facebook is fun,but if you decide that you no longer wish to use Facebook, it's easy to deactivate your Facebook account. Checking your news feed every 20 minutes can get tiring! Isn't it. By deactivating your Facebook account, your profile will be hided from rest of Facebook. It include your Timeline, status updates, photos, and so on.
You will able to reactivate your account if you decided to return back to Facebook. You can able to recover your old information and the way you are using it before.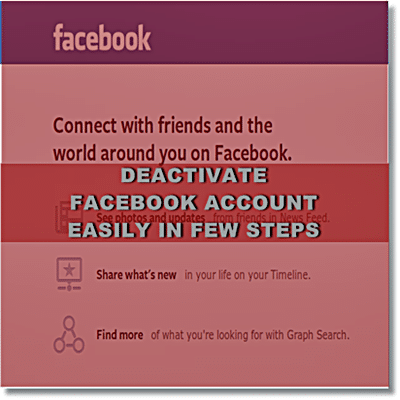 Meaning of deactivate Facebook account
Every admin of Facebook page should know what actually "deactivate your facebook account" means. You need to know if you deactivate Facebook account what happens to profile and pages. You also need to understand the difference between deleting and deactivating your account.
So, if you have decided to leave let know the meaning of deactivate Facebook account
1. You will lose your admin privileges for any Facebook pages you run, once you deactivate your account
2. Facebook hides your Timeline, photos, profile and other content from the rest of Facebook, but preserve your information in case you ever feel like going back.
3. Friends can still see your messages you have send it before but they cannot respond to them after you deactivate Facebook account.
Remember: You can always reactivate your account later by logging in to Facebook.
Why deactivate your Facebook account?
Following below reason would be possible:
1. You are getting too many emails, invitation, and requests from Facebook. You are frustrated how to configure it, so decided to leave Facebook.
2. May be their would be a security issue and you don't feel safe on Facebook
3. May be you want to move temporary out from Facebook world. But you may come back in future.
4. May be you are too much addicted to Facebook or spend too much time on Facebook which really hamper your other work
5. May be your account is hacked or not private any more.
6. May be privacy concern is important to you.
7. May you are newbie and don't how to use Facebook
8. May be for you Facebook is useless or not useful any more.
9. May be you have any other Facebook account or any other reason
Step by step process to deactivate your Facebook account:
1. Firstly, login to Facebook. In the upper right corner on your home page, Click the drop-down arrow on the Toolbar, then select Settings.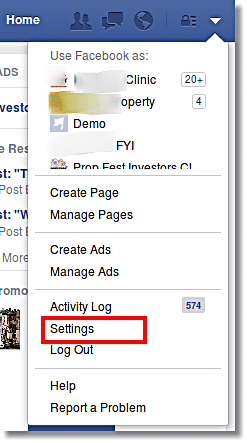 2.In the Account Settings page, select Security from the menu on the left. Scroll down the page, locate and select the "Deactivate your account" link.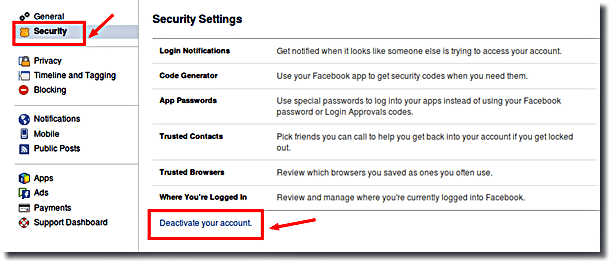 3. Select a reason from the option which you found most suitable for deactivating Facebook account. If any other reason, you can add details in the text box below.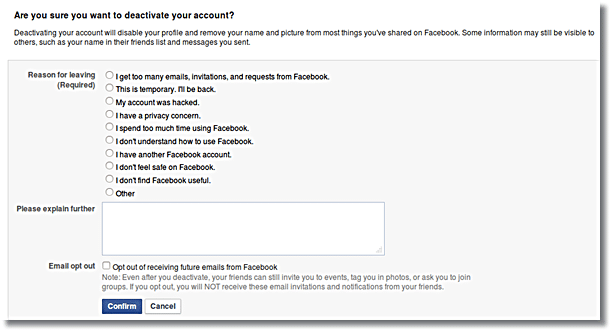 4. Check the Email opt out box if you do not wish to receive any emails from Facebook. By doing so, you will no longer receive any email notifications from Facebook

5. Click Confirm. A message pop-up to enter your password, then click Deactivate Now

6. Now your account is deactivated.

So, how to reactivate your facebook account again?
If you wish to come back again in Facebook world. Just log in using your old email ID and password. Your Facebook account will be reactivated and you can use as you are using before.
Hope, the above approach would be useful. If any help you needed, please comment below.