FTC disclaimer: This post contains affiliate links and I will be compensated if you make a purchase after clicking on my link.
GoDaddy is more popular in the internet industry for its domain name (ICANN accredited registrar) than its hosting features.
Being said that, I am a happy customer of GoDaddy hosting with no major issues, terrific load time (average 1.05 sec), and no site down issues yet and sensible tech support guys.
I am currently using GoDaddy managed WordPress hosting at a really affordable price.
Also, it is currently the most cheapest option (their basic plan) for those who want to start a website at a smaller scale.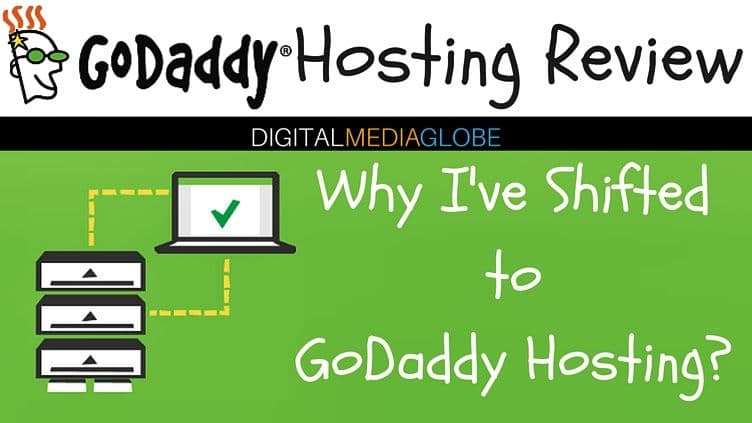 GoDaddy has all the standard features and services that a typical webmaster looks for: Website Builder, reseller hosting services, Dedicated Server, email, cPanel, WordPress, Cloud Linux, Drupal, Python, WordPress, MySQL, Shopping carts etc,.
My detailed GoDaddy Hosting Review will throw light on all aspects of GoDaddy Hosting. Its going to be long, so bear with me :)
What You'll Learn?
GoDaddy Hosting Review
GoDaddy Hosting Plans Overview
Shared Hosting Plans:
The shared hosting plans are mostly at competitive price compared to its rivalries.
Starter:
The cheapest of the all. You can start a small website with very less traffic or single website of your company just for your client.
You can host one website with a limitation of 30 GB storage but with unlimited bandwidth. Starting price is $2.24/mo and along with that, you can get 10 email address.
Economy :
Just perfect for a start up blogger/business. You can only host a single website with them.
100 GB storage space (fair enough). You can upgrade to other plans when your site grows. Unlimited monthly bandwidth with a free a domain name (as long you use GoDaddy Hosting).
Most of the features in this category are limited. (Email Accounts and Databases). You can opt for either Linux or Windows OS
Price: $3.99 /Month (Remember, there is no monthly sign up plan, you have to opt for minimum 3 months plan). There are always coupons to reduce it even further..
Deluxe:
If you business is having decent traffic, you can opt for Deluxe shared hosting plan. You can also host multiple websites with them with either Linux or Windows server.
Almost all features you get are unlimited ( storage space,monthly bandwidth, websites) except for 100 email address and 25 MySQL database plus a free domain name.
Price : $4.99/Month
Ultimate Plan:
Apt for scaling business or ecommerce sites where you get an SSL certificate free with this plan.
Same as Deluxe in the unlimited and limited features option. Instead of 100 you will get 1000 email address and an unlimited database.
Price: $7.99/Month
If you want to avail big discount on above GoDaddy web hosting plans. Click below GoDaddy Hosting Coupon Code to get flat 30% OFF on your purchase.
30% OFF GoDaddy Hosting Coupon Code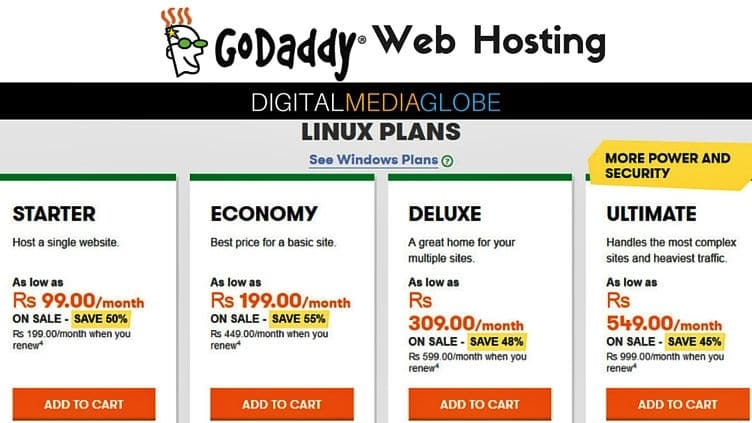 Dedicated Server Plans/VPS Plans:
If you want more control over your website/business, you should opt for dedicated servers or VPS Plan.
GoDaddy Pro comes with very flexible plan for professional. For a high traffic website you can opt for VPS or Dedicated server as per your requirement. For more detail, you can click here for VPS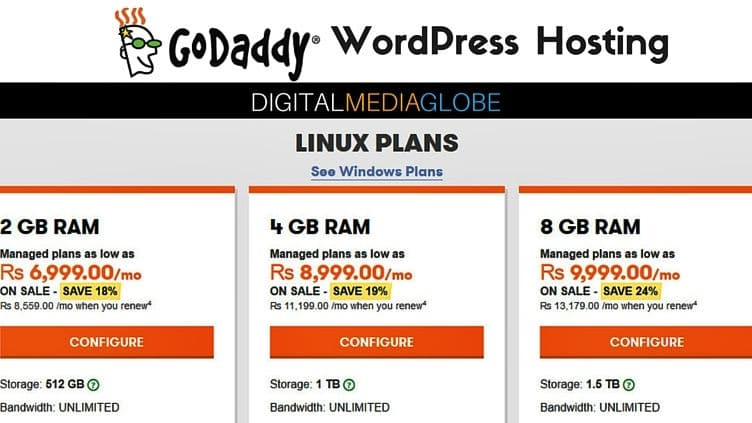 Website Builder Hosting Plan:
GoDaddy inhouse product named "the website Builder" will build your website along with hosting.
It has free templates , drag and drop features to build a good professional website for all non technical bloggers.
As per GoDaddy offer, you can avail GoDaddy website builder for only 1$/mo along with free domain and email.
$1/mo GoDaddy Website Builder Coupon Code
Managed WordPress Hosting Plan:
If your website is bombarded with traffic(visits) go for their managed wordpress hosting.
They will handle your backend and you just run your business. Your website is auto updated with any new version of WordPress.
They will provide auto backups too. They have a built in migration tool which is at free of cost when I migrated from HostGator to GoDaddy.
They have three models here:
Basic: $3.99/mo (25,000 visitors monthly, 10 GB SSD Storage, 1 WP sites )
You'll find $1/mo GoDaddy WordPress Hosting Coupon Code. Click below button to avail the discount!
$1/mo GoDaddy WordPress Hosting
Deluxe: $4.49/mo( 1,00000 visitors monthly, 15 GB SSD Storage, 1 WP sites)
Ultimate:$7.99/mo(4,00000 visitors monthly, 30 GB SSD Storage, 4 WP sites)
Developer:$13.99/mo(5,00000 visitors monthly, 50 GB SSD Storage, 8 WP sites)
You'll can also get 30% OFF on all WordPress Hosting by using below GoDaddy Hosting Coupon Code. Click below button to avail the discount!
30% OFF GoDaddy WordPress Hosting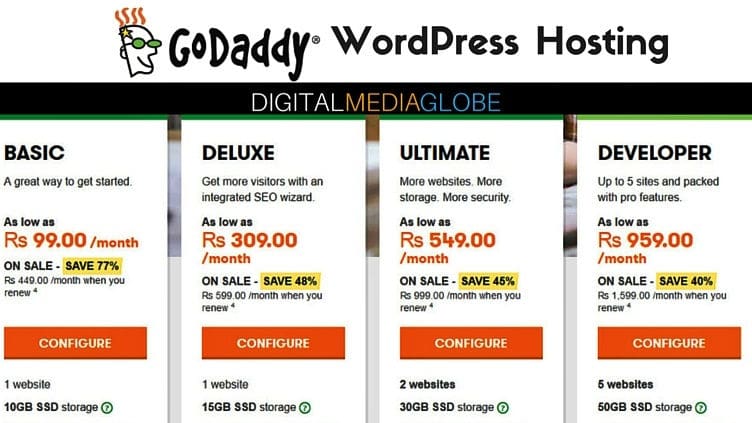 Impressive Features of GoDaddy
Data Load time and Uptime:
One of the main concerns I had with HostGator (my previous hosting provider) was the load time issue.

Google analytics showed me that my page visits bounce rate is increasing and one prime reason was a slow site load time.
With GoDaddy, it is lightning fast(I checked it currently when I was writing this article,it was less than a sec at 678ms) and it helped me tremendously with less bounce rates. They have pre guaranteed a 99.99% uptime in their website and in my case, they had stuck with the promise.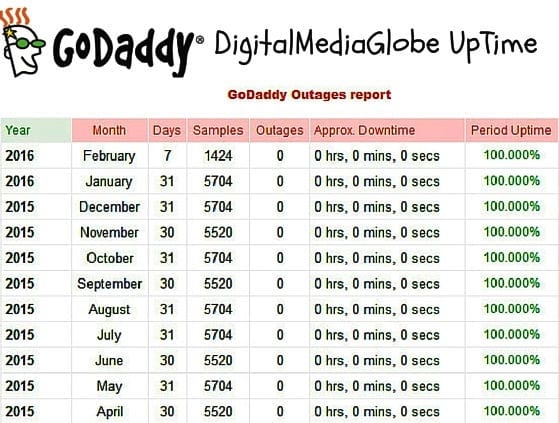 With every GoDaddy 1 year hosting plan, GoDaddy offers a nice small incentive – a free domain name.
You don't have to purchase their domain name separately. This is great way to save money with GoDaddy annual hosting packages.
One Click Installation Facility:
GoDaddy has more than 150 applications including free CMS software (like WordPress, Drupal, Jhoomla, Zen cart and Ecommerce Sites) under its kit.
GoDaddy facilitates these applications for each hosting plan and it can be easily installed with one click. So, you can have your professional website installed and running within a minute.
GoDaddy has two cPanel – Parallel Plesk for Windows and WHM for Linux.
Both are customized version of GoDaddy and is little difficult to adopt with (if you non technical) but tech savvy ppl will find it easy and organized.
You can always purchase their website builder for $1/month or website builder hosting plan (if you an absolute beginner). It has per-defined templates and drag and drop forms, in case you are finding difficulty with their backend.
Their wait time is little on the late side but you can be assured that your problems would be solved.
They are not extra ordinary but they are not worst either. GoDaddy support offer telephone support and email support 24/7.
GoDaddy has a training hub, packed with video tutorials and full of useful tips on how to get the most out of your website. You can also start you own forums and groups at GoDaddy customer support page.
45 days Money Back Guarantee:
GoDaddy comes with a pretty standard Money back guarantee.
You will receive a full refund incase you opt out of their monthly service within 48 hours and within 45 days if you bought a yearly plan (Free Domain name is chargeable ).
Limited and Unlimited Disk Space:
GoDaddy shared Hosting plans are divided as Economy, Deluxe and Ultimate.
The disk space is 100 GB in the Economy plan (which is sufficient for a small start up company). If limited GB space worries you, you can always upgrade to their Deluxe and Ultimate option with unlimited disk space.
GoDaddy Hosting plan comes with an unlimited bandwidth feature which is awesome at the shared hosting level.
You may experience performance issues if your website is expanding or gaining some good traffic, you need to switch to their managed WordPress option or VPS or Dedicated server option.
Except GoDaddy Economy plan (one domain name), the other two options allow unlimited websites and you can control them all from one control panel.
GoDaddy hosting packages comes with a pre defined number of email accounts: 100, 500 and 1000 for Economy, Deluxe and Ultimate respectively.
While most folks will not even need more than 100 email accounts, it's an individual preference of how much email accounts you actually need. You can opt for a higher plan, if you feel you need more than 100 email accounts.
The storage space for each plan also differs: 100 MB, 500 MB and 1GB for Economy, Deluxe and Ultimate respectively.
You have to delete your old email to preserve the pre-allocated email storage. Try to figure out how much email storage is needed and choose your plan accordingly.
Unique Features of GoDaddy
You will get an array of free ad credits with Google ($100), Bing($50,),Yahoo($50),Facebook (32 Euros) and Fotalia (10) if you buy their website builder plan and managed WordPress hosting plan.
One free SSl certificate if you are their dedicated server customer.
If you opt for their shared hosting plans, VPS Plans; Facebook and fotolia credits are free.
An active GoDaddy Blog
It is unique because they are actively running their blog called Garage(Not namesake) and they are connected well with social media platforms.
They post articles almost daily with relevant contents within their area of expertise.
The Good about GoDaddy Hosting
Upgrade option to dedicated or VPS hosting
The Not-so-Good of GoDaddy Hosting
Missing feature in tech support:
They don't have a live chat.(Wierd!). You can contact them via phone,email and raise a ticket (all 24/7 support).
Though they provide you a free domain name, they charge you for the domain migration to GoDaddy account if you are using a different domain name.
GoDaddy doesn't provide any custom error page such as "404 error" for your site.
Also no automatic database backup and restore feature for free. You need to purchase seperately, if you need one!
One biggest disadvantage with GoDaddy . All their shared hosting features have limited email accounts.
100 GB storage space is sufficient for a small business, but if you are website needs lots of images and videos, you are left with no option other than upgrading.
NO Auto backups(Shared Hosting):
You need to manually back your files from cPanel.
Upgrade plan to get unlimited website feature:
You need unlimited features in shared hosting you need to pick their ultimate one (Not a  cost effective option for everyone.)
Extra Cost for Website builder:
Unlike most hosting providers who provide a free website builder, here you are charged $1/mo.
Why you should opt for GoDaddy Hosting?
First, it is a one stop place for a typical website setup.You can purchase their domain, hosting, SSL certificate,Code Signing certificate all under one roof( Like I Did!)
Because their price and uptime is really unbeatable.
Nobody gives such an year around discounts as GoDaddy.
Decent Customer Support service
You get SSL certificate free when you buy GoDaddy Ultimate Plan for $7.49 per month.
Free Domain and unlimited bandwidth with all GoDaddy Window Hosting Plans.
Final Word
GoDaddy is an economical choice for small business around the globe.
GoDaddy has a good reputation among customers for their uptime quality (really good).
Even their higher level plans are at competitive prices compared to other hosting providers.
At the end of the day, you look to get value you for the amount you pay and GoDaddy doesn't disappoint at all. If you want manage everything under one roof, GoDaddy is the answer.