FTC disclaimer: This post contains affiliate links and I will be compensated if you make a purchase after clicking on my link.
AnyConv is the most recommended online free file converter tool that supports most formats. Further, it doesn't require any download and installation of software.
The whole conversion takes place in AnyConv is online. In other words, it is a web-based online converter tool that can convert documents, images, audio, ebooks, video, and archives.
Moreover, AnyConv supports more than 400 file formats, and for details of file format, you can go to the file formats section.
The free version of AnyConv supports a file size of not more than 100 MB, and you can convert not more than 60 files per hour.
All types of devices support it because it is a web browser-based application.
Let's look into how to convert files online using AnyConv.
How to convert files using AnyConv?
You can convert all types of files using AnyConv. Firstly, go to anyconv.com homepage.
Next, click on the "Choose File" button to select files from your computer or drag and drop them to the upload section.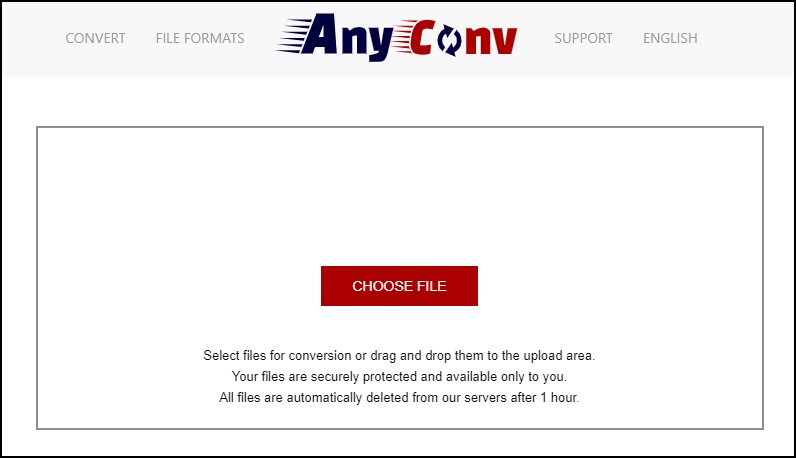 AnyConv support file size of not more than 100 MB, so files larger than this will automatically decline.
After uploading the file, choose the format you want to convert. You will find a drop-down list of forms.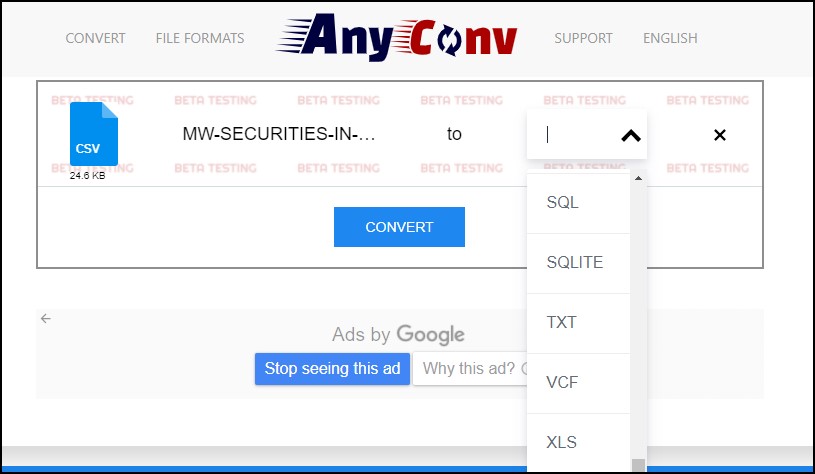 After choosing the file format, you can click on the "Convert" button to start the conversion.

It will show the conversion process has started.
When the conversion process is completed, you can download the file by clicking on the "Download" button.

Why choose AnyConv for online file conversion?
100% free web service.
AnyConv is a 100% free web service that has no hidden charges. It will convert files anytime and from anywhere.
Support large number of formats
AnyConv support all type of formats. It is claimed to support more than 400 types of format. For more details, you can visit their file format page.
AnyConv is secure
AnyConv web-based online file conversion service is safe and secure.
Moreover, the input file or uploaded file is just a temporary file and can be deleted after one hour of your file conversion.
Also, the link they provide after file conversion is unique and known to a person who has converted the file.
Further, it keeps your file private and protects you from any harm.
Free support
AnyConv provides free support to all types of users. Currently, they provide support through email.
Support all types of devices and OS
It supports all types of devices and OS in which a web browser can run because it is a web browser-based application independent of any platform.
Multilingual site
It supports so many languages, which is beneficial for countries other than English-speaking.
The downside of using AnyConv
Limitation in file size and conversion
AnyConv can convert files of size not more than 100 MB, and it can convert not more than 60 files per hour.
No optional settings
AnyConv doesn't provide any optional settings to enhance the file conversion process. Also, it doesn't support OCR file conversion.
No upgrade plan
AnyConv is an entirely free file conversion tool that doesn't have a paid plan. Thus, it will not support large files and typical file conversion with tweaks.
No extra layer of security
The security is minimal, sufficient for free users, but you cannot take risks with critical and sensitive files.
If you want to use sensitive information, then AnyConv is not recommended.
Takeaway
AnyConv is an essential 100% free online file conversion tool that supports the maximum file format. It is a quick and easy conversion tool available online.
If you have a small file and don't want extra tweaks and settings, then AnyConv will be an excellent choice for online users.