FTC disclaimer: This post contains affiliate links and I will be compensated if you make a purchase after clicking on my link.
Whether running big or small businesses, payroll software plays a crucial role in completing error-free payroll processes.
It helps in solving and automating time-consuming payment processes. The best free payroll software provides small businesses with software at no extra cost.
Free payroll software program helps in improving operational efficiency and reducing expenses for business owners.
All payroll software programs are completely free, with the only limitation of the number of employees.
It provides all essential features requiring you to run your businesses and satisfy your employee with a streamlined payroll process.
Most of the payroll software is a web-based application, or it can be downloaded in a run on your computer.
On average, there is a limitation of 10 employees for the free version of the software.
Also, most free payroll software can handle payroll taxes automatically. It is an inexpensive way to process payroll faster and more accurately.
Let's look into the best free payroll software that doesn't require any trial or registration to download or access the web-based application.
Best Free Payroll Software Program
Payroll4free.com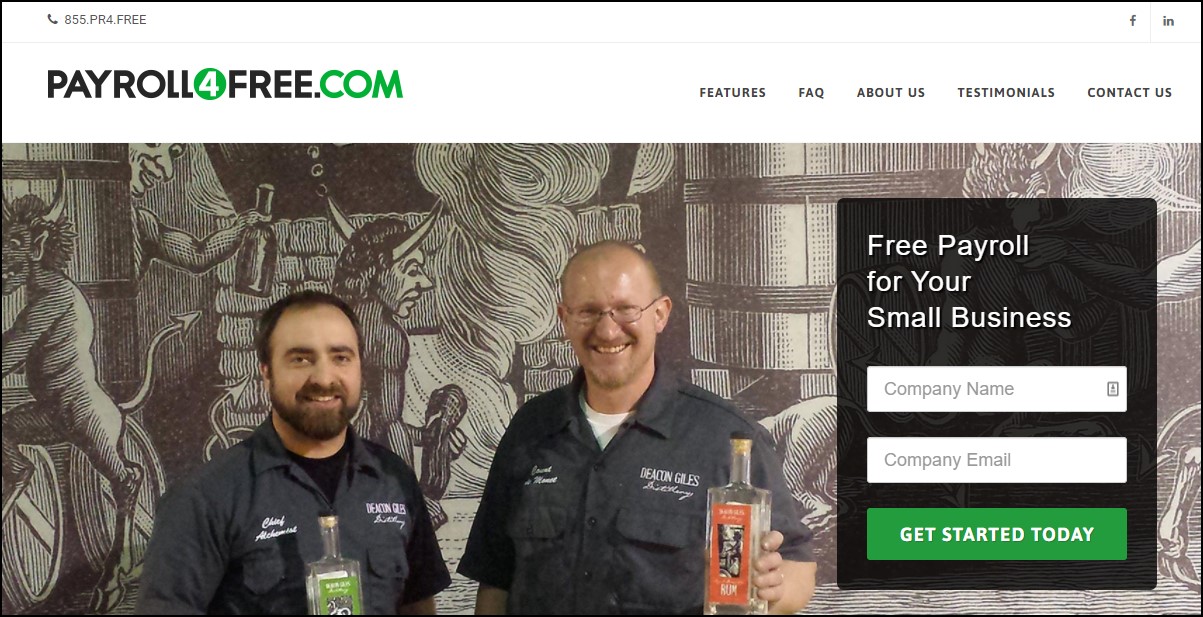 Payroll4free is an entirely free payroll software for small businesses. It doesn't require any trial or subscription to use it for free.
Moreover, Payroll4free has all features needed by the small business having employees less than 25.
Payroll4free can be used to pay salary directly to their employees and contractors. You can use both direct deposits and paper checks to pay the employees.
Payroll4free can cover all payments and calculations made of federal, state, and local taxes.
Payroll4free has various options to keep track of employee vacation, sick, and PTO time. Further, it will also calculate the amount of time the employee has worked for the company.
There is also an option to create an employee portal for your employee. It will be helpful for them to look after payment information, and if necessary, they can also take a printout.
Payroll4free allows you to create a detailed report on payroll information, including payroll journal reports, accrued time, earnings, tax benefits, and more.
Payroll4free tool is well integrated with many companies and products, letting you export payroll data for further analysis and functionality.
Lastly, if you doubt how to use the software, you can directly refer to their knowledgeable and friendly customer service.
The advantage of Payroll4free is that it is completely free, easy to use, and covers all necessary features required to run small businesses.
The disadvantage of Payroll4free is that it is free up to 25 employees. If you have more than 25 employees, you have to upgrade it to the paid version or look for paid add-ons.
ExcelPayroll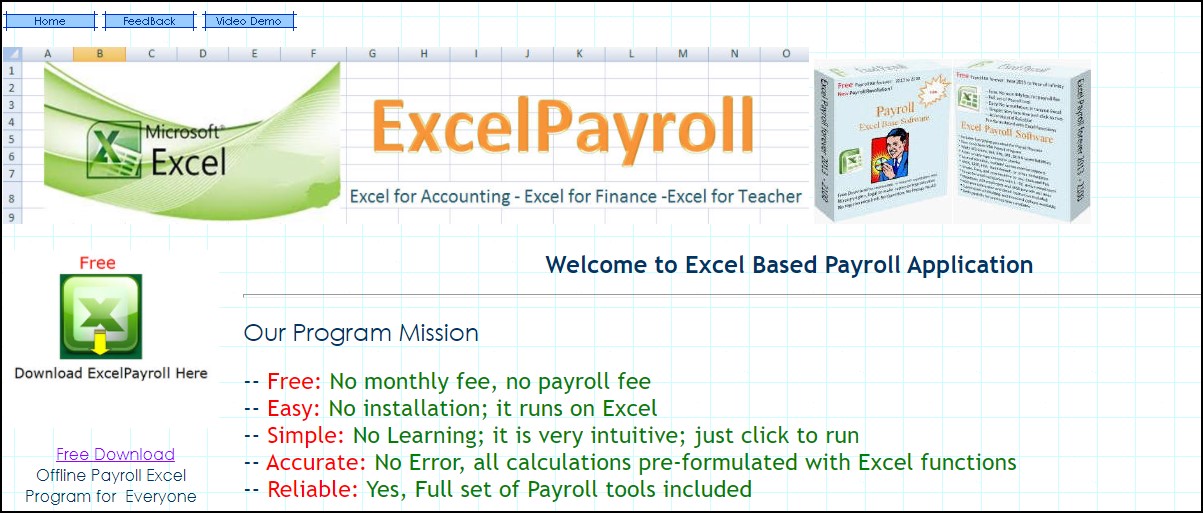 ExcelPayroll is another free payroll software that doesn't require any monthly free, no installation, and no learning.
Its reliability and accuracy have made it one of the best offline payroll excel programs.
It includes all tools and calculations you need for the payroll process.
ExcelPayroll is simple, easy, intuitive, and click and play functionality. You can generate accounting entries and print W2 forms, tax liability, and computer checks.
It is excellent for small companies having employees less than 50. It has detailed instructions on where to put values and which part is calculated using Excel macro.
HR.my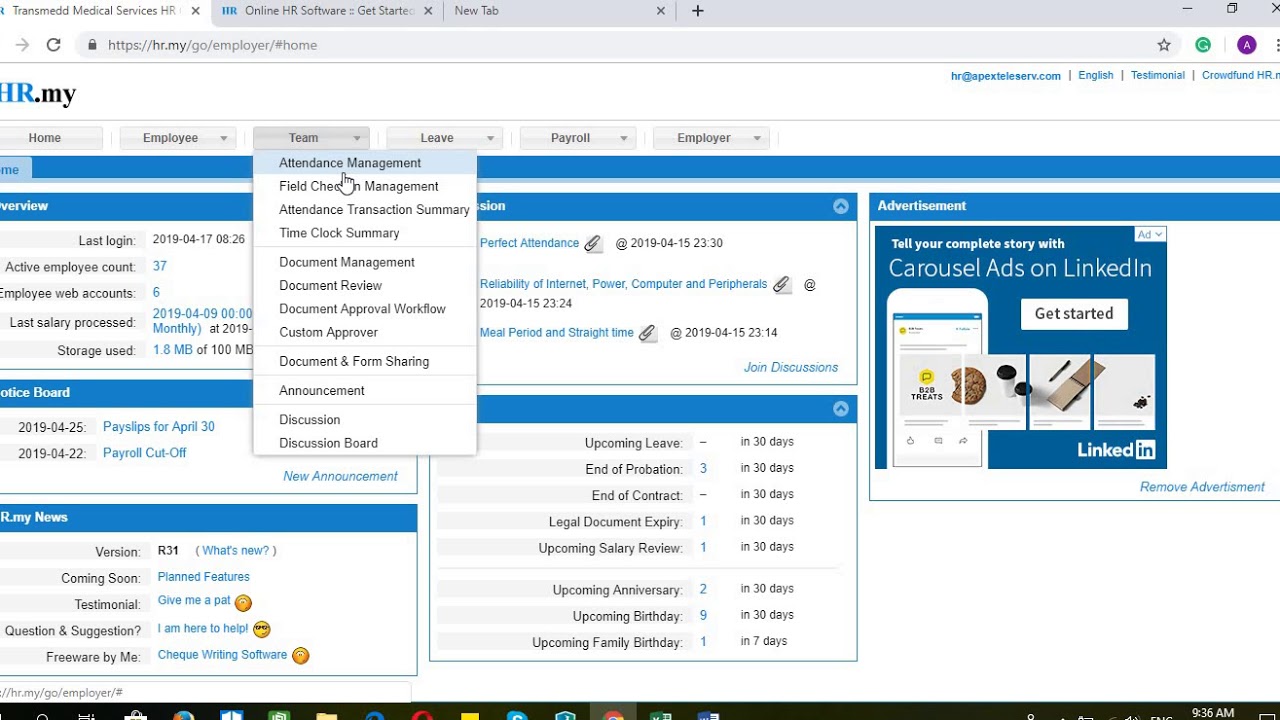 HR.my is a free online payroll application program that offers unlimited employee management.
It has online HR and payroll features, expense claim, time clock, attendance, leave management system, and document workflow.
HR.my also provides you with unlimited data storage with no pricing plans. It has stated that it will remain free forever for all users.
It provides role-based user access control to control and manage the employer account.
HR.my top priority is to provide maximum data security using encrypted SSL protocol. The employer has complete control to restrict access to data and manage employees' access to their employee web account.
You can automate payroll processing by automatically employees payslips.
HR.my other features include improving attendance and leaving visibility, document workflow, and team collaboration.
Talypayroll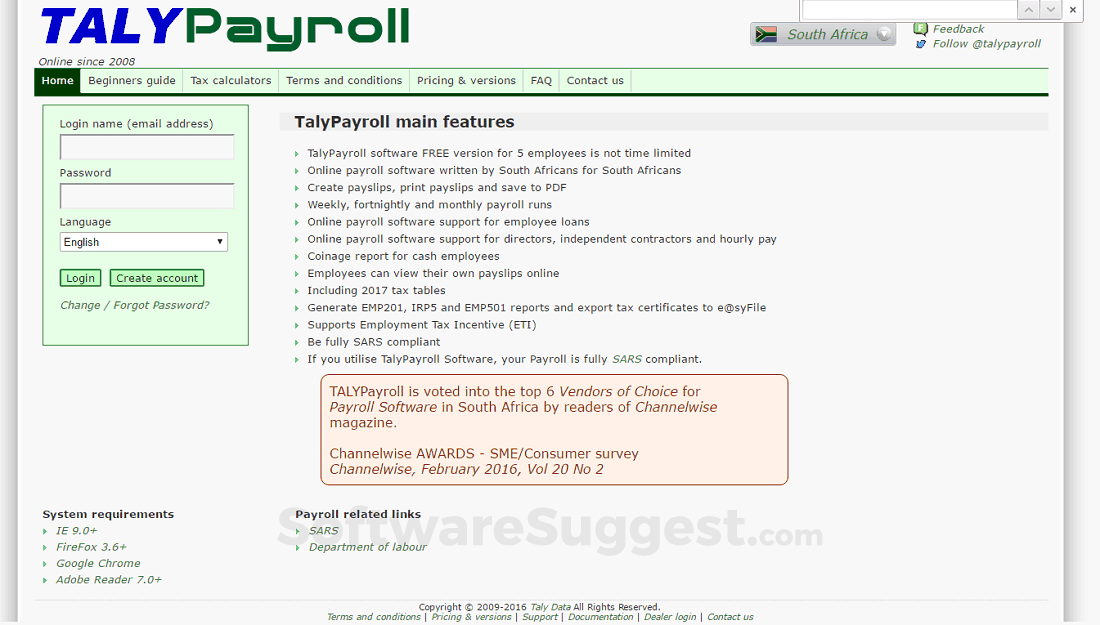 Talypayroll is an open-source best free payroll software program. It offers free services for up to 5 employees.
Further, you can create and print payslips and save them as PDFs. It supports employee loans, independent contractors, directors, and hourly pay.
Moreover, you can generate EMP201, IRP5, and EMP501 reports and export tax certificates.
It supports all major browsers like Microsoft Edge, Google Chrome, Firefox, and IE11.
Kredily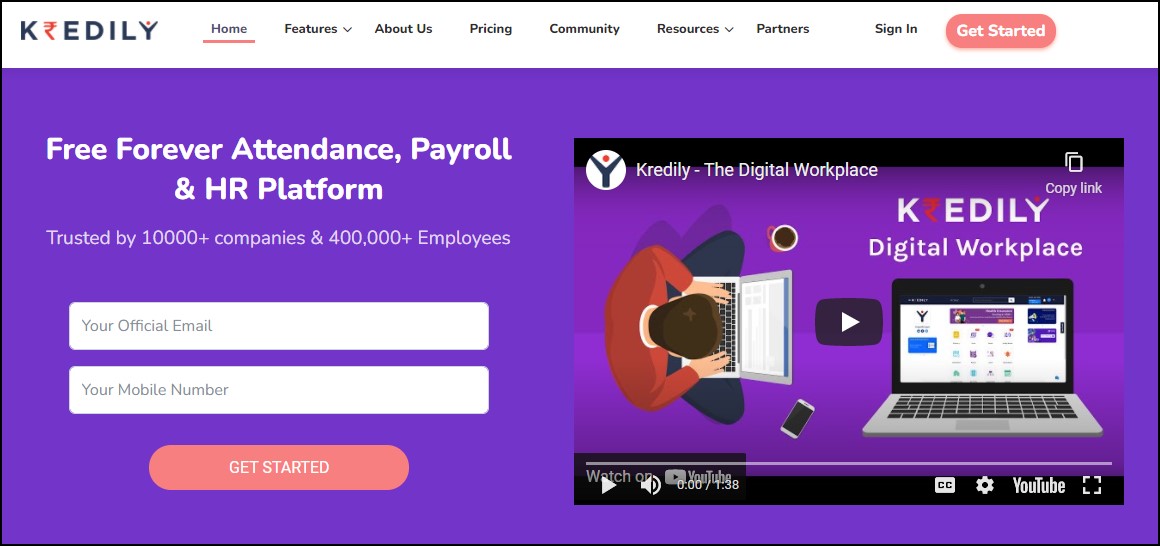 Kredily is another free-forever payroll software program that helps small companies automate payroll workflows without spending anything.
It has features like tracking attendance, optimizing business expenditure, eliminating error, and manual workflow.
Further, it has its salary payment gateway from one bank to another in no time.
You can generate a payslip in no time and customize the salary structure. Moreover, Kredily support and simplify compliance function like PF, PT, ESI, and TDS.
Kredily has the functionality to automatically calculate employees' tax liability based on salary structure and investment declaration.
They offer an income tax calculator, bank integration facility, and more.
Empxtrack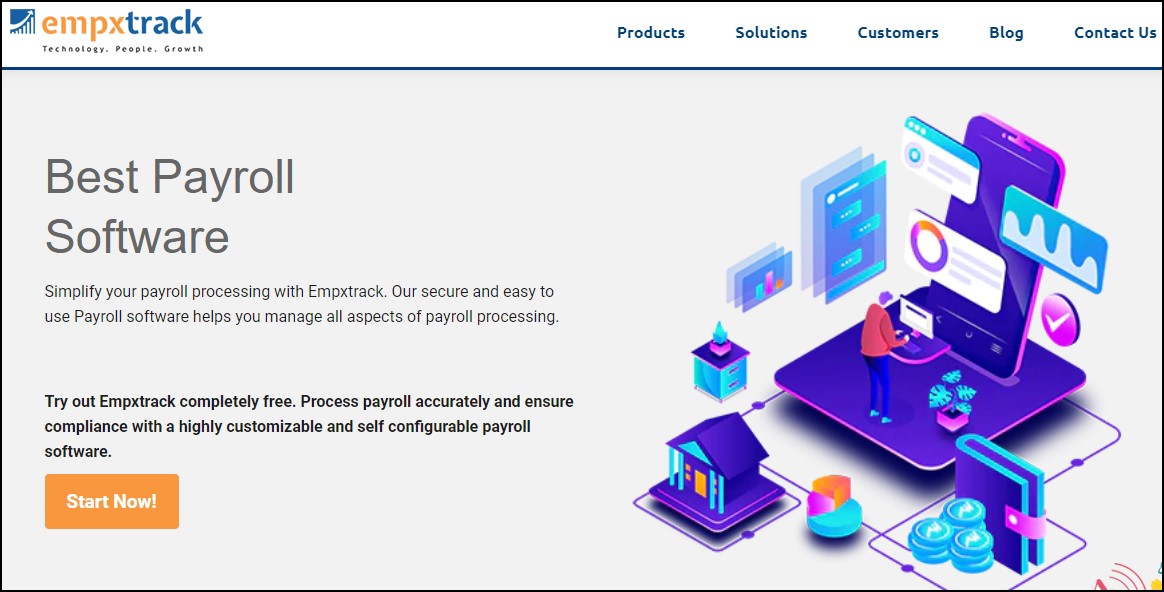 Empxtrack is another best free payroll processing software program that supports all aspects of payroll processing.
It is highly customizable and self-configurable payroll software that makes all deduction and compliance more accessible.
Further, it also claims and ensures zero error payroll processing that verifies employee data automatically calculates salary, disburse salaries and share payslips.
Empxtrack is an extremely intuitive and easy-to-use payroll software offering a free employee portal, add-ons, integration with multiple HR tools, and much more.
The disadvantage of Empxtrack is that it offers free packages for up to 20 employees, and also, there is some restriction in customization for free users.
Conclusion
Before choosing the best free payroll software for your businesses, you must consider several factors.
You need to ask yourself the number of employees you have, are they are employees or independent contractors, payroll calculation time to time, or monthly basis.
Overall, the best free online payroll software for small businesses is Payroll4Free. If you are looking for offline payroll software, Excell Payroll would be an excellent choice.