FTC disclaimer: This post contains affiliate links and I will be compensated if you make a purchase after clicking on my link.
With the increasing demand for online video streaming apps, our entertainment methods have changed a lot.
Those who can't afford the premium services are looking for free movie apps for Android and iOS.
But, the prime concern of these free apps is that most of them are not legal and safe to download.
On the contrary, uploading movies and TV shows to your devices will take lots of space. And to save space on your device, you have to convert a large movie file into a different format.
The whole process of storing movies on your device will take a lot of time and are not feasible in certain circumstances.
Keeping these things in mind, we have jotted down the list of best free streaming apps for Android and iOS. All apps are free and legal in providing the content.
So, without any further ado, the best free movie apps for Android and iOS.
Best Free Movie Apps to Download Legally
Tubi TV – Free Movies and TV shows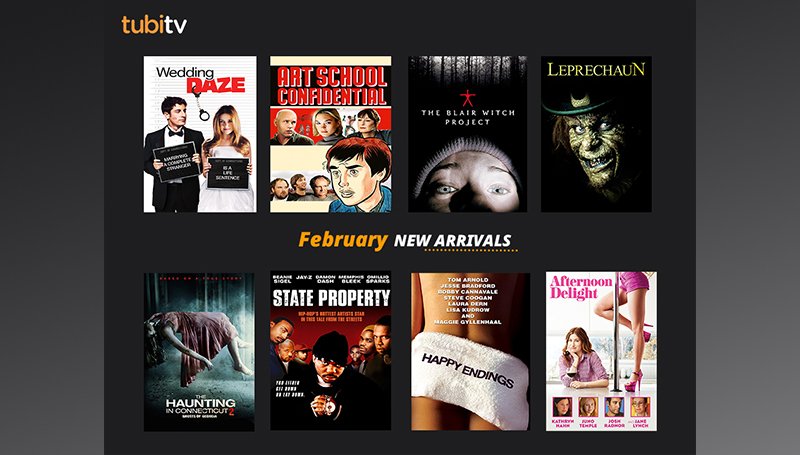 Tubi has a massive collection of hit movies and TV series to watch for free. Also, you will find a good collection of documentaries and television series that may attract most of the users.
It is straightforward to use the application, well-structured, and 100% legal with unlimited streaming.
Moreover, it doesn't require any credit cards, and also, no subscription is required. It has beautifully sorted movies into categories that you can browse easily.
It works amazingly well compared to the paid version apps such as Netflix and Prime. Tubi TV contains ads, but it doesn't annoy you.
The streaming quality of Tubi TV is of high quality, most likely in 1080p. Also, it works smoothly and is quickly accessible across devices.
More importantly, they even contain TV shows and movies that you won't find on Netflix. Also, they keep adding new movies and TV shows, so that you won't get bored watching the same ones.
Tubi Tv is a good alternative to a paid one, and its web version has an option for screencasting.
You can download Tubi TV on Android, iOS, Amazon Kindle Fire, Xbox One, PlayStation 4 for free.
Vudu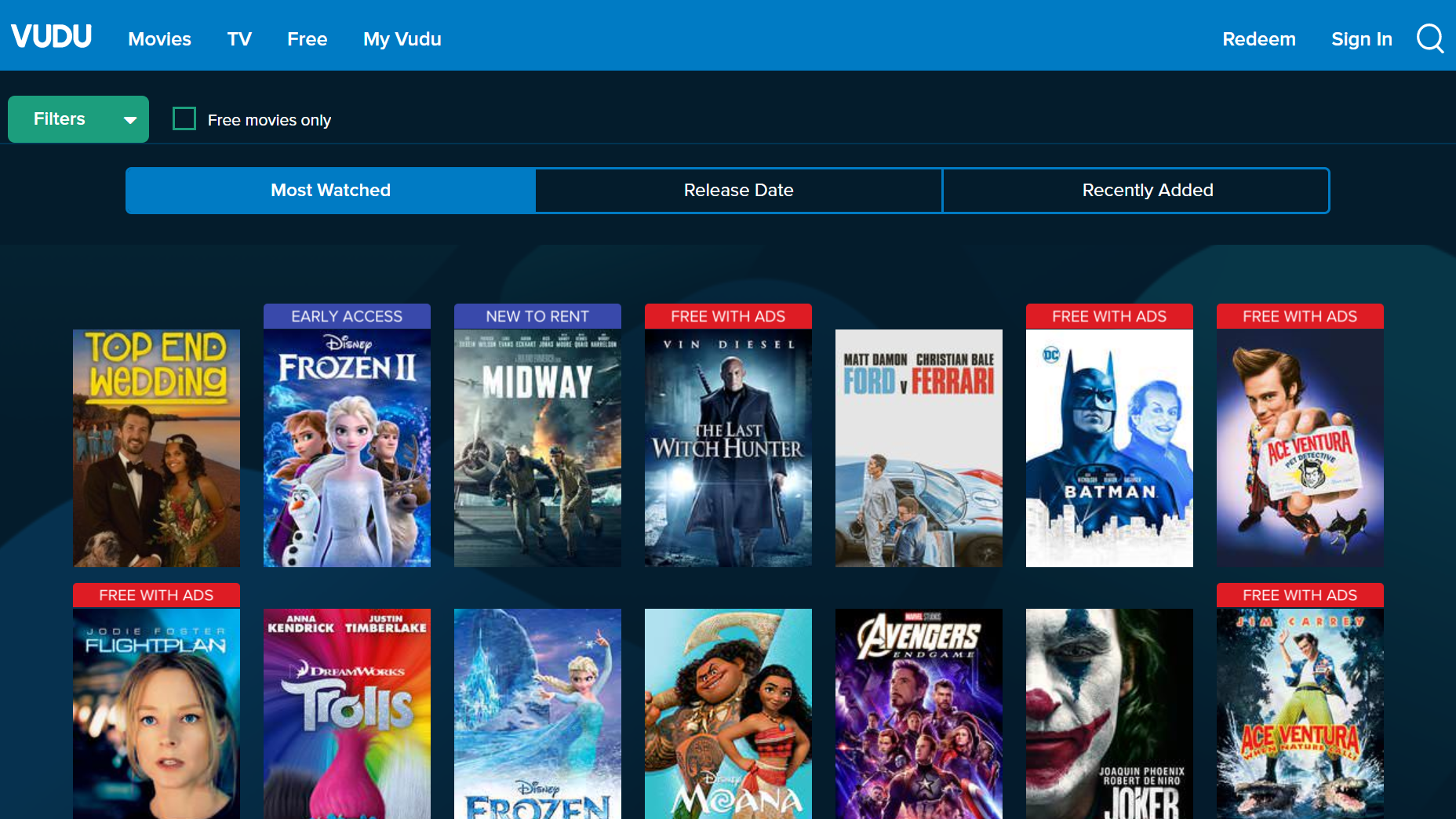 Vudu has a vast collection of movies and TV shows which you can watch freely.
Moreover, it doesn't have any subscriptions and contracts to sign in, but it requires a free account to watch movies.
The picture clarity is expected up to 4k UHD, and sound comes with Dolby Vision HDR and Dolby Atmos audio on selected devices.
You can watch most Vudu movies freely without ads by enabling the "Free with ads" label.
If you want to watch offline or face some buffering issues, you can download it on your phone.
Additionally, Vudu is currently supported by Google Chromecast, which will make it easier for you to watch on the big screen and not be limited to the phone.
Although some have faced issues with their downloads and upgrades, the plus point is they will listen to your problems and solve them effectively.
You can download Vudu on Android, iOS, PlayStation 3, PlayStation 4, Xbox One/Windows, Roku.
Sony Crackle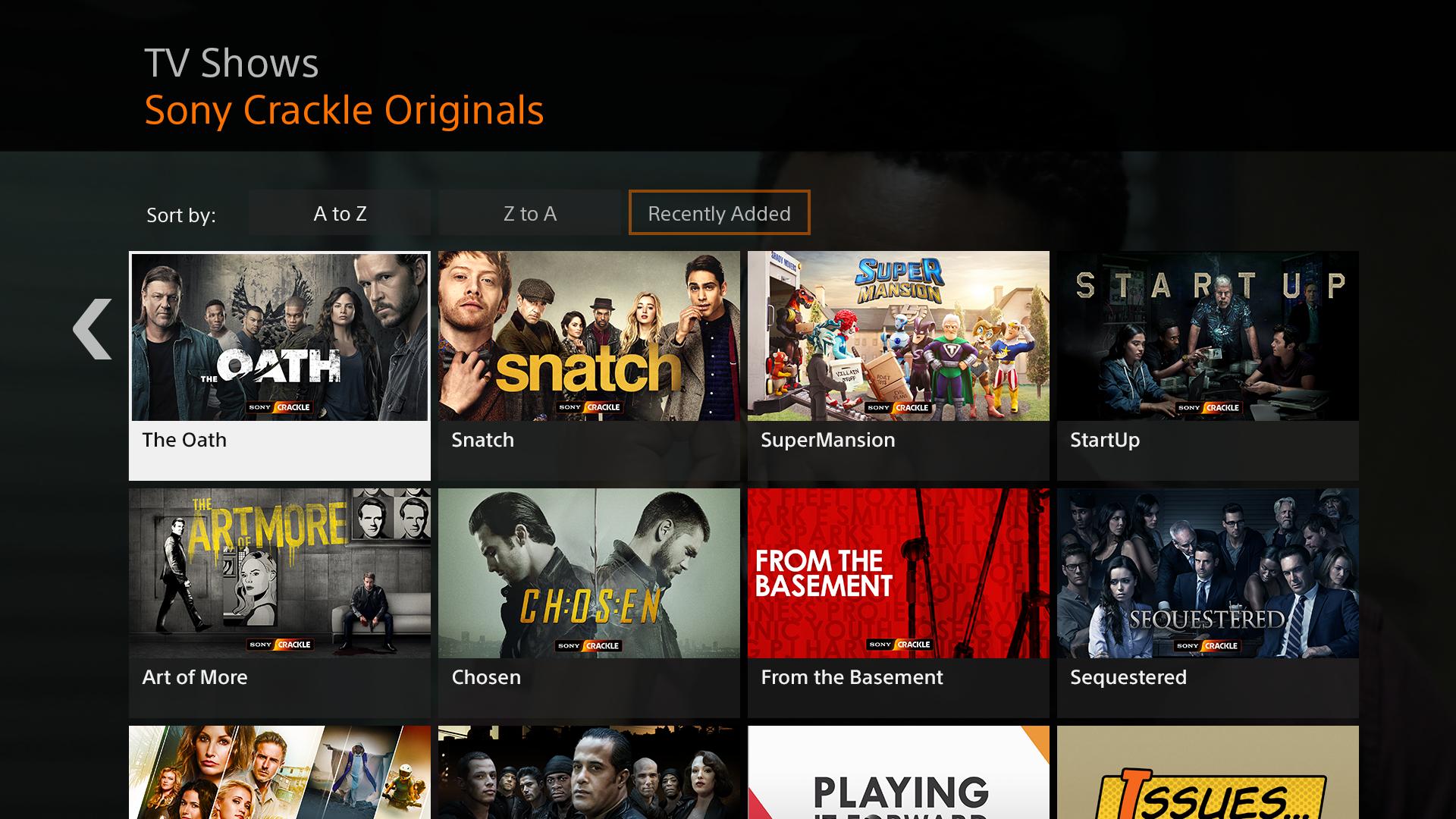 Sony Crackle is an accessible destination to watch premium movies and TV shows. Recently, Crackle was acquired by Sony and is known as Sony Crackle.
It is supported by most devices and doesn't require any subscription. It was reiterated that Crackle is always and forever free as per the company.
Crackle doesn't require an account to watch Hollywood movies, TV series, and originals. But, you may find a lot of ads frequently coming while streaming.
So, if you set up an account in Crackle, it may serve a few ads. And the content of Sony Crackle is impressive, making it worth watching a few ads.
Additionally, you can keep track of your favorite titles with "Watch Later."
Further, you can even filter genres like action, thriller, drama, comedy, and fandom to find newly added movies or TV shows.
The downside of Sony Crackle is it shows lengthy and frequent ads. Also, when you pause a video, it again starts with the last ad reel.
Sometimes, it also faces compatibility issues with Roku and difficulty casting on TV.
People also found out that the streaming of movies or TV shows is not that smooth. It got paused, or sometimes it got disconnected due to a slow internet connection.
Overall, Sony Crackle is worth trying to watch a vast collection of content except for a few glitches.
You can download Sony Crackle freely from Android, iOS, Xbox One, Windows, Roku, Playstation 4, Amazon Kindle Fire.
Pluto TV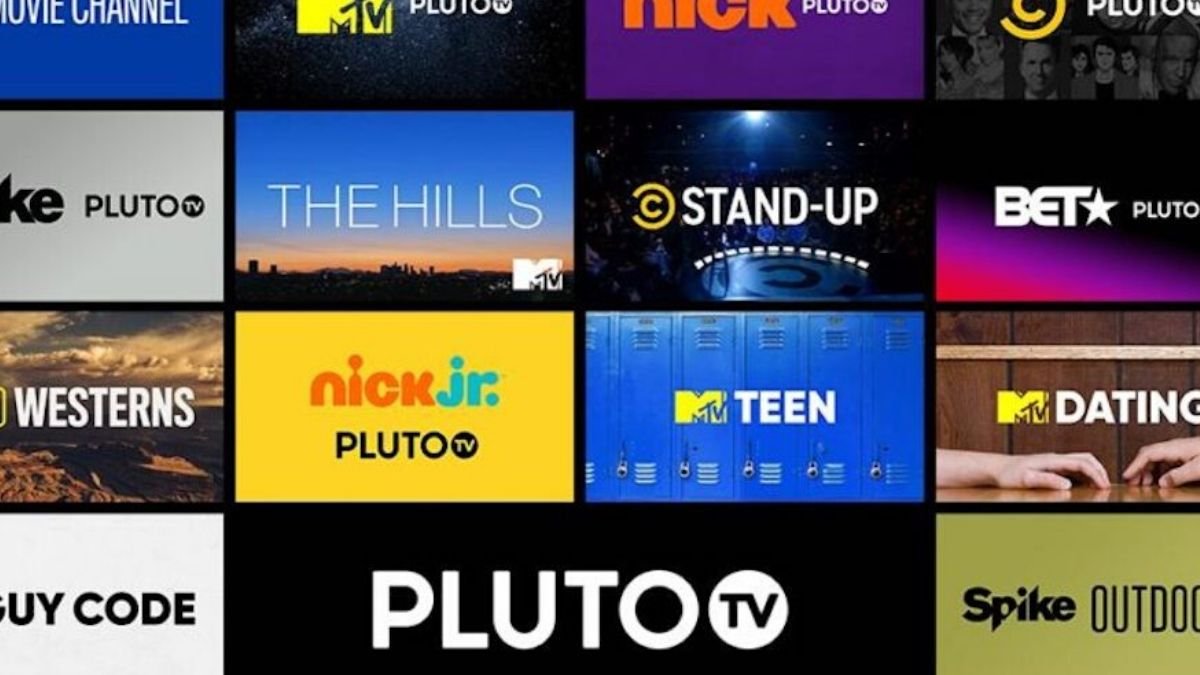 Pluto TV has a tremendous assorted collection of movies and TV shows. It also contains hundreds of free channels where you can watch the latest movies, TV shows, breaking news, and more.
Moreover, it has a very simple user interface, not clustered with so many features. You can have a dedicated tab for free movies and TV shows.
Pluto TV also has additional benefits to sort and hide TV channels that you don't prefer to watch.
Additionally, the fast streaming of live TV channels is impressive, and you can switch between channels without any buffer time.
The downside of Pluto TV is that the app has very few customization options, the search function is not proper, and it isn't easy to cast on the smart TV.
Moreover, users are still facing glitches like taking lots of space, continuously running in the background, some functions are not working in landslide mode, and it is killing the battery too soon.
Apart from this, Pluto TV is easy to navigate, has not too frequent commercials, and has great content to watch.
You can download Pluto TV on Android, iOS, Windows/Mac, Roku, PlayStation 4, Amazon Kindle Fire.
FilmRise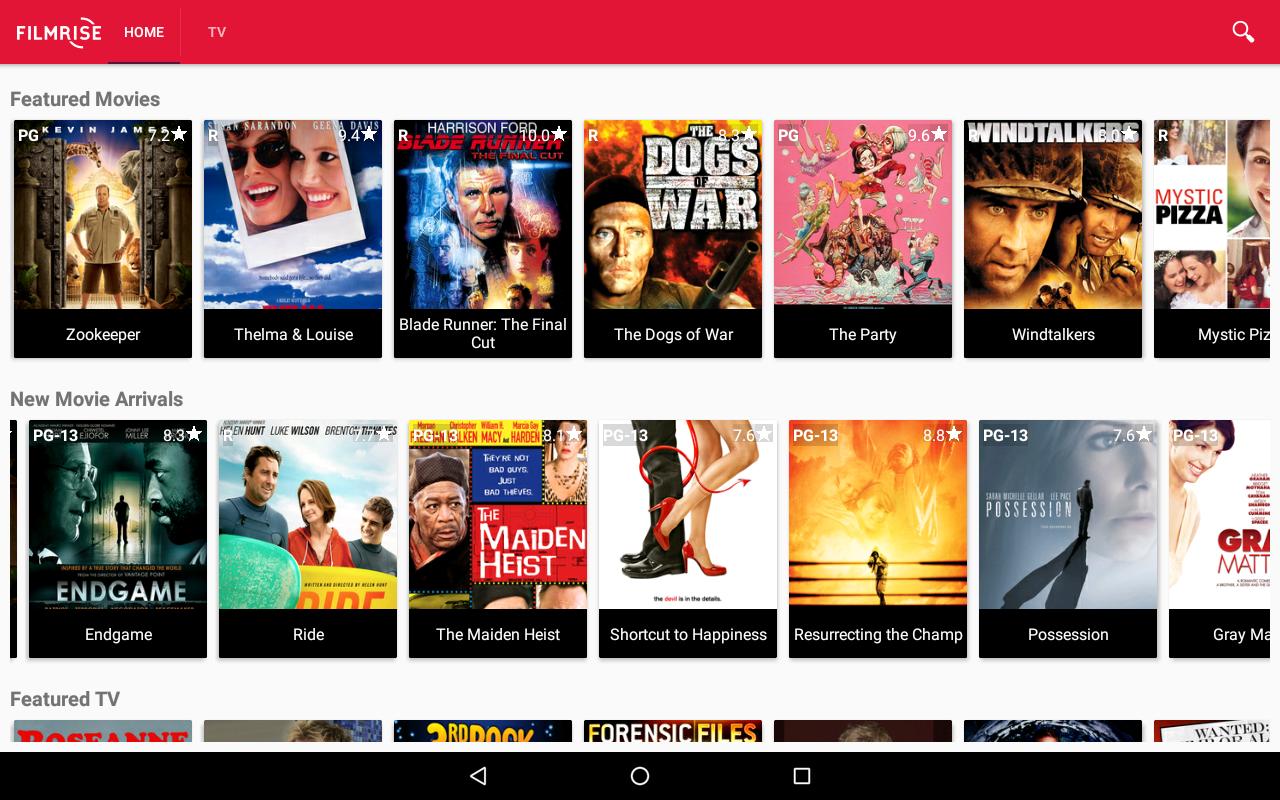 FilmRise offers an extensive collection of movies and TV shows. It contains the right mix of TV series and documentaries but still needs more content.
Although you may find some of the movies, documentaries, and TV shows you used to watch on Netflix, they are freely available in FilmRise.
FilmRise streams HD quality video, and it doesn't require any subscription fee and credit card details.
They have nicely included movie ratings and IMDB popularity ratings, making it easier to decide what to watch.
Moreover, they automatically create recent playlists and editors' playlists, making you aware of what you watched earlier.
You can choose from favorite genres like Drama, Thriller, Horror, Comedy, Documentaries, and Martial Arts Movies.
The downside of FilmRise is that it still faces a problem with Chromecast, loading of videos is not too quick, and sometimes it creates buffering issues.
Although, the developer of FilmRise is very responsive and took regular feedback from viewers. They try their best to remove glitches as soon as possible.
Additionally, they need to include more old movies and create a separate section for new entry titles.
FilmRise currently supports many devices. You can download FilmRise on Android, iOS, Xbox/Windows, Roku, Amazon Kindle Fire.
Plex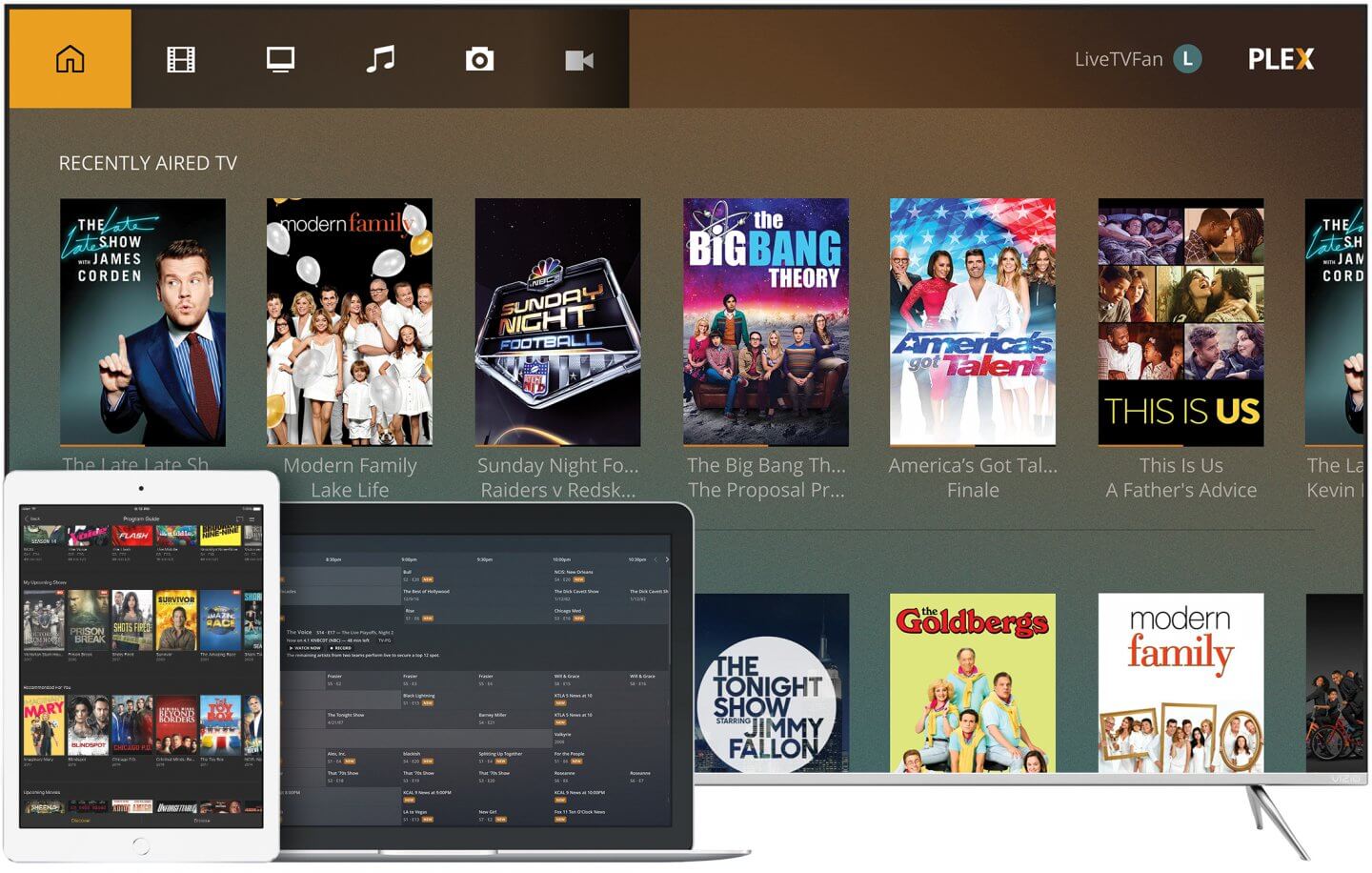 Plex offers free movies and TV shows along with web shows, podcasts, and online news. You can also have your videos, photo, and music.
They extensively cover a wide variety of content, from award-winning movies to Anime. You can also find Bollywood music, documentaries, and family-friendly shows.
They offer a beautiful and straightforward user interface. Recently, they have added detailed descriptions, artwork, and some other related information.
Plex included search features, and it can create your personalized recommendation if needed.
The drawback of Plex is that you have to create an account before streaming any videos. Moreover, some users also experienced stuttering problems and connection issues with Chromecast.
Furthermore, the user interface of Plex needs an upgrade with more valuable features.
Apart from a few glitches, it is worth giving a try to Plex. It is also a better replacement for the paid version of Google Play Music, YT Music, and Netflix.
Additionally, Plex ads are not annoying, like other apps.
Further, Plex offers paid subscriptions too, which will be ads-free and much more content to watch.
You can download Plex on Android, iOS, Roku, Playstation 4, Amazon Kindle Fire, and Xbox One.
Popcornflix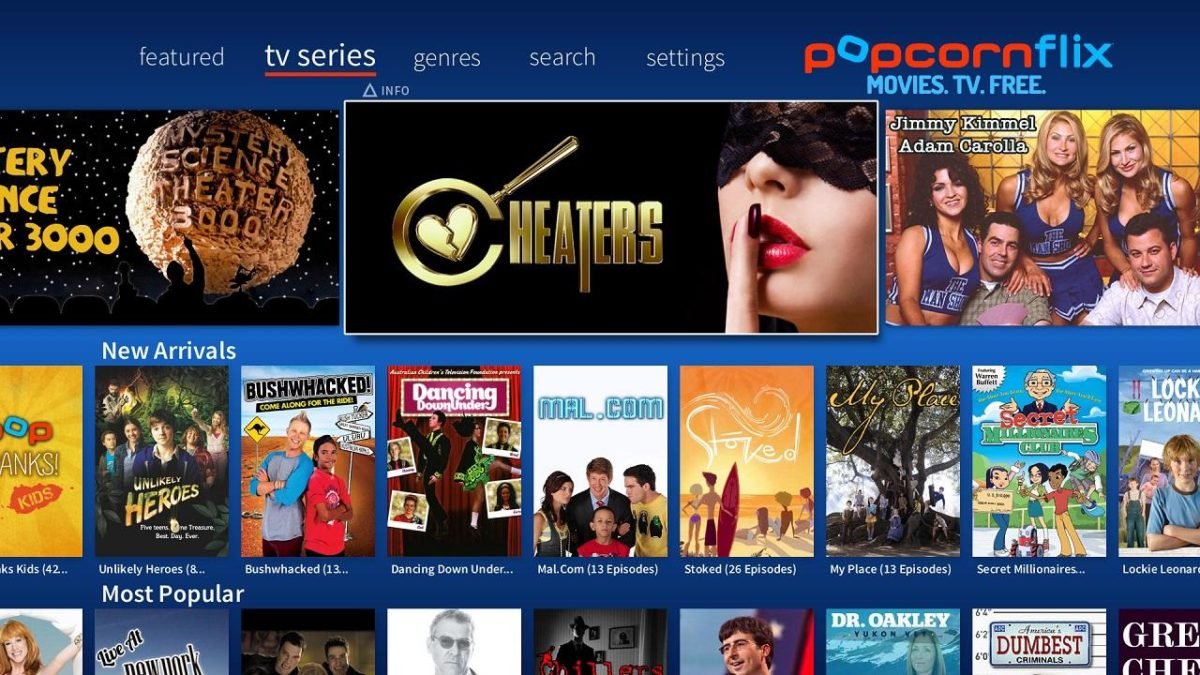 Popcornflix offers free ad-supported content like movies, web series, TV shows, and documentaries.
To watch free content on Popcornflix, you don't require any subscription, signup, or credit card details.
Although, a free signup account has different advantages like you can personalize your account, enhance the streaming experience, rate content, and create GIFs while viewing.
The movies available on Popcornflix are recognizable, and TV shows are a little underwhelming.
The downside of Popcornflix is it contains too frequent ads, dated content, some content is blocked in some countries, and difficulty in connecting with Chromecast.
Additionally, some of the devices do not support the streaming and downloading of videos. Most of the users are also facing continuous buffering of videos.
You can download the Popcornflix app on Android, iOS, Amazon Kindle Fire, Playstation 4, Roku, Xbox One.
Yidio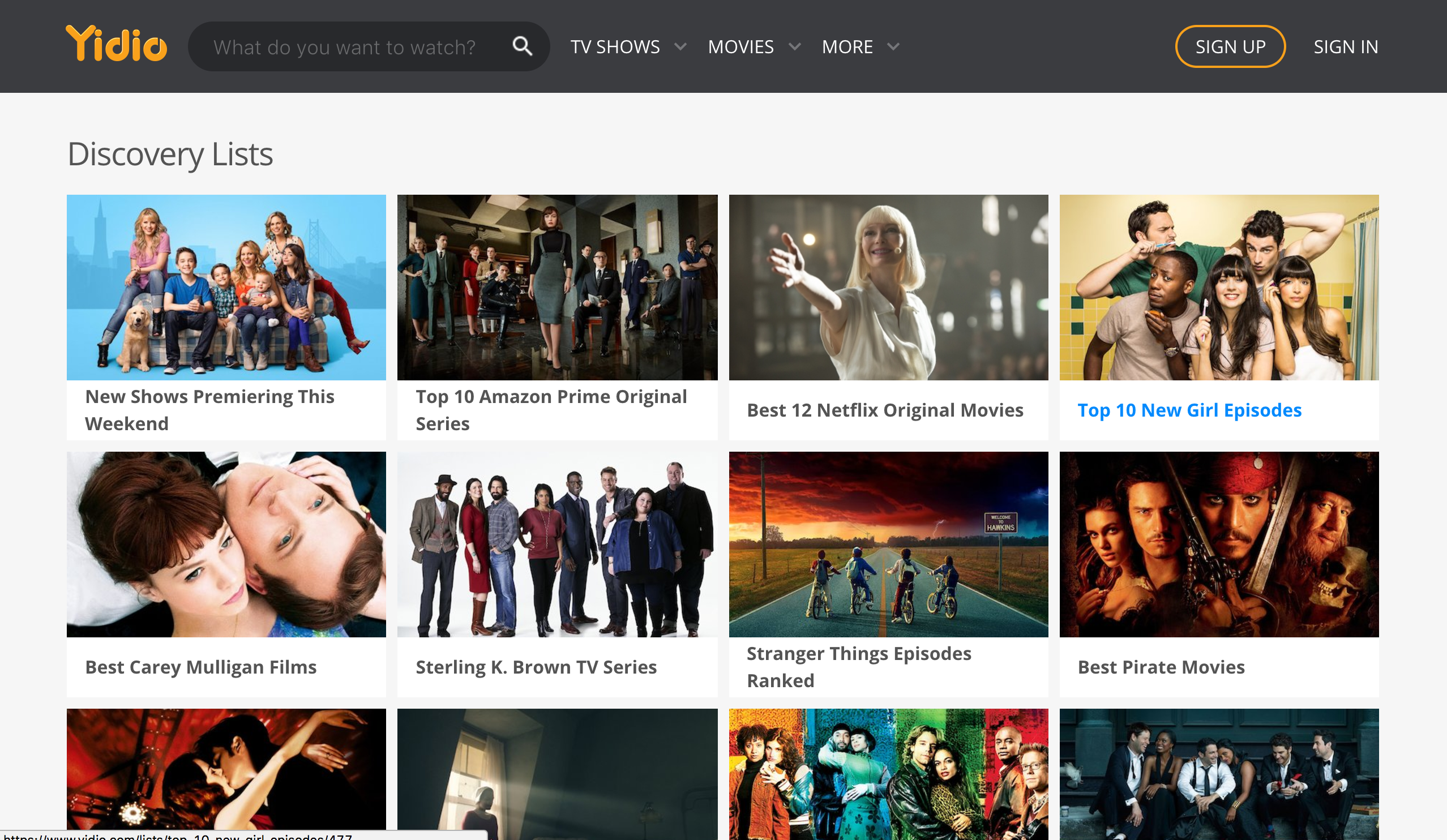 Yidio is a convenient source to discover, find, and track where to watch TV shows and movies.
It included both free and paid sources like Tubi TV, Crackle, Netflix, Hulu, Amazon Prime, and much more.
The free account with Yidio will help you have personalized suggestions, a watchlist, daily reminders, and price comparison.
Besides, you can have advanced search, filtering, and daily recommendations. It also has a facility to notify particular movies and TV shows when and where they are available.
Yidio also has a premium version where you can watch the video without any ads, get real-time-reminder, and get priority assistance from experts.
The best part of the Yidio app is that you will have an extensive list of content, aggregates from lots of free movie apps, as well as paid apps. Also, with filtering options, you can create a massive list of free movies and TV shows.
The downside of the Yidio app is that the download of movies and TV shows requires you to sign up for an account. Also, they still have some signup glitches which need to be rectified.
Moreover, the request notification of new movies and TV shows is not working as claimed.
Conversely, the paid subscription of Yidio is not found valuable enough for users.
Still, want to give it a try? You can download Yidio on Android, iOS, Amazon Kindle Fire.
Filmzie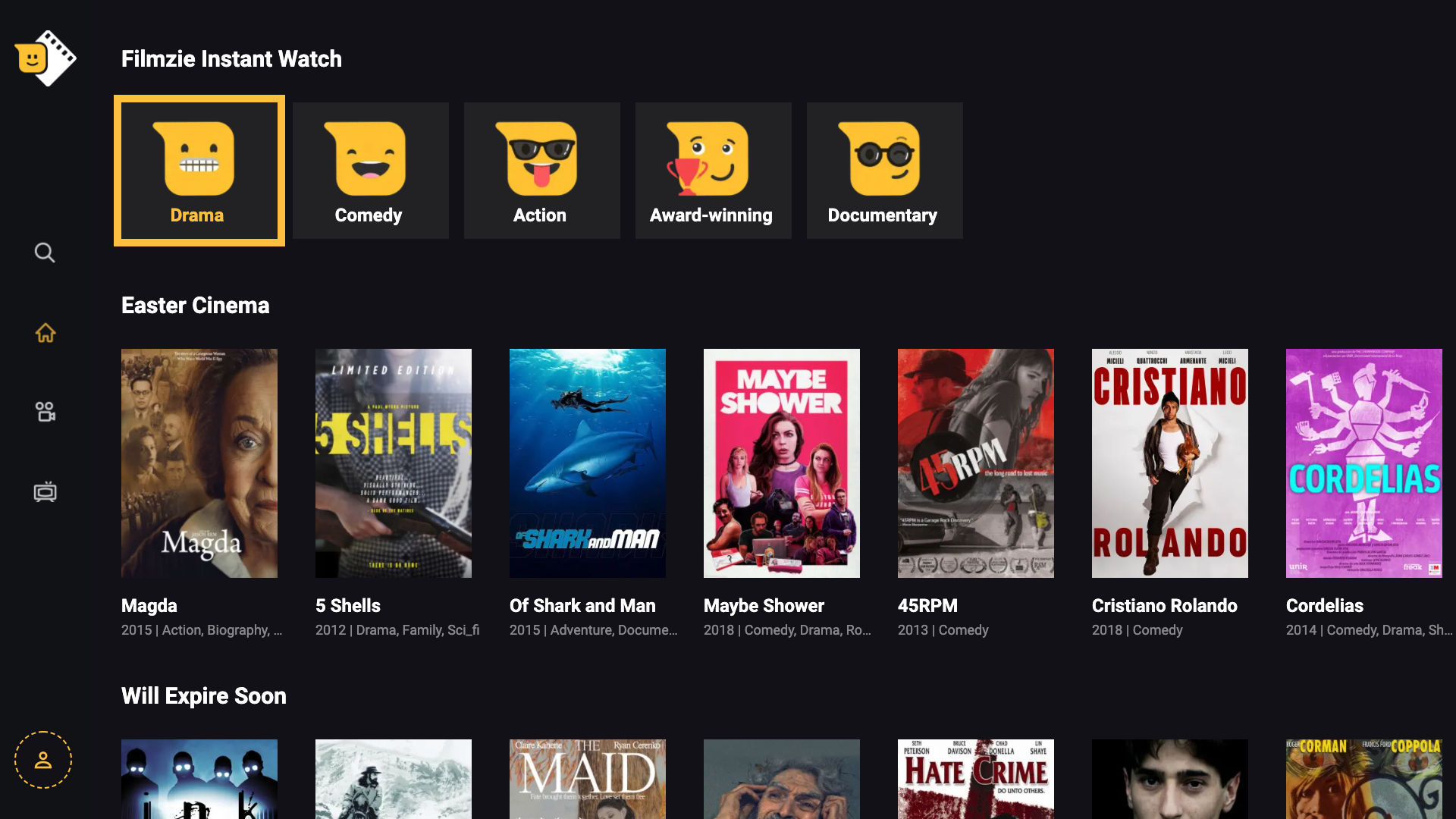 The Filmzie app offers high-quality movies mostly from independent filmmakers and small studios. It is free and is a 100% legal platform.
It connects independent filmmakers with an audience. They even urge you to support the platform with small ads to reward filmmakers.
Moreover, the support from the audience will help them create an exceptional film and help broaden the community.
You will find tons of free content in the Filmzie app. They have a catalog of best award-winning movies, mind-blowing short films, the best in independent cinema, enlightening documentaries, and much more to watch.
The Filmzie app doesn't have any subscription and does not even charge any fee. Also, the new content is added regularly, which is worth watching.
The downside of the Filmzie app is its user interface, which needs to be improved. Also, they don't have the facility to connect with Chromecast.
The advantage of having the Filmzie app is that you can have high-quality content without much ad interruption.
You can download the Filmzie app on Android and iOS.
Final Thought
We have listed free movie apps for Android and iOS that are legal and free to watch.
You may find some of the content not available in some countries. This may be due to privacy concerns and regional limitations.
If you still want to watch banned content in your country, then you can consider having a good VPN.
However, you will notice that hundreds of free movie apps are available in the Google Play store and iOS app store. But, most of them are illegal and has security concern associated with them.
It is not advisable to download any illegal apps that may compromise your smartphone's safety and security. So, be cautious about that.
Similarly, read our free movie download sites that don't require any registration.