FTC disclaimer: This post contains affiliate links and I will be compensated if you make a purchase after clicking on my link.
Data privacy and security have become increasingly important in today's digital age. As more and more businesses store sensitive information online, it is crucial to have proper access governance in place to ensure that only authorized individuals can access this information.
However, implementing access governance can be daunting for small businesses with limited resources.
Luckily, free access governance software options can help businesses of all sizes protect their sensitive data.
In this article, we will explore the best free-access governance software options on the market and provide a comprehensive review of each one.
Whether you're a small business owner or an IT professional, this article will help you find the right access governance software for your needs.
What is Access Governance Software?
Access Governance software is essential for businesses in our modern digital society. It helps companies maintain the security of their critical systems and data by controlling who has access to their resources.
Access Governance software allows them to implement rules and policies that set access controls and permissions across all departments, allowing management to more closely monitor user activities and approved access levels.
This type of software provides authentication tools such as single sign-on and integrated security measures so that only authorized users can gain entry into the system with their credentials.
The ability to view permissions across different departments regarding users, their roles, access privileges, and detecting potential suspicious activities makes it an invaluable asset for ensuring compliance across an organization.
Furthermore, reports can be generated quickly for management review, which increases accountability within the organization when it comes to accessing sensitive areas within a business's network or conducting certain tasks within defined areas.
ManageEngine PAM360 (free trial)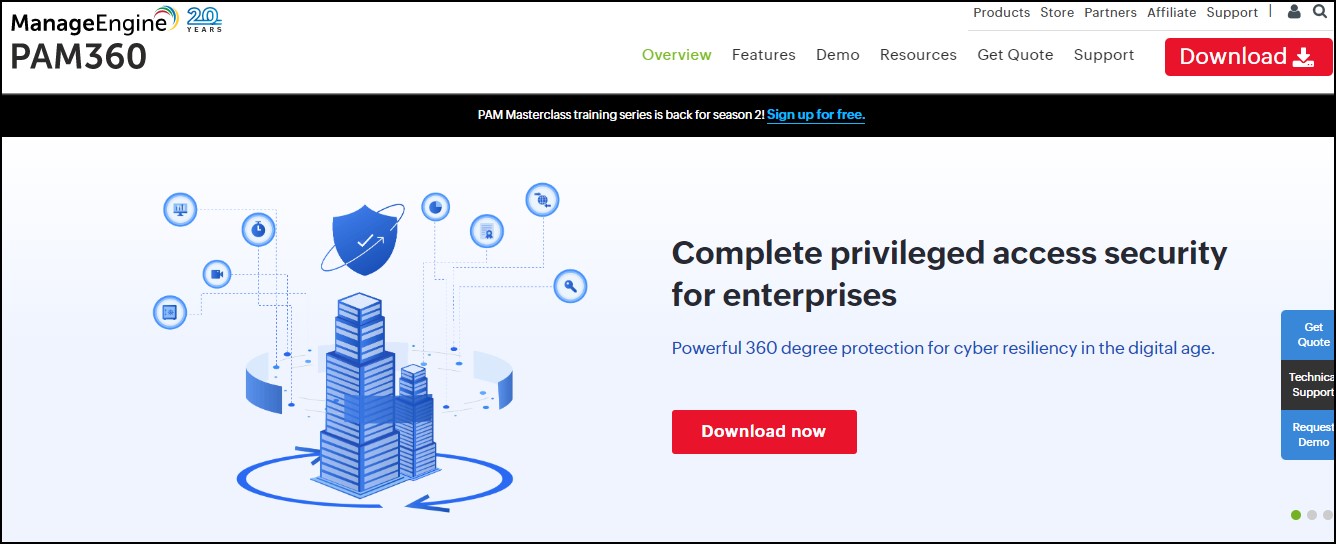 ManageEngine PAM360 is a comprehensive privileged access security solution for enterprise IT teams that empowers businesses with complete privileged access governance.
With this solution, IT teams can quickly and easily gain control over the most sensitive company information by keeping track of all privileged accounts, activity, and access policies from a single, central console.
Additionally, PAM360 helps companies meet their compliance requirements by providing out-of-the-box reports that relate to overall organizational security.
The benefits of using ManageEngine PAM360 extend beyond the base security it provides. By correlating privileged access data with general network data, IT teams are able to detect threats faster and more accurately than ever before.
Furthermore, organizations that use PAM360 can effectively ensure that any unauthorized changes to an organization's IT infrastructure are blocked or strictly monitored.
Finally, automated policy enforcement allows privileges to be restricted whenever necessary or configured, granting users only the right set of privileges needed to perform tasks.
FusionAuth (Free)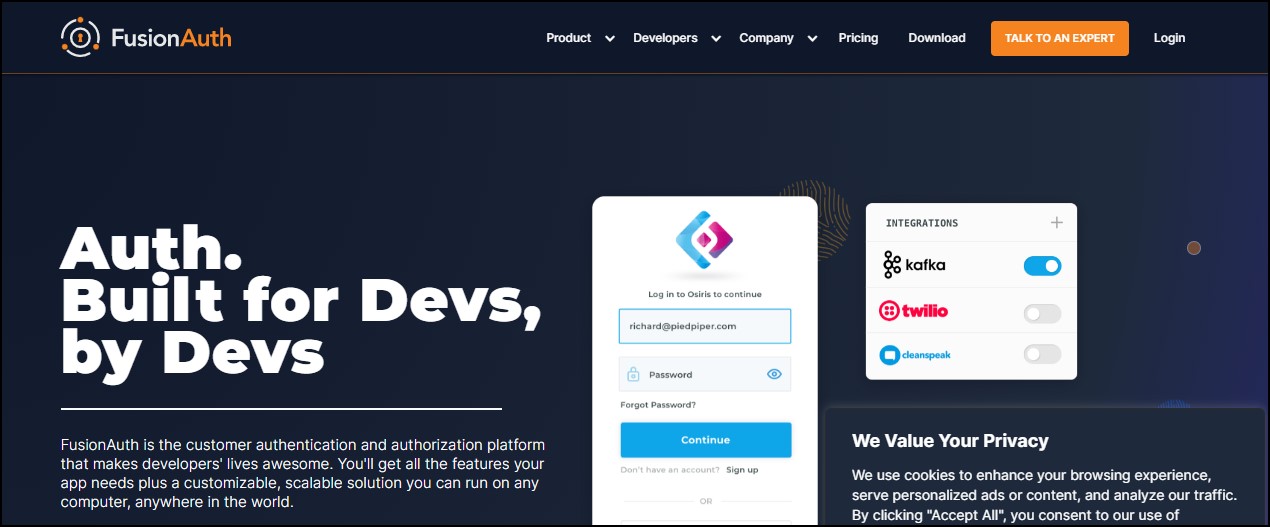 FusionAuth is the perfect authentication and user management platform for developers. It provides deep tech documentation, APIs, and SDKs, making it super simple to get up and running in less than five minutes.
FusionAuth offers a comprehensive suite of features that enhance security and provide an easy-to-use experience for users.
It includes branded login options, social logins, single sign-on (SSO), multi-factor authentication (MFA), biometric authentication (passkeys), passwordless authentication and magic links, complete user management, machine-to-machine authentication, advanced threat detection – plus standards based on oauth2, OIDC, web auth and more!
FusionAuth provides powerful features for any type of application or framework setup and offers extra security measures, such as reCAPTCHA tools that prevent malicious activity from compromising the system.
In addition to this, FusionAuth has an incredibly responsive customer service team who are always ready to assist you with any inquiries you might have.
With its high-quality support and amazing range of features–FusionAuth is the perfect platform to manage all your users while enabling superior security over your data.
Okta (free trial)

Okta is an identity and access management platform that provides users with an efficient, secure, and effective way to manage authentication and access to applications, know-how, and data.
The Okta Identity Cloud is a cloud-based solution that helps organizations reduce complexity and optimize the user experience.
Its unified identity and access management workflow reduces the manual effort for managing authentication, protecting corporate apps on all devices, setting up single sign-on for employees, creating multi-factor authentication for extra security, and providing insights into changing employee roles.
This end-to-end solution features centralized control that enables enterprises to quickly provision, deactivate or delete any user account regardless of active directories they may belong to.
In addition to its automation capabilities, Okta Identity Cloud also offers advanced analytics that provides organizations with detailed reports throughout the entire lifecycle of their security posture, including trends in real-time access activities.
This helps organizations make informed decisions about user profiles allowing them to better understand risk exposures in their network environment and more accurately predict future risks.
The same data can also be used to measure successful user adoption trends, ensuring that users access qualified IT services through secure protocols such as MFA (Multi-factor authorization). With features such as policy enforcement & monitoring alerts, the Okta
Duo Security (free trial)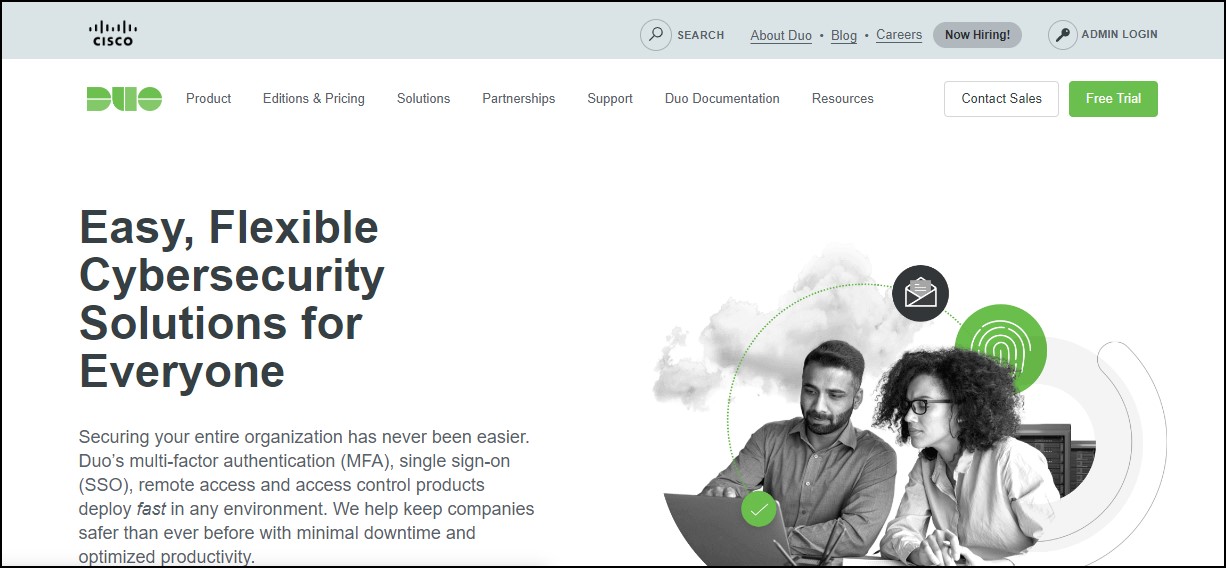 Duo Security is an advanced authentication system developed by Cisco that provides users with simple, one-tap access to their applications.
Rather than relying solely on a single set of credentials, Duo Security utilizes multi-factor authentication to keep your accounts safe and secure. This means that Duo Security can detect and prevent unauthorized access even in the event of lost or stolen credentials.
Furthermore, Duo Security can track user activity and detect changes in their behavior that could indicate malicious intent.
In addition to its powerful security features, Duo Security offers many other benefits as well. It is easy to deploy and manage, so admins don't have to waste time configuring complex technical settings.
Additionally, users save time on logging into applications as they no longer need to remember multiple sets of credentials for each application.
Finally, with the continuous monitoring and alerting capabilities of Duo Security, admins are kept informed about any suspicious activity so they can take immediate action before any damage is done.
JumpCloud Directory Platform (free)

JumpCloud Directory Platform promises to offer businesses a more robust solution for identity, access, and device management than has traditionally been available in the market. The platform provides numerous features to help companies better manage and secure their users, devices, and applications.
An innovative aspect of this platform is its support for advanced authentication protocols like SAML 2.0 or Active Directory Federation Services (AD FS).
JumpCloud's single sign-on services are designed to work with various applications regardless of where they are hosted. Through these capabilities, businesses can create an easier user experience by providing multiple methods of authentication for users who need access to specific applications or resources.
This platform also offers two-factor authentication solutions and integration with popular web applications such as Google Drive and Salesforce.com, making it an ideal choice for businesses who wish to provide their employees easy access to internal databases while maintaining stringent security procedures.
OneLogin (free)
OneLogin is an identity management (IAM) and single sign-on (SSO) solution for companies of all sizes. It enables users to securely access corporate applications by signing in once and then gaining access to multiple applications and services with a single click.
OneLogin can be implemented quickly, so companies of any size can get up and running quickly with minimal administrator effort. Additionally, a free trial is available so businesses can test the solution before making a final decision.
With OneLogin, organizations can streamline their IAM workflow while complying with policy requirements such as two-factor authentication and password complexity settings.
Through its SAML-based SSO capabilities, organizations can better control the access protocol used across their IT environments, leveraging granular settings to ensure secure authentication at all times for each user attempting to access cloud resources.
Additionally, administrators have comprehensive visibility into device usage within their organization, enabling easy monitoring and implementation of security protocols as needed.
Auth0 (free)

Auth0 is a modern approach to identity management that allows organizations to quickly, easily, and securely grant access to any application.
This approach helps secure the valuable data of billions of people worldwide and simplifies the process of providing access to multiple applications.
Auth0 provides powerful authentication tools and deep integrations with numerous providers like Google, Microsoft, Facebook, and Twitter.
It also enables flexible sign-in options such as social login, authentication via email, and SMS one-time passcodes. Moreover, it provides users with real-time monitoring tools like IP address filtering and threat alerts ensuring they are always aware of suspicious activity.
Auth0 supports international standards such as OpenID Connect and SAML2, making it possible to facilitate acquisitions or migrations by enterprises with existing investments in identity management technology.
Additionally, its cloud platform permits effective auditing using logs for identity-related actions taken by an organization's employees or customers, enabling them to monitor user activity from anywhere at any time.
In summary, Auth0's modern identity approach enables organizations to instantly provide their user's secure access, thus tackling the problem of data breaches and a demand for streamlined identities in this ever-growing digital world.
miniOrange (Free Trial)

miniOrange is a leading provider of Identity and Access Management solutions. Their comprehensive suite of IAM products enables businesses to easily secure their digital assets with powerful features such as Single Sign-On (SSO), Multi-factor Authentication (MFA), and User Provisioning.
By automating these key security procedures, organizations are able to improve both user experience and IT governance.
The SSO feature of miniOrange helps businesses control access to web applications by authenticating users with one or more identity providers once. This reduces the burden on end users who would otherwise have to enter passwords multiple times per session.
The MFA capability encrypts user identities, offering an additional layer of authentication and allowing companies to set up time-based logins, step-up authentication methods, and verification through biometric measures like fingerprints.
Lastly, miniOrange's provisioning feature lets companies keep track of who has access to which applications, helping them ensure that everyone always has the most up-to-date credentials for any given app.
ManageEngine Password Manager Pro (free trial)

ManageEngine Password Manager Pro is an enterprise-level privileged password management solution developed by ManageEngine.
It enables businesses to securely store, manage and protect their confidential passwords and system credentials.
With Password Manager Pro, users are able to access and use the system's privileged credentials from a centralized location with appropriate access controls in place. This reduces the time spent tracking down usernames and passwords associated with hundreds of systems or applications.
The powerful management capabilities also enable organizations to efficiently and securely share passwords within departments or across organizational boundaries.
Moreover, user authentication can be regulated through multi-factor authentication, ensuring high levels of security and compliance with internal standards for enterprise passwords.
Password Manager Pro eliminates human error that can occur when passwords are written down on paper or inadvertently shared among team members resulting in possible data breaches.
With no manual intervention required, this password security solution simplifies day-to-day operational requirements while protecting against insider threats and outside hackers attempting to access critical systems resources and data.
Due to its easy deployment process and minimal IT overhead costs, Password Manager Pro is perfect for any organization wishing to add a privileged password security layer while improving its overall security posture.
Common features of access governance software
Access governance software plays an important role in securing IT and business resources. It verifies access rights to ensure users have the appropriate authorization, monitors user activity in real time, and grants access rights based on their role or job function. This software can also be used to identify violations of access policies and analyze approval logs.
Moreover, it allows employees to use a single set of credentials to access all business applications, systems, and other resources. Organizations can use this software to secure their endpoint devices, such as PCs, laptops, and cell phones, from unauthorized user access.
In addition to verifying access rights, the software can help organizations ensure employee identity verification by providing at least two sets of credentials, such as username and password or mobile OTP, before granting access.
Furthermore, passwords can be generated and stored in a centralized encrypted database, making it easier for users to retrieve lost passwords if needed.
This software also enables businesses to control users' activities remotely so they are always aware of who is accessing the company's confidential information at any given time.
All these features make access governance software an essential tool for preventing data loss or fraud due to unauthorized user activities.
Conclusion
In conclusion, access governance software is an essential tool for organizations to ensure security and compliance.
With so many free options available, there is no excuse not to implement this technology. Each of the software options discussed in this article offers unique features and benefits, making it important to carefully consider your organization's needs before choosing a solution.
Whether you opt for Autho, OneLogin, or one of the other great tools on our list, access governance can help protect your company from security threats and ensure adherence to regulatory standards.
Don't wait until it's too late; choose a free access governance software today!