FTC disclaimer: This post contains affiliate links and I will be compensated if you make a purchase after clicking on my link.
Absence management is an essential part of running a successful business. Tracking employee absences can be time-consuming and expensive, which is why many employers are now turning to software solutions to manage their staff's attendance.
Finding the best free absence management software for your business can be difficult with the wide range of options available. This article will explore some of the best free absence management software you can use in your business.
What is absence management software?
Absence management software is a great tool for businesses of any size, and it provides improved visibility when tracking employee absences.
This can help HR managers in various ways as it allows them to monitor the amount of absenteeism from work and, more importantly, identify any pattern of employee absences that needs to be addressed.
By being able to track employee vacations, sick leave, and other absences, employers are also able to create monthly attendance reports in order to report any missed working days accurately.
Furthermore, free absence management software helps companies stay organized by notifying staff of scheduled leaves before they happen and limiting the time available for vacation requests before they need approval.
Best Free Absence Management Software
Freshteam by Freshworks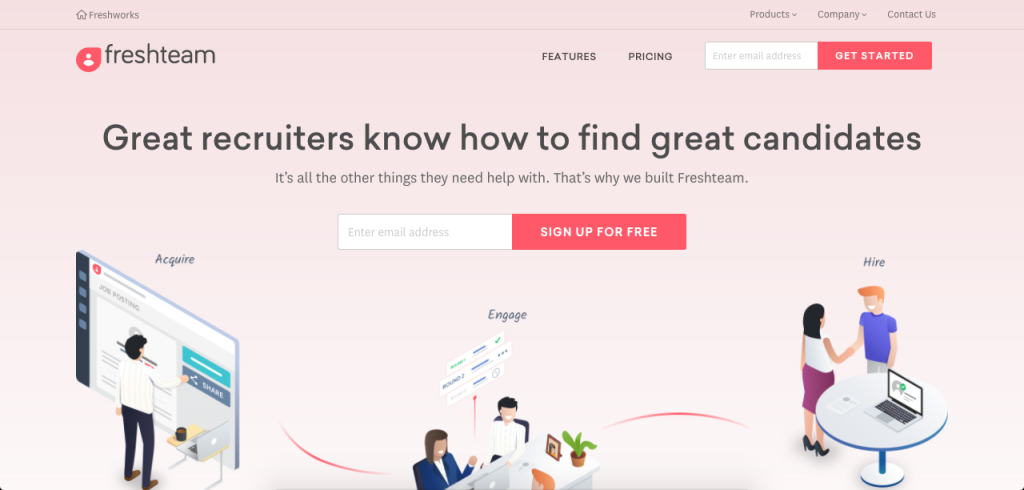 Freshteam is a versatile and user-friendly leave-tracking software for growing businesses available for free with paid plans starting at $72.20 per month.
The platform offers an intuitive dashboard to simplify managing employee leave requests, offering an extensive range of features such as Leave Approval Workflows, Employee Directory, Leave Policy Management, Holiday Calendar, and Mobile Apps.
Managers are given complete control over the entire leave process, letting them edit policies, review team statistics, and approve or deny incoming requests.
Employees can also access their relevant information through the self-service portals, checking balances and reviewing their status or creating requests directly from their mobile app.
Freshteam makes it simple to stay updated with critical HR data and manage time off responsibly. This product is perfect for small businesses that need a reliable way of tracking leaves without breaking the bank.
Time Off Cloud
Time Off Cloud is an effective and easy-to-use leave management system built for small and medium-sized companies.
It helps companies transition from traditional paper tracking to online presence allowing supervisors to efficiently keep track of their employee vacation schedules in one place.
Time Off Cloud can be used to manage requests easily, track employee hours with customizable PTO accrual methods, and monitor team availability.
In addition, the software has powerful calendar integration, report generation tools, and even mobile apps that make it easier than ever for employers and employees to keep up with everything related to time off tracking.
With a very reasonable price tag starting at $17.85 per month, it's no wonder Time Off Cloud is proving to be a popular choice for those looking for their first absence management system.
LeaveBoard
LeaveBoard is an easy-to-use, comprehensive leave-tracking system that allows business owners and managers to manage employee attendance.
It allows businesses to track time off and manage their team's vacation policies. With LeaveBoard, employees can easily view their leave balance, submit leave requests and review the availability of other colleagues.
In addition, it also features employee database management, reports, and a mobile web app for on-the-go scheduling.
The great thing about LeaveBoard is that it offers scalable plans starting at $1.35 per user per month.
Plus, a free plan offers basic features such as tracking time off, creating custom policies, reviewing leave requests, and generating reports – making it the perfect solution for small businesses wanting flexibility in their workflow.
All in all, if you're looking for an easy-to-use leave management solution that allows you to keep track of time off and manage your team's PTO policy, then LeaveBoard is the perfect fit for you!
Leave Dates
Leave Dates is an efficient and helpful leave-tracking software for small and medium-sized businesses.
It helps companies easily manage and track their team's leaves with a clear user interface and useful features. The leave request management feature allows employees to quickly submit requests for time off and managers to quickly approve or reject them.
Leave Dates also has numerous other features, such as allowance tracking, team calendars, private leave request comments, time off in lieu management, Slack integration for updates on approved leaves, and more.
The dedicated mobile app makes it especially convenient for both employees to submit leave requests on the go and for managers to approve or deny them.
Moreover, Leave Dates' pricing – free plans are available, but paid plans start at just $9 per user – make it a great value option that is appealing to businesses of all sizes.
greytHR
greytHR is a comprehensive leave management software designed to make it easier for employers to manage their staff's absences, holidays, and more.
With features such as customizable leave types, shift management, holiday lists, reports, and mobile apps available to users, greytHR is an ideal choice for teams with up to 25 users.
While there is no charge for using the software, paid plans start at $20 per month, depending on the number of active users and usage pattern.
Using greytHR makes it easy to capture and store employee attendance data which can be useful for payroll processing later on via an online employee self-service portal or mobile application.
It also offers multiple interfaces for managing shifts and reviewing attendance records, in addition, to leave policy management settings and payroll software integrations, which allow for fast payroll calculations.
Unfortunately, there are drawbacks, too, as some user reviews have mentioned slow customer support response time and occasional bugs in the system.
Despite these issues, however, many find that overall, greytHR's features greatly outweigh any negatives they may experience while using the software.
Efficienza
The value of efficient team management is arguably immeasurable. Without the proper tracking system and processes, organizations may be unable to stay on top of when employees are on holiday or how many days any employee was absent this year.
The Efficienza leave management system not only makes it easier for organizations to be aware of who is taking time off and for how long but also provides a visually appealing, user-friendly interface that helps to make the navigation process simpler and more convenient.
In addition to its interactive design, this tool offers an accompanying mobile application that allows users to easily check up-to-date information while they are away from the office.
Reports generated with Efficienza include all essential details related to leaving requests and absences to create better team management decisions.
With its cutting-edge features, Efficienza mitigates risks associated with inaccurate data points and simplifies the tracking process of valuable employee resources at companies of all sizes.
e-Leave
e-Leave is proving to be a revolutionary platform for leave management. Allowing the HR department and employees to communicate and manage employee absences seamlessly simplifies the tedious process of submitting requests, filing approvals, and issuing emergency leaves, saving businesses energy and resources and making work simpler.
This web-based system was designed with environmental protection in mind by helping businesses reduce their carbon footprint by going paperless.
So if eco-consciousness is important to you, then encourage your company or business to transition from paper-based or manual leave management systems to e-Leave.
Using easily accessible digital forms allows users to save time, resources, and money while keeping track of individual and team performance, all with excellent precision.
Most importantly, it removes unnecessary paperwork and clutter from your workplace, improving the environment overall!
Zoho People
Zoho People is a comprehensive leave and attendance management software that efficiently allows businesses to manage employee attendance, leaves, and reports.
With its intuitive interface, Zoho People allows users to easily set up customizable leave types and track leaves based on hours or days for different user roles and locations.
The system simplifies leave requests by allowing employees to submit their leaves electronically and enabling managers to review the requests quickly and approve them.
In addition to its attendance tracking capabilities, Zoho People also offers shift scheduling software that enables managers to configure shifts by various criteria such as location, role, departments, experience level, etc.
Organizations can also use the mobile app available on Android and iOS devices to stay on top of their attendance tracking needs while they are away from their desks.
Moreover, reporting tools help management get clear insights into time-off usage across locations. While Zoho People's basic plan is free of cost, paid plans start at just $1.25 per month per user.
Despite the plethora of features provided in this application, many users complain about certain generic drawbacks with the system, such as confusing UI/UX design or slow customer support response times.
TIMEOFF.GURU
TIMEOFF.GURU is a free absence management software designed to simplify leave request management.
It offers basic leave management features, such as creating requests, team calendars, reports, and mobile apps. The software can be used in any language through its translated interfaces, making it accessible to everyone.
TIMEOFF.GURU is perfect for businesses that need the basics of leave request management but are on a tight budget.
If your business needs more advanced features such as leave balance management or flexibility, you may want to consider other solutions such as True-Time or HiveHR instead.
Both offer visual team calendars and more advanced features to ensure a smooth leave process.
With extra features come additional costs, with True-Time starting at 5€ user/month and HiveHR starting at 1€ user/month. Despite the increased price tag, both provide added value that cannot be found with TIMEOFF. GURU's free plan.
MobileHR
MobileHR is an innovative solution specializing in streamlining and improving HR processes for small businesses.
The software provides critical features and functionality to manage leave, PTO, and benefits management and includes reporting for vacations, sick leaves, and personal time statistics. It also offers a mobile app to allow convenient access on the go.
The pricing structure of MobileHR is simple – users can choose from either a free option or a one-time fee of $74.99 for unlimited employee use. With its intuitive interface, MobileHR can make tracking employee PTO easy work.
However, some users have noted certain disadvantages with the software, like long loading times and slow page loads due to excessive visuals on screens.
Additionally, limited customization options are available to tailor how managers approve leave requests, which can inconvenience some businesses.
Overall though, many report positive experiences with MobileHR's streamlined and efficient features.
actiPlans
actiPLANS is an excellent free absence management software that incorporates many features. With this software, businesses can create an unlimited number of leave types to better accommodate the unique needs of their team.
This makes it easy for employees to request and manage their own time off as well as review when their colleagues are available.
Other features actiPLANS offers include a team calendar to schedule shifts, set up approval workflows, generate reports, and make use of mobile apps.
All these capabilities make actiPLANs one of the top-rated tools for managing employee leaves.
Additionally, if you feel the need for more advanced functions, such as automated leave reminders and holiday implementation options, paid plans start at just $1.5 per user/month.
What are the benefits of free absence management software?
Free absence management software can have a number of benefits for managing employee absences and workplace adherence to policies designed to control them.
At the most basic level, free absence management software allows employers to track employee absences better and ensure their employees adhere to attendance policies. This can be especially useful for companies with multiple locations and complex scheduling needs.
Reduce administrative workload
The administrative workload for HR managers can be reduced by investing in absence management solutions that streamline the processes of tracking employee time off balances and leave requests.
Self-service portals make it easier for employees to access their information without directly contacting the HR team. This feature allows them to view their current leave balance, schedule their time off and file PTO requests all on their own.
Gone are the days of manually sending emails or completing paper forms as these requests are seamlessly sent through the portal and routed to the relevant manager or supervisor – allowing managers one-click approvals or rejections with minimal effort required!
Using an automated system also allows administrators to access key analytical data easily. This includes historical absence requests, so finding records is quicker and more straightforward, meaning any future queries don't have to take up valuable work hours – giving your team more focus on more productive tasks.
Reducing the occurrence of absentees.
Managing employee absences is essential to running a successful business in the modern workplace. Absenteeism can have a huge impact on the productivity, costs, and profitability of an organization as well as the morale of employees. As such, reducing the occurrence of absenteeism is an important challenge for employers today.
One solution to reduce absenteeism is to make use of free absence management software. This type of software enables tracking employee absences and helps generate insightful reports from resulting data.
By collecting tracking data from leave and attendance records, employers can then identify potential absence trends and formulate reasonable solutions that may help reduce absenteeism rates in the workplace.
For instance, organizations can implement rewards programs for employees with good attendance records as an incentive to have better attendance rates in general. These type of approaches helps motivate good attendance behavior among working staff, ultimately leading to lower occurrences of absentees.
Enhance workflow management
Organizing employee leave which can include vacations, sick days, and paid time off, is an important part of workflow management in any organization.
Free absence management software offers a simple solution to ensure that deadlines are respected, and that important tasks are not compromised due to the absence of any team member.
The centralized calendar features provided by these solutions will allow HR managers to easily view scheduled leaves, upcoming vacation days, and other breaks for staff members. This helps them rearrange project timelines or prioritize based on personnel's availability ahead of time.
Moreover, knowing about an upcoming vacation can be extremely helpful in finding appropriate substitutes for key personnel who might be temporarily unavailable because of their break.
As it gives lead engineers ample time to hire a suitable candidate or assign the task to other employees without compromising the quality of work or various project timelines.
In any case, providing such schedules aids in better worker supervision and shift control and allows better utilization of workforce resources leading to enhanced workflow management.
Save time and reduce errors.
An effective absence/leave management system is critical for a business owner or manager to ensure that business operations run smoothly and efficiently. Such a system saves time by streamlining the application and approval process and greatly reduces errors when tracking employees' leaves.
With an intuitive dashboard, managers will be able to review leave applications quickly in order to approve or reject them. Employees can also easily view which of their colleagues are out on leaves, allowing for better communication between the team members.
Additionally, department heads will have adequate time to find appropriate replacements for staff who are out on leave, thus maintaining business operations without disruption.
Having a reliable absence/leave management system is essential for any organization since it simplifies the overall management of attendance and schedules.
It helps improve efficiency by providing a comprehensive overview of all absences and leaves while ensuring accuracy and reducing time wasted on paperwork processing or manual tracking methods such as Excel sheets or paper-based records.
A straightforward dashboard ensures that managers stay up-to-date with the personnel available in their team to make more informed decisions about leave approvals and replacement staffing needs timely. With this solution implemented, businesses can also expect increased productivity from existing personnel.
Accurate and reliable employee attendance data
Accurate and reliable employee attendance data is essential to human resource management. With the rise of digital innovation in the workplace, absence management software solutions have come to the forefront of HR operations.
These systems are becoming increasingly popular due to their convenience and cost-effectiveness when recording and storing attendance, absences, and PTO entitlement information.
Not only is access to such data made easy through desktop computer access, but it can also be accessed via smartphone or mobile device with associated mobile app versions that most platforms offer.
No investment needed
Absence management software, which is often available for free, is a great way for businesses to manage and track employee absences without having to invest money in something they may not be sure of yet.
This type of software gives organizations the opportunity to better understand how their absence tracking and reporting procedures work and whether investing in full solutions would be worth it, all without having to commit large sums of money.
For small businesses and startups who do not have the spending budget for sophisticated HR management solutions yet still require built-in leave tracking and absence reporting functionalities, opting for a free version can provide them with all the necessary features and capabilities.
Free absence management software makes it easy for organizations to manage employee absences and keeps track of PTOs and vacation leaves within the workforce.
This could then easily inform decisions on when an organization may want to invest in more sophisticated solutions while staying within its budget constraints.
Conclusion
In conclusion, FREE Absence Management Software provides organizations with the tools they need to track, monitor, and manage employee absences.
These systems are designed to increase efficiency, reduce costs, improve compliance, and help employers comply with labor laws.
With their robust feature sets and intuitive user interfaces, these solutions can easily be integrated into existing systems and environments. Furthermore, all of them provide great value since they are free or offered at low costs.