FTC disclaimer: This post contains affiliate links and I will be compensated if you make a purchase after clicking on my link.
What is Forex Trading?
Generally termed as currency trading, Forex is a highly volatile foreign exchange market where world currencies are traded in real time.
A typical Forex trading involves buying and selling of one currency over the other depending on the current price quotation.
In fact, it is the largest happening liquid market in the world with daily transactions exceeding trillion dollars.
What is the best way to learn Forex trading?
It's a highly volatile market even though there is enough possibility of seeing good money.
A beginner in trading will definitely find it intimidating keeping in mind the risk and uncertainty factor associated with it.
But there are no short cuts to become a good trader.
You have to wet your feet in financial markets by opening a free broker demo account and start practicing.
You can start with manual trading initially and there are a handful of online Forex courses that educates you with strategies and tips.
Keep a close eye on the financial markets and read daily at what is happening in these markets and understand how a slightest change in the market scenario will affect your trading strategies.
Join free Forex courses (many MOOC platforms offer without compromising on quality) and study them and practice and practice till you become confident to go for real trading.
In case, you are looking for best Forex course online to improve and know more about the world of foreign exchange, we have listed the popular ones based on reviews and feedbacks.
5 Online Forex Courses – Most Popular Choices
For those who want to learn Forex trading by doing, this online Forex course from Kirill Eremenko is worth enrolling into.
Also, the course is constantly updated with new content and the course is aimed at complete beginners.
The course has some awesome feedbacks from students explaining their take on the author, course quality and material.
Course ratings: 4.6+ from 8,931+ students
Already Enrolled: 40,219
Skills Gained: Forex Trading, Metatrader 4, Leverage, Pip, Point, Forex Analysis, Short Selling and Forex Terminologies
Key learning's from the Course:
Complete understanding of how Forex market operates
Difference between base and quoted currencies
How to select a Forex Broker account
Understand how short selling works
What is leverage and how it affects Forex trading
Introduction to Forex terminology
What is the difference between Pip and Point
Introduction to types if orders: Buy and sell, buy stop, sell stop, buy limit and sell limit
Learn three types of Forex analysis: Fundamental, Technical and Sentiment
Read the calendar of economic events
Learn technical analysis techniques
How to install and use MetaTrader 4 trading platform
Basics of calculating and managing risks when trading Forex
Course Reviews: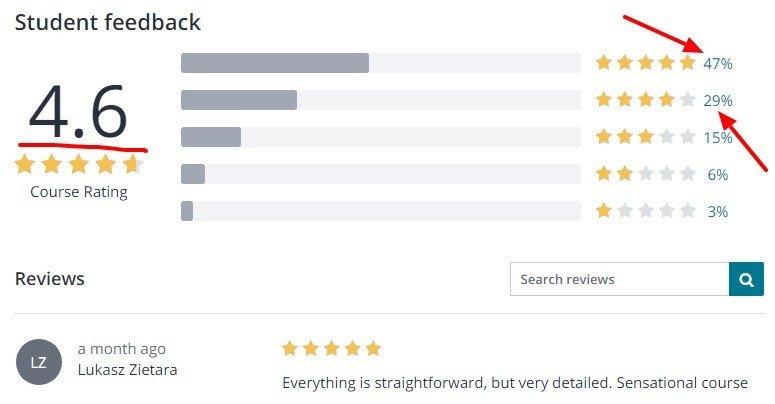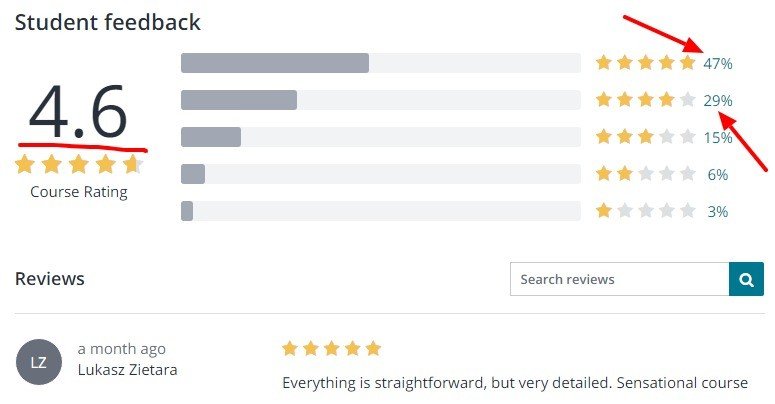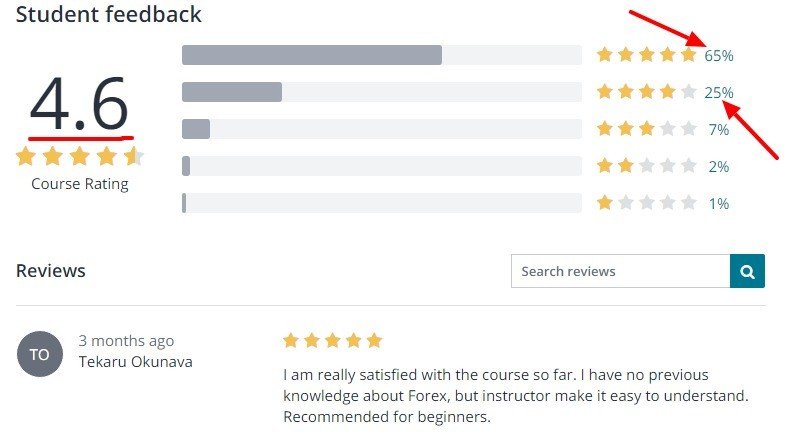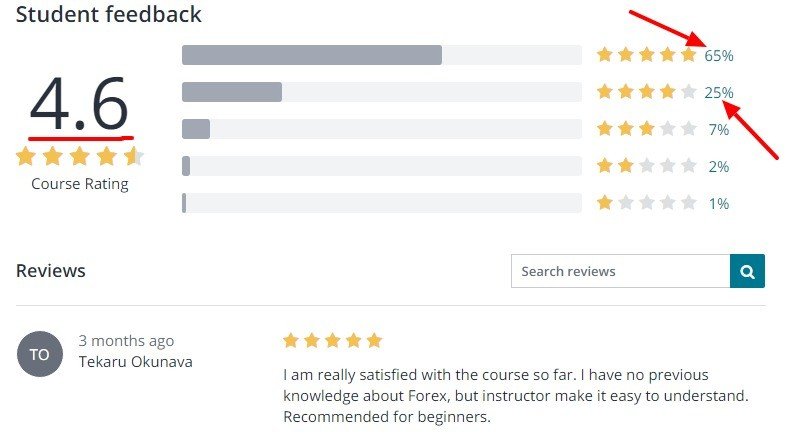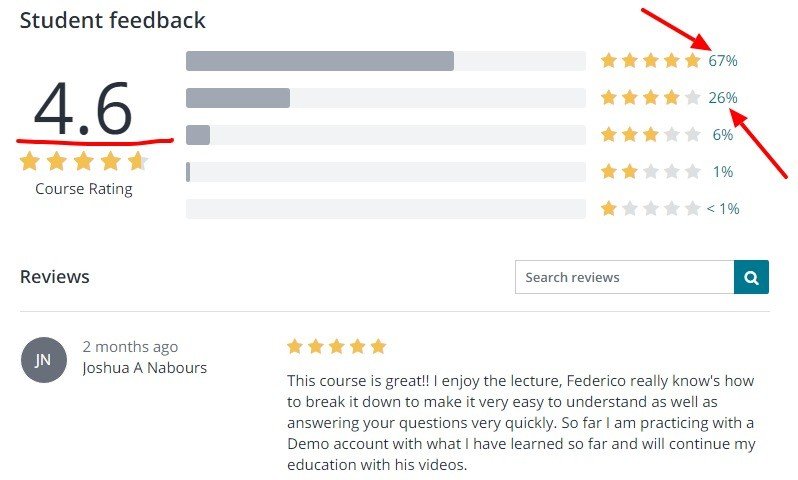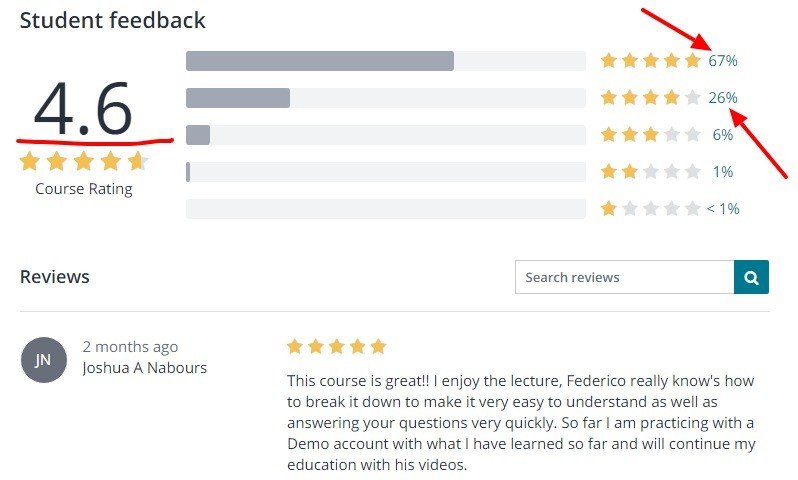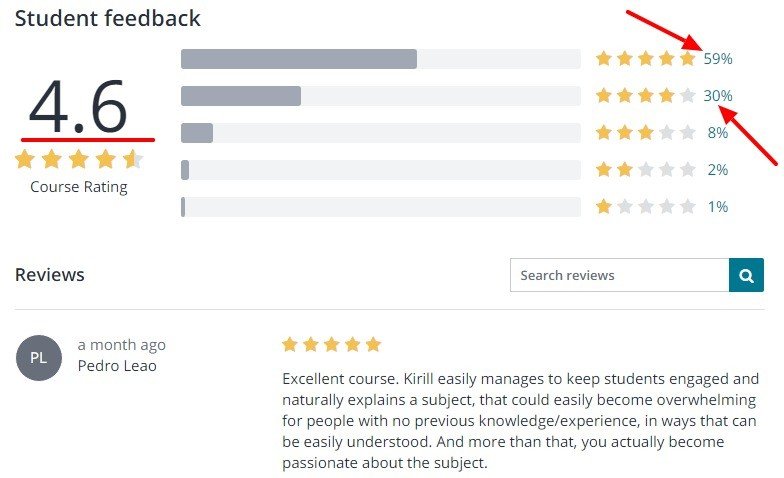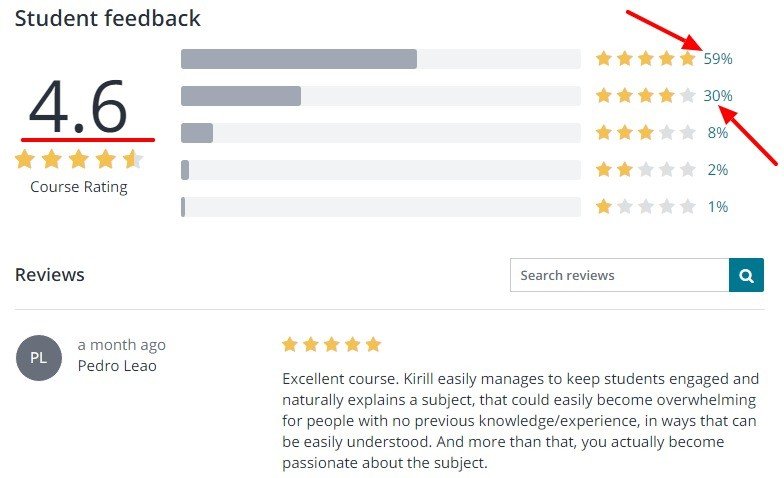 One of the best Forex course at Udemy to help you become an intelligent investor and trade in the currency market.
The author himself is an expert Forex trader with 10 plus years of experience and shows sneak peeks into his live trades and has a separate in-depth section on risk management.
Consider this course as your personal guide to enhance your trading skill set and know the proper way to create income.
Course ratings: 4.6+ from 793+ students
Already Enrolled: 3,386
Skills Gained: Forex Trading, Leverage, Pip, Margin, Spread, Forex Charts, Technical and Fundamental analysis and MetaTrader 4
Key learning's from the Course:
Understand how Forex market works
What is leverage and how to apply it
Understand important Forex terminologies: Pip, Lot, Margin, Spread, etc
Main Forex sessions and best time to trade
How to open a Forex account
How to use different types of orders based on market scenario
Read a Forex Chart and how to use the MetaTrader 4 trading platform
Analyse price movements and currency markets with technical and fundamental analysis
Understand key macroeconomic indicators and read economic calendar
Risk management and money management and common mistakes of traders
Course Reviews: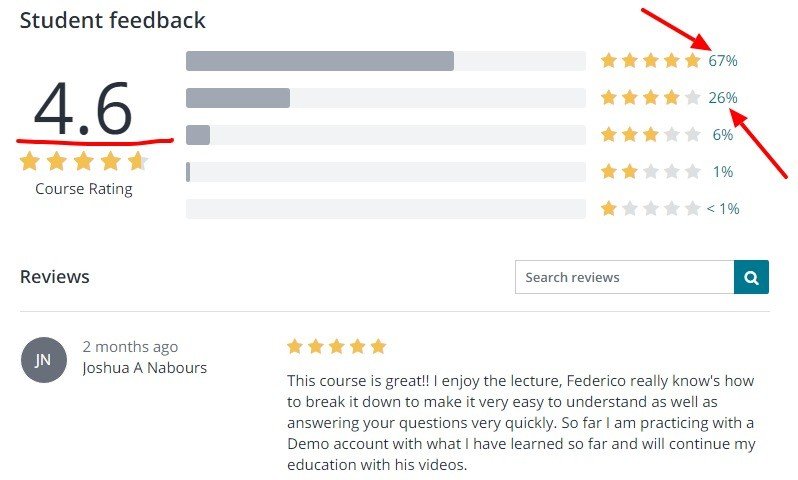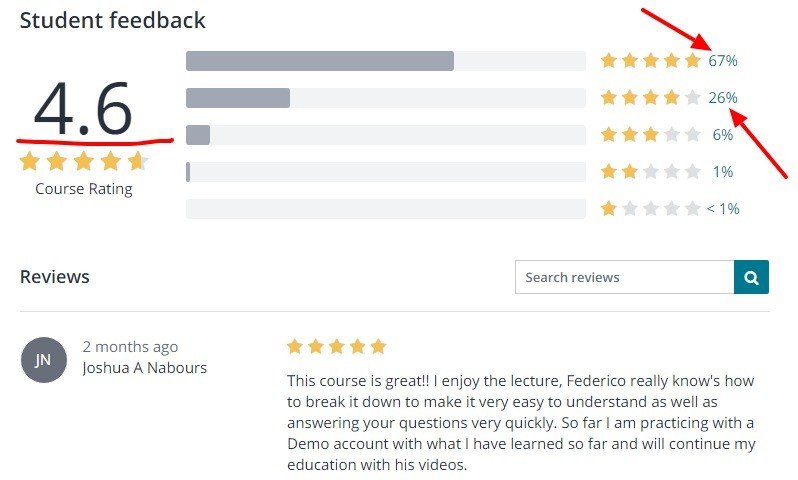 This not a typical Forex courses for beginners but a very popular and good quality course at Coursera to get a solid understanding of financial markets before you venture into Forex trading.
If you are new to Coursera, sign up with their 7 days free trial option.
If you are an old user, then audit the course for free to get access to course videos and readings without the quizzes and graded assignments.
Course ratings: 4.7+ from 2,366+ students
Already Enrolled: 58k Students
Skills Gained: Bond Market, Interest Rate, Stock and Financial Markets
Key learning's from the Course:
Understand the main financial markets, their characteristics and how they affect the economy in a macro level
How the price of stocks, bonds, currencies are computed
The importance of risk management in connection to investment performance
How to build efficient portfolios while managing risks and return opportunities
Policies of central bank and their impact on financial markets
Link between economy and price of financial assets
Course Reviews:


If you want to particularly learn swing trading strategy with harmonic patterns as a beginner, this is the best Forex course to enroll for.
The course covers three major areas of Forex Trading: Basics to get started, Technical and Fundamental Analysis and Forex trading strategy with Harmonic Patterns
Course ratings: 4.6+ from 505+ students
Already Enrolled: 5,115
Skills Gained: Forex charts, Swing trading strategy, Harmonic patterns and Elliot waves
Key learning's from the Course:
Understand Forex Market
Read Forex charts
Learn Forex Terminologies: Ask, Bid, Spread, Pip, Lot Leverage, etc
Use Technical Analysis for price movement prediction
How to use Technical Indicators and Oscillators
How to trade with Technical patterns
Use of Fibonacci Retracement and extension levels
Perform a market analysis with Elliot waves strategy
Read economic calendar
What are the fundamental factors that affect Forex market movements
Harmonic patterns trading strategy
How to use pending orders and manage open trades
Live trading on Forex market
Course Reviews: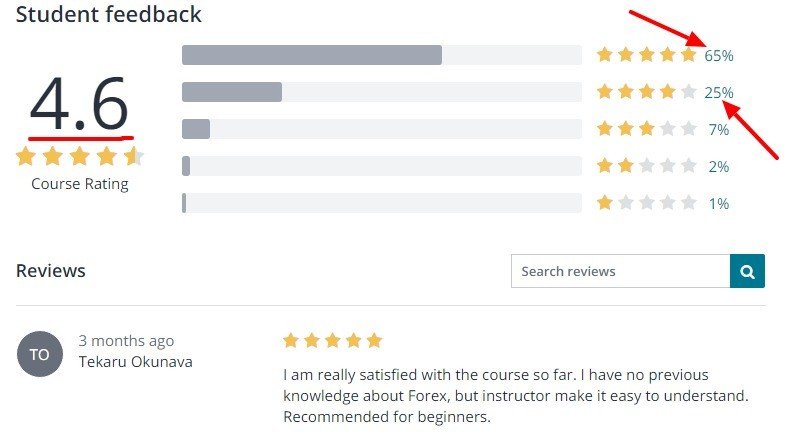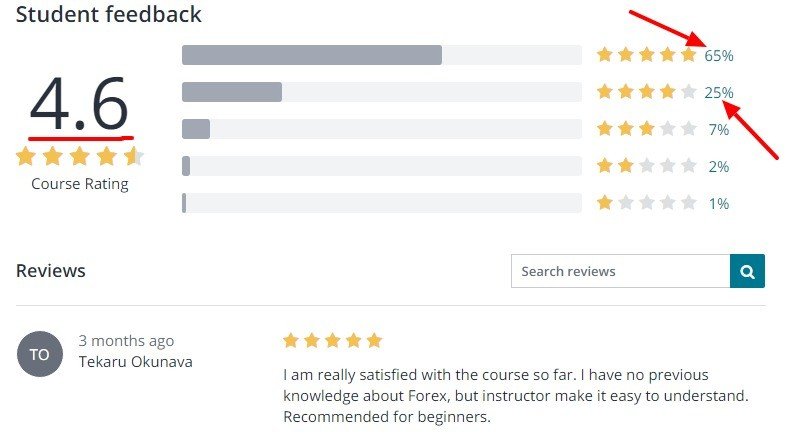 Elliot wave theory has been considered as one of the most powerful ways to make money trading Forex.
This course is apt for those who know the theoretical basics of Forex Trading and want to take their trading to next level with such unique trading strategies.
The author shows live examples of using Elliot wave making over 400 pips and explains why and how he took those trades.
Course ratings: 4.6+ from 309+ students
Already Enrolled: 12,346
Skills Gained: Forex trading, Elliot Wave theory, 4th Wave Triangle Patterns and ZigZag patterns
Key learning's from the Course:
How to use Elliot wave theory
How to use fourth wave triangle patterns
Identify and label Elliot wave patterns on charts
Trade Forex like an Elliot wave analyst
Market analysis strategy using short term and long term price projections based on wave counts
Elliot Wave trading rules and guidelines
How to make money trading using the Zigzag pattern
Course Reviews: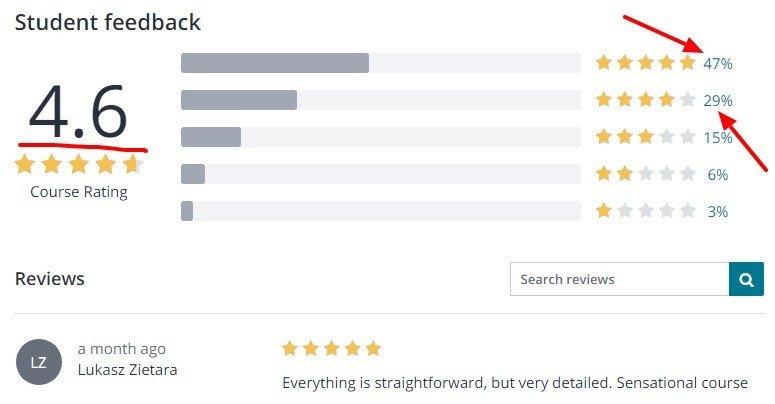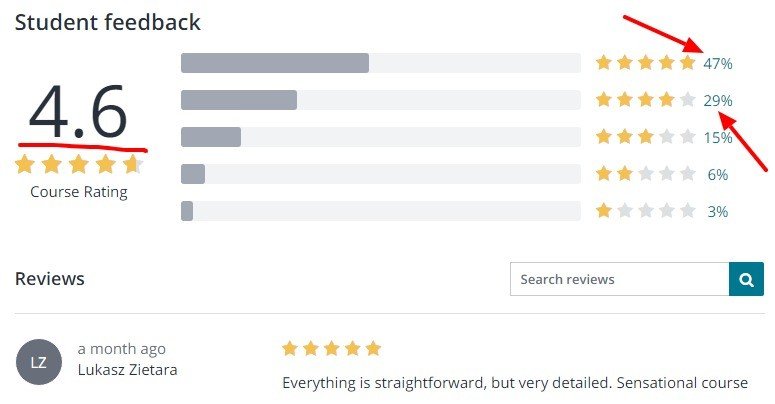 Let us know in the comments sections what are your best Forex courses for learning online?