What is Corporate Finance all about?
Corporate finance is a division in the field of finance that manage the monetary aspects of a business organisation.
The goal of a CFP (corporate finance professional) is to make strategic decisions on how to raise funds, get maximum value out of invested funds, mitigate investment risks and increase shareholder value, etc.
Simply put, they need to have the knack of being successful in corporate money management.
Hence, they play a crucial role in areas like investment banking, capital budgeting, mergers and acquisitions, cost of capital, working capital management, financial modeling, etc.
Corporate Finance Job Opportunities:
Since it is a demanding field, a career in corporate finance can be quite challenging and well rewarding at the same time.
Almost all commercial and investment banks, financial institutions dealing with FP& A, treasury and IR, consulting and accounting firms deals with corporate finance and looks out for a suitable candidate in the domain.
Financial analysts, financial planner, treasurer, credit manager, investment banker, equity research analyst, etc are different job designations you can venture into, if you are interested in a career in corporate finance.
A bachelor's degree is a kind of must to get into corporate finance.
Additional corporate finance certifications from an accredited body will give you the much needed credentials in the corporate job environment.
Some of the best certificate courses in corporate finance you may want to attempt to enhance your career:
Is there any free online corporate finance course to learn?
The massive open online courses (MOOCs) have enabled students and finance professionals to learn corporate finance concepts online free of cost.
MOOCs giants like Coursera and edX has free corporate finance courses online and can be studied with the audit option.
However, if you want a verified course completion certificate, you will have to pay accordingly.
Other online training providing platforms like Udemy, CFI (Corporate Finance Institute) also have some free corporate finance training courses with them.
9 Best Corporate Finance Online Courses – Most Popular Choices
This is the best online corporate finance course to learn the core concepts of Corporate Finance from a MOOC platform like Coursera.
Offered by University of Pennsylvania, it is the fourth course out of their six course business foundation specialization series.
The course runs for four weeks and you can reset the course deadlines according to your free schedule.
If you are new to Coursera, sign up with their 7 days free trial option.
If you are an old user, then audit the course for free to get access to course videos and readings without the quizzes and graded assignments.
Course ratings: 4.6+ from 2,778+ students
Skills Gained: Discounted Cash Flow, Decision-making, Corporate Finance and Cash Flow Analysis
Key learning's from the Course:
Introduction to time value of money, interest rates and discounted cash flow analysis
Learn how to make better finance decisions with discount and compound arbitrary cash flow streams
Learn discounted cash flow analysis through a capital budgeting case
How to make real world financial decision related to retirement savings, home financing, refinancing, auto leases, etc
How to apply a set of forecast drivers to project free cash flows into the future
Course Reviews:
This is a self paced introductory finance course from the Columbia University and is part of their professional certificate program.
You can learn this corporate finance course for free.
In case you want an additional certificate of completion, you need to pay $150.
The course helps you a get a broad overview of financial concepts and rules and how to apply those principles to firms, bonds and stock.
Make sure you have basic understanding of accounting and MS excel to understand the course concepts.
Key learning's from the Course:
How to value asset and its investment opportunities it is associated with
How to decide on projects that align with business organisation actual ones
Computation methods on the return and values of any project
What is the value of a bond and how to compute the yield
Know how to value a stock using simple mathematical model
About the Course: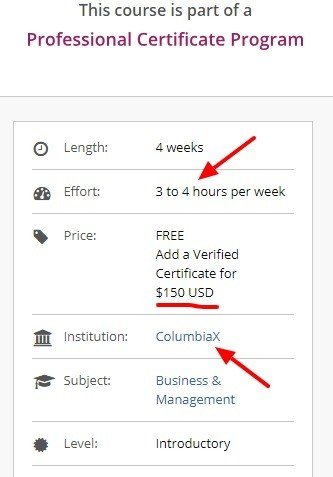 University of Melbourne offers a self- paced specialization series on the essentials of corporate finance with a capstone project at the end.
There are a total of 5 courses in this specialization and gives you a foundation knowledge in accounting, financial analysis and measurement of value creation in global markets.
Course Specialization Duration: 6 months
Skills Gained: Financial Analysis, Corporate Finance, Financial Ratio and Balance sheet
Course Details:
Course 1: The language and tools of a financial analyst
Course 2: The role of Global capital markets
Course 3: Corporate Financial Decision – Making for Value Creation
Course4: Alternative approaches to Valuation and Investment
Course 5: Essentials of Corporate Finance Capstone
All the Coursera specializations work on a monthly subscription basis. You can either complete the entire specialization in the course order or pick and choose a particular course to master a certain concept.
If you want to earn a certificate of completion for this specialization, you have to complete the entire course including the capstone project along with the individual projects and assignments that will be peer graded.
Course Reviews:

EdX in partnership with Columbia University offers a series of certificate course in corporate finance.
There are a total of three courses in this professional certificate program and costs you around 600 dollars to finish the entire specializations.
However if you don't want to pay for the entire certificate program, you can choose to study the individual courses for free through audit option without the certification.
The course runs for 4- 5 weeks for every course and provides you with hands-on experience to real world transactions and case studies.
They even walk you through exercises where you will be working on excel models that will deepen your practical understanding of theoretical concepts.
Key Learning's:
Understand basic finance principles and how finance decisions are made in real environment
Know how to use free cash flow evaluation method for a firm
Application of frameworks for valuation and discounting
Valuation of stocks and bonds
How to do project return computation for a given firm
Understand a firm's value by knowing how to project cash flows and calculate residual value
What it is like to take proper investment decisions for corporations
Understand the effect of capital structure when you are dealing with equity risks and firm's debt.
Learn how to measure risks and properly estimate the expected assets return based on its risk factor.
Course Details:
Course 1: Introduction to Corporate Finance
Course 2: The Free Cash Flow Method for Firm Valuation
Course 3: Risk and Return and the Weighted Average Cost of Capital
About the Course: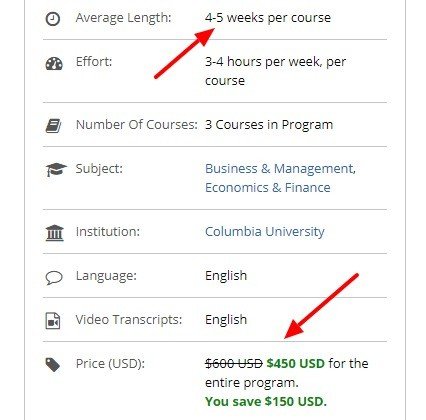 Course Ratings: 4.5+ from 1,034+ students
Currently, one of the best selling corporate finance courses at Udemy.
It gives you a thorough introduction of company valuation which is part of the key work of a corporate finance professional.
Unlike the MOOC platforms, Udemy follows pay per course model. There are no audit options to study a course for free.
But Udemy bestselling courses are both top notch in content quality and instructor knowledge.
Udemy courses comes with a 30 day money-back guarantee, so for whatsoever reasons you didn't find a course satisfying enough, you are not at monetary loss.
Also, you get lifetime access, course completion certificate and downloadable resources along with this course.
Key Learning's from the Course:
Know how to build a cash flow statement
Understand how company valuation works
Learn to build a valuation model from scratch
How to create a model in different scenarios
Perform sensitive analysis
Work on MS excel modeling skills to create professional and advanced charts
Course Reviews: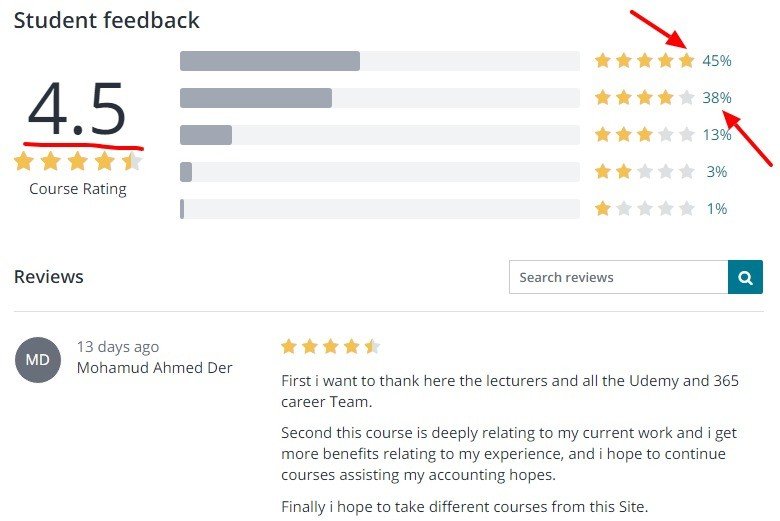 Course ratings: 4.8+ from 409+ students
Skills Gained: Corporate Finance, Project, Finance and Mergers and Acquisitions (M&A)
This is another best online corporate finance course you can learn at Coursera.
Offered by University of Illinois, the course is part of their popular financial management specialization series.
Students who have previously took the course had especially emphasized on the professor teaching style, honors assignment and how extremely useful the course content has been to them.
Key learning's from the Course:
Understand from a company's perspective on investment decisions that enhances the shareholders value
How to effectively prepare accounting statements that helps a finance professional measure the current finance health of a company
How to forecast and manage a company short and long term liquidity needs
Understand what value addition you give to a shareholder when a company undertakes a new acquisition
Understand how to incorporate risk into investment decisions using appropriate discount rates
Learn how to evaluate the performance of a company
Course Reviews:

Course ratings: 4.9+ from 341+ students
Skills Gained: Risk management, corporate finance, M&A and Debt
This is part 2 continuation of the corporate finance course offered by Illinois and talks in-detail about financial investments and risk management.
Also, the course has so far received impressive feedbacks from the students.
Key learning's from the Course:
Understand how companies create value to the firm with their financing, payout and risk management strategies
How to measure the leverage effects on profitability, risk and valuation
Know which financial tools to use when managing credit risk and financial distress
Understand how payout policies and company performance are interlinked
Know the usage of derivatives and liquidity management to offset financial risks
Learn the art of financing a leveraged buyouts (LBO) and how to model one using Excel
Course Reviews:

This is another best corporate finance online course at Udemy to get a strong foundation on compounding interest, the time value of Money, how to calculate NPV of capital projects, etc.
It's a 2 hour course and comes with 30 days money back guarantee, full life time access to course materials and certificate of completion.
If you are looking for a basic course to refresh your corporate finance concepts and terminologies, this course won't disappoint you.
Course ratings: 4.0+ from 16,644+ students
Key learning's from the Course:
Understand basic finance concept like time value of money and how to calculate them using MS excel and Google sheets
How to calculate the present and future values of cash flows
Understand finance terms like default risk premium, net present value, efficient market hypothesis, modern portfolio theory, etc and the calculations part of it
What is the difference between fixed and variable interest rates
Course Reviews: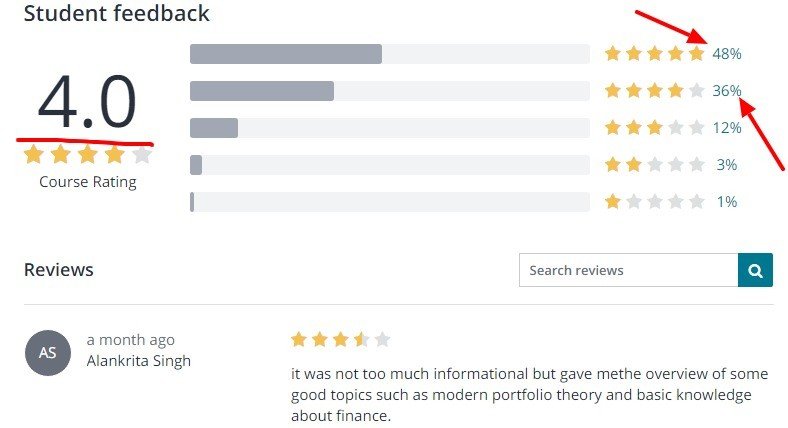 This is a free corporate finance course online you can find at CFI.
The course provides you an overview on the key concepts of corporate finance that is required to start your career in this vast field.
Course Ratings: 5.0+ from 120+ students
Key learning's from the Course:
Understand the role of players who control or influence the capital markets
How does funding life cycles work
What are the different business valuation methods
What are the process involved when a company's undertakes a merger and acquisition deal
Know about equity capital raising and debt capital raising
What are the different corporate finance career paths available
Course Reviews: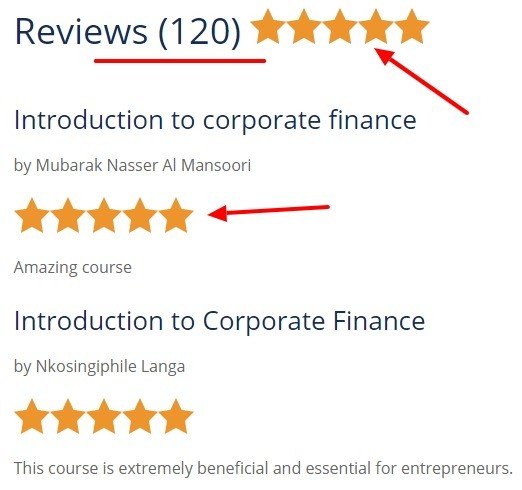 Let us know in the comments sections what are your best corporate finance online courses for learning?